In this guide to the best packing cubes for travel, you'll find out what makes them an indispensable must-have for your next trip!
Travel Organizing Cubes will help packing for your next vacation a breeze!
It doesn't matter if your are flying with carry on, taking a suitcase on honeymoon, or cycling around the world. Packing Cubes will make efficient use of the space in your bag, and help you stay organized.
What is a packing cube?
Packing cubes are relatively inexpensive small bags made up of a lightweight fabric on five sides. The sixth side is normally made of a fabric mesh, and is zipped 3/4 of the way around to open the cube. Clothes are placed inside these cubes either folded or rolled.
Mesh packing cubes are designed to help maximize the amount of space used in a suitcase or backpack, provide easy access to clothes, and help travelers to organize their travel packing in a more logical way.
Note: You may sometimes find packing cubes referred to as organizer cubes, or compression packing cubes.
Top Packing cubes
Here's a look at some of the best cubes to keep your clothes in as you travel:
Best Budget cubes: Amazon Basics 4 Piece Packing Travel Organizer Cubes Set. These have literally thousands of positive reviews, and with 2 medium and 2 large cubes in the set, offer the best value for the price.
Best Ultralight Cubes: Eagle Creek Pack-It Specter Cubes. A very light set of cubes making them suitable for backpackers, cycle tourers, or anyone traveling with just carry-on. You should note, these don't have the mesh lid, and so when zipped you can't see what is inside them.
Best Compression Cubes: Tripped Compression Packing Cubes for Travel- Packing Cubes and Travel Organizers. These feature ripstop fabrics and numerous sizes, meaning you can buy the right cube for your luggage type.
I Use These Packing Cubes: I have been using an Eagle Creek packing cube for over 10 years now. It has survived cycling from England to Cape Town, and Alaska to Argentina. And it's still going strong!
Best Brand of Packing Cube: Eagle Creek have become synonymous with packing cubes, so if in doubt, go for one of their sets!
Best Packing Cubes For Travel
My top picks for the best packing cubes for travel. Each one of these packing cubes is designed to last, and will keep your clothes neatly packed and compressed. The best travel accessories you'll ever use!
Photo Credit: www.amazon.com
Eagle Creek are a renowned travel accessory brand, with a track record stretching back over 40 years. The Eagle Creek Pack It Specter Cube Set is an ideal travel packing cube set for travel.
This Eagle Creek Pack-It Specter Cube set is durable and light so you can store it anywhere. It takes up no room whatsoever and will keep your clothes organized whether you are traveling for an overnight or a whole week. If your toiletries happen to spill while on the road, this packing cube is liquid safe. These cubes can also go in the washing machine, making them super convenient!
Photo Credit: www.amazon.com
I have a set of these eBags packing cubes for travel myself, and love them. They've survived thousands of miles of bike touring, and been in and out of the washing machine dozens of times.
The perfect packing solution for the business traveler or vacationer, these 4 piece eBags Packing Cubes can easily organize your clothing and other essentials. With a small, medium, large, and large slim cube offered in this travel pack, you're able to sort out tops from pants and undergarments from socks without any additional effort. They're made from TechLite diamond nylon so they'll be lightweight on all those trips no matter what time of year; meanwhile the surfaces will be impressively easy to clean messes off with a small wet cloth whenever necessary! The interior is finished with full seams while the top features mesh panels for that extra ventilation to make it easier to see what's inside each one as well.
Photo Credit: www.amazon.com
Amazon have their own selection of packing cubes for travel in their Basics range. As you might expect, these travel cubes are high quality, and built to last.
Have no fear - your frequently used items can be contained in these four small packing cubes to make sure they don't end up being one of the things you leave behind on vacation. The breathable mesh top panel lets you see what's inside, while still giving enough protection for delicate fabrics. It's machine washable too! Fill each of the four cubes with the necessary items and grab them by their handles when it's finally time to pack up. With this Amazon Basics Small Packing Travel Organizer Cubes Set, Black - 4-Piece Set, there will be nowhere else to look but straight down into that task at hand!
Photo Credit: www.amazon.com
I like the Well Traveled packing cubes because of their snazzy colours and patterns. Most other travel packing cubes are a little dull, but these cubes certainly stand out from the crowd!
The Well Traveled 3pc Compression Packing Cubes for Travel lets you pack smarter. Pack anywhere with space savings up to 30%. The double zipper compression system allows you to tightly pack clothes, shoes, toiletries and more! With smooth zippers that allow easy packing and unpacking it's so easy - what are you waiting for?
Photo Credit: Amazon.com
The first time you try the Shacke Pak packing cube system, you'll be surprised by how easy it is to pack and unpack any outfit like a pro. Our no wrinkle packing cubes maintain your clothes' original shape which will help keep them in better condition when unpacking.
You can practically organize all of your gear with this fantastic packing set that's designed for travelers on the go, or college students that want to avoid living out of their box at home. With large mesh panels on top of each cube, it will allow air to flow through preventing mildew growth so your clothes are fresh as ever!
Photo Credit: Amazon.com
Packing is easy with Eagle Creek Pack-It Original Cube and you'll never break a sweat on your next trip.
The innovative compression technology reduces wrinkles over 7x times, so you can take as much clothing as you want but still have less to carry. And the Pack It Zipper Garment Bag holds a week's worth of clothes in this convenient 3 dimensional garment bag that folds into its own self-packing cube! You won't believe how big it opens up or how small it compacts when not in use. Quiet fabrics keep things organized inside any travel bag, but we know flat packers will especially love this set for packing cubes are stackable too!
FAQ About Packing Cubes
Here are some of the most commonly asked questions people who are looking to purchase a packing cube set ask:
Are Travel Packing Cubes Useful?
Travel packing cubes are not just a "luxury" item. They can really come in handy when it comes to lightening your load, making packing and unpacking easier on yourself, keeping things organized – they're an all around good travel accessory!
What are the best packing cubes for traveling?
The best packing cubes are made of durable, lightweight materials. Durability is important for travel gear because it will often experience more wear and tear than home equipment. Travelers want pieces that last beyond their trip's duration. To avoid wasting money on cheap options, travelers should invest in quality products up front. Look for a packing cube system with good zippers and ripstop materials.
Are packing cubes machine washable?
While some packing cube systems may say they are machine washable, this can cause damage that will shorten their lifespan significantly. My advice is to hand wash with warm water and mild detergent (non-organic). Be sure not to use any harsh chemicals like bleach since this could easily ruin your travel gear. Hang dry only.
Do packing cubes really help?
The main reason for using these is because they make staying organized while you pack so much easier. A lot of people don't like the feeling of rummaging through their suitcase looking for items that could be buried underneath others or even worse out at the bottom with everything else spilling over onto them. Packing Cubes help alleviate this problem by keeping clothing grouped together and neatly stacked inside the bag without having to check every single nook and cranny!
Are Packing cubes TSA approved?
Packing cubes are not TSA approved because they're made of fabric and have zippers. However, if you pack your packing cube in a clear plastic bag (the kind that is often used for liquids), then it will be considered as one item instead of many items inside the same bag.
Packing Cubes vs Compression Bags – Which Should You Choose?
As mentioned before, compression bags can only compress clothing while packing cubes allow you to organize your clothes more than just by type but also by occasion or activity so when packing all your travel gear into two suitcases, make sure to use both types of storage solutions together!
How to use packing cubes?
The best way to choose a packing cube is by first considering your packing style: do you pack with one big suitcase or multiple? Do you want separate compartments in each cube or just one large space shared among all your items? Are there any specific features that would be helpful for traveling on an airplane? If so, look for zippered edges which will make it easier to identify and remove just one item quickly when going through security at the airport (most airlines recommend this).
Can you get waterproof packing cubes?
While some cube sets might call themselves waterproof, most will only go as far as saying they are water resistant. This means that the nylon material they are made of may resist the occasional splash of water, but shouldn't be relied on for keeping clothes and other items totally safe from water.
Can I keep dirty clothes in a mesh packing cube?
It's not really a good idea to keep dirty clothes in a mesh packing cube, as your luggage might start to smell of old clothes! Instead, get a sealed bag designed to keep shoes or dirty clothes in. Eagle Creek have a range to choose from.
Should I roll or fold clothes for packing cubes?
I prefer rolling clothes when I use packing cubes in order to save space, and also be able to more easily see what I have inside.
Reader comments about packing cubes
After reading this guide to buying a set of packing cubes, people left some of the following comments. You might find their opinions and real life use-cases useful. Check them out at the bottom of the page!
You might also want to read:
---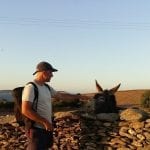 –
Dave Briggs
Dave is a
travel writer
who has spent the last twenty years traveling all over the world. In addition to writing this guide on choosing the best packing cubes, he's created many more guides and posts containing travel tips and insights. Follow Dave on social media for travel inspiration from Greece and beyond: