Cycling across Europe from Greece to England was a bike tour that I completed in 2016. It took two and a half months to pedal from Greece to England, passing through 11 countries along the way. Here's a brief summary of the bicycle tour across Europe.
I should start this blog post about cycling across Europe, by thanking everyone who followed my journey. I really appreciate all the comments I received on my YouTube channel, Facebook page, and Instagram account. It certainly added another element of fun to the adventure!
Cycling Greece to England
My bicycle tour across Europe began in Athens, Greece, and then headed north towards the UK.
Typically speaking, most people planning a cycling trip in Europe choose to cycle in the other direction.
Athens is where I live though, and so basically I started from my doorstep!
Riding in the other direction, so to speak, had some advantages.
Firstly, it meant that I would arrive in northern Europe when the weather was better.
Secondly, I would get to see more cyclists coming in the other direction.
In fact, I was pleasantly surprised on how many people were cycling across Europe. I met a few along the way, and stopped for a chat whenever I could.
Lastly, It also felt fitting that I should cycle from my new home in Athens to the place I was born, which is Northampton in England. Like it was connecting the dots, almost.
Cycling through the Balkans
After leaving Greece, my route took me through the Balkans on the Adriatic Coast side. I cycled through Albania, Montenegro, and Croatia, sticking mainly to the coastline.
I even spent one day in Bosnia-Herzegovina, but I'm not sure that completely counts as cycling through the country. At least I can say I have been there!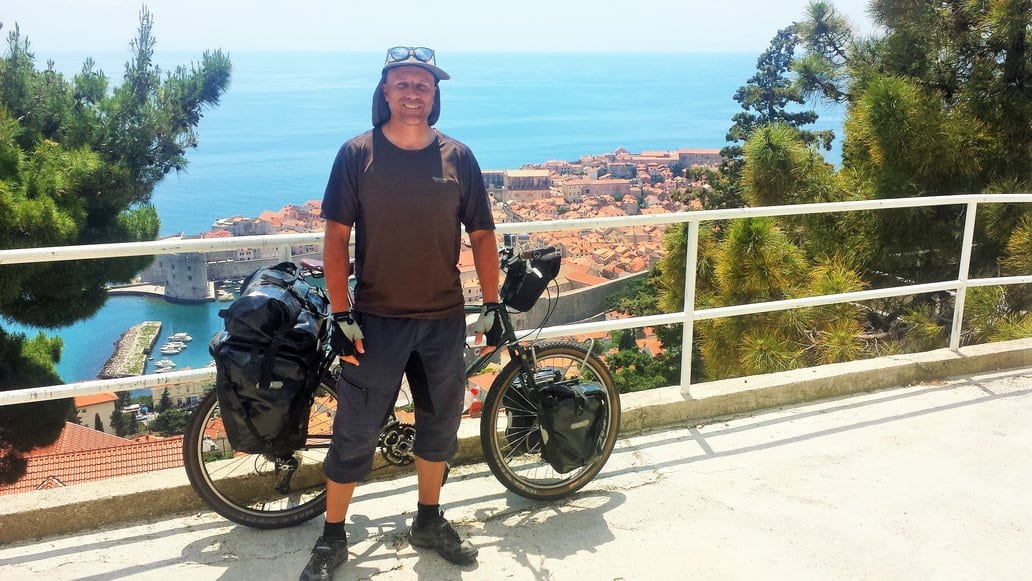 Cycling through Central Europe
After leaving Croatia, I then made my way through Slovenia and Austria to Bratislava in Slovakia. Once there, it was time for a 10 day break, where I did some sightseeing in Bratislava and Budapest.
When it was time to resume cycling through Europe, I then made my way across Austria, Germany, and France to England. My journey finished in Northampton.
Budget for Cycling in Europe
The cycling trip across Europe took me two and a half months. Although I haven't totalled up the kilometres yet, I believe it is in excess of 2500. I will write another blog post in a week or two, which will include the total kilometres as well as how much I spent during the trip.
If you are interested, you can check out my bicycle touring budgets for May and June.
Where I stayed cycling across Europe
Accommodation wise, I calculated it was roughly 60% camping to 40% other accommodation. In some countries, particularly the Balkans, I found it cheaper to stay in hotel rooms at 10 Euros a night, rather than campsites! Crazy, I know.
I did get camping for 5 Euros a night on a couple of occasions. In Albania, my hosts even bought me a coffee, water and some sweets on arrival! You can find out more here – Bicycle touring in Albania.
What I liked about bicycle touring in Europe
Many people have asked me why I like bicycle touring. The simple answer, is that it is a beautiful way to travel. It has no impact on the environment, and you get to see a lot more of the countries that you are travelling through.
This recent bicycle tour across Europe was no exception, and I found it interesting comparing the different countries. There is certainly a big difference between the Balkan approach to life, and the northern European attitude! Personally, I prefer the Balkan approach!
Bike Touring Vlogs
In terms of blogging, I decided to do things a little differently on this trip. This was my first experiment in vlogging, and I made a vlog a day during the cycling trip.
It was a massive learning curve, and to be honest I think I over-committed by saying I would do a vlog a day. On future trips I will just release one vlog a week. I think this is far more practical considering the time that it takes.
Still, I am happy with the results that I got, and I've included a sample vlog below.
More Bike Touring
So what does the future hold now for Dave? I am back in Athens, and starting work again on my freelance writing and travel blogging projects. Some of that will include writing about cycling across Europe of course.
I hope to produce some bicycle touring blog posts about cycling in the different countries I passed through, as well as other insights from the road.
I also have a number of other trips planned during the year, with the next one being a 2 week road trip in Crete. So, be sure to bookmark the blog, or sign up for the newsletter if you are interested in following along! Once again, I would like to take the opportunity to thank everyone who followed my journey cycling across Europe.
Special mention to Simon Stanforth who loaned me the Kibo+ bicycle I used on the trip, and to Acrothea Hotel in Parga, and Big Berry Campground in Slovenia who both hosted me along the way. The biggest thanks of all go to 'The Mrs', who was incredibly patient, supportive, and understanding throughout the trip. 🙂