Cycling across Europe from Greece to England was a bike tour that took two and a half months, and passed through 11 countries along the way. Here's a brief summary of the bicycle tour across Europe.
Cycling Europe
I should start this blog post about cycling across Europe, by thanking everyone who followed my journey. I really appreciate all the comments I received on my YouTube channel, Facebook page, and Instagram account.
It certainly added another element of fun to the adventure!
This post is a round up of that cycling tour in Europe, but I've also included some practical travel tips, information about Europe cycling routes, and answers to some frequently asked questions.
I'd also encourage you to read (and leave your own!) reader comments at the end of the article. You might find there's some additional insights into biking across Europe that may be useful.
Who am I and why go cycling through Europe?
Quick introduction – My name is Dave, and I've been long-distance cycle touring for years. My two longest cycle tours were from England to South Africa , and from Alaska to Argentina.
A year or so after moving to Greece in 2015, I decided it was about time I saw my parents back in the UK. The choices were to fly or take a bike trip 0 at least that's the way I saw it!
It seemed like the perfect opportunity to combine getting a little exercise with a European bike tour, and so I planned a route from Greece to England.
Cycling Trip Greece to England
My bicycle tour across Europe began in Athens, Greece, and then headed north towards the UK.
Typically speaking, most people planning a cycling trip in Europe choose to cycle in the other direction, and use either Athens or Istanbul as their final destination.
Athens is where I live though, and so basically I started from my doorstep!
Biking through Europe South to North
Riding in the other direction, so to speak, had some advantages.
Firstly, it meant that I would arrive in northern Europe when the weather was better. I've seen many people time their journey with arriving in Athens in August, and trust me, it's crazy hot at that time of year!
By biking Europe in the opposite direction, I would arrive in the UK in early August for warm, but not too hot weather.
Secondly, I would get to see more cyclists coming in the other direction. In fact, I was pleasantly surprised on how many people were cycling across Europe.
I met a few two-wheeled tourers along the way, and stopped for a chat whenever I could.
Lastly, It also felt fitting that I should cycle from my new home in Athens to the place I was born, which is Northampton in England. Like it was connecting the dots, almost.
Choosing a cycling route through Europe
There's a few different bike routes I could have based my trip around. The shortest route from Greece to England for example would have involved taking a ferry over to Italy, and cycling from there.
This would have meant I would ride through fewer European countries though, so instead I decided on a slightly longer route following the Adriatic coastline of the countries of Albania, Bosnia and Herzegovina, Croatia, Montenegro and Slovenia.
After Slovenia, I would then head to the Danube, and join the cycle paths leading westward across Europe.
Basically, I combined a couple of EuroVelo routes with a few short cuts and part of the Danube Cycle Path. My cycle route passed through the following countries:
Greece
Albania
Montenegro
Croatia
Bosnia and Herzegovina (less than a day!)
Slovenia
Austria
Slovakia
Germany
France
United Kingdom
You can read more about my itinerary and cycling route planning here: Bicycle Touring Route From Greece To England
There's the official EuroVelo site here you could also look at for planning bike trips in Europe.
Cycling in Europe – Bicycle and Gear
For this bike tour I used a Stanforth Kibo+ 26 inch touring bike. Although not completely neccessary for this tour (a 700c touring bike would have been fine), I loved the way it handled and had zero problems with it.
In fact, my biggest issue with the bike during the 2 and a half months was just one single puncture!
Gear wise, I took what I considered to be a reasonably minimal set up (not much in the way of spare parts) for these types of cycling tours. That included camping gear and also a laptop and electronic gear so I could work on the road.
More about my bike touring kit here: Gear List For Cycling From Greece To England.
Documenting my ride – Bike Touring Vlogs
In terms of blogging, I decided to do things a little differently on this trip. This was my first experiment in vlogging, and I made a vlog a day during the cycling trip.
It was a massive learning curve, and to be honest I think I over-committed by saying I would do a vlog a day. On future trips I will just release one vlog a week. I think this is far more practical considering the time that it takes.

Still, I am happy with the results that I got, and hopefully it encourages other bike tourists to plan a similar cycling holiday or trip. Please feel free to check out my Europe by bike playlist.
Here is a brief summary of each section of the Europe bike tour.
Cycling through the Balkans
I started off by following what could be termed EuroVelo Route 8 from Greece. You won't find any signposts on the roads saying this of course, as the route is theoretical at the moment!
After leaving Greece, my route took me through the Balkans on the Adriatic Coast side. I cycled through Albania first, a country which was one of my favourite cycling destinations during the trip.
Montenegro, and Croatia, followed, where I was looking forward to seeing Dubrovnik, but came away ultimately disappointed.
I even spent one day in Bosnia-Herzegovina, but I'm not sure that completely counts as cycling through the country. At least I can say I have been there!
Related: Greece or Croatia?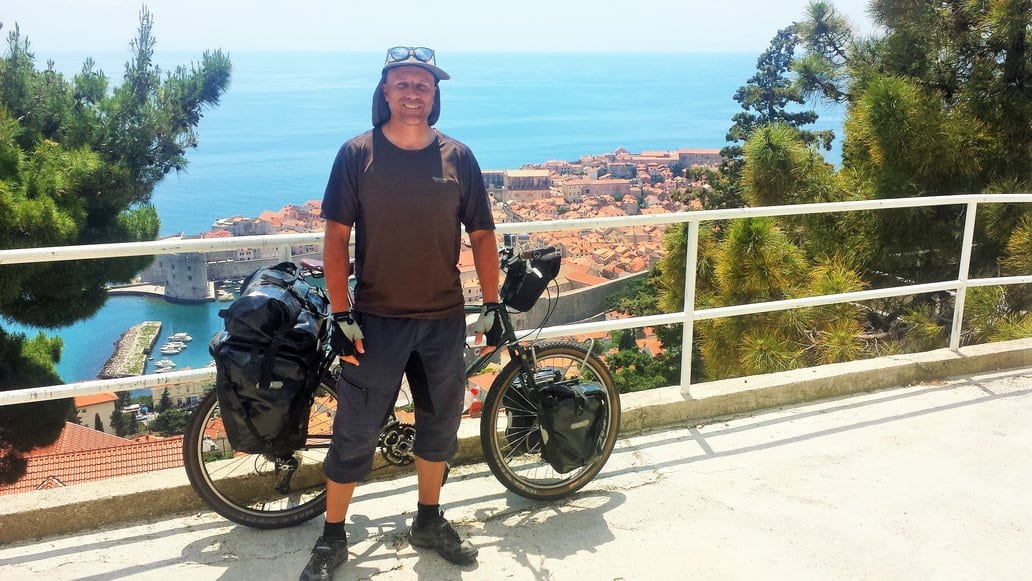 Cycling through Central Europe
After leaving Croatia, I then made my way through Slovenia and Austria to Bratislava in Slovakia. Once there, it was time for a 10 day break, where I did some sightseeing in Bratislava and Budapest.
When it was time to resume cycling through Europe, I then made my way across Austria, Germany, and France to England. My journey finished in Northampton.
Budget my Europe bike tour
Cycling from Greece to England took me two and a half months. Although I haven't totalled up the kilometres yet, I believe it is in excess of 2500.
Working out how much I spent on a cycling tour is always a best estimate, but I believe it was 750 Euro per month. I wasn't particularly trying to cut down costs, but if I was, I could definitely have completed the bike tour for less.
If you are interested, you can check out my bicycle touring budgets for May and June.
Where I stayed cycling across Europe
Accommodation wise, I calculated it was roughly 60% camping to 40% other accommodation when cycle touring Europe. In some countries, particularly the Balkans, I found it cheaper to stay in hotel rooms at 10 Euros a night, rather than campsites! Crazy, I know.
I did get camping for 5 Euros a night on a couple of occasions. In Albania, my hosts even bought me a coffee, water and some sweets on arrival!
You can find out more here – Bicycle touring in Albania.
Note: I didn't wild camp during this bike tour in Europe as I was comfortable with the overall expenses of the trip.
What I liked about bicycle touring in Europe
Many people have asked me why I like bicycle touring. The simple answer, is that it is a beautiful way to travel. It has no impact on the environment, and you get to see a lot more of the countries that you are travelling through.
This recent bicycle tour across Europe was no exception, and I found it interesting comparing the different countries.
There is certainly a big difference between the Balkan approach to life, and the northern European attitude! Personally, I prefer the Balkan approach!
The bike paths of Germany and Austria are also a revelation. It's only when you've actually cycled on them you can appreciate how much it helps society.
I'd recommend Germany if you're planning your first cycling holidays and want nice bike paths, cycle-friendly infrastructure, and car-free rides. It's one of the best countries for cycling!
More Bike Touring
If you're planning to cycle across Europe, you may find these other informative blogs posts to be useful reading:
If you use Pinterest, it would be great if you pinned this bike across Europe post for later!
Special mention to Simon Stanforth who loaned me the Kibo+ bicycle I used to cycle Europe, and to Acrothea Hotel in Parga, and Big Berry Campground in Slovenia who both hosted me along the way.
The biggest thanks of all go to 'The Mrs', who was incredibly patient, supportive, and understanding throughout the trip. 🙂
---
– Dave Briggs
Dave has cycled around much of the world including bike tours from Alaska to Argentina, and England to South Africa. In addition to this guide to one of the best bike tours in Europe, he's written many other reviews and tips about bike touring.
Follow Dave on social media for travel, adventure and bike touring inspiration: