One of the things I don't miss about living in the UK, is the long winter months. The cold, and the grey that goes on forever! Even here in Greece, the winter marks a start contrast to the hot summer. Maybe a winter break is in order then? Here are some reasons to visit Mexico's Yucatan Peninsula for a winter break.
(Photo By Dronepicr – Own work, CC BY 3.0, https://commons.wikimedia.org/w/index.php?curid=44337816)
Where is Mexico's Yucatan Peninsula?
Located in the south-east of Mexico, the Yucatan Peninsula is fringed by beaches leading on to the Caribbean Sea. The main cities are Cancun and Merida.
You can visit Mexico's Yucatan peninsula at any time of year due to its location. For Europeans though, it is an ideal winter break location.
The temperature rarely dips below 20 degrees, meaning you can enjoy warmth and sunshine when it's cold and raining back home! I believe that the best time to visit is between January and March.
Why Visit The Yucatan?
Apart from the obvious sun and warmth, there are endless reasons to visit Mexico's Yucatan peninsula for a winter break. Great food, beaches, ancient ruins, diving, jungle adventures – You can take your pick!
Personally, I highly recommend visiting the Mayan complex of Chichen Itza. It regularly features on lists of modern 7 wonders of the world, and is an incredible place to spend some time. I visited Chichen Itza back in 2005.
Where To Stay
The most obvious place to stay, is in Cancun. There are many resorts in the area with tonnes of bars, restaurants, clubs, water parks and much more.
It also has miles upon miles of sandy beaches so you can soak up that winter sun! When I visited Mexico over 10 years ago now, I based myself in Merida for a few days.
This gave me more of an insight into local culture than staying in Cancun would. Even if you don't choose to stay here, I would suggest it is worth visiting at least on a day trip.
Things to See and Do
The list of things to see and do in Mexico's Yucatan peninsula is endless! A two week holiday is barely enough time to scratch the surface, but here are the essentials.
Beach Life
Laze on The Beach – The Yucatan Peninsula is famed for its white sands and turquoise waters. If lazing on the beach is your thing, you have come to the right place!
Isla Mujeres Turtle Farm – This turtle farm is just a half hour away from Cancun, and is a popular place to visit for adults and kids a like. They release over 60,000 newly hatched turtles every year from here!
Musa – Do underwater museums that feature sculptures you can see on snorkelling and diving trips sound like fun? They are! Hundreds of life-sized sculptures by British artist Jason de Caires Taylor can be seen in the shallow waters of the Isla Mujeres and Cancun.
Related: Mexico Instagram Captions
Food
Mexican food is simply amazing, and each region has its specialities. The Yucatan is no different, and the specialities here draw on influences from the Mayan, the Caribbean, European and even Middle Eastern cultures.
My recommendations of dishes to try include cochinita pibil, which is foods such as meat wrapped in banana leaves and cooked in a pit oven. Try eating it in a typical Mexican restaurant rather than in a hotel complex!
Mayan Ruins
Visit Chichen Itza – If you only have the chance to visit one Mayan site during your winter break in Mexico, this is the one! It really has to be seen to be believed. I have never heard of anyone coming away disappointed after a visit!
Visit Tulum – Tulum is another very interesting place to visit, located about 130 kms away from Cancun. It is a rare Mayan port town, and the third most visited site in Mexico behind Teotihuacan and Chichen Itza.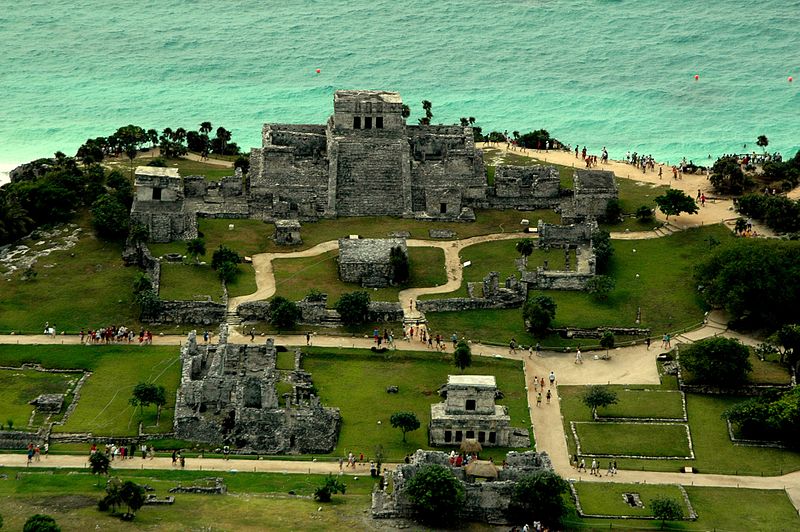 (Photo By Martha xucunostli – Own work, CC BY-SA 3.0, https://commons.wikimedia.org/w/index.php?curid=28392714)
Take a bus along the Ruta Puuc – If you really want a taste of local adventure, take the bus from Merida which follows the Ruta Puuc. Along the way, you can visit the sites of Uxmal, Xlapak, Syil, and Kabah.
By Microstar – Montaje creado a partir de seis imágenes en Wikimedia Commons:File:Imagebysafa2.jpg, por Mardetanha (CC-BY-SA-3.0)File:Cancún – México-3.jpg, por Lmbuga (CC-BY-SA-3.0)File:Puerto Juarez.JPG, por P199 (CC-BY-SA-3.0)File:El Rey Zona Arqueologica, Cancun, Mexico RFDZ1265.jpg, por Xe3osc (CC-BY-SA-3.0)File:Monumindep.JPG, por Feliks~commonswiki (CC-BY-SA-3.0-migrated)File:Cancun Strand Luftbild (22143397586).jpg, por Dronepicr (CC-BY-2.0), CC BY-SA 4.0, Link
Related: Winter Instagram Captions