This Nafpaktos travel guide will show you the best things to do in Nafpaktos, Greece. With a picturesque port and large Venetian castle, the relaxing atmosphere of Nafpaktos is instantly appealing.
Nafpaktos in Greece
The charming coastal town of Nafpaktos makes an ideal destination for a weekend break from Athens, or stopping point on a road trip in Greece.
Its picturesque port and Venetian castle make a perfect setting, and in the hills behind hide quaint villages and incredible scenery.
I've visited Nafpaktos twice now. Once, was part of an organised press trip by the kind people of Go Nafpaktia. This also coincided with the anniversary celebrations of the Battle of Lepanto (more about that later).
The second time on one of my bike tours around Greece. I got to experience some of those hills behind the town up close and personal, and let me tell you, they are challenging!
Things to do in Nafpaktos
Here are some of the best things to do in Nafpaktos:
Visit the Venetian castle
Spend time in the pretty port
Relax on the town beach
Head to the mountains for outdoor activities
… and more!
First though, let's take a little look at how to get to Nafpaktos from Athens.
Where is Nafpaktos?
It's about a four hour drive from Athens to Nafpaktos. Perhaps a little less depending on traffic nowadays.
To get to Nafpaktos from Athens, you would first drive to Patras. By the way, this is a city also worth spending some time, and I've got a guide here on things to do in Patras.
From Patras, you would then cross the Rio–Antirrio Bridge, and once on the other side, follow the coast to the right. Nafpaktos is the first large town you arrive at.
The Town of Nafpaktos
Nafpaktos is a large town, with all the amenities a traveler needs. These include plenty of hotels, ATM machines, restaurants, and pretty much anything else you can think of.
If you intend to head up into the hills for a couple of days from Nafpaktos, I would suggest you buy anything you need before going.
During my cycling trip through the Nafpaktos hills, I didn't really come across many decent sized grocery shops, and there were no ATM machines.
What to do in Nafpaktos
So what is there to see and do in Nafpktos then? Well, the answer is plenty!
This is a pleasant town that is more than worth a stop of a night or two.
If you time your visit with the anniversary of the Battle of Lepanto, you may want to book your hotel in advance.
Where to stay in Nafpaktos
If you are looking for hotels in Nafpaktos, I recommend the following:
Hotel Akti – Hotel Akti kindly hosted me during my stay in Nafpaktos. It's a well run hotel, with colourful rooms, and a great breakfast! I recommend room Delta 4 as it had a lovely outdoor patio area with a nice view.
Look here for the Tripadvisor reviews of Hotel Akti.
Hotel Nafpaktos – Whilst I didn't stay in this hotel myself, they some friends stayed there. According to them, this was a well run hotel with great facilities.
I also ate here for two meals, and the food was great. Compliments to the chef!
You can check out Tripadvisor reviews of Hotel Nafpaktos here.
Top things to do in Nafpaktos, Greece
Whether you're visiting Nafpktos for just a couple of hours or a couple of days, you'll find plenty of things to do. Here's a look at some of them.
1. The Venetian Castle of Nafpaktos
Nafpaktos Castle is one of the largest, best-preserved, and dare I say beautiful castles in Greece. It is easily on a par with Koroni and Methoni castles in the Peloponnese, and sits high on a hill, overlooking the town and bay in front of it.
With five defensive walls, there is a core section that has an entry fee of just two Euros. The rest of the castle and walls blend into parts of the town, making it a fascinating place to walk around.
I would say that you should allow 3 or 4 hours to explore the Castle, Botsaris Tower, and walls. It's time well spent, and the views are amazing!
2. Nafpaktos Port
The port area of Nafpaktos is an obvious focal point. Shaped like a horseshoe, with fortified towers facing one another, the protected area is actually quite small.
Bobbing up and down on the waters, are a number of tiny fishing vessels. Surrounding the port, are cafes and restaurants where you can sit down, relax, and enjoy the chilled atmosphere. This is what getting away from it all is about!
3. Nafpaktos Town Beach
Although we visited Nafpaktos at the wrong time of year to enjoy the beach, it looked like a great place to be during the summer.
There is a long stretch of lightly pebbled shoreline facing the oceans waters, backed by restaurants, bars and tavernas.
The benefits of visiting Nafpaktos in the autumn though, are that when you head to the mountains, you get the wonderful autumn leaves and chestnuts!
4. The Battle of Lepanto
The naval Battle of Lepanto occurred on the 7th of October, 1571 just off the coat of Nafpaktos. This was probably the most important naval battle you have heard nothing about!
The two sides involved, were the Ottoman Empire and Holy League, which was basically an alliance of major Catholic countries with sea power, mostly financed by Spain.
The battle has significant importance for a number of reasons. Firstly, this was the last major sea battle to involve galleys.
Secondly, the victorious Holy League more or less ended Ottoman supremacy on the seas of the Mediterranean.
Thirdly the Ottomans lost a generation of sailors and archers, which were never adequately replaced.
Nowadays, the town of Nafpaktos celebrates the Battle of Lepanto with a festival on the weekend closest to the 7th. I visited the town just at the right time.
The fireworks and displays were amazing, and it seemed like all 20,000 people from the town were surrounding the port to watch the events!
Here is one of the puppets from the Nafpaktos Battle of Lepanto celebrations. You can decide which one I am referring to!
Weekend Break or Road Trip?
Whilst visiting Nafpaktos makes an ideal weekend break from Athens, I think you could tie this in with a week long road trip starting and ending in Athens.
Although I haven't tried this road trip myself yet, it seems that a route of Athens, Corinth, Olympia, Patras, Nafpaktos, Delphi, Arachova, Athens would be a good one.
Maybe this is something I will try in the spring time next year. It might even make a good 2-3 week bicycle tour? Stay tuned folks, as you never know, this could be my next cycling trip!
Visit Nafpaktos FAQ
Readers keen on exploring mainland Greece and who may be considering going to the beautiful town of Nafpaktos often ask questions similar to:
Is Nafpaktos worth visiting?
Nafpaktos is a town well-known to the Greeks, although little known to foreign tourists. An imposing Venetian fortress overlooks the Corinthian Gulf and the nearby Rio Antirio bridge connects it with the Peloponnese peninsula. This old town is a great place to visit!
What is Nafpaktos known for?
Historically, Nafpaktos is known for its important connection with the Battle of Lepanto during the Ottoman period. From 1499 through to 1829 (Greek Independence), it was mainly under Ottoman rule, with brief periods of Venetian control.
What was the Battle of Lepanto?
This famous battle took place between an allied naval force of Catholic Christian states and the Ottoman Navy on October 7, 1571. The Ottoman navy suffered a heavy defeat which it never truly recovered from.
Can I do a day trip from Patras to Nafpaktos?
You can easily do a day trip to explore the Venetian port and rich history of Nafpaktos from Patras. There are buses running every two hours, or you can take a car over the Rio Antirio bridge to drive there.
Thanks once again to Go Nafpaktia for organising our trip! I have another blog post about my trip to this area, which you can find here – Orini Nafpaktos.
---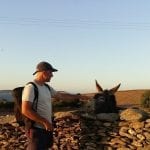 – Dave Briggs
Dave is a travel writer who's been living in Greece since 2015. In addition to writing this travel blog about Nafpaktos Greece, he's created hundreds of travel itineraries and blog posts about Greece which include guide to the sites of Ancient Greece, Greek islands and more.
Follow Dave on social media for travel inspiration from Greece and beyond: