The list of the original 7 wonders of the world dates back over 2000 years. They were the most notable man-made structures known to the Ancient Greeks, and were listed in early poems and guidebooks. Today, only one of the original 7 wonders still exists, but the concept lives on.
The Colossus of Rhodes by 16th-century Dutch artist Maarten van Heemskerck.
Origins of the 7 Wonders
"What, there were guidebooks and tourists in antiquity?" I hear you ask.
There were indeed tourists travelling through the Ancient Hellenic World over 2000 years ago. Although they didn't carry copies of the Lonely Planet, they might have read Antipater of Sidon. He had a way with words, that fellow, and one of my favourite passages is –
"I have set eyes on the wall of lofty Babylon on which is a road for chariots, and the statue of Zeus by the Alpheus, and the hanging gardens, and the Colossus of the Sun, and the huge labour of the high pyramids, and the vast tomb of Mausolus; but when I saw the house of Artemis that mounted to the clouds, those other marvels lost their brilliancy, and I said, 'Lo, apart from Olympus, the Sun never looked on aught so grand."

— Antipater, Greek Anthology IX.58
That's definitely a lot more inspiring than 'the cheapest place to find a hostel', right? So, what were the original 7 wonders of the world then?
A Brief History Lesson
After Alexander the Great had gone storming through Europe and the Middle East beating up everyone in his path, a new empire emerged.
We know it today as either the Macedonian Empire, or the Empire of Alexander the Great. Not that he lived long enough to enjoy it, as he died at 32 years of age.
By Yair Haklai (Own work), CC BY-SA 3.0, https://commons.wikimedia.org/w/index.php?curid=7860791
After his death, Hellenic culture and political control over the conquered areas was maintained for a number of years before the Romans rocked up and it all went horribly wrong.
During this time though, lots of curious and adventurous people decided to take a look around the new Hellenic world. As people do, they came up with lists of what they thought were the best bits.
Here is what they considered to be the 7 wonders.
A collage of the 7 wonders of the Ancient World as depicted by 16th-century Dutch artist Maarten van Heemskerck.
The original 7 wonders of the world
More Lists Than Wonders?
As you might have noticed, 6 out of the 7 ancient wonders of the world are no longer there.
Since that time, countless other 7 wonders lists have been made, including modern wonders, and natural wonders.
Having been fortunate enough to have visited a few different places around the world over the years, I thought I would come up with my own list.
Here then, are my personal 7 wonders of the world, based on places I have visited myself.
My Personal 7 Wonders Of The World
Machu Picchu – There is something undeniably special about Machu Picchu. The combination of mountains, clouds, and harmonious stone construction was very peaceful. I visited this archaeological site as part of a backpacking trip around South America.
The Pyramids – I had wanted to visit the pyramids ever since I can remember. When I did, the most impressive pyramid for me was not one of the 'Great Pyramids', but Zoser's (Djoser's) Pyramid. I visited the pyramids in Egypt when cycling from England to Cape Town.
Angkor Wat Temples – This is a huge temple and archaeological complex in Cambodia. Originally the heart of the Khmer empire, the true extent to its size is still not known. I visited Angkor Wat as part of a backpacking trip around Asia.
Easter Island – Famous for its mysterious stone statues, Easter Island is a hard place to reach! I managed to visit there when I was travelling through South America by flying out from Chile. Who is that other statue standing in front of them?
Stonehenge – Whilst we are on the subject of huge stone things, what is Stonehenge all about? Answers on a postcard please (or the comments box). Sorry, no photos of this one.
Teotihuacan – Mexico has an almost embarrassing wealth of fantastic archaeological sites. For me though, one that always sticks in my mind is Teotihuacan.
Meteora – The final one on my list of 7 wonders is Meteora in Greece. As I now live in Greece, I would get in trouble for not mentioning at least one wonder from there!
In some ways it is similar to Machu Picchu in that there is a harmonious balance between man-made constructions and beautiful natural surroundings. If you plan to visit, you might be interested in the best places to stay near Meteora in Greece.
Your 7 Wonders Of The World
This is your turn! Please leave a list of your own personal 7 wonders of the world as seen with your own eyes in the comments box below. I would love to hear where you have been, so that I can start planning my next trip!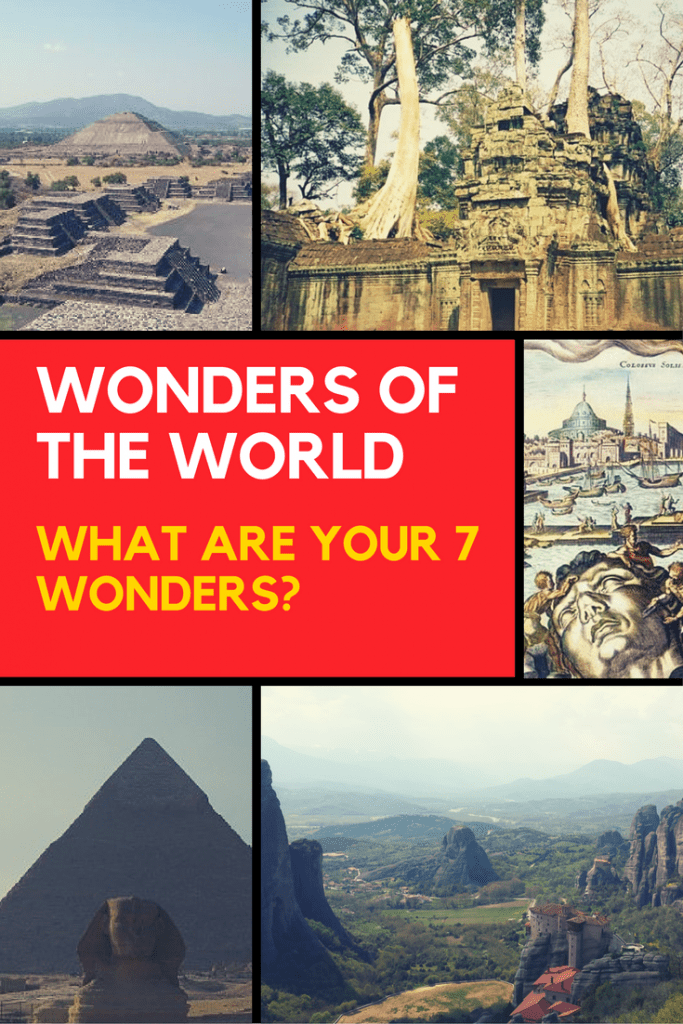 You might also be interested in reading: