These fun facts about Greece combine the weird and unusual with the insightful. If you have a vacation planned, these cool facts about Greece are fun to read before you go!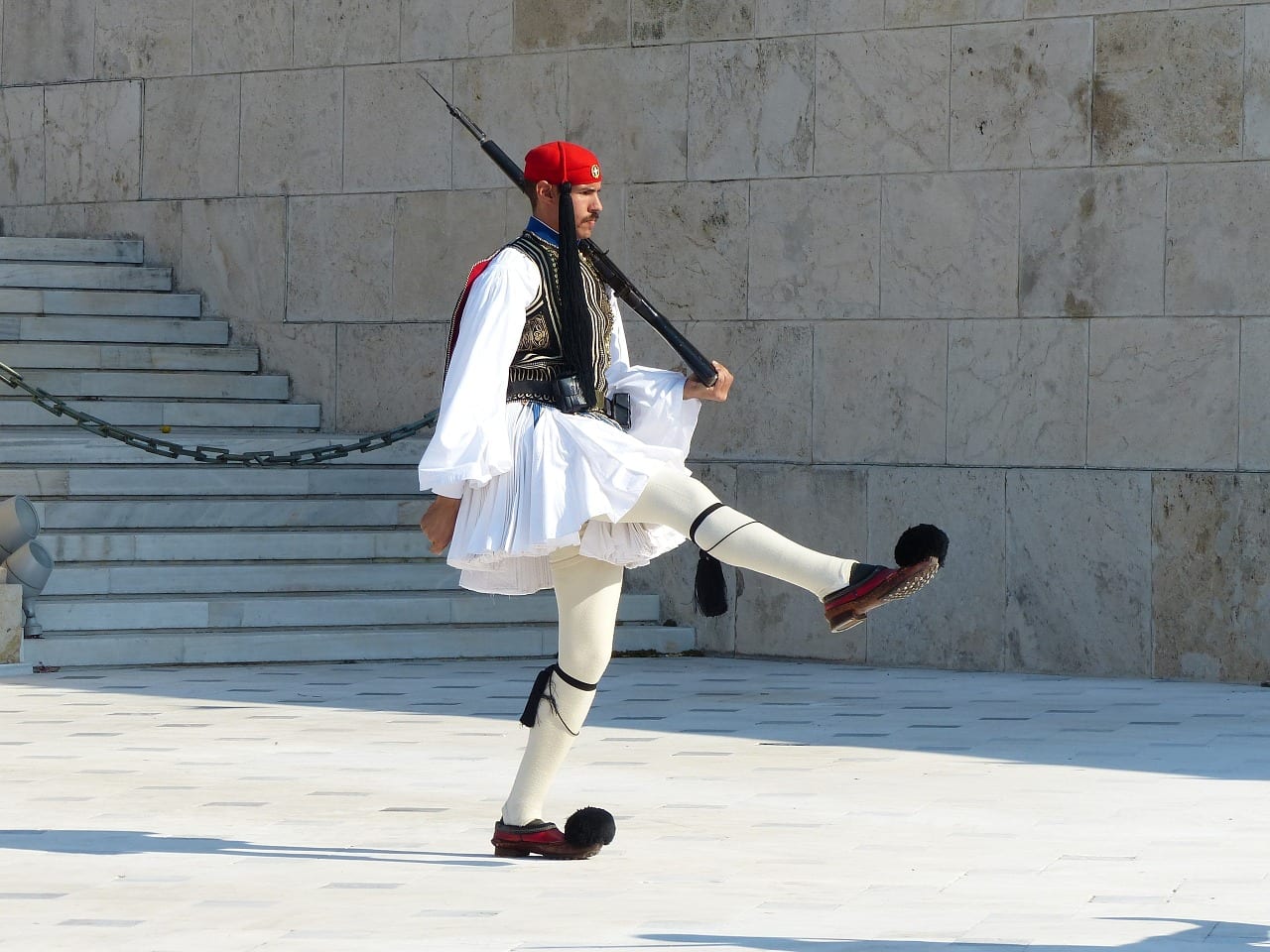 Interesting facts about Greece
Greece is one of the most beautiful, and most visited, countries in the world. From turquoise-colored seas to grand historical monuments and museums, it is a land rich in history and beauty.
There's also a few weird facts about Greece that might surprise you! Take a look through, and I promise to leave you smiling as well as having learned a little more about Greece.
1. Everyone gets two birthdays in Greece
Most of the traditional Greek names are taken from those of religious saints. Any time the church celebrates a particular saint, anyone who shares the same name will also celebrate what is called his or her 'Name Day'.
Even someone who has a name that is a derivative, or variation, of the original saint's name will celebrate.
For example, when the saint Constantine is recognized by the church, anyone sharing that name, or a name such as Kostas or Dinos (which are considered variations) will celebrate their Name Day as well.
In fact, Name Days are often more celebrated than actual birthdays.
Note – I'm not actually sure there is a name day in Greece for 'Dave'. I'm a bit disappointed by that!
2. Hiding Money In A Cake
Another of the interesting facts about Greece, has to do with New Year. To help ring in the New Year, Greeks celebrate by eating a traditional cake called 'vasilopita', which is named after Saint Basil.
It just so happens that Saint Basil's Name Day is celebrated on January 1st.
The person preparing the cake adds a coin to the batter before baking. When the cake is ready to be eaten, it is cut into slices, and then served in a certain order, which may vary from family to family.
Generally, additional slices are cut in a symbolic manner for family or friends who couldn't attend the event. The person who finds the coin in their slice of cake is believed to have good luck for the whole coming year.
3. Greece Is In Pieces
No, I don't mean that Greece is falling to pieces! What I mean is, that Greece is spread out like a jigsaw puzzle waiting to be put together!
Some people may think that Greece is a huge chunk of land surrounded by a handful of islands. Actually, Greece is made up of thousands of islands, each with its own charm.
For example, the Ionian Islands are known for their Venetian influence and lush greenery, whereas the Cyclades Islands such as Santorini and Milos are well known for their whitewashed buildings that sport blue doors and shutters.
Crete is the largest of the Greek islands, while Paxos is considered one of the smallest.
4. The Evil Eye
In Greece, the 'Evil Eye; is thought to be a curse that can be inflicted by someone staring at them with a harmful or malicious intent.
This curse can be caused by anything for jealousy, to anger, and even envy, and can cause the receiver to suffer from bad luck or even illness.
Special charms, called 'matohantro' (which is Greek for 'eye-bead'), are believed to ward off the curse, and can be found hung over baby cribs or even worn as jewellery.
5. Athletes used to compete naked in the Olympics
Most people know that the original Olympic Games originated in Greece. Perhaps what you didn't realise though, was that athletes competed against each other completely naked!
It gives a different meaning to the word spectator sport, and is one of the weird facts about Greece that always makes me smile!
6. People live longer in Greece
The Greek island of Ikaria is categorised as one of the world's rare 'blue zones'. These are places around the world where people live the longest.
In fact, one of the fun facts about Greece is that on Ikaria, over a third of the population lives to be over 90 years of age.
There are many reasons why this may be the case – It could be the relaxed way of life, the Greek diet, or perhaps there's something in the water!
7. Greece has one of the healthiest cuisines in the world
One of the reasons that people live long lives on Ikaria, may be to do with the Greek cuisine.
With plenty of olive oil and fresh fruits and vegetables, it is the quintessential Mediterranean cuisine that is often mentioned as being one of the healthiest in the world.
8. Plate smashing in Greece
Visitors to Greece may soon become aware that 'plate smashing' as a means of celebration really isn't a thing any more. So, unless you go to a specific show (dedicated to tourists!), don't expect to see plate smashing in Greece during your vacation.
And don't get carried away and start smashing plates if your team scores a goal at football either – you'll probably be given a broom to clear up the mess and an extra bill to pay!
9. The ancient Greek statues were actually painted
Another of the cool facts about Greece that people are sometimes unaware of, is that the famous Greek statues were never meant to be plain white!
Instead, they would have been painted in bright colours, which would have brought them to life even more. If you are visiting Athens, and spend some time in the Acropolis Museum, you will see how the statues may have originally looked.
10. The Evzones have to stand perfectly still
The Evzones are an elite group of soldiers that act as guard for the Tomb of the Unknown Soldier in Athens.
Every hour, on the hour, a changing of the guard ceremony takes place in Athens. When the new soldiers move into position, they then have to stand perfectly still for an hour until the next ceremony.
The changing of the guard ceremony is fun to watch for anyone visiting Athens.
Pro tip – If you are in the city on a Sunday, make sure to check it out at 11.00 am. The ceremony at that time is much more elaborate, and includes a marching band! Find out more in my guide of things to do in Athens.
11. Ancient Greeks were scared of beans
One of the cool facts about ancient Greece, is that people were too scared to eat beans! This is because they believed they might contain the souls of the dead.
Fortunately today, no one believes this, and you can find tasty beans on the menu everywhere. In particular, keep your eye out for 'giant beans' in restaurants, and definitely try some when on vacation in Greece!
Fun facts about Athens
Athens is one of the oldest continuously inhabited cities in the world, with people living there for at least the last 7000 years.
One of the Greek mythology fun facts about Athens, is that Athena and Poseidon competed to see who would be the patron of the city. Athena eventually won, and so the city was named after her.
Athens was the birthplace of democracy, which started around 500 BC.
Greek language facts
The modern word 'alphabet' is actually derived from the first two letter of the Greek alphabet: 'alpha' and 'beta'.
The Greek version of the alphabet is dated back to over 2,500 years ago, and consists of 24 letters. Seven of those letters are vowels.
English words are typically dominated by consonants, with a sprinkling of vowels, whereas Greek language words are heavily reliant on vowels.
The Greek language is the world's oldest recorded living language.
Sign up for Greece Travel Guides
If you're planning a vacation in Greece, I've a series of free Greece travel guides I'd love to share with you. Simply sign up below, and I'll get them sent out to you!
Pin these fun facts about Greece
Please pin the image below and share this article to anyone you think may be interested! If you've got any more fun facts about Greece you'd like to share with us, leave them in the comment section at the end.
Related Articles about Greece
Basic Greek Words To Learn For Your Vacation in Greece
The Best Neighborhoods in Athens for Urban Explorers
Things to do in Peloponnese Greece