You can travel from Sofia airport to the city centre using the metro, bus, and taxis. The metro is the cheapest way, but a taxi will take you directly to your hotel.
A complete guide to Sofia airport transfers to make your travels easier!
How to get from Sofia airport to the city
If you've got a city break planned in Sofia Bulgaria, and need to get from the airport to the center, this travel guide has you covered. I'll show you how to use public transport, taxis and hire cars so you're fully prepared before your trip.
For the purpose of this Sofia airport transfers guide, I'm defining Sofia city center as Serdika metro station. This is really the heart of the city, and most hotels can be found in and around this area. Serdika is also a junction station, where you can swap to other metro lines.
Sofia Airport Metro to City Center
The easiest way to get from Sofia airport to the city center is by the metro. You can find the Sofia airport metro station by turning left as you leave departures at Terminal 2, and walking to the end. The metro is clearly signposted, so it's impossible to miss.
Note: Passengers arriving at terminal 1 in Sofia airport should take the free shuttle bus service to terminal 2.
Using Sofia Airport Metro
Once inside the metro station at Sofia Airport, there are two ticket machines just before the admittance gates. Neither of these have been working the times I've visited Sofia in Bulgaria, but fortunately there is a ticket office as well.
The ticket office will only accept cash, so you'll need to have taken some money out of the ATM machines in the public areas of the airport before you left. The ticket price in August 2019 (the last time I visited), was 1.6 Lev. This is the standard price for a single ticket journey on the Sofia metro system.
Once you've scanned the ticket to get through the gate, keep hold of it in case you are inspected at some point (unlikely but you never know). Then, walk through and take the M2 metro line. Both times I have arrived at Sofia airport, the metro carriages have been on the left hand side.
On the Sofia Airport Metro
The metro from Sofia airport goes directly through to Serdika station with no need to change, although there are stops along the way.
Keep your eye out for the metro map on the walls of the carriages which illuminate on which stations have been past by, and flashes on which station will be next. There is also an automated announcement letting passengers know what the next stop will be in Bulgarian and English.
As you'll be one of the first group of people onto the metro, you should find a seat easy enough. In the past, there used to be an extra fee for luggage, but that is no longer the case.
Sofia Airport Bus to City Center
I don't really see the point of taking the bus from Sofia airport to the city center, although for other areas in the city maybe it makes sense. I do know that in Greece we have frequent strikes, so for example if the metro is on strike the buses still work and vice versa. Perhaps the same happens in Sofia from time to time, so it's good to have backup!
If you do decide to use the bus from Sofia airport into the center, the bus line 84 and 184 are the ones that head into the center of Sofia. The cost is the same as the metro, although it should be noted that tickets are not interchangeable.
There is no bus station as such at that airport. Instead, there is a bus bay right next to where the taxis are.
Sofia Airport Taxi to City Center
The taxis in Sofia seem to have a bad reputation. As such, I'll be honest and say I've never used them! They are probably ok if you make sure they operate their meters and don't take wildly diverted routes, but I've never needed to use them. I have heard that it makes more sense to use a taxi to get to Sofia airport terminal 1 though from the center.
If you do want to take a taxi from Sofia airport to the city center, you'll need to go about it the right way. Look for the "Ok Supertrans" booth near the car rental booths, and tell them you want to take a taxi to Sofia city center. They will fill out a form with your destination on it, and also the name of the driver and car registration. You'll then take this form to the taxi area outside and find your ride.
It sounds like more hassle than it is. I've used this system a number of times in different countries, and it's a bureaucratic way to avoid taxi scams by unregistered drivers. No, there is no Grab or Uber – yet!
Related:
Pre-Book a Sofia Airport Taxi
By far the most expensive way to get to Sofia city center, is by pre-booked taxi. But it does make life easier, especially if traveling with a family. By prebooking an airport taxi, you'll have the car waiting for you when you arrive, and it can then take you directly to your hotel with no worries about being ripped off.
Here's a prebooked taxi service: Pre-booked taxi from Sofia airport
Rent a car Sofia Airport
If you've decided to rent a car to drive around Bulgaria, collecting it at Sofia airport on arrival makes sense. There's a number of car hire booths when you step into arrivals, so you'll just need to locate who you booked with.
Can you hire a car on the day? Yes you can, but I think these things are best arranged beforehand!
Sofia International Airport Information
Here is some more information in regards to using Sofia International Airport in Bulgaria. You'll find this useful both arriving and departing.
Where is Sofia Bulgaria airport?
The airport in Sofia is just 10kms away from the city center. The address is "bul. "Christopher Columbus" 1, 1540 Sofia".
How many terminals at Sofia Airport?
Sofia Airport currently has two terminals – T1 and T2. Most airlines operate out of one or the other. Take a look at this page for which airlines fly from which terminal at Sofia airport.
Ryanair Sofia Terminal
Sofia International Airport has two terminals – Terminal 1 and Terminal 2. They are connected by a free shuttle service, if you need to get from one terminal to the other.
Ryanair operate out of terminal 2 at Sofia airport. Terminal 2 is where you can take the bus, taxi, and metro airport transfers from.
Are there ATM machines at Sofia airport?
Yes, there are ATM machines in the public areas at arrivals and departures at Sofia airport. When I used the ATM machine in August 2019, the machine defaulted to English because of my card. There was also no withdrawal fee when using the ATM in Sofia Airport.
If you're not sure about how to deal with your travel money yet, check out my Revolut card review.
Fun Read: Airport Instagram Captions
FAQ About Sofia Airport Terminal Public Transport
Here are some more popular questions that readers sometimes have when planning how to travel from Sofia Airport to their destinations:
How do I get from Sofia airport to the city?
The quickest and most cost-effective method to get to Sofia from the airport is by taking the M2 subway line. To reach the city center of Sofia, you must walk to Sofia Airport Metro Station, which is near Terminal 2. Apart from metro trains, other transport options include bus lines and taxis.
Are taxis expensive in Sofia?
A taxi ride is quite affordable in Sofia. In the case of a typical taxi service, expect to pay 5-7 Bulgarian Lev for short distances (5-6 km), 10-15 Bulgarian leva for mid-range distances (10-15 km), and 15-20 leva for long distances (20+). If you travel at night, there might be a surcharge.
Is there Uber in Sofia?
There is no Uber in Sofia in Bulgaria after many protests by taxi drivers who felt that their livelihoods would be threatened by a race to the bottom in prices.
How much is a taxi from Sofia airport to Bansko?
When travelling with up to four people, the taxi fare to Bansko from Sofia Airport is around 80€ (156 BGN). Extra charges for extra passengers or luggage, waiting time, advance call-out, and bigger vehicle are possible.
Pin this Sofia airport transfer guide for later
Use the image below and add this Sofia transport guide to one of your boards for later. That way, you'll be able to return and read it again when it's closer to the time you'll be travelling.
You might also be interested in these other Balkan city guides:
---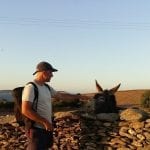 –
Dave Briggs
Dave's
travel writer
from the UK who's been blogging at Dave's Travel Pages since 2005. By providing helpful travel guides and insights into destinations around the world, he hopes to encourage more people to experience different parts of the world.
In addition to this guide on how to get from Sofia airport to city center, he's created hundreds of other blog posts to Bulgaria, the Balkans and beyond! Follow Dave on social media for travel inspiration from Greece and beyond: