A travel guide to Zakynthos airport transfers, showing how to get from Zakynthos airport to your hotel. Zakynthos airport taxis and buses explained!
Arriving at Zakynthos Airport
The beautiful Ionian island of Zakynthos in Greece is a popular summer destination. With direct flights from several European countries, Zakynthos is often preferred by young people who are after its famous nightlife.
The island has much more to offer though, such as its lovely beaches, including the picturesque Navagio beach, and the big Nature Park where the Caretta Caretta turtles lay their eggs.
Even so, it's a relatively small island, and the airport is just a couple of kilometres outside the main town.
On arriving, there's three ways to get from Zakynthos airport to you hotel, which are by taxi, bus, or hire car.
Getting from the airport to your hotel in Zakynthos
In terms of getting from the airport to your hotel in Zakynthos, one of the Zakynthos airport transfers is probably the most convenient option.
** Pre-Book Zakynthos Airport Transfers – Click Here **
This is especially the case if you are staying at one of the popular resorts such as Tsilivi, Laganas, Kalamaki or Argassi.
Although there is an airport bus, it's not super frequent, and the only direct route is only to Zakynthos town nearby. If you are staying in Zakynthos town, taking the bus is fine, if you don't mind waiting.
If you are staying at one of the resort areas, you will have to first take a bus from the airport to Zakynthos town. Then, swap buses and take another bus to your final destination.
The bus stop is in front of the airport building, and you can buy tickets from the bus driver. You can check out the airport bus timetables here.
** Pre-Book Zakynthos Airport Transfers – Click Here **
Where to stay in Zakynthos
If you are looking to enjoy the nightlife in Zakynthos, you can stay in Laganas, Argassi or Kalamaki. All these areas have many clubs and pubs, and are popular among younger crowds in general. Obviously, these spots will probably not be your cup of tea if you like quiet places.
Tsilivi, to the north of Zakynthos town, attracts many European tourists that are after a slightly more relaxed nightlife. If you want to watch your favourite sports events, Tsilivi offers plenty of facilities, bars and sports bars.
If you are looking for quieter alternatives, consider staying in Chora, where you can stroll around the picturesque square and the island's main port. Vasilikos, to the southeast, can also be a good base.
What to do in Zankynthos
Zakynthos is a great choice for people who want to swim and spend some time in the sun, as it has numerous beaches. Laganas beach and the nearby Limni Keriou are home to the island's famous Nature Park and beautiful landscapes.
Most of the beaches in Zakynthos are organized, with umbrellas and loungers, while a few areas in the Nature Park are occasionally closed to the public, to protect the turtles.
Apart from the beaches, Zakynthos has numerous towns and villages worth visiting. The main town, called Zakynthos or Chora, is where you will find the impressive Dionysios Solomos square, several churches, beautiful buildings and a couple of museums.
Just outside the Chora, you can visit the Venetian Bohali castle, offering some of the best views of the island.
Getting around Zakynthos
Getting around Zakynthos is pretty straightforward. If you don't want to rent a car, you can use a combination of taxis and buses to explore the island.
In fact, if you are mostly going to Zakynthos for the nightlife, there is probably little point in hiring a car as parking, especially in the evenings, might be a little problematic.
Your best option is to stay in one of the party areas, and use buses or taxis to get around during the daytime.
The local public bus network is fairly extensive, and quite convenient if you want to get to some places on the island, such as Laganas and the nearby Limni Keriou, Kalamaki, Argassi and Tsilivi.
It is also possible to reach more faraway villages on the bus, such as Volimes and Anafonitria, close to Navagio beach. However, there may be a long wait for the buses, and they might even be full when they arrive, while for some routes you will have to change buses at Zakynthos town.
A quicker and easier alternative is to use pre-booked taxis, that will get you anywhere much quicker.
You can check the Zakynthos bus schedules here
Pin for Later
Use the image below to pin to one of you Pinterest boards about Greece. That way, you'll easily be able to find it again later.
Fun Read: Airport Instagram Captions
More Greece Guides
You might also be interested in these travel guides to Greece:
---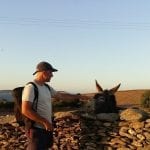 –
Dave Briggs
Dave is a
travel writer
based in Greece As well as creating this guide to Zante airport transfers, he's also written hundreds more travel guides to Greek destinations. Follow Dave on social media for travel inspiration from Greece and beyond: