During my bike tour from Alaska to Argentina, I took some time off in La Paz Bolivia. This blog post covers some of the things I did in La Paz.
La Paz Travel Blog
Blog post written October 4th 2010
This travelogue update is split into two parts, this one, which covers just the general stuff, and the next update, which covers a fiesta for the Virgen del Rosario, which happened whilst I was here.
So, about my time off in La Paz, Bolivia…
I had met Heidi here in La Paz, and we got an amazing deal on Hostal Estrilla Andina, a place that would have normally been far out of my budget, but by splitting the room cost, and negotiating a good price, we were in a 3 star hotel for a price far less than that of staying in a backpackers haunt.
The hotel included a great free breakfast up on the fifth floor with awesome views over La Paz, an amazing WiFi signal, reliable hot water and a general level of comfort that is absent from my normal standard of hotels !
Meeting Gerado in La Paz
On the second night in La Paz, I arranged to meet someone that I have known through online gaming for a couple of years, who happened to be in La Paz on business.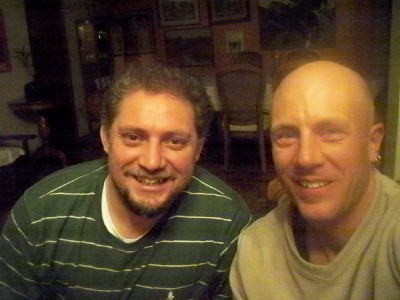 Gerardo Saiz and Dave Briggs
Gerado is originally from Argentina, but is now living in Uraguay, and was in La Paz for a couple of weeks on business.
We met up in a restaurant serving some incredible steaks, and it was great to finally put a face and voice to someone I have known through gaming for a couple of years or more.
His English was far better than my Spanish, and conversation ranged from gaming (obviously!!) to politics, family, and a hundred subjects in between.
After dinner, we went back to his company apartment for a few more beers… great views over the plaza there!! It was a real pleasure meeting up with Gerardo (Ger in the gaming world!!), and if you are ever in England buddy, I will treat you to fish and chips with a pint of John Smiths!
Can I earn money online?
I spent a little while updating one of my websites, the Spanish hostal booking one. Using some of the money that I had earned through Freelancer, I had paid another Freelancer to write me 15 city articles in Spanish. I hope that this small investment will help to make those pages get more visitors.
Along with other website tinkering, I had to plan my onward route. I hope to cycle through two salt pans on my way southwards, which should be a great adventure. I have even bought a compass – Must be going pro!
From Friday through to Sunday, a fiesta was also taking place, and for this, the hotel room was ideally placed with a birds eye view down onto all the action. Read about that in the next article!
Read more about cycling from Alaska to Argentina
Also read: