You don't want to run out of money while traveling, so here are some ways you can support yourself financially.
Best ways to support yourself traveling
You've planned your around the world trip, and think you've budgeted enough to make it through the whole adventure. But what if you need money while traveling?
Whether you've got a trip in mind with a fixed end date, or you're on the road with no end in sight, having a plan to make money while traveling if you need to is always a good idea.
In the past, I've picked up several different types of jobs and ways of making money to support myself on long trips. These include picking grapes, sorting potatoes on a farm, and freelance writing. I was even a nightclub bouncer in Sweden at some point!
To a certain extent, being able to work abroad in a different country adds as much to the travel experience as it does to your wallet.
Related: How to afford to travel on a long term trip
How to earn money while traveling
Here then, is a collection of tips and advice on how to make money while traveling abroad so you can support yourself should you ever start running out of money.
1. Bartending
Do you have some bartending skills, or are you a quick learner? In big cities around the world, it's easy to find a bar that will let you serve drinks and collect tips. It might not be the most glamorous job, but it can bring in some decent money if you don't mind working late into the night (or early morning).
Many people head to tourist areas a month or so in advance of the season, and then ask around local bars and restaurants for seasonal work. You never know what you might be able to pick up, and as well as earning a little extra cash, you'll also save money by not going out at night!
2. Hostel Manager / Help
Many hostels offer free accommodation in exchange for a few hours of work. You could be the person at the front desk, welcoming visitors and helping them with any queries they might have. You might be the cleaner.
If you speak multiple languages it's always an advantage, and working in a hostel can be a great way to pick up some extra cash or get a free bed while you learn more about the local culture and meet interesting people. You could even combine it with other work, like teaching English online or bartending as mentioned earlier.
3. Scuba Diving Instructor
If you're not already a qualified scuba diving instructor, it's something to consider going for if you're planning a long term trip. Consider it an investment in yourself, as you have the potential to earn more money in the future to cover your instructor courses, plus start saving money as you travel.
Once qualified, it's a way to make money while traveling that you can do in all sorts of wonderful places around the world. You'll be teaching people how to dive and sharing the beauty of nature with them – what could be better than that?
4. Teaching Yoga
Are you a yoga enthusiast, and have you ever tried to teach yoga? If so, you can make money teaching yoga classes to fellow travelers or locals during your extended vacation time.
You can find classes in tourist spots around the world, or post your own yoga teaching profile online and market yourself to potential clients. Teaching yoga is a great way to make money while traveling, and you'll keep yourself in shape too!
5. Teaching English
If you are a native English speaker, you have a skill which is in demand all over the world. Teaching English is an excellent way to make money while travelling and a great way of supporting yourself should your travel funds be running low.
There are plenty of opportunities to teach English, especially in Asia, where there is a huge demand for native English speaking teachers. The pay isn't always great but it's enough to cover your living expenses while abroad and maybe put a few bucks away.
6. Seasonal Crop Picking
Farms in every country in the world rely on seasonal workers to help with crop harvesting. It's hard work, and won't get you rich, but it can be a great way to support your travels, especially if you're in an area where there are farms nearby.
I know someone who goes to Norway for 3 months every year for berry picking. What they earn while working there, supports their their travels for the other 9 months of the year.
7. Busking
The history of wandering musicians is probably as old as civilized society itself, and busking is still a good way to make money – but it does rely on talent of course!
Singing and playing a musical instrument in public places for donations is more popular in some places than others, so don't rely on it as your primary source of income. In some countries, you might also need a permit.
Can't play an instrument or sing? Try face painting, juggling, or performing magic tricks! The possibilities are endless.
8. Online Freelance Work
The internet has opened up a world of possibilities for people who want to make money while travelling. You could be a freelance writer, virtual assistant, web designer or coder, the list goes on and on.
By having a location independent job, you can work from anywhere in the world with a laptop and an internet connection. You don't need to be tied down to one location, and you can take your job with you wherever you go.
Also read: Best digital nomad jobs for beginners
9. Blogging/Vlogging/Influencer
As you work online, blogging and vlogging can be good ways to make money while travelling. You're essentially providing content to readers/viewers who are interested in what you have to say or show.
If you already have your own website or YouTube channel before setting off on your travels, you can use it to document your journey. As your readership or viewership grows, you can monetize it with advertising and sponsorships to earn some hard cash.
If you're new to this world, start small and build up your followers before trying to make money out of it. It takes time and dedication, but is totally possible!
Related: How to live the laptop lifestyle
10. Passive Income
Perhaps one of the best way to support yourself as you are traveling, is to plan for it before you go. Think of ways that you can use your skills and knowledge to create a passive income stream which will not only fund your travels, but also continue to make money even as you are on the move.
Some examples could be creating an online course, writing an ebook, or owning an affiliate website. Even renting out your house while you are away or receiving an income through other investments can help fund your travels. One way I earn passive income is through sales of my travel guide books on Amazon. What a great opportunity to plug them here!!
The possibilities are endless, but it does take some planning and commitment!
Related: How to make passive income when traveling
Advice For Traveling
Here's a few more tips on ways of supporting yourself on your travels. They include ways to think about how you are spending money, why cheap flight tickets can be a false economy, and the importance of doing your research before you go.
Budgeting – Make sure you budget for all your travel costs, including accommodation, food, transport and activities. This will ensure that you have enough money to cover all your expenses while away.
Don't Fly Too Cheap – Flying is often the most expensive part of a trip but you don't necessarily have to go for the cheapest option. It's worth doing research and considering other options such as taking a coach or train, or even booking in advance. Additionally, many cheap flights have additional charges for luggage which soon add up – I'm looking at you Ryanair!
Plan ahead – Research your destination and understand the local costs of living, as well as any visa or immigration requirements.
Make a list of potential sources of income – Look into freelancing opportunities, seasonal work, remote jobs, teaching English, working on a farm, or bartering for services.
Get creative – Think outside the box and consider alternative options for making money while traveling like crowdfunding campaigns or online mentoring programs.
House sitting – There are a number of websites available which connect you to people who need someone to look after their property while they're away. This can be a great way to explore your next destination while saving on the cost of accommodation as hotel room expenses can be the biggest drain on your travel funds.
Volunteer work – There are many organisations and charities that offer free accommodation and food in exchange for volunteer work. Even if they don't, perhaps by volunteering in a community you are visiting, you will learn new skills and make valuable connections that may open up new career opportunities.
Develop a network – Connect with people at your destination by joining Facebook groups or reaching out to local businesses and organizations that might need help with tasks like translating materials or designing websites.
Having a backup plan – Consider having a part-time job back home that you can return to if needed.
Have an emergency fund – Make sure you have some extra money in case of emergency situations while away from home.
Stay organized – Keep track of all expenses diligently so that you don't run out of funds unexpectedly during your travels!
I hope you enjoyed this handy guide! With these tips, you'll be able to set off on your travels with confidence, knowing that you have a plan for supporting yourself while away. With some planning and research, you can make sure you have a steady source of income while living the life of adventure you have always dreamed of!
---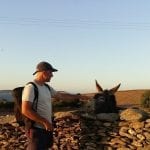 –
Dave Briggs
Dave is a
travel writer
from the UK who has been traveling the world since 1997. He now loves in and writes about Greece, which he feels has something to offer for everyone! Its incredible islands, such as
Santorini
,
Mykonos
,
Rhodes
, and
Milos
are perfect for beach time and sightseeing. Historical sites like
Knossos in Crete
,
Delphi
, and
Mycenae
captivate visitors with their grandeur. Follow Dave on social media for Greece travel ideas: