Discover the best things to do in Saigon with this Ho Chi Minh city travel guide. Enjoy Saigon attractions such as markets, museums, monuments and more!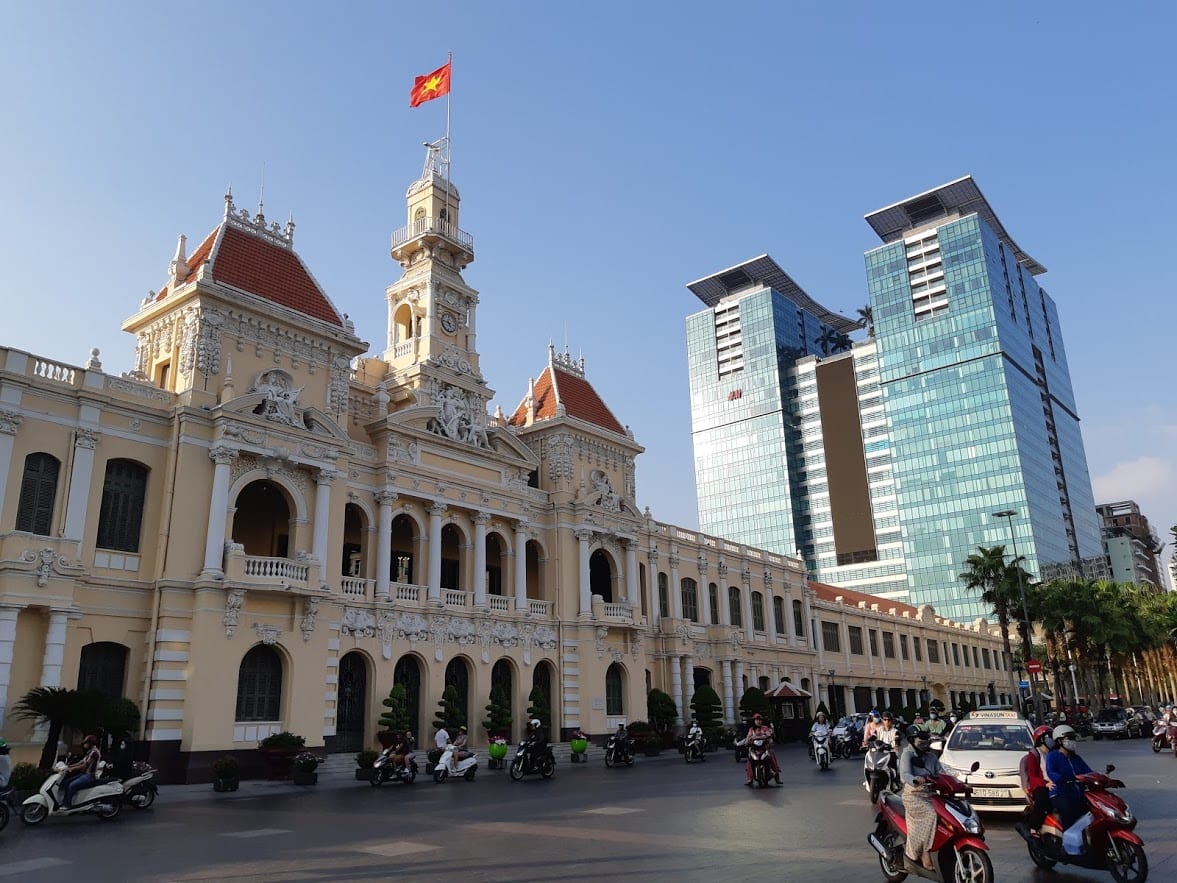 In February 2019, we spent 3 days in Saigon, known nowadays as Ho Chi Minh City. A large, bustling metropolis, Saigon has plenty of activities, markets, museums, street food and nightlife to keep you busy for several days.
This was part of our five month trip through Asia. Having come straight from the quiet island of Con Dao, it felt strange to be back in civilization once more!
In a way, it's a shame we didn't spend longer than 3 days in Saigon. I actually found it to be one of the friendliest and appealing cities we visited during our Asia trip. I'll be returning one day, that's for sure!
Where is Saigon?
Although the capital of Vietnam is Hanoi, Saigon is its biggest city. It is Vietnam's financial centre and the most popular urban destination in Vietnam. It is located at the south part of the country, right on Saigon River.
In terms of population, Saigon has 8.3 million people, of which the vast majority is Vietnamese. There is also a sizeable Chinese community, the biggest in Vietnam.
Saigon is divided in 19 districts and 5 suburban areas, each of which has a unique character. Districts are further divided into wards. District 1 is the city centre, and this is where you will find most of Saigon's landmarks, but also a large number of restaurants, cafés, bars and hotels. The Chinatown, or Cholon, is located in District 5.

Brief history of Saigon
After centuries of being inhabited by the Khmer people and the kingdom of Cambodia, Saigon gradually turned into a Vietnamese colony, towards the end of the 17th century. It was occupied by the French in 1862, and eventually gained back its independence in 1955, when it became the capital of South Vietnam.
During the following twenty years, the Vietnam War raged in the wider area. The official opponents were North and South Vietnam, but many other countries were involved, including the US, the Soviet Union, China, South Korea, Thailand, Cuba, Australia and a few more.
The war ended after a series of events that can't possibly be summed up here, leading to Saigon being captured by North Vietnam and the Viet Cong guerrilla troops, in 1975.
North and South Vietnam were unified on 2 July 1976, forming the Socialist Republic of Vietnam. It was at that time that Saigon was renamed into Ho Chi Minh City, in memory of the late Ho Chi Minh, who had served as Prime Minister and President of North Vietnam.
The two names are used interchangeably until today. We'll be using the name Saigon (mostly!) throughout this Vietnam blog post.

How long to spend in Saigon?
This is always a tough question to answer when it comes to how long to spend in a city. Certainly, Saigon is one of those places which will grow on you the longer you are there, so you should give it as much time as possible.
I would say that 2 days in Saigon is the minimum you should aim for. Perhaps four days would be more ideal, but it really depends on how much time you have to spend in Vietnam and Asia.

Walking around Saigon
The centre of Saigon, District 1, is pretty much walkable. Within a relatively compact area, you can see the main attractions of Saigon which include:
The Independence Palace
The Post Office
Notre Dame Cathedral,
Bitexco Tower
The War Remnants Museum
The Fine Arts Museum
Ben Thanh Market
Mariamman Temple
and more!
We'll be going into more detail about these Saigon attractions later.
Though these places of interest in Saigon are definitely worth visiting, one of our favourite things to do in Saigon was simply to wander around the wide boulevards and the small alleyways, mostly outside the immediate centre.
From the massive Nguyen Hue pedestrian street, leading up to president Ho Chi Minh's large statue, to the tiny backstreets all around the city, Saigon is a feast for the senses.

Coffee and coffee culture in Saigon
Like the rest of Vietnam, Saigon has a vibrant coffee culture that reminded us of Greece. Wherever you go, you will see locals sitting on tiny stools and sipping their coffee.
There are several types of coffee in Vietnam, with many variations of iced, cold and hot coffee, with the most unique being the egg coffee and the coconut coffee that we absolutely loved. Just find a café, order your coffee, and watch the world go by.
A place you should definitely visit is a block of re-purposed flats on 42 Nguyen Hue Street. You probably won't spot it unless you know about it.
There's a semi-hidden entrance to this massive apartment block, leading to numerous coffee shops, ice cream shops, clothes boutiques and other small businesses.
If you walk up the stairs, you will notice that the building is actually crumbling. This reminded us of the art squats in Berlin, but also other similar buildings we have seen in x-communist countries.

Food in Saigon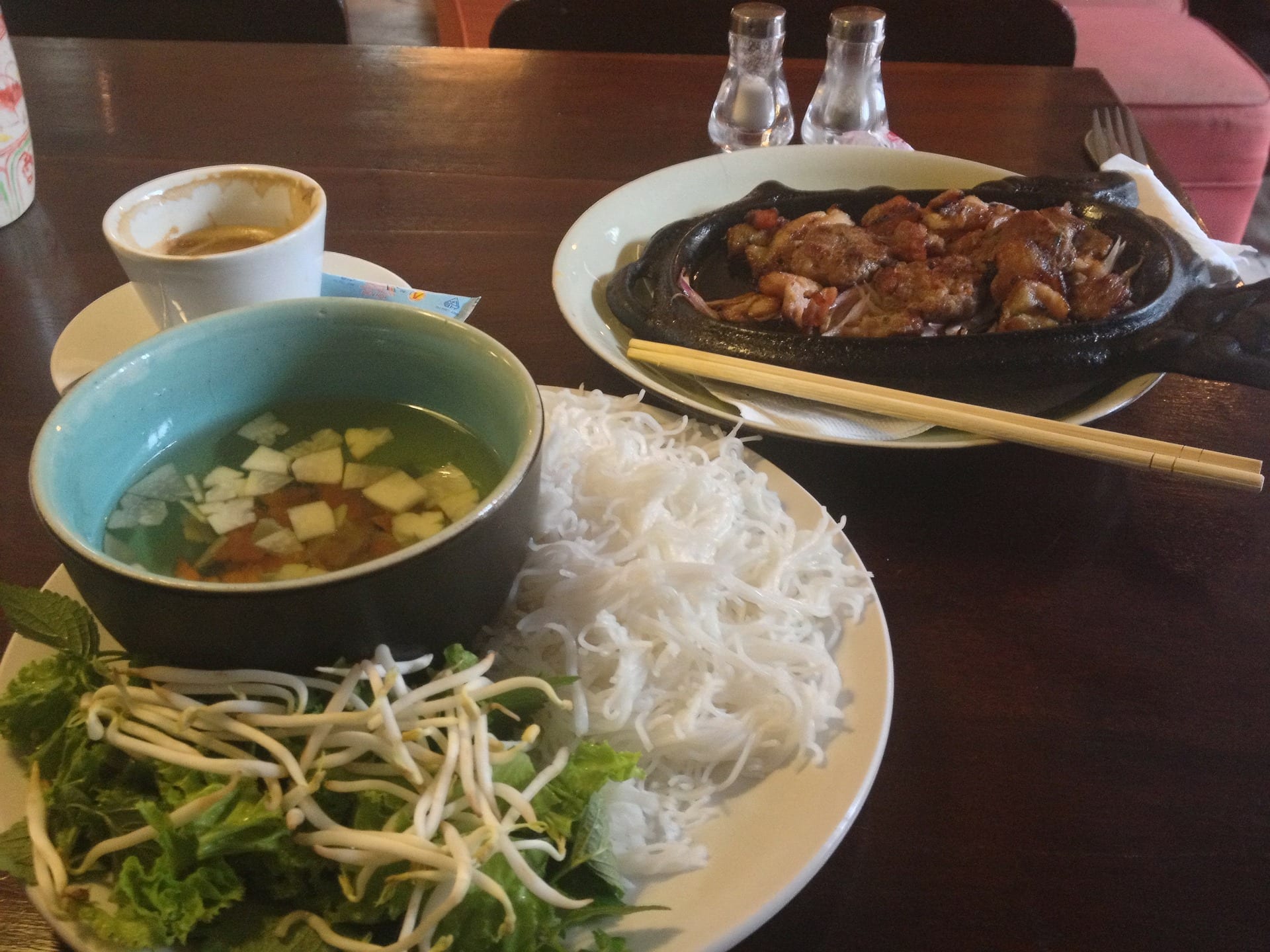 Unlike the Vietnamese coffee, we didn't exactly fall in love with Vietnamese food. Whilst other travelers we have spoken to seemed to rave about Pho, I really didn't think it was all that special. Apologies to any Vietnamese people reading this!
That said, Saigon has plenty of options for food, from street food to fine dining, including international cuisine.
Needless to say, if you are after traditional Vietnamese food like pho, noodles, baguette sandwiches and the Saigonese broken rice, you will find them everywhere.
Also, unlike some of the nearby countries in SE Asia, a cold beer is not only very easy to find everywhere, but also really inexpensive. A shame I gave up drinking four years ago!

Nightlife in Saigon
We won't lie – these days, we are not super interested in partying and late nightlife, so apart from the World of Heineken we didn't visit any other rooftop bars. However, Ho Chi Minh City is famous for its wild and varied nightlife. Bars, discos, clubs, speakeasy bars and karaoke places are in abundance in this bustling city.
A place that came highly recommended was Chill Skybar, which apparently was the first rooftop bar in Vietnam, and is still one of the best. You can choose to come for sunset, or later, when it turns into a dance club with live DJs. Note that it has a dress code, so we probably couldn't have visited anyway!

Best things to do in Saigon – Saigon highlights
Due to its rich history, and especially because of the French colonization, Ho Chi Minh City has several attractive buildings that should be on everyone's list of places to visit in Saigon.
Within the centre of the city there are large squares, wide avenues, luxurious malls and tall skyscrapers. At the same time, much of the city is full of derelict blocks of flats, bustling markets, street food stalls, small coffee places and speakeasy bars.
Although Vietnam is officially an atheist country, in practice many citizens are quite religious. With Saigon being a multicultural city, it is not a surprise that it has an abundance of temples dedicated to numerous religions.

Museums in Saigon
In terms of museums and historic places of interest, Saigon has a fair few. Apart from the best known museums, there are also many private, smaller ones, as well as galleries. Here's our pick of the best – well the best that we had time to see, in any case!

The War Remnants Museum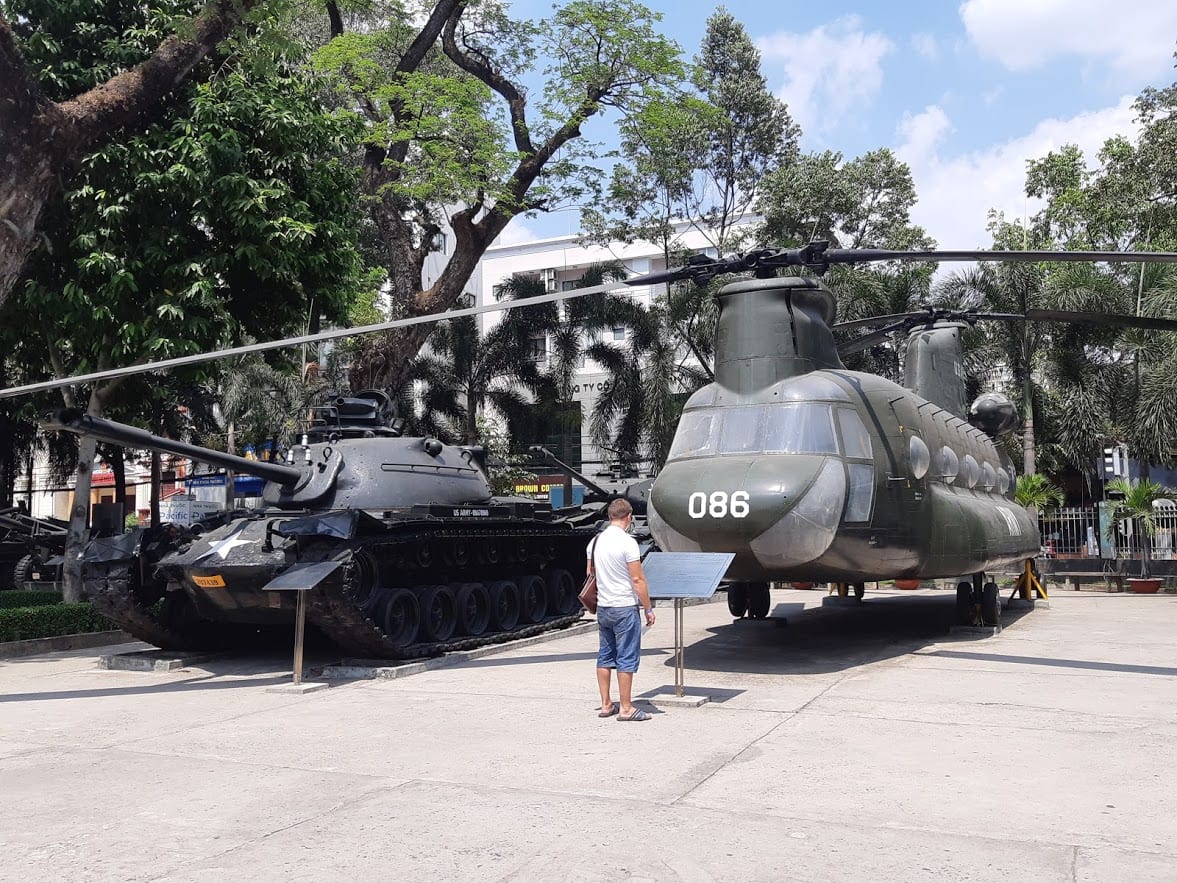 The War Remnants Museum is a large space, presenting the atrocities of the Vietnam War and its consequences. If you only have time for one museum in Saigon, make it this one. Be aware that it's not an easy experience and it's really not suitable for children – for this reason, there is a playground in the museum.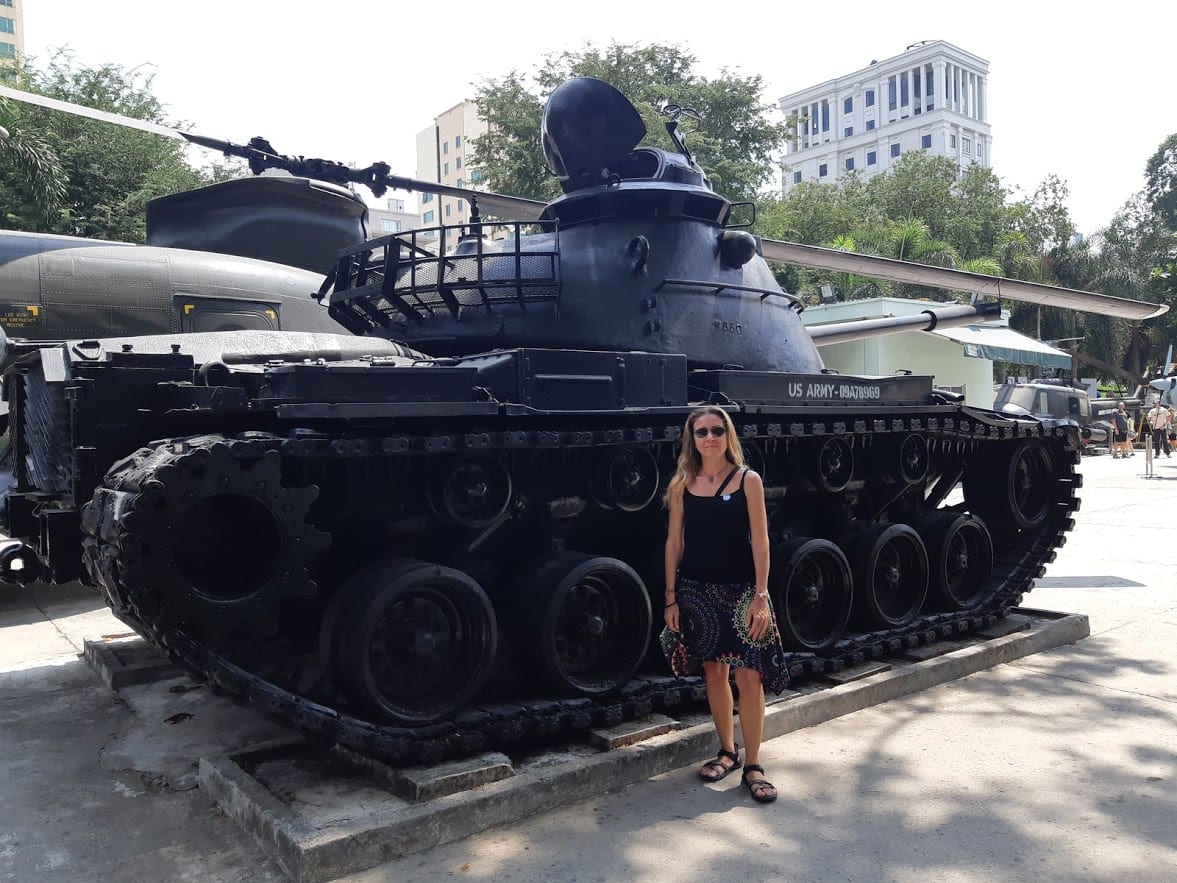 In the large courtyard, you will see American military equipment, such as a tank, a helicopter, a couple of fighter planes and a 7-ton bomb, used during the Vietnam War. At the same area, there are replicas of the famous tiger cages in Con Dao and Phu Quoc, where political prisoners were kept under terrible conditions.
As we had already visited the actual cages in Con Dao, we can guarantee that they were very well made, and presented a reality that is hard to believe, supported by various photos and torture devices.
The museum is divided in several rooms, each with a theme, where photos, weapons and other objects are presented. By far the most disturbing room was the one showing pictures of the victims of the "Agent Orange" chemicals, due to which over half a million children were born with birth defects.
The War Remnants Museum has to be one of the most gruesome museums we have ever visited, and along with the Genocide Museum in Phnom Penh it was one of our saddest experiences in SE Asia.

The Fine Arts Museum
Although we had found the National Fine Arts Museum in Hanoi rather disappointing, we decided to visit the Fine Arts Museum in Saigon nevertheless. It was a good decision, as we found most of the art really interesting.
You probably won't realize it before you enter, but the museum is huge, as it spreads out in three French colonial buildings from the 1920s – 1930s. In fact, even if you are not too interested in art, you should visit just to see the actual buildings.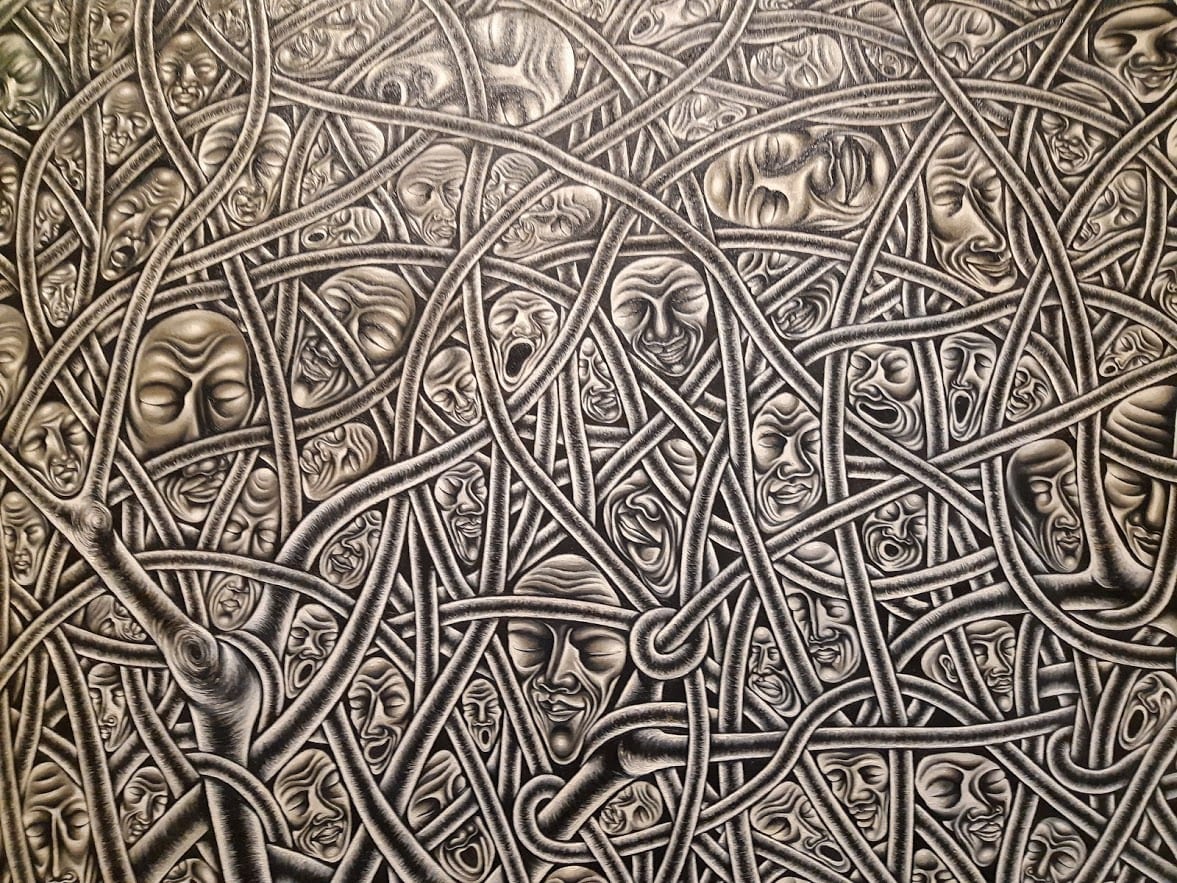 The museum hosts several permanent and temporary exhibitions, and there are artworks dating from the 1st century up to present time. There are exhibitions of contemporary art, including modern adaptations of traditional techniques.
Some of the most prominent painting themes have to do with resistance to the colonial rule, as well as propaganda. We found some of the paintings very unique, though some others reminded us of well-known European artists.
Overall, we really enjoyed this museum, though we wished we had eaten something before visiting – we spent around three hours in total!

Ho Chi Minh City Museum
Another museum worth visiting even just to see the lovely French colonial building where it is hosted, is the Ho Chi Minh City Museum, showcasing Saigon's history through historical artefacts.
In the grounds of the museum, you will find a lot of ethnographic material, such as ethnic costumes, photographs, documents, maps, utensils, ceramics and artworks. There are replicas of traditional Vietnamese homes, complete with mannequins, to explain real life in the country.
There are also sections focusing on the fights against the colonial French and the Americans, explaining how the Vietnamese created weapons out of spare parts and junk.
If you have no time to visit the Cu Chi tunnels, you can see an interesting model of the tunnels, as well as a display of photographs.
Beneath the museum, there is a complex grid of passages leading to bunkers, connecting the museum with the nearby Reunification Palace.

Reunification Palace or Independence Palace

By Diego Delso, CC BY-SA 3.0, Link
This is one of the most important buildings in Saigon's recent history. It was built by the French colonists on the grounds of an older palace, and was completed in 1873.
It was used by the Governors of French Indochina until 1945, and became the workplace and home of the President of South Vietnam during the Vietnam War.
The Independence Palace is where the Vietnam War ended, when a North Vietnamese tank crashed through the main gates in 1975.
Outside the museum, in the large courtyard surrounded by beautiful gardens, you can see two of the tanks that were used in 1975, as well as a few aircrafts and other vehicles.
The inside of the museum has been kept pretty much intact. Within the huge chambers, you can see the original furniture and carpets, war maps, propaganda material and equipment used for telecommunications.
There is also a casino and a card playing room on the upper floors, and a helipad on the rooftop. The basement is home to bunkers, as well as control rooms and offices that were used during the war.
Apart from being a popular tourist destination, the Reunification Palace often hosts important events and government meetings in Saigon.

Museum of Vietnamese History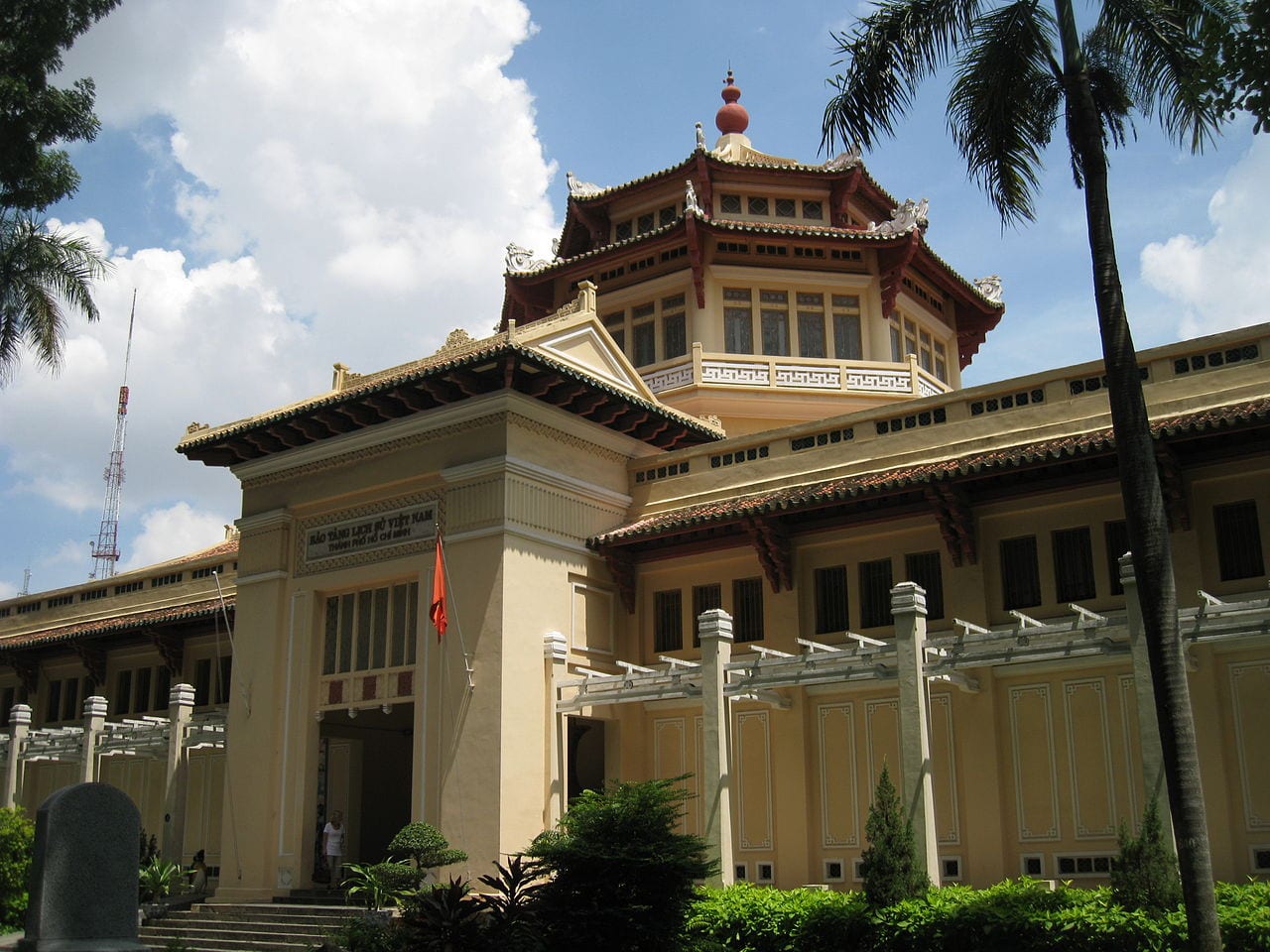 By Nguyễn Thanh Quang – Own work, CC BY-SA 3.0, Link
This is a great museum in Saigon if you want to learn more about Vietnam's history from the Prehistoric Ages until WW II.
There are displays of all previous civilizations that passed by the country, including the Dong Son, Cham and Khmer civilizations. You will see all sorts of artefacts, such as tools, coins, weapons, pottery, sculptures and other artworks, as well as clothes word by the Nguyen dynasty in the 19th and 20th centuries.
If you want, you can also watch a traditional Vietnamese water puppet performance, for an extra fee.
The building where the Museum of Vietnamese History is hosted was built in 1929, during the French colonial era, and was originally home to Asian art collections. Just like most other museums in Saigon, it's worth visiting just to see the grandiose building and the gardens.
The museum is located just next to Saigon Zoo and Botanical Gardens, and you can easily combine them.

Southern Women's Museum
As we had already been to the excellent Women's Museum in Hanoi we didn't visit this one, but it would definitely be an interesting addition to your itinerary in Saigon. Entrance is free.
Much like its Hanoi counterpart, this museum was established to showcase the role of Vietnamese women in the country's development.
The exhibits include traditional women's clothing, photographs, documents and letters, and help explain the women's role in Vietnam's current political life.

Museum of Traditional Vietnamese Medicine (FITO Museum)
A very unusual-themed museum, the FITO is a private museum offering information on Vietnam's traditional medicine.
There are artefacts from the Stone Age onwards, including tools, instruments, containers, books and journals, and information on medicinal herbs, used frequently in traditional Chinese medicine. There is also an audio-visual display on the history of Traditional Vietnamese Medicine.
The FITO museum is housed in a pretty traditional building a little out of Saigon's centre, in District 10, where you can easily get by a Grab ride.

Markets in Saigon
As with many Asian cities, Saigon has more than its fair share of markets to go and visit. These are great places to really throw yourself in to the crazy sights, sounds and smells of Saigon!

Ben Thanh Market

This is the number one market in Saigon, and it's hard to leave it out of your itinerary. Right in the middle of District 1, it's one of the city's landmarks and most visited markets.
Due to its central location, this market is very popular with tourists, and as such you can find all sorts of souvenirs, clothes and shopping stalls. At the same time, you can also find different types of foods, the famous Vietnamese coffee, tea, and several food stalls.
The roads around Ben Thanh Market are quite busy with traffic during the day, but are closed in the evening, when the daily night market is put up.
We have to admit, we weren't overly impressed with this market, but by that time we had visited numerous other markets in several Asian countries, including the ones in Chiang Mai. However, you should definitely visit if you are passing by Saigon.
Binh Tay Market
Just in the centre of Saigon's Chinatown, in District 5, you will find the bustling Binh Tay Market. Also known as Cholon Market, this is one of the oldest markets in Ho Chi Minh. You can easily get there on a Grab taxi or motorcycle.
There is lots of food – fruit and veg, fish, seafood, and different sometimes obscure types of meat, though hopefully no dog meat.
Apart from fresh produce and food stalls selling Vietnamese-Chinese snacks, you can also find endless bags of dried food – fruits, nuts, candies, seafood and other unidentifiable items. There are also plenty of stalls selling clothes, textiles, handicrafts, bags, household items, electronics and other goods.
Although the products on display are rather similar with those sold in Ben Thanh, we thought that this was a much more genuine market, with a more authentic feel.
It's best to visit early in the morning if you want to get a glimpse of the local life, especially if you want to stroll around the wet market.

Dan Sinh Market / Yersin Market / American Market
Formerly a popular gambling zone among the foreign military, a food market and an industrial market, Dan Sinh Market is right in Saigon's District 1. If you are a collector of war memorabilia, or just curious to see some items from the Vietnam War, this is an interesting market to visit in Saigon.
Here, you can find military items and antiques. It seems that, while it is still possible to find some authentic pieces, the majority of the items on sale are fake, so take your time to explore the stalls and the narrow aisles.
There is also a large selection of camping gear such as tents, mosquito nets, combat boots, special clothing, tools and other outdoors stuff.

Temples and Churches in Saigon
Some more stops you can add to your Saigon sightseeing itinerary, include a few of the temples and churches. Many religions are represented in Saigon in one form or another.

The Jade Emperor Pagoda

By Ymblanter – Own work, CC BY-SA 4.0, Link
One of the most important Taoist temples in Saigon is the Jade Emperor Pagoda, which was built in the beginning of the 20th century by a Chinese community. It is also known as Tortoise Pagoda, because of the tortoise pond in the gardens.
The temple is popular among the locals who visit to pray and offer flowers and other goods, and the atmosphere is quite mystical and serene, due to the many candles and incense sticks.
The artworks inside the temple are fascinating, and they symbolize different aspects of Taoism. It is worth spending some time exploring the carvings on the interior walls, illustrating punishments in purgatory, reserved for those who don't enter the Jade Emperor's realms.

Mariamman Hindu Temple
Close to Benh Thanh Market you can find the most important Hindu temple in Saigon, dedicated to Mariamman, the goddess of Rain. It was built towards the end of the 19th century by Tamil Indian traders, and is a popular place of worship among Hindus.
Outside the temple, you can see the usual colourful cluster of Hindu god statues, such as Ganesha, Vishnu and Brahma. Several statues also exist inside the temple, along with flowers and incense sticks.
The temple is busiest at 10 am and 7pm, when the consecrating fire ritual takes place, and participants are said to have better luck in the future.
In October, the temple celebrates Mariamman's birthday, and the festivities are attended by local Hindus and Vietnamese, as well as tourists who happen to be there at the time.

Saigon Notre Dame Cathedral
This large, impressive basilica was built by French colonists in the 1880s. Its red brick façade and tall bell towers make it stand out from the nearby buildings. When we visited it was under refurbishment, and there was a lot of scaffolding around, but things may now have changed.
The Saigon Notre Dame is located very close to both the Independence Palace and the Post Office. Sunday mass is held here at 9.30 am, but you should also be able to visit any day during the week, from 9am to 11am.

Colonial Buildings in Saigon
During the French colonial period, many buildings were constructed that gave the city an almost European feel. Some of the more significant colonial landmarks in Saigon that are not already mentioned include:

Saigon Central Postal Office
Right in the centre of District 1, next to the Notre Dame Cathedral, you will see the picturesque Central Postal Office. Constructed between 1886 and 1891, it is another magnificent colonial building that you should definitely take a look at.
The bright yellow exterior and the indoors floors, ceilings and map murals are quite amazing. If it wasn't for the large, imposing painting of Ho Chi Minh, you could mistake that for a building somewhere in Europe.
These days, the building still functions as a post office, where you can send a postcard back home. It also doubles as a souvenir market, with stalls selling Vietnamese hats, postcards, magnets, lacquerware and other souvenirs.
Interestingly, the prices are not as high as you would expect, considering the location.

Saigon Opera House
The Opera House was built at the end of the 19th century, and it has a capacity of 500 viewers. While it is beautiful to see from the outside, you should consider watching a performance, like the Cirque du Soleil or the Vietnamese Tribal Culture.

Saigon Botanical Gardens and Zoo
Right next to the Museum of Vietnamese History, you can also go for a stroll in the Botanical Gardens and Zoo. Having opened to the public in 1869, the Zoo is one of the oldest zoos in the world, while the botanical gardens are home to several special and rare plants. We didn't visit, as we are really against zoos, but the gardens are supposed to be beautiful.

Modern Saigon
Saigon is an ever-developing city, which is quite remarkable given the periods of war and sanctions put on the country. The following buildings and attractions reflect the modern Vietnam.

Saigon Bitexco Financial Tower and World of Heineken
Right in the centre of District 1, you will see the impressive Bitexco Tower, one of the most famous and heavily awarded Saigon landmarks. At 262 metres tall, it's a fascinating construction containing offices, restaurants, a helipad and the world's highest Heineken bar. The Tower is a popular attraction as it offers panoramic views of Saigon from the Sky Deck.
Visiting the Tower is possible either by getting a ticket for the Sky Deck, on the 49th floor, or by having a meal or drink at one of the restaurants on the 50th and 51st floors.
Entrance ticket to the Sky Deck costs about 8 euro, which we thought was a bargain compared to similar other landmarks in the world we have visited. The café / restaurant prices were also fairly reasonable all things considered – a few beverages were just under 8 euro, while some dishes seemed a little overpriced.
The best option, in our opinion, is to get a combined ticket for the Sky Deck and the World of Heineken, which costs around 10 euro. This ticket includes a visit to the interactive Heineken Experience, where you will learn more about how Heineken is being produced. You will also be offered two glasses of beer, and get a personalized bottle to take home. I don't drink, but the Mrs really appreciated the bar!
Note that the Heineken Museum slots are limited – when you arrive to claim your ticket, they will let you know when you can visit the bar. We had to wait for a couple of hours, which we spent at the Sky Deck, and we had the chance to see Saigon from above before, during and after sunset.

Suoi Tien Amusement Park
If you are travelling with family, you could consider visiting the Suoi Tien Amusement Park, to the north-east of Saigon, in District 9.
As the park theme is inspired by Vietnamese history and traditions, your visit will not only be entertaining, but you will also learn some of the local legends. There are numerous games and rides for all levels, including an area for younger children.

Dam Sen Water Park
Another amusement part close to central Saigon is the Dam Sen Cultural Park. This is a park with more varied activities, that range from bumper cars and park rides to water puppet theatre shows, a bowling area and a zoo. There is also a separate section with waterslides and pools. This can be a fun activity on a hot day in Saigon.

Day trips from Saigon
If you are staying in Saigon for a few days, you might want to consider a day tour to nearby areas of interest. Here's a look at the most popular day trips from Saigon.
The Cu Chi Tunnels
Apart from the War Remnants Museum, this is one of the best things to do in Saigon. The Cu Chi tunnels are an incredibly extensive network of tunnels including anything, from living areas, bedrooms and kitchens, to command centres, schools, hospitals and storage facilities, and even theatres and music halls.
The tunnels were first built in the 1940s, to serve as a hiding place from the French, but were later assumed and further expanded by the Viet Cong. They passed underneath American bases, joining up several villages, and serving as underground living spaces.
The Cu Chi tunnels were proper subterranean cities, also aiming to protect people from the frequent bombings. It is estimated that the total length of the tunnels exceeds 120 kms, which were entirely dug by hand and simple tools, without the help of any machines.
During the Vietnam War, US forces often attacked the area with chemical weapons and other means. It is estimated that at least 45,000 Vietnamese people died in an effort to defend the Cu Chi tunnels.
Visiting the Cu Chi Tunnels
Nowadays, visitors can enter some of the narrow tunnels, which obviously is not recommended if you are claustrophobic or have breathing issues. It's worth noting that some of the tunnels that are accessible to the public have been widened, to allow for a little more freedom while moving around.
Even though the parts that are possible to visit are only around 100 metres long, they still give you an idea of what life was like underground.
Furthermore, if you ever wanted to fire a real rifle or machine gun, this is your chance, as there is a shooting range here where you can try to fire those impressive weapons. You can also have a taste of the meals that were primarily consumed these days.
The easiest way to visit the Cu Chi tunnels, is by an organized tour from Saigon. There are several on offer, so it depends on what you want to see and your budget.
A good choice is to combine a visit to the Cu Chi Tunnels with a half-day trip to the Mekong Delta region. This full day tour from Saigon offers a personalized and comfortable way to see the tunnels, but also explore one of Vietnam's highlights.
However, if you only want a half day tour, you can just visit the Cu Chi tunnels by themselves.
Cao Dai Temple
About 100 km out of Saigon, close to the border with Cambodia, there is a temple dedicated to a religion called Caodaism. This religion was established in South Vietnam in 1926, and its core belief is that "all religions are one", with world peace being one of the main goals.
The five principles of Confucianism are followed – humanity, civility, obligation, reliability and knowledge – but the Buddhist ideas of karma and rebirth are also respected.
Although there are over a thousand Cao Dai temples in Vietnam, this one is quite unique. Its design is similar to that of a Christian Cathedral, and there is even a dome where a Yin-Yang Divine Eye has been drawn.
Neo-Gothic, Baroque and Oriental styles have been combined, while the interior of the temple has been decorated with imaginary creatures such as dragons and multi-headed snakes.
Numerous deities are celebrated in this temple, such as Buddha and Jesus Christ, in addition to historic and prominent figures like Joan of Arc, Shakespeare, Lenin and Victor Hugo.
There are four ceremonies a day, at 6am and every 6 hours. Chanting and music is performed, and Caodaists pray in long, flowing dresses. Visitors are welcome, but silence should be kept.
Tours to Cao Dai Temple
The best way to visit the Cao Dai temple near Saigon is through a day trip from Saigon. Some of the tours also combine a visit to the Cu Chi Tunnels, but if you have already been there you can combine the temple with a bike ride around the Mekong Delta.
The Mekong Delta
A large region in southwestern Vietnam, the Mekong Delta is an area that literally floats during the wet season. Thousands of animal and plant species live here, some of them very rare or even considered extinct.
Although the area is worth a longer stay, it is possible to visit on a day trip from Saigon. Apart from those mentioned above, that combine the Mekong Delta with either the Cu Chi Tunnels or the Cao Dai temple, there are also separate day trips from Saigon.
Or if you have an extra day, you can take a 2-day tour around the wider area, including also a visit to a floating market.

Getting around Saigon
Although Saigon is not as motorcycle-crazy as Hanoi, there are still tons and tons of motorbikes, mopeds, scooters and anything with two wheels and an engine. You will most likely get used to it quickly – it's not like you have a choice anyway.
Pay attention when you are crossing the streets though, and even when you are on the pavements, as motorbikes are really everywhere. Apparently, a number of bag-snatching incidents have been reported, when a motorbike passenger pulls your bag or mobile phone, so be cautious.
While Ho Chi Minh City has a large network of buses, our preferred way to get around was either on foot, or by Grab taxi. The Grab app is equivalent to Uber, and we found it the most convenient way to get around SE Asia.
You can choose between a car and a motorbike. As we were two people we used cars, but in retrospect we should really have used a motorbike just for the experience.

How to get to Saigon
Saigon is easily accessible through Tan Son Nhat International Airport, the busiest airport in Vietnam. It's located in Ho Chi Minh City's District 6, a few kilometres from the centre.
When we arrived to Saigon from Con Dao we had prebooked a taxi, but we got back to the airport on a Grab taxi. There are also buses serving the airport, but check if they drop you off close to your hotel.
Pin this guide to Saigon for later
Do you want to save this Saigon blog post for later? Use the Pin below to save to one of your boards!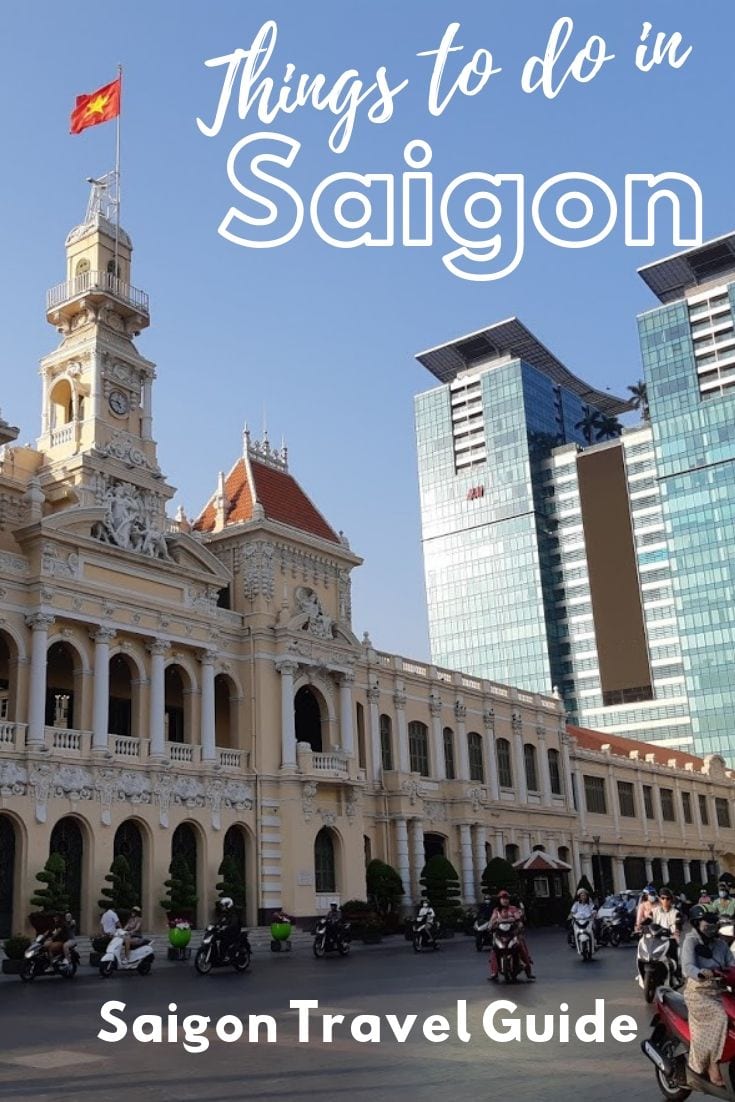 FAQ About Visiting Ho Chi Minh City in Vietnam
Some of the most commonly asked questions about spending time in Ho Chi Minh city include:
Is Ho Chi Minh City worth visiting?
Ho Chi Minh City is one of the best places to see when traveling in Vietnam. Whether sampling delicious dishes like traditional Vietnamese noodle soup, learning about the American war in the history museum, or taking a market tour there's plenty of things to see and do.
What is so special about Ho Chi Minh City?
Ho Chi Minh City, or Saigon as it is sometimes known, is a fascinating place to visit thanks to its history, French colonial architecture, street food vendors, and most famous monuments.
Is Hanoi or Ho Chi Minh better?
Some people prefer the more relaxed atmosphere of Ho Chi Minh City, while others prefer the more traditional feel of Hanoi. Ho Chi Minh City is generally cheaper than Hanoi, but there are also areas where Hanoi is cheaper. As always, it's best to do your research before you arrive.
Is Ho Chi Minh City cheap?
Budget travelers will love Ho Chi Minh city, as it is a very cheap place to spend time. It also offers great value for money as those willing to spend a little more will have luxury at affordable prices.
Is it ok to eat street food in Ho Chi Minh city?
Street food in Ho Chi Minh City is generally safe to eat, but it's always best to be cautious and only eat from reputable stalls. Taking a street food tour is also a good way to experience Vietnamese cuisine from street stalls and shops.