This selection of Vatican and Colosseum tours help you skip the line and save time when in Rome. Here's the best Vatican tours and Colosseum tours in Rome.
Colosseum and Vatican tours
Rome, the capital of Italy, needs no special introduction. Often described as an open museum, this amazing city has tons to offer.
Two of the main attractions in Rome that you'll want to visit are the Vatican City and Colosseum. You'll soon discover though, that tens of thousands of other visitors also have the same idea!
This results in monumental queues to buy Vatican and Colosseum tickets. If you don't want to spend half of your precious time in Rome standing in line, I suggest taking Vatican and Colosseum tours.
Why taking Vatican and Colosseum tours is a good idea
If you have limited time in Rome, you'll want to make the most of every second you can. Taking a guided tour removes the hassle of queuing for Vatican and Colosseum tickets. You'll also get the benefits of an expert guide who'll explain what it is you are actually seeing!
Additionally, you should note that as of 1st July 2019, independent visitors who want to visit the Vatican Museums and St Peter's Basilica might have to queue twice. This is because the passage leading from the Sistine Chapel to the Basilica is only accessible to people who are taking a tour.
For time-conscious visitors, a skip the line Rome tour is by far the best option.
Why taking Colosseum and Vatican tours might not be so good
The main downside to taking a guided tour of the Vatican City and Colosseum, is that you may feel rushed. You'll be on the set schedule for the tour, and due to the very nature of a 3 or 4 hour tour, you can't possibly see everything.
If you have plenty of time, and want to see things at your own pace, it might not be your cup of tea.
Choosing which tour in Rome to take
This is actually a bigger problem than you might think! There are literally hundreds of tours in Rome, and sorting through all of them can literally cause you a headache.
Fortunately, we've done the hard work for you. Our selection of the best Vatican and Colosseum tours in Rome has been carefully curated based on variety, ratings, and the number of reviews. These are all available through our trusted partner Get Your Guide, who we use ourselves when booking tours when we travel.
Vatican and Colosseum Tours
These Vatican and Colosseum tours in Rome will help you skip the line, save time, and enjoy the highlights of Rome with a guide.
Vatican and Colosseum tours in Rome
So there you have it! This list of popular tours in Rome is by no means complete, as there are literally hundreds of tours in Rome, but it will help you decide what you want to do in the Eternal City.
If you take one of these Vatican and Colosseum tours in Rome, or any other tour in Rome for that matter, let me know what you thought!
Vatican Tours Skip The Line FAQ
Readers planning to spend time in Rome often ask questions similar to:
Can you do the Colosseum and Vatican in one day?
You can just about see the Vatican and Colosseum in one day if you have skip-the-line tickets, but it will feel very rushed. It would be much better to allow a full day for the Vatican in order to better appreciate it.
How do I skip the line at the Vatican?
Experience the awe-inspiring Vatican Museums and Sistine Chapel without waiting in long lines by buying skip-the-lines tickets with an audio guide. Book a group guided tour, or buy your ticket online from their official website to save time. Use any discount card you have obtained through travel deals as well!
Can you buy skip the line tickets at the Vatican?
If you're looking for a guided tour of the Vatican but don't want to fit it into your budget, consider purchasing an affordable skip-the-line ticket. This will allow you access without having to navigate through crowds and also get priority entry at museums!
Is Skip the Line Vatican worth it?
The Vatican is a popular tourist honeypot, with long lines that can seem like they're never-ending. Skip the hassle of waiting in line for hours on end by simply purchasing your tickets online.
Can you see the Vatican without a tour?
You can go sightseeing in the Vatican without a tour, ut you may spend a considerable amount of time waiting in queues to enter museums and rooms. This can be avoided with a skip the line ticket.
Pin this Tours in Rome guide for later
Use the image below to pin to one of your Pinterest boards. That way, you'll be able to come back to this guide on the best tours in Rome for later.
More Travel Guides
You might also find these other travel guides useful when planning a trip to Italy and Europe.
---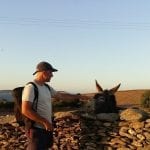 – Dave Briggs
Dave is a travel writer who's been blogging here are Dave's Travel Pages since 2005. In addition to writing this guide about the best Vatican tours, he's created hundreds of travel itineraries and blog posts about amazing destinations all over Europe.
Follow Dave on social media for travel inspiration from Greece and beyond: