Phu Quoc in Vietnam is often described as one of Vietnam's best islands, but is it really? Here's the best things to do in Phu Quoc Vietnam – The Good, The Bad, and The Ugly.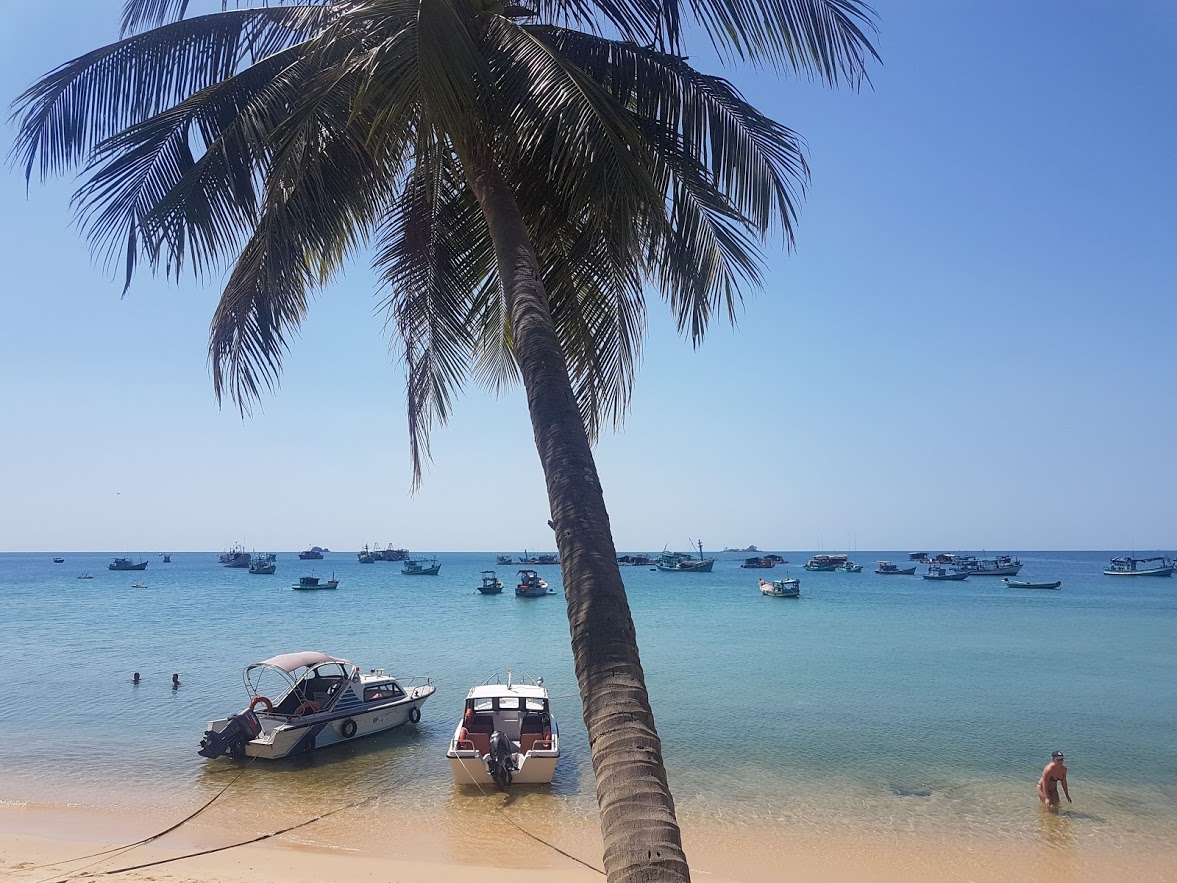 Phu Quoc Island in Vietnam
Phu Quoc is Vietnam's largest island, located off the south coast of the country. We spent a couple of weeks there in February 2019, and we rented a moped to explore the island.
Before going, we read a number of blog posts and travel guides to Phu Quoc. Most of these painted Phu Quoc as an amazing place to visit. As such, we had very high expectations and were looking forward to visiting the island.
Unfortunately, reality turned out to be quite different. We were rather disappointed with the island on the whole. There were too many resorts, too many construction sites, and the island didn't feel as tropical and serene as we had been led to believe.
A photo hides a thousand words
Additionally (and somewhat importantly for an island), most of the beaches were dirty or simply not very good. Even the jewel in the crown Sao beach was pretty terrible.
Sure, you can get yourself a nice instagram photo there – but what you don't see is the washed up garbage on ether side of the pristine Instagram area. Until you get there, that is.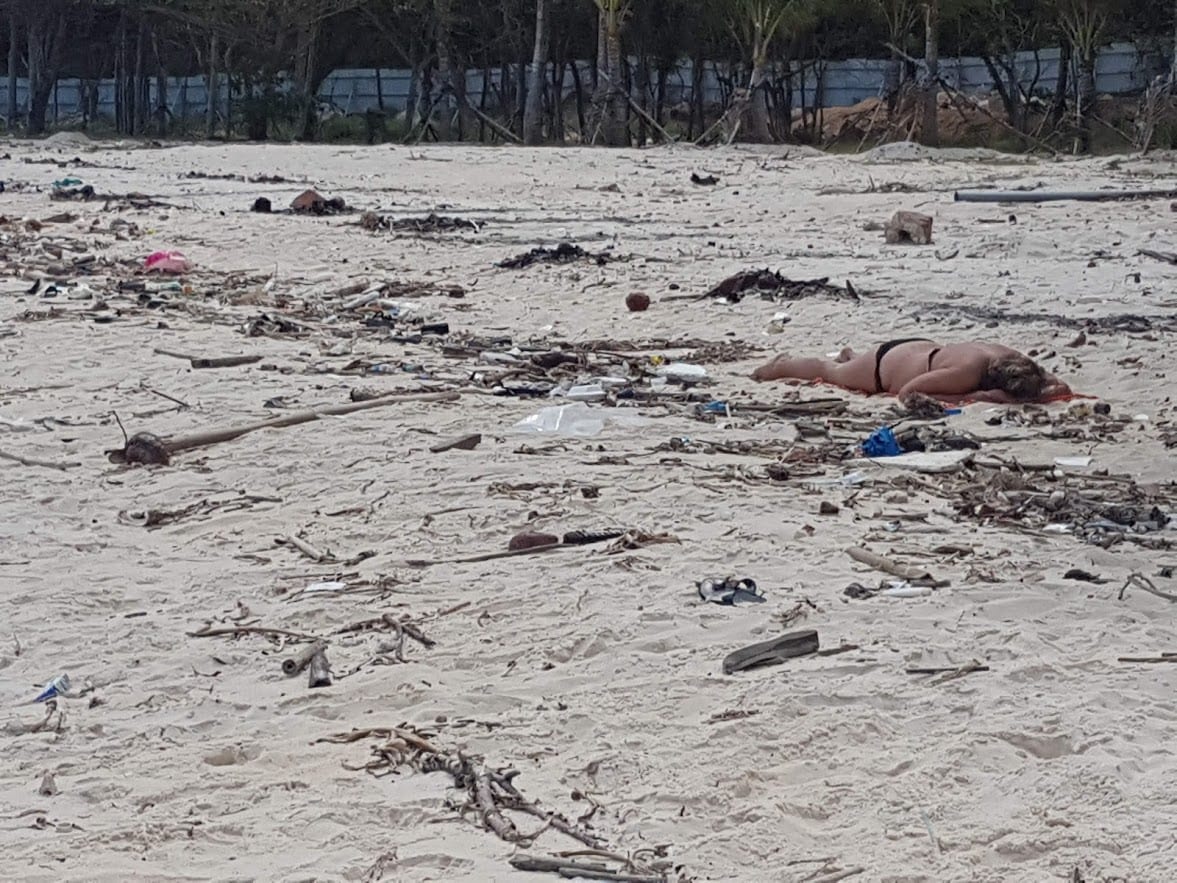 Why this person chose to lay among all the trash is a mystery to me.
Is Phu Quoc completely terrible?
No it isn't. It's just not as amazing as many people would make out. Although it can be surreal as you might note from the photo above!
In all fairness, this could be due to the pace of development in Phu Quoc. A blog post written two years ago probably did reflect a very different experience than can be had today. Which really makes me wonder what it will be like in a few years!
My opinion of Phu Quoc, is that it is nowadays more a package tour destination (very popular with Russians!) than a backpacker destination.
Check out this article one our honest opinions about Phu Quoc Vietnam.
Best Things to do in Phu Quoc
So, as you can tell, I'm not 100% positive about Phu Quoc. But that said, I totally get why it will remain a popular island to visit in Vietnam for some time to come.
As I've already shared my concerns about Phu Quoc, I might as well share what I consider to be the best things to do in Phu Quoc if you do intend to visit.
1. Get Around Phu Quoc on a Moped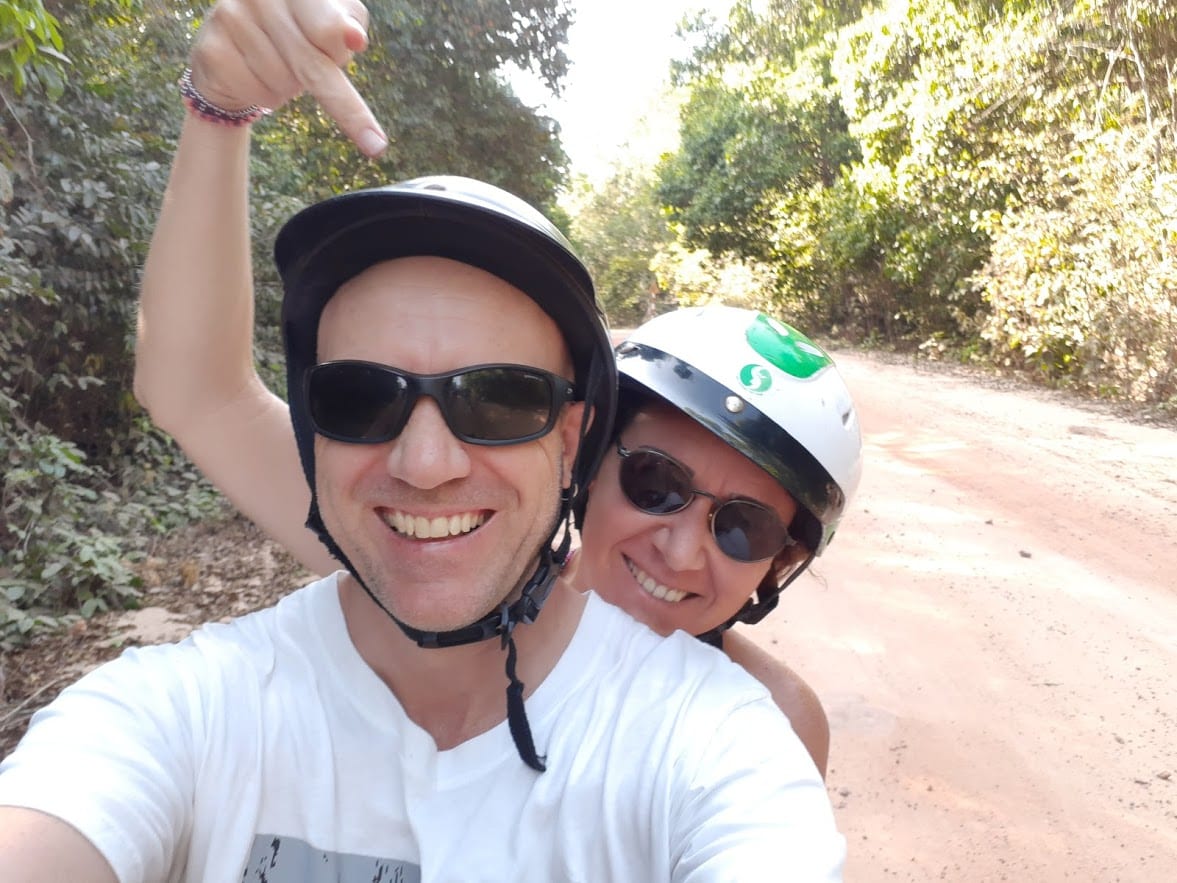 One thing we really loved about Vietnam was the fact that renting a moped was not only inexpensive, but also very easy. Even though I wouldn't dare ride a moped in Hanoi, both Phu Quoc and Con Dao were ideal places to get around on a moped. Apparently, I'm not that skilled at it though, as the Mrs is giving me the upside down middle finger in the photo above!
Although there are taxis everywhere, that we preferred to use in the evenings, a moped is the best way to explore Phu Quoc. We rented one for our two weeks there for about 56 euro, and gas came to about 5 euro!
Even if you are not used to riding a moped, Phu Quoc is the ideal place to do it. There is very little traffic and the conditions are ideal overall, once you get used to the heat.
Tip – make sure you use a lot of sunscreen, or just use long trousers and cover your arms, like the locals do.
One of our favourite rides was the forested area in the Phu Quoc National Park. It was cool riding in the jungle, though a little too bumpy at times. That was the day we also visited Starfish beach. If you visit the north side of the island, start as early as you can, to avoid driving after sunset.
2. Check Out the Beaches in Phu Quoc
The reason why many people go to Phu Quoc are its beaches. Phu Quoc is said to have some of the best beaches in Vietnam. The Long Beach and Sao Beach figure on most travel blogs as places you can't miss in Phu Quoc.
Our impressions of the beaches we visited in Phu Quoc were not very positive. We found most of them too crowded, too dirty, or a mix of both. Sao Beach in particular was very disappointing. Some of the beaches that we tried to access belonged to resorts, so we weren't even allowed entrance.
Starfish Beach in Phu Quoc
All in all, our favourite beach in Phu Quoc was the famous Starfish beach on the north, which is home to lots of red starfish and has that amazing powder-like white sand.
We arrived there early in the evening, after a long tour of the north part of the island on the moped. We didn't have much time there before it got dark, but I would like to have stayed longer, and the red starfish in the sea were very cool.
Ong Lang Beach in Phu Quoc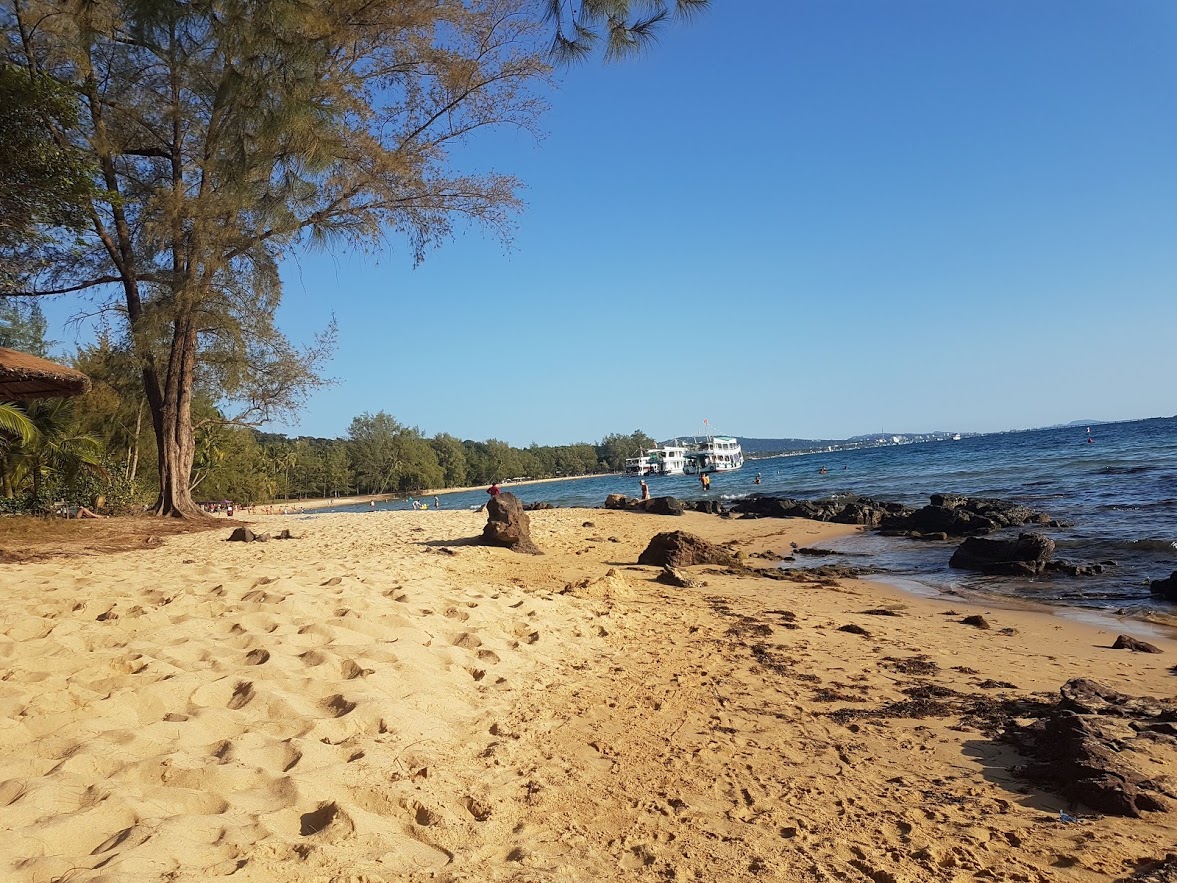 Ong Lang beach, to the north-west of the island, was recommended by some Italian travelers we met. It was quite nice, though some parts of it were very crowded, especially on weekends.
We ended up returning to this one a couple of times, as it wasn't too far from where we were staying. On our last day there, we were asked to remove our towels from where we had placed them, in front of a beach resort with no clients whatsoever. We decided not to get into an argument, but it left a bitter taste in my mouth.
Those two beaches were among the quietest we found, and they were overall pleasant, but we didn't think they were very special, like for example Dam Trau beach in Con Dao island Vietnam.
Long Beach (Lively)
That said, for people who like more cosmopolitan and lively beaches, Long Beach will probably tick all of their boxes. You can get massage, food and cocktails too, so it can be an all-day destination.
For people who like snorkeling, the smaller islands to the south of Phu Quoc are supposed to be ideal. The only way to get there is through a day tour.
3. Nightlife and Beach Bars in Phu Quoc
People who like to relax on the beach with a beer or a cocktail will definitely love Phu Quoc. There are several beach bars dotted around Long Beach, offering food and drinks all day long. Choose your favourite spot on the beach, find a lounger, and put your feet up while admiring the gorgeous sunset.
4. Take The Cable Car In Phu Quoc
We don't consider ourselves people who like the more touristy things, so it is somewhat ironic that the cable car ride was our main highlight in Phu Quoc by far.
When we first read about it, it was difficult to believe that the world's longest cable car ride can be found on an island off the coast in South Vietnam. It was built in 2018, so we couldn't find too many reports about it, but we decided to go for it anyway.
The cable car departs from the southwest coast of the island, where you can easily get on your moped, or get a taxi there. There are cable cars departing every half hour or so, and there is a long break in the late morning, so make sure to arrive there before 11am.
Riding the cable car in Phu Quoc
There are absolutely no words to describe the ride. The pillars supporting the cable car are massive, and the ride is split in parts, going up and down, though there is no proper stop before you reach the final destination, Hon Thom Island.
On the way, the cable car passes over two smaller islands covered by a thick jungle forest, and also a fishing village. The ride lasts for about 15 minutes! The views? Fantastic of course!
Hon Thom Island in Phu Quoc
For some reason, as we approached I had the feeling we were entering Jurassic Park! This island is being totally redeveloped as a resort, and does have a touch of the unreal about it.
Upon arrival to Hon Thom Island, there are small shuttle buses taking you to Hon Thom Nature Park. Now this is where we weren't exactly impressed.
You might look at the photo above and think the beach is fantastic. And this part is – it's just a shame you're not allowed on it!
That's because some of the beach is cordoned off to the public. On the bits we were allowed on, there was the usual issue with overcrowding and trash, though admittedly not as bad as on other beaches in Phu Quoc.
According to notes in the construction site, an aquapark will open here in a couple of years' time. Maybe that will take some pressure of the beach.
We left the site with mixed feelings, thinking that in five years' time Hon Thom Island will be unrecognizable, but also the cable car experience was really unique. As such, we would definitely add the cable car on a list of things to do in Phu Quoc.
It's also possible to combine the cable car ride with a snorkeling tour of the smaller islands south of Phu Quoc.
5. Go to the Phu Quoc Night Market
If you have been to other places in SE Asia, you will be familiar with the concept of a night market, which is an open-air market with various stalls selling different things. Phu Quoc isn't an exception to that.
The Dinh Cau market in the main town in Phu Quoc is not huge, like the markets in Chiang Mai, and it wasn't very crowded when we were there, so we could walk around comfortably.
Its main focus is on food, though you can find a few souvenirs and clothes. It's worth visiting once or twice and trying the different street snacks. One of our favourites was the ice cream rolls!
There were also some snacks that we weren't too keen on trying, like snakes and frogs which are apparently cooked alive.
One place that we particularly liked in the food market was a rooftop bar called Compass at House no 1. We originally went there to see some fireworks, but ended up going back to attend their weekly Sunday movie night. The vegan restaurant next door, Loving Hut Thai Duong, was also a great little spot.
6. Check Out The Local Wet Markets
This is perhaps more applicable for people staying there longer than a few days. If you want to buy fresh fruit and veg, the best places to get them are the local food markets. There is a big one in the main town, but you will also see several vendors selling produce on the side of the roads pretty much everywhere in Phu Quoc.
It is helpful to know a few Vietnamese words before you buy anything, especially if you want to know the prices in advance, but we found that the vendors were very nice and honest overall, and were quite eager to try and show us the prices on their calculators.
7. Visit The Prison In Phu Quoc
Like Con Dao, Phu Quoc was also home to a prison during the Vietnam War. After it stopped being in operation, the prison was transformed into a sad museum, depicting some of the horrors of war.
Similarly to other museums and prisons we saw in Vietnam, this one shows photos of former prisoners, several objects used by the prisoners and torture devices. There are mannequins in the prison cells, which help imagine what life was like during those dark years.
Normal hours of operation are 7.30-11.00 and 13.30-17.00, but double-check before you go.
8. Visit The Pepper Plantations and the Fish Sauce Factory
We passed by those attractions on our way back to the town, so we don't have our own opinion, but they seem to be quite popular stopping points. Here, you can see the famous Phu Quoc pepper plants, which produce some of the best pepper in Vietnam. As for fish sauce, it's one of the most popular ingredients in Vietnamese cuisine, so it could be interesting to see how it's made.
9. Explore Phu Quoc National Park
Phu Quoc National Park covers almost half of the island. It's a thick, lush forest, and you will see the occasional monkey and hear jungle sounds. You can comfortably get around the national park on a moped, like we did, or perhaps go for a hike.
There are several points of interest that you can reach easily, such as the Suoi Tranh Waterfall, the Hon Mot island and the Rock Garden. One of the easiest, most popular trails is the Ganh Dau trail, where you can also cycle. It's possible to go on your own, though there are also some organized trekking activities.
Before you go for a hike in Phu Quoc ask around for the condition of the trails, and make sure you bring with you water, snacks, sunscreen, mosquito repellent and possibly a first-aid kit.
Your thoughts on Phu Quoc
I'd love to hear your thoughts on Phu Quoc if you've visited. What did you think? Do you agree with our views or not? Please leave a comment below!
You might also like: Our Vietnam travel itinerary