Con Dao was our favourite place in Vietnam. This travel guide to Con Dao Vietnam covers everything you need to know, along with why we thought it was the best island in Vietnam.
Cond Dao Is The Best Island in Vietnam
It's a bold statement, right?
But after spending a week there, I really believe that Con Dao is the best island in Vietnam. It's certainly leagues apart from Phu Quoc!
So, let's set the scene..
During our recent trip to SE Asia, we spent a month in Vietnam. We decided to take it easy and not to use too many long-distance buses.
As a result, we spent a few days in Hanoi, then flew to Phu Quoc island, then went to the archipelago of Con Dao, and finally spent a few days in Ho Chi Minh, also known as Saigon.
Although Hanoi's streets were super lively, and Saigon's cafes and ambience was great, it was the impressions of Con Dao that have probably stayed the longest with us. Read on to find out more about Con Dao islands in Vietnam.
Where is Con Dao?
Con Dao is a group of fifteen small, mountainous islands at the south of Vietnam. The main and only inhabited island is called Con Son, with a population of about 5,000.
Basically, when people talk about Con Dao, they really mean Con Son. I'll stick with Con Dao throughout this travel guide.
Why visit Con Dao island?
If you want a quiet, peaceful vacation at a place with some of the best diving in Vietnam, Con Dao is a great option.
Having been an exile island for over 100 years, Con Dao is still unspoiled by mass foreign tourism. Unlike Phu Quoc!
In fact, most of the tourists to Con Dao are Vietnamese. This is because the island had an important role in the history and cultural identity of modern Vietnam.
As a result, much of the tourist infrastructure is quite basic. English is barely spoken at all, although an upcoming generation of younger locals will probably be changing that in a few years.
The islands natural beauty is lovely and largely untouched. As you are going around the island, you will see thick forests and wild mountains.
Though the new asphalt roads are in immaculate condition, you will see very few cars and scooters, as many of the tourists are locals, visiting mainly on weekends.
In short, while in Con Dao, there will be times that you will feel that you are far away from everything. As I said, the best island in Vietnam!
Short history of Con Dao
Con Dao has a very long and gruesome history, with a particularly macabre recent past.
The islands used to belong to the Khmer Empire as well as the Malays at times, until the Vietnamese took over in the 17th century.
The colonial powers (Spanish, Portuguese and British) also briefly came into the picture at times, and the archipelago was conquered by the French in 1861.
Very soon, the beautiful island was transformed into hell on earth. It became a place of exile, initially for Vietnamese and Cambodian nationalists who wanted liberation from the French, and later for Vietnamese Communist leaders.
Con Dao's prisons, and the notorious "tiger cages" established later, are among the worst prison settlements that still exist on the planet. A little known episode from the Vietnam War and this island's dark past.
Prisons of Con Dao
The prisons in Con Dao were built by the French, with the first prisoners being Vietnamese and Cambodians.
Later on, they were transformed into political prisons, where the South Vietnamese and the Americans kept Vietnamese nationalists and other activists.
Treatment and torture in the Con Dao prisons were beyond the wildest imagination, and as such many people never left the island.
It is estimated that around 22,000 people died until the prisons ceased operation in 1975. Those people were never buried properly, but their bodies were disposed of in the areas around the prison cells.
In 1975, their remains were excavated and transferred to Hang Duong Cemetery, which is a sacred place of pilgrimage for the Vietnamese.
Both the Con Dao prisons and the cemetery are open to the public. Vietnamese travel to Con Dao in order to pay their respect to the national heroes.
What to do in Con Dao islands
Most foreigners travelling to Con Dao islands are after pristine beaches, dramatic landscapes and quiet holidays.
At the same time, it's impossible to ignore the island's recent past, and it's important to visit some of the historical places on Con Dao. Travel is about learning after all!
Here's some things to consider adding into your Con Dao sightseeing itinerary.
Con Son town
The main town in Con Son is a small, coastal town with a vibrant market and a long, peaceful seafront promenade. This is where you will find most accommodation on the island. These are mostly budget hotels and rooms to let, while the two upmarket resorts in Con Dao are out of town.
Strolling around the town and watching the people is one of the things you must do in Con Dao. The promenade is pretty amazing, and it's best to visit in the evening, when the weather is cooler.
There are a couple of cafés with a view to the sea, but you can also grab a drink or a snack and sit on the benches.
Con Son Market
The market in Con Son is a lively local market where you can buy pretty much everything you want in terms of fresh produce, including fruit, veg and snacks.
The market is open from early in the morning till late in the evening, and you can also get street food at various times of the day.
There are also a couple of stores that are similar to a mini market, where you can get things like coffee, milk, biscuits, showergel and mosquito spray.
Where to eat in Con Dao
Con Son has a couple of restaurants offering western food, such as burgers, steaks, pizza and fries – Bar 200, and Infiniti Café. If you want to meet other travelers, or just have a conversation in English, these are the best foreign-friendly places to go.
However, if you want to eat where locals eat, just go to any street food vendor or local restaurant. Try the baguettes (bánh mì), fresh spring rolls (gỏi cuốn) and several types of noodles and noodle soups.
Seafood Hot Pot
Our favourite dish in Con Dao, however, was undoubtedly the shellfish hotpot. Served in many fish-shellfish restaurants, the hotpot consists of a large pot with boiling water, brought to your table, in which you are supposed to cook your own meal, consisting of fish, shellfish, clams, oysters, vegetables, sauces and noodles.
In our experience, very few of the restaurant owners spoke much English, and many of them didn't have menus in English. We just pointed out the type of seafood we wanted, from a selection kept in water tanks and ice trays.
A huge meal for two, which could have easily been shared by four, cost us about 300,000 dongs (13 dollars), so it's not going to break the bank. You will never taste delicious and fresh seafood this good anywhere else!
You can also find a handful of cafés and cocktail bars in Con Son town, attracting both a local crowd and tourists.
Beaches in Con Dao islands
As we haven't been to any beaches in mainland Vietnam, Con Dao had our favourite beaches in Vietnam. Some of them are simply stunning, and as snorkeling was also possible off the coast, it made our experience in Con Dao really unforgettable.
One thing to keep in mind is that most beaches in Con Dao are transformed completely when the tide goes out. This offers unique photo opportunities, but swimming can be impossible at times.
At the time we were there, in February 2019, our only issue on Con Dao beaches was sandflies – they seemed to be there most of the time! Even mosquito spray didn't seem to scare them away, and the bites took a couple of weeks to fully heal.
Nevertheless, we really enjoyed the stunning beaches in Con Dao, especially when we found the one the sandflies couldn't reach. This was the beach by the airport – and was actually our favourite beach in Con Dao.
An Hai beach
This beach is walking distance from Con Son town, to the right. If you are not hiring a moped, this is the easiest beach to get to.
It's really picturesque, and there are a few palm trees, offering plenty of shade, though to be honest setting your beach mat under a palm tree isn't the smartest idea.
Unfortunately, due to the proximity to the town, An Hai beach might not be very clean – we found quite a lot of trash, though we understand that some of it might be coming from the boats and fishing boats.
Lo Voi Beach
Photo shows a rusting hulk. The other object is a half-sunken boat.
This beach is located at the far left hand side of the Con Son town promenade. This long stretch of sand under a forest of casuarina trees was one of the most picturesque beaches in Con Dao.
The remains of a few long-abandoned wooden boats only added to the picture. The water was very shallow and warm, while on low tide the beach gave its place to a deserted sandy stretch.
We absolutely loved that beach, and would have gone there more often, if it wasn't for one thing – the dreaded sandflies.
Those tiny insects spoilt the experience, though they only seemed to appear after 2-3 pm, so they didn't really bother us when we went there early in the morning.
Lo Voi beach is very near some of the prison cells, and we heard that some of the deceased prisoners' remains were found in close proximity to the beach.
Dam Trau beach (airport beach)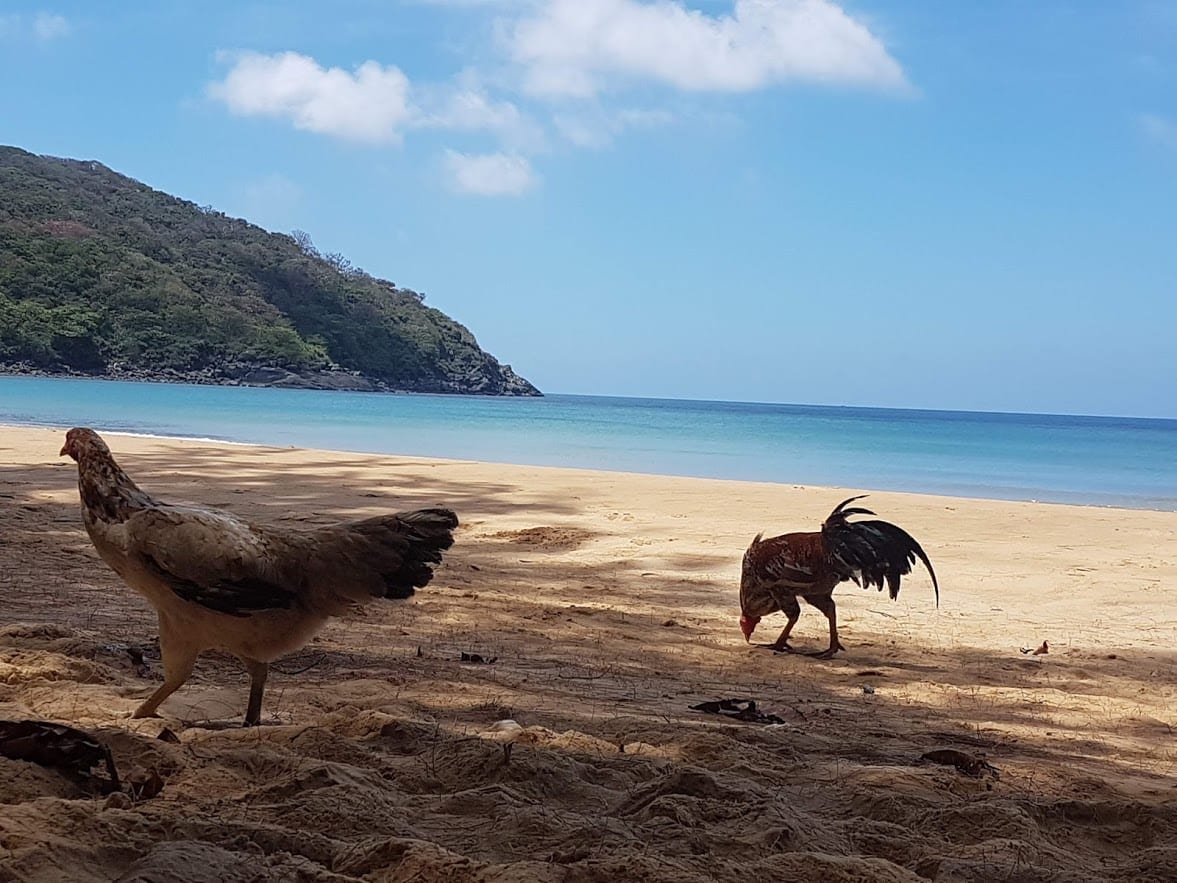 This was our favourite beach in Con Dao. If you are flying into the island, this is the beach that you will see just before you land.
Dam Trau beach is easily accessible by road, and as such is easily accessed by vans and coaches. That said, we went there three or four times, and it was relatively quiet, apart from the Sunday, where a large group of Vietnamese tourists made its presence felt.
There is plenty of natural shade, and a few restaurants that offer meals, drinks and fresh coconut juice. You are likely to also encounter some chickens that seem to be particularly attracted to any type of food, so it's best not to leave your snacks unattended.
A special moment is when the plane arrives – we had never seen an airplane as close to the ground as this!
If you walk – or swim – to the left of the beach, you will find another bay where very few people go. It is very quiet and even nicer than the main beach, so you can pack water and a few snacks and spend your whole day here.
However, its main highlight lies under the surface – snorkeling there is simply amazing, with all sorts of corals and colourful fish hiding away.
As locals don't seem to appreciate snorkeling, you are very likely to find yourself on your own, in the sole company of the fishes.
Related post: Taking a powerbank on planes
Dat Doc Beach
This is the beach owned by the upmarket Six Senses Resort, where Brad Pitt and Angelina Jolie stayed a few years ago, and which belongs to a chain of luxury hotels all around the world.
We were told that this is the only beach in Vietnam where you are not allowed to go, unless you are a client of the resort, because it is guarded by the army.
In fact, entrance to the resort is now prohibited to non-clients, as apparently there was a theft at some point and the management decided to change its policy which used to allow for people to have a meal or a drink in the hotel's restaurant.
If you are splashing out to stay in the Six Senses, you can also enjoy this beach. Allegedly, it is possible to hike down a path that leads close the beach, but we couldn't find it.
Vong Beach
This was another beach that we weren't able to go to, partly due to the difficult access and partly due to the attack of sandflies as soon as we got off the moped.
Marked on GoogleMaps as Bai Bien Dong, Vong Beach is a long, sandy beach that can be affected by the strong northeast winds that appear on the island.
You can see an impressive view of Vong Beach while you are on your way to Dam Trau beach.
There are more beaches on the western coast of the island, only accessible by foot, through one of Con Dao's hiking trails.
Hiking in Con Dao Islands
Con Son has several hiking trails. The best way to see the whole island is by motorbike, but walking around the Con Dao National Park's thick forest can be a lovely experience, especially if you head to one of the hidden beaches on the western coast.
If you want to hike in Con Dao, you will need to pay the admission fee at the park, and pick up a paper map with the trails.
The latter are either paved or dirt roads and are fairly easy to navigate, so you can easily do them on your own.
You will need to take water and snacks with you – and don't forget the mosquito spray. It's best to avoid hiking in Con Dao after a very rainy day, as the trails will be very muddy and slippery.
Visiting the Prisons and Historical Sites in Con Dao
Chances are that if you are reading this blog post you are not Vietnamese, and perhaps this is the first time that you've ever heard of Con Dao.
Even if you don't know much about Vietnam's recent history, and even if you are here just to dive, snorkel and relax, you should still take a day or two to visit the prisons and museums in Con Dao.
This is the main reason that the Vietnamese come here, and it's a particularly moving experience. It reminded us of the Auschwitz concentration camps in Poland, and the lovely tropical setting made the whole visit surreal.
Con Dao has several prisons, all walking distance from each other, though it's better to visit them on your scooter to save time and effort. They are all located at the outskirts of the town, and some are very close to Lo Voi beach.
There is not much scope in describing each prison in detail, but each and every one of them is worth visiting. Phu Hai and Phu Son, where you can get a combined ticket, are the biggest ones and attract the most local visitors, often visiting in large groups with a tour guide.
Con Dao Tiger Cages
Phu Tuong Camp, where the famous tiger cages where, is probably the most gruesome, especially if you manage to visit at a time with few other visitors.
In those cells, prisoners were being tortured beyond belief, with guards poking them with sticks and throwing lime at them.
The tiger cages were discovered in 1970 by two U.S. Congress Representatives, William Anderson and Augustus Hawkins, aided by a few other people. The team followed a map created by a former prisoner, and was shocked to discover the inhumane cells. Photos they took were published in Life Magazine, and the cells were subsequently closed.
In many of the prison cells, mannequins have been installed, to showcase the life of prisoners. This is something we had also seen in the Hoa Lo Prison Memorial, and it actually adds up to the horror, as you can start to imagine people's life in the cells.
There are fifteen prison areas on Con Dao in total, some of which might be closed when you visit, though it's often possible that they are open with no guards around.
We found Phu Hung and Phu Binh camps particularly moving, as they were both massive and we were the only people there. There is also a small museum there, mostly containing photos of the prisoners.
Con Dao Museum
If you want to get a background to what life in Con Dao used to be like, the best place to visit is the superb Con Dao Museum.
Exhibits include photos of prisoners and the prison cells, several publications and other objects of the times. It's probably best to visit the museum before the prison, so that you can put things in context.
Note that both the museum and the prisons close for a break during the day. When we visited Con Dao, they were open from 7.30-11.00 and 13.30-17.00.
Hang Duong Cemetery
Many of Vietnam's communist leaders and political activists spent some time in the Con Dao prisons, and several died there, with their bodies scattered around the island.
After the prisons were shut down, their remains were unearthed and placed in the massive Hang Duong cemetery.
This was one of the most somber places we saw in SE Asia, as people visit to pay their tributes at any time of the day or night.
You will see flowers, incense sticks and offerings everywhere, most notably on the grave of Vo Thi Sau, a female Vietnamese activist who was imprisoned and executed by the French when she was only 19 years old, in 1952.
People leave all sorts of offerings on her grave, including things normally associated with a young woman, such as mirrors and lipstick.
The cemetery is open 24 hours a day, and many people visit around midnight. When you visit, you must be dressed respectfully, so no shorts, miniskirts or bare shoulders are allowed.
Snorkeling and Diving in Con Dao
Con Dao is well-known for its diving opportunities, and is said to be the best island in Vietnam for diving. As such, it attracts travelers who are keen on exploring the underwater world.
It is perfectly possible to snorkel off the coast in Con Dao. Vanessa's favourite place by far, was the bay on the left of Dam Trau beach. There is plenty of coral just off the coast. Beware of low tide, as you might be literally stuck in a shallow puddle of water just over the coral bed.
If you are interested in diving or snorkeling around the other islands in the archipelago, you can get in touch with either the National Park headquarters or Con Dao Dive Centre, run by Gordon, the South African owner of Bar 200.
Prices are not low – the fee for one person was 50 dollars, whether you are diving or snorkeling. Good quality equipment is provided.
Note that, between November and February, boat trips may be cancelled or altered in case of strong winds. In general, the best time to dive in Con Dao is from March to June.
If you decide to go diving or snorkeling in Con Dao, make sure you keep away from corals and all sealife, so that it's there for the next generations!
Getting around Con Dao
For most people, there is really only one practical way to get around Con Dao, and that is by moped.
Even if you haven't ridden a motorbike before, don't worry, as you won't need a license. The roads are in great condition and the island is fairly quiet, so you are unlikely to have any incidents if you are driving safely.
At the same time, if you have travel insurance, do take into account that it won't cover you if you have an accident. Just saying – it's not like I've ever taken travel insurance in my 15+ years of cycling around the world.
Mopeds can be hired from your guesthouse, or from pretty much anywhere in Con Son town, for around 5-6 dollars a day. Gas stations can be found in the town, and it's best to fill up as soon as you get your moped, as opening times seemed to be rather uncertain.
If you are used to cycling, that's another way to see the island, but you should know that there are quite a few hills, and the island is not as small as Koh Jum in Thailand, where most people can comfortably get around on a bicycle.
It is also possible to rent a taxi on Con Dao, but we have no idea of prices as we didn't use one. Your guesthouse can definitely help you out.
If you are arriving by flight, they will most likely arrange your transportation with a shared minivan, unless you ask for a private taxi.
If you follow the coastal road leading to the west all the way to the end, you will pass by a small bay called Ben Dam. This is the island's main fishing port, which is also where ferries arrive from mainland Vietnam.
How to get to Con Dao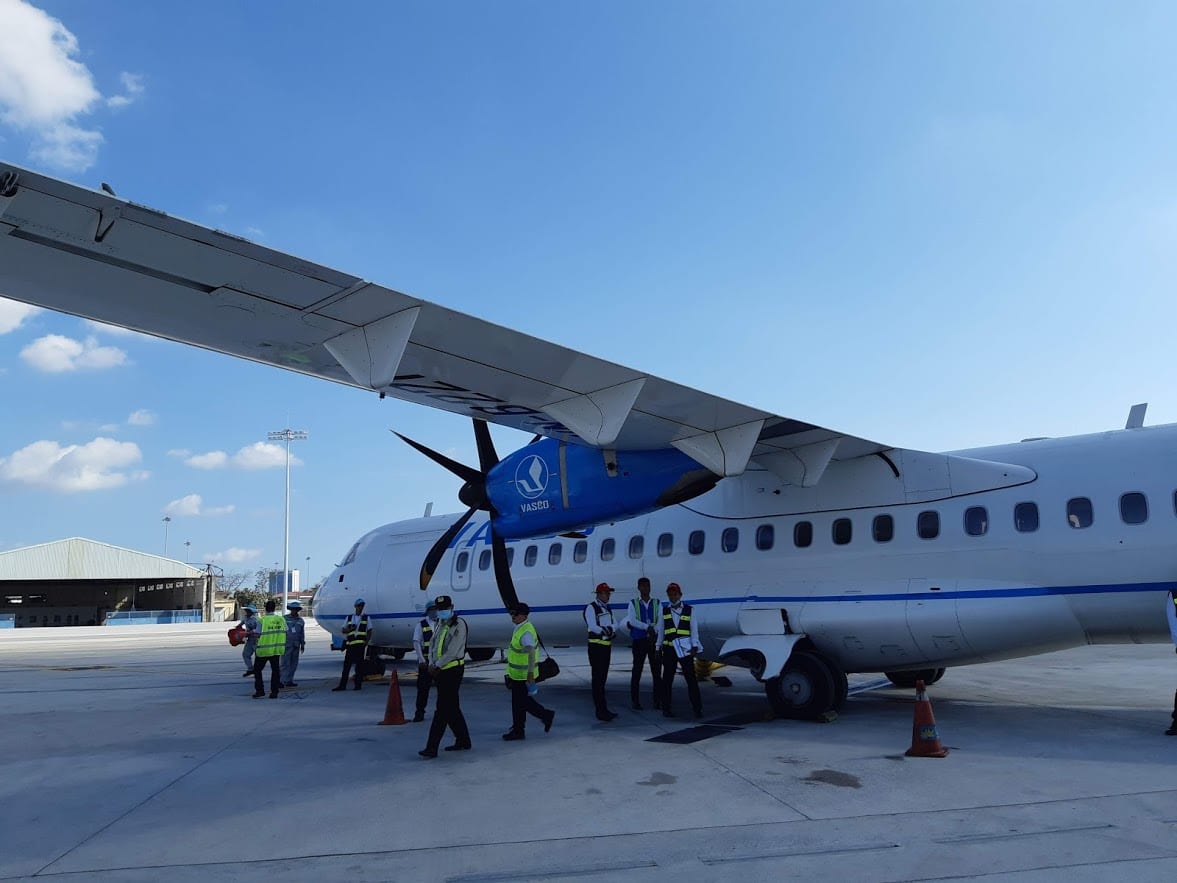 You can reach Con Dao either by a short flight with Vasco airlines, or by ferry from the mainland.
Check my full guide on how to get to Con Dao island in Vietnam. Also read: Best snacks to take on a plane
Where to stay in Con Dao


As mentioned earlier, tourist infrastructure on Con Dao is still rather basic, though this will probably change in the next few years, as the island is becoming increasingly popular with foreign tourists.
Most accommodation can be found in the main town in Con Son in the form of guesthouses, rooms to let and small hotels.
There are many budget options, at least by Western standards, though quality standards might not be very high, depending on what you are used to. It's best to get a room with air-condition if you can.
As the town is small, it doesn't really matter where exactly you stay. We stayed close to the market and Infiniti café, and were very happy with the location.
If you want to splash, there are two upmarket resorts in Con Dao, both out of town. The most luxurious one is Six Senses, while Poulo Condor is a more affordable option.
Best time of year to go to Con Dao
Con Dao is pretty warm all year round, but what changes a lot is the wind and the rain.
Generally speaking, the months between October and February are quite dry, but can be very windy. If you are visiting Con Dao as part of a longer trip in Vietnam, by all means go. However, be prepared for a day or two when travelling to and from the island by sea, let alone swimming and diving, might not be possible.
If you can, choose when to go to Con Dao, go between March and June, when the winds have calmed down and there is little to no rain. This is also the best time to go if you are interested in diving in Con Dao, as the sea will be calmer and visibility will be better.
How long should I stay in Con Dao?
While it is even possible to go to Con Dao for a day trip from Saigon, in our opinion the island has enough to offer to keep you there for a week or more.
We stayed for seven nights and could easily have stayed longer. In fact, writing this Con Dao Blog post made us want to go back!
More Asia Travel Guides
If you are planning to travel to other places in the South East Asia region, you might find these travel guides useful:
---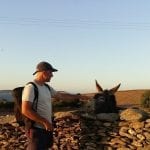 –
Dave Briggs
Dave is a
travel writer
who spends his time traveling around the world writing about beautiful places like Con Dao island in Vietnam. As well as putting together this Con Dao travel blog, he has written hundreds of other travel blog posts about destinations and adventure activities. Follow Dave on social media for travel inspiration from around the world: