Plan the perfect one day in Bratislava itinerary with this guide that covers the best things to do in Bratislava in 24 hours!
If you're looking to explore the charming city of Bratislava in just one day, this guide is for you! Start your day by exploring the historic core of the city and learning about its rich history. Then, head to one of the city's many squares or the presidential palace for some great photo opportunities. Be sure to visit the narrowest house in Europe (well, a narrow entrance anyway) and the Blue Church before ending your day with a walk through the charming streets in St Michael's Gate.
What to visit in Bratislava in one day
Bratislava is a small city often overlooked by visitors, but definitely worth a visit. In fact, it's almost designed to be a perfect European weekend break destination.
Small enough to get everywhere on foot, yet big enough to never quite run out of things to see and do, Bratislava is a charming city to visit.
With connections to other European countries via budget airlines, perhaps you too are considering visiting Bratislava? If so, this Bratislava sightseeing itinerary will help.
You can pre-book a taxi from the airport to your hotel here: Bratislava Airport Taxi
I've designed this as an itinerary on things to do in 1 day in Bratislava, but you can easily spread it over 2 days in Bratislava or more if you have time. One of the joys of spending time in the city, is simply strolling around, or taking some time out with a beer!
Bratislava 1 day itinerary
Where is Bratislava?
Bratislava is the capital city of Slovakia, with a population of just over 400,000 people. Positioned on the banks of the Danube River, this little gem has plenty to offer, whether you are spending a day, a weekend or longer.
While the nearby cities of Vienna and Budapest seem to have more visitors, Bratislava is also an upcoming destination, attracting people who want to visit a smaller, more walkable, and far more laid-back city with fewer tourist crowds.
I've been fortunate to have visited Bratislava in Slovakia twice now. Once when cycling from England to South Africa, and once when cycling from Greece to England.
As you might tell, its position on the Danube makes it a good stopping point when cycling across Europe!
You don't need to get there on a bicycle though. Bratislava is well connected with other major cities in Europe through air, buses, trains and Danube boats.

Visit Bratislava – Day trip from Vienna
One of the most popular ways to visit Bratislava, is on a day trip from Vienna, which is only 70km away. A boat cruise on the Danube is a hassle-free option, offering some great river views.
Here's a look at a day trip to Bratislava from Vienna.

Short history of Bratislava
Bratislava has a long and tumultuous history that cannot be summarized properly in a few lines – but it's good to have some context before you visit. Here is a short history of Bratislava in 99 words!
Bratislava and the surrounding area have been inhabited since the Neolithic period. Several conquerors passed by until the 10th century AD, including the Thracians, the Celts, the Romans, the Slavs and the Avars. From then onward, Hungarians, Czechs, Germans, Austrians, Habsburgs and others conquered and re-conquered the city. Bratislava became the capital of Royal Hungary in 1536.
The instability and turmoil continued in the following centuries. This eventually resulted in the foundation of the new state of Czechoslovakia in 1918, and its dissolution in 1992 into two new countries – the Czech Republic, and Slovakia, with Bratislava as its capital.

Where to stay in Bratislava
The part of Bratislava that most visitors are attracted to is the Old Town, a fairly compact area where you will find many bars and restaurants, but also museums, historic buildings, and other places of interest.
If you are going to spend one night in Bratislava, this is where you should aim to stay, as this is where everything happens and everything is walking distance. I've a full guide here on hotels and where to stay in Bratislava.



What to do in Bratislava in one day
With 1 day in Bratislava, take your time to stroll around the city center, and absorb the vibe and the quietness. Sit for a coffee or beer on the main square, have a nice meal, and wander around the cobbled streets looking for the famous Bratislava statues.
What you prioritize in your Bratislava to do list is up to you!
Top 10 places to Visit in Bratislava in a day
At the same time, do check out some of the picturesque buildings and sites, remnants of different eras, and maybe visit a museum or two depending on your interests. Here's the best things to include in your 24 hours in Bratislava itinerary.

1. Primate's Palace
Right in the centre of Bratislava, you can see this massive pink neoclassical building which was constructed in the late 1770s. The Peace Treaty of Pressburg, which effectively brought the Holy Roman Empire to an end, was signed in 1805 in its Hall of Mirrors.
Today, the Primate's Palace is open for viewings to the public, though photography is only allowed in the Hall of Mirrors. Bratislava City Council meetings and various cultural events are also held in the Palace.

2. Old Town Hall
Next to the Primate's Palace, you can see the Old Town Hall in Bratislava, with its distinctive colourful tiled roof. It is a group of several 14th century Gothic buildings, many of which have been reconstructed and renovated over the centuries. Several styles, such as Renaissance, Baroque and Neo-gothic were implemented.
Over the years, the building was not only used as a town hall, but also as a prison, a mint, a municipal archive and a trading area. Today, it is home to the Bratislava City Museum, while there is a viewing balcony on the top of the tower. In the summer, several events are organized in the courtyard.

3. Grassalkovich Palace
To the north of the Old Town, the impressive Grassalkovich Palace is the residence of the Slovakian President. The ceremonial "changing of the guards" takes place here at midday, and possibly other times in the day.
St Michael's Gate
Dating back from the 13th-14th century, St Michael's Gate is among the oldest constructions in the city. It is one of the four gates that allowed entrance and exit to the city during the medieval times, when Bratislava was surrounded by heavily fortified walls. A church, which was later destroyed for its materials to be reused in other constructions, was built close to the Gate.
The monument was reconstructed in the baroque style in the 18th century, which is when the statue of St. Michael and the Dragon was also introduced.
Within the tower of St Michael's Gate, you can visit the Exhibition of Weapons, which belongs to the Bratislava City Museum. There is also a viewing balcony, from where you can overlook the Old Town.

4. St Martin's Cathedral
The massive St Martin's Cathedral is located to the west of the Old Town, just under Bratislava Castle. It was built on the grounds of a previous place of worship and a cemetery, and its 85m tall Gothic tower was actually part of the city's fortifications. Its construction was first completed in the 15th century, but enhancements, additions and reconstructions have been pretty much ongoing.
The cathedral contains several catacombs, crypts and sepulchres, as well as the Baroque / mausoleum of St John the Merciful.

5. The Blue Church
To the east of the Old Town section of Bratislava, you can find St Elizabeth's church, commonly known as the blue church. There is no better description, as the whole church is blue – the roof, the mosaics, the exterior and most of the interior!
It was built in the beginning of the 20th century in the Hungarian Art Nouveau / Secessionist style. If you're in Bratislava for a day, you can easily drop by and take a photo.

6. Bratislava Castle
The city's most prominent landmark, the Bratislava Castle, is located to the west of the Old Town, overlooking Danube, the Old Town, and the areas beyond. It has four towers, four gates and a big courtyard, and is also home to the Museum of History and the Music Hall. Several other buildings, basilicas, churches and yards can also be found in its grounds.
The history of the castle is as old as the history of Bratislava itself. Because of its important location, the site has been inhabited since the third millennium BC.
The constructions built by the Celts and the Romans were further enhanced by the Slavs, around the 8th-9th century. However, some of the most important fortifications happened during the reign of King Stephen I of Hungary (1000–1038).
In subsequent years, the conquerors that passed by Bratislava rebuilt and further fortified the castle, while new constructions, including residential buildings, were introduced.
In the mid-16th century, the emperor Ferdinand I of Habsburg practically rebuilt the castle with the help of a team of Italian Renaissance builders and artists.
Further alterations were made a century later, when an Early Baroque reconstruction was commissioned by Count Paul Pálfi. This is the look that has mostly been kept until today, though some more enhancements and changed were implemented later, while a new palace was built in the 1760s.
In the next centuries, the castle lost its predominant role and was transformed into a state school and, later, into military barracks. During that time, in 1811, a massive fire started inside the castle, resulting in much of it being destroyed, while many of its materials were gradually taken away to be reused.
After the end of WW II, it was decided to restore selected parts of the castle. Restorations took well over a decade, and finished in 1968. Since then, the castle has been open to the public and housing exhibitions and several events. Further restoration works have been carried out more recently.

7. Slavin Memorial
Not far from the castle, you can reach the Slavin Memorial through a short hike. A memorial area for people who were lost during WW II, it also offers great, peaceful views of the city.

8. Museums and Art Galleries in Bratislava
If you are a museum / gallery person, you might be a little spoilt for choice, as there are several galleries and museums that you can't possibly explore in 1 day in Bratislava.
If art is your thing, and given that the Danubiana museum is far from the city, go to the Nedbalka Gallery, where you can see 20th century modern art from Slovakia. We literally bumped into this amazing gallery, which is hidden in one of the side streets in the Old Town, and really enjoyed it.
For something more classic, you can choose to visit the Slovak National Gallery, where you can see some classical art. Some of the highlights include Gothic and Baroque sculptures and paintings, while there are also temporary exhibitions.
The City Gallery of Bratislava is another popular gallery. With large collections spread over two buildings, it hosts artworks from the Gothic era onwards, while there are also temporary exhibitions.
In terms of museums, the massive Slovak National Museum, which encompasses several independent museums in Bratislava and elsewhere in Slovakia, is home to a surreal number of almost 4 million (!) artefacts. In Bratislava, you have a choice of over 10 museums. Two of the most highly rated are the Museum of History, in the grounds of the castle, and the Natural History Museum.
The Bratislava City Museum – Museum of the City History, located in the Old Town Hall, offers an overview of the city's history, along with a collection of torture devices dating from various eras, armour, weapons, miniatures and selected paintings.

9. Old Market Hall – Central Market in Bratislava
If you are in Bratislava on a Saturday, by all means swing by the Central Market. Housed in a building from the 1910s, it's a bustling area where you can find several food stalls, but also handicrafts, clothes and souvenir stalls. It's only open from 10.00 to 15.00.

10. Bratislava Statues
As you are walking around the Old Town's cobbled streets, keep your eyes wide open for the famous Bratislava statues.
These statues were created in the 1990s onwards, after communism fell. The purpose was to add some character to the centre of the city, and they have become very popular with tourists.
Some of the most famous ones are "Man at Work", "Paparazzi" and "Napoleon's army soldier", which was vandalized in 2018. However, there are loads more, and it could be a fun activity if you are visiting Bratislava with kids – or with no kids!
Tours of Bratislava
If you want to get an insider's view of the city, there are a number of alternative tours in Bratislava. You can choose to go on an off-the-beaten-track Bratislava walking tour and discover some of the city's secrets.
For something more quirky, you can take a tour in an old Skoda vehicle, focusing on Bratislava's recent history. Though we didn't take this tour, it sounded really interesting, especially for people who are interested in the communist era.
I find day tours an excellent way to see the highlights of a city. If you want a guide to show you the important places to see in Bratislava in one day, either of those two would be excellent.
What to see in Bratislava in one day – pin this
If you have a Pinterest board, feel free to pin the image below to one of your boards. That way, you'll be able to find this Bratislava 1 day itinerary later.
One day in Bratislava – Tons to do!
There are a few different ways to spend one day in Bratislava, depending on what interests you. You could explore the historic core of the city centre, visit the narrowest house in Europe, or wander through the charming streets in St Michael's Gate. Or, you could spend your time exploring the Presidential Palace, SNP Square, the Blue Church and other historical buildings. No matter what you decide to do in Slovakia's capital, you're sure to have a great time when you visit Bratislava.
As you have seen, Bratislava may be small, but there are many things to do. You could consider spending a couple of days in Bratislava instead, or maybe longer. Have you been to Bratislava? How many days would you say were enough? Let us know in the comments!
---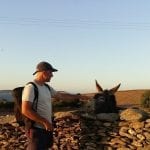 –
Dave Briggs
Dave is a
travel writer
and adventure cyclist originally from the UK, and now living in Greece. In addition to this travel blog post about what to see in Bratislava in one day, you will find hundreds of other insights, guides, and itineraries for destinations all over Europe on this site.
Follow Dave on social media for travel inspiration from Greece and beyond: