Are you looking where to stay in Bratislava? Here are some of the best hotels and budget accommodation in Bratislava. From 5 star hotels to cheap rooms, Bratislava has something for everyone!
Where To Stay In Bratislava
Bratislava is an ideal city to visit for a mid-week or weekend break. Beautiful and compact, you can see most of the main attractions with 2 days in Bratislava.
There is also accommodation to suit every budget in Bratislava. From 5 star and luxury hotels, to budget Bratislava accommodation, the city is as equally appealing to honeymooners as it is for groups of friends looking for a few days away.
So, which areas are the best to stay in Bratislava? While the cheaper hotels are out on the outskirts, in my opinion, it makes the most sense to stay in the historic centre of Bratislava. This way you are ideally positioned to see all the main sights and attractions of the city.
By the way, you might find it easier to get a taxi from Bratislava airport to the city center than mess around using the buses. You can pre-book a taxi here: Bratislava Airport Taxi
Here is a selection of the most popular places that people choose from when looking at where to stay in Bratislava.
It's important to remember that prices vary throughout high and low seasons, so booking in advance can help save you money. I have included an indication to the price range, and also links to reviews where you can find the best hotel rates in Bratislava for your dates.
5 Star Hotels In Bratislava
Bratislava is known as a budget-friendly destination, but not everyone wants to travel backpacker style. These 5 star hotels in Bratislava will allow you to enjoy the city, whilst not sacrificing on creature comforts.
Sheraton Bratislava Hotel
Price Range: €112 – €185
Reviews and Rates: Sheraton Hotel Bratislava
The Sheraton hotel is popular with business travellers to Bratislava, but is also suitable for people just visiting the city for a short break.
Located on the banks of the River Danube, its facilities include shops, a bar, a restaurant, a fitness room, spa, sauna, and swimming pool. If you are looking where to stay in Bratislava and want real 5 star luxury, the Sheraton is your number one choice!
Tulip House Boutique Hotel Bratislava
Price Range: €90 – €155
Reviews and Rates: Tulip House Boutique Hotel Bratislava
The Tulip House Boutique Hotel is housed within an historic building, and is located right at the heart of the Old Town. It offers a more personal touch than the Sheraton. It's an ideal choice for a couple visiting Bratislava on a weekend city break. It has all the facilities and amenities you would expect of a 5 star hotel. Many people comment on the friendliness of the staff and management.
Grand Hotel River Park Bratislava
Price Range: €90 – €155
Reviews and Rates: Grand Hotel River Park Bratislava
The final 5 star hotel in Bratislava to feature in this guide on where to stay is the Grand Hotel Rover Park. Once again, it has excellent amenities and facilities which include a gym, swimming pool, bar, and restaurant. Located on the banks of the River Danube, it is close by to the historic centre of Bratislava. It offers a comfortable place to stay for couples or families alike.
Mid-Range Hotels In Bratislava
If value for money is your aim when looking where to stay in Bratislava, you should probably look at the mid-range hotels. Quite often, you will find outstanding services and facilities at a discount price when compared to other parts of Europe.
Garni Hotel Virgo Bratislava
Price Range: €53 – €80
Reviews and Rates: Garni Hotel Virgo Bratislava
The Garni Hotel Virgo is a bed and breakfast or guesthouse establishment located in the centre of Bratislava. They have a number of different room options, including double rooms and also apartments. With just 11 rooms, this hotel feels more personal than the larger 5 star hotels already mentioned. Of course, it doesn't have the facilities, but then again, would you need them if you are just spending 2 days in Bratislava?
Loft Hotel Bratislava
Price Range: €57 – €80
Reviews and Rates: Loft Hotel Bratislava
The Loft Hotel in Bratislava is a great deal. Everyone comments on how friendly the staff are, and there are a choice of rooms which include Double/Twin Rooms, Triple Rooms, Premium Double Room with Garden Views, Family Rooms, Executive Double Rooms, Deluxe Junior Sweet with City Views, and King Suite with City Views. Located on the edge of the historic centre, you can easily reach all of the main attractions in Bratislava on foot.
A friend of mine who stayed at The Loft had this to say:
The Loft is excellent. Good location, close to both city centre and railway station and good value attractive, comfortable rooms. Plus a craft ale brew pub attached. Free glass of wine on arrival, beers from the brew pub free in your mini bar. Helpfully booked taxi to airport too
Budget Hotels Bratislava
It is starting to get harder, but not impossible, to find cheap rooms in Bratislava under 30 Euros. Here is a selection of the best for around that price range. These hotels are nice enough if your main aim is to explore Bratislava rather than hang around the hotel for hours on end!
G Hotel in Bratislava
Price Range: €30 – €45
Reviews and Rates: G Hotel Bratislava
This is probably the best budget hotel in Bratislava. Most suited to backpackers, experienced budget travellers, and anyone looking for cheap digs for the night, it ticks all the boxes. Clean rooms, a Tesco over the road, good Wi-Fi, free tea and coffee, and helpful staff. The downside, is that it is out of the centre, so you will need to catch a bus in to see the attractions.
Hotel Jurki Dom
Price Range: €21- €30
Reviews and Rates: Hotel Jurki Dom
Whilst you can find a bed in a hostel dorm fractionally cheaper, this has to be one of the cheapest hotels in Bratislava. It goes without saying that you get what you pay for!
If your criteria where looking at where to stay in Bratislava is that it has to be cheap and cheerful(ish), then this will do you. Don't expect too many frills though! Check out the reviews before you book!
Best Areas To Stay In Bratislava FAQ
Readers planning to stay in Bratislava Slovakia to see the tourist attractions and historic sights in and around the city centre often ask questions similar to:
What is the best part of Bratislava to stay?
First time visitors to Bratislava will find that the Old Town has a nice central location. It's easy to get from here to all the major places of interest, and there is a good selection of Bratislava hotels here.
How many days do you need in Bratislava?
The ideal time to spend in Bratislava is two days. You'll have a day to discover the city, a night to enjoy the bars and clubs, and the next day you may go sightseeing around Bratislava or take a day trip to attractions near by such as Bratislava castle.
Is Bratislava really cheap?
Bratislava may not be the unheard of budget destination it once was, but when compare with nearby Vienna or Prague, Bratislava is much cheaper overall. Bratislava accommodation options include hostels, mid range hotels, and luxury hotels with elegant rooms all at keener prices that neighboring Vienna.
Is Bratislava cheaper than Prague?
You can expect a city break in Bratislava or Prague to cost about the same amount of money.
Is the Old Town a good place to stay in Bratislava?
Bratislava Old Town is the ideal place to stay. This is where the city's ancient center is. The Old Town is bordered on the south side by the Danube River. Most attractions are within the Old Town or within walking distance of it.
You might also want to read:
---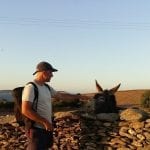 –
Dave Briggs
Dave is a
travel writer
from the UK. As well as creating this travel blog post on the best places to stay in Bratislava, he's also written many more travel blogs and itineraries for destinations all over the world. Follow Dave on social media for travel inspiration from Greece and beyond: