I spent 3 weeks cycling in the Peloponnese region of Greece. It's an amazing landscape to cycle through, which I'd love to share with you here.
My bike route through the Peloponnese in Greece took me past ancient sites where King Agamemnon ruled, through olive groves and by coastal roads. If you're planning to explore the Greek Peloponnese by bicycle this guide might be a useful read.
Bike Touring in Greece
I've been living in Greece now for over four years, and during that time, taken a number of bike tours around the country.
Greece is both a fantastic and slightly strange place to cycle. Unlike many other European countries, there is no cycling infrastructure to speak of. So forget any ideas of bike paths and well marked trails you may have!
Instead, picture countless quiet country lanes, amazing hills and mountains to endure and then enjoy, and lots of clean fresh air.
It's a challenging country to cycle for sure – it's a rare day you'll have got away without cycling up and over one hill or mountain. But it's rewarding, whether as a bike touring destination in itself, or as part of a long distance bike tour.
Cycling Peloponnese Region
The Peloponnese peninsula of Greece is, in my opinion, an ideal destination for a bike tour. You can start and end the tour in Athens with its international airport, and you can plan a tour of almost any length of time.
If you are from the UK, you could also consider flying into Kalamata and using that as your start and end point, avoiding the hassle of cycling in Athens.
Whilst I spent around 3 weeks cycling in the Peloponnese, the route I took could be adapted to a shorter two week tour, or a longer one of four weeks.
For people who want to spend even longer cycling in Greece, there's also the option to continue through mainland Greece.
Peloponnese Bike Tour Route
This part of Greece has an abundance of famous ancient ruins such as Mycenae where the mythical King Agamemnon was said to rule, Epiduarus, and of course Ancient Olympia.
The route I chose when cycling around the Peloponnese was based in part on the legend of Hercules and the 12 Labours. This combined my interest with ancient history and bike touring perfectly, whilst taking me around the varied landscape of the region.
There's not just the archaeological sites left to us by the Ancient Greeks. The Peloponnese also has some stunning medieval castles such as Methoni and Koroni which I stopped by at along the way.
You could create your own themed tour as well if you wanted. Some ideas you could consider include a Venetian Castles bike tour, Ancient Greece bike tour, or best beaches bike tour.
It's an amazingly varied region of Greece, which you can find out about here – Things to do in the Peloponnese.
Greece Cycling Vlogs
During my bike tour of the Peloponnese in Greece, I made a vlog a day. I think this is the best way to show the landscapes I cycled through, as well as describe what I got up to on a day by day basis.
I've included the cycling vlogs below. Each one has a description and you can click through to watch it on YouTube. If you are planning a ride around the Peloponnese it's worth watching so you can get a feel for what to expect.
Cycling in the Peloponnese Videos
During my bike tour, I made a vlog a day whilst cycling in the Peloponnese of Greece.
Bikepacking Greece – Planning
While I don't have exact GPS routes from this tour, the videos have a lot of information you need. If you're looking for more information on this bicycle tour in Greece, these other articles may also be of interest.
Introduction – Here, I explain the concept of the bike tour, along with a few other details.
Bike Touring Gear – In this post I review the bike touring gear I took with me. This might be useful when planning your own tour.
The Bicycle – I used a 'classic' style steel touring bike for this bike tour in Greece.
Are you thinking of cycling in the Peloponnese and have any questions? Please feel free to comment below, and I'll be happy to answer them if I can!
---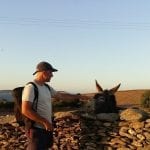 – Dave Briggs
Dave has cycled around most of the world, including long distance bike tours such as riding from Greece to England, and cycling from England to South Africa. Now living in Greece and working as a travel writer Dave has a somewhat ambitious goal of visiting every Greek island (there's over 200!) and writing about them all.
Follow Dave on social media for travel inspiration from Greece and beyond: