Another big day called for an earlyish start, and so I was up and away by 07.30. Ok, not terrifically early, but its bloody cold that time of the morning! 
Giant hats are all the rage in this part of Peru. Extreme example shown. Getting  out of Celendin was easy, and so began the uphill section. Spread out over 50 kms, I gained 1300 metres in height until I topped off at 3700 metres. The gradients weren't too bad, and there were even some flat sections which made a pleasant change!
Then began a rough and bumpy 25 km descent down into the village of Encanada. I had considered stopping here, but as it was 14.00, I still had some time to get the final 35 km to Cajamarca done.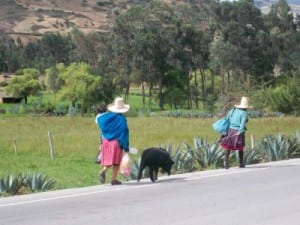 Leading a pig from market. A nice picture of rural life here in Peru. Note the super-sized hats!
And on leaving Encanada, a wonderful, beautiful thing happened. Tarmac ! Joy!! The next 35 km and 200 metres of height gain passed swiftly and enjoyably as I almost glided along the road to Cajamarca. The entry into the big town wasn't the greatest, as it being late on a Sunday, a lot of people were drunk. Still, abuse works both ways, and I am fairly confident that at least two Peruvians have a fuller understanding of the word wanker. I headed for the main plaza, and checked out a couple of options before settling on a 25 sole a night place. It's a little expensive, but has a great hot shower, which is something both myself and clothes needed! Cable TV too, so a good place to unwind for a couple of day.