This guide to the best foods to pack for bikepacking and cycle touring will help you choose what to take so you can keep those wheels turning!
It has to be said, that bike touring makes you hungry! That's why picking the best foods for bicycle touring is so important. Here is a list of the food I take with me when on an extended bicycle tour.
Best Bikepacking Food
These are the most popular bike touring food items you're likely to find in a long distance cyclist's panniers, mine included:
Peanut Butter
Pasta
Bananas (and other fresh fruits)
Oats
Nuts (Trail Mix)
Instant Noodles
Rice
Tinned Fish / Canned Meat
Bread
Cheese
Health Bars (Protein, Energy or Oat)
There will also most likely be some seasonal fresh fruit and vegetables tucked away somewhere as well.
This guide on what to eat when cycling long distance on a bike tour explains the foods I choose and why. First though, who am I?
Hi, I'm Dave!
My name is Dave, and I've bike toured tens of thousands of miles all over the world. The longest bike tours were from England to South Africa, and Alaska to Argentina, but there have been many others as well.
These tours were all cycled solo and unsupported, taking months to complete. As you might imagine, I burned off hundreds of thousands of calories in the process, and these all needed replacing!
As such, I've worked out what the best bikepacking meals and foods are for me in all sorts of situations and countries.
Eating On A Bicycle Tour
The bicycle may be a machine, but your body is the engine, and that engine needs fuel. The best foods for bicycle touring need to replace those lost calories quickly. They also need to be relatively light weight, and keep well on the road.
In the case of cyclists on multi week/month/year trips, they also need to be cheap! Its hardly surprising then, that the same foods crop up again and again in the panniers of bicycle tourists.
The choice of bike camping food will vary from person to person, but the fundamentals are the same. A good source of carbs is required to keep the body fuelled, along with protein to rebuild muscles, and fat as a slow burner.
Bicycle Food Guide
A Balanced Diet For Cycle Touring
Before I go any further, I should mention that I am a strong believer in a balanced diet, and eat fish and meat. Basically, I can eat pretty much anything. Also, I like to taste the food of the country I am cycling through, so don't always cook for myself.
So, keep in mind that I would not suggest you subsist entirely off of the following foods I have suggested are good for bikepacking. Additionally, plenty of vegans get on fine without some of the items below.
Another thing to remember, is that not all foods are available in all countries. And that's a good thing. Half the fun of visiting new countries is trying out the local delicacies and new foods after all!
Regardless, this list of the best foods for bicycle touring is at the core of the majority of bicycle tourists diets. Bicycle touring staples, so to speak.
Finally, as with all my bicycle touring tips, this article has been put together drawing on my experiences of 40,000 kms cycling all over the world. So, without further ado:
Bikepacking Food List
Let's take a look in more details at these bikepacking food examples, and see why they are so good for long distance cycling nutrition.
1. Peanut Butter
If there is one bike touring superfood, it's peanut butter! This product may not be available in every country in the world, but where it is, cyclists should definitely add it to their shopping list. Hopefully you don't have any nut allergies!
Calorie dense, peanut butter spread thickly over bread is an ideal way to keep the body fuelled. It's also a ready to eat food that needs no preparation or cooking gear. You can even eat it by itself straight from the tub!
Pictured below is the nutritional breakdown of a 500g jar of peanut butter available to me here in Greece. This cost 3.20 Euro (about 3.5 dollars). I don't really know of any other foods that have such an amazing cost / calorie /weight ratio and is also ready to eat.
The fat content may put people off from eating it on a daily basis in regular life, but on a bicycle tour, its all going to get burned off pretty quickly. When it comes to buying food for cycle touring, you'd be hard pressed to anything better!
Dave's Note: Where peanut butter is not available, you may find other types of nut butter like Tahini.
2. Pasta
I'm going to include spaghetti in the pasta category (something which is easier to carry for a cyclist). Pasta is a great source of carbs, and also has a reasonable amount of protein. Many athletes "carb load" by eating pasta, and bicycle tourists are no exception.
A huge plate at night after a long day on the bike is just the job, and I personally love pasta and tuna. Although it doesn't weigh a lot, pasta can take up space which might be an issue for some people who are traveling on ultralight bikepacking setups.
3. Bananas
These really are one of natures greatest gifts. First domesticated in South East Asia nearly 8000 years ago, they are now grown in many parts of the world.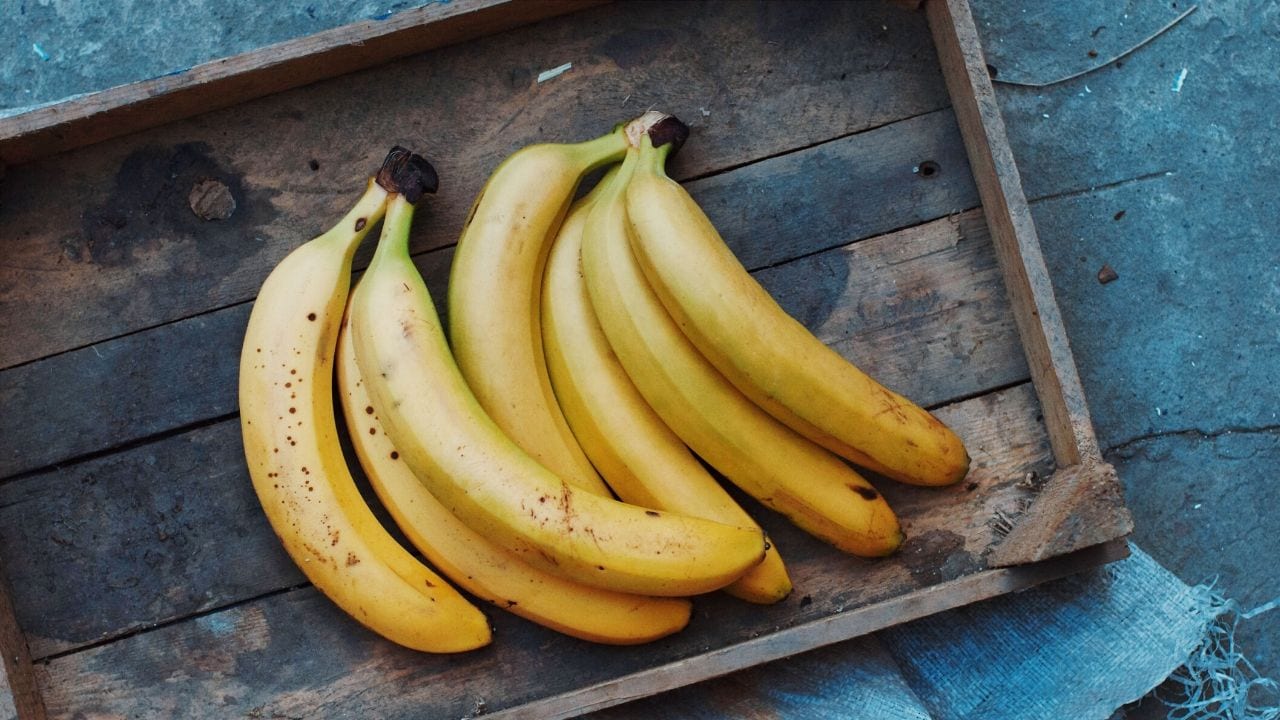 Where they are not grown, they are exported to the other parts. Even after export, they remain an incredibly affordable fruit that is packed full of nutrition.
Containing just a few traces of protein, the average banana boasts 120 calories consisting mainly of carbohydrates. This makes it the ideal snack food to be eaten whilst cycling, as it helps to restore energy levels. It even comes in its own bio-degradable packaging – it doesn't get any better than that!
4. Oats
Whether as oatmeal, porridge or in muesli, oats are a great way to start the day.
They have been part of athletes diets since the time of the gladiators, and there are not many professional sports people today who do not consume oats at least once a week. As far as meals for cyclist go, it doesn't get much better than this!
For the bicycle tourist, a big bowl of oatmeal is the perfect way to fuel the body at the beginning of the morning. The energy release is constant over a couple of hours, rather than in one burst, and they take very little preparation. Lightweight and cheap, they are one of the essential staple foods to take when bicycle touring.
5. Nuts and Raisins (Trail mix)
These make an ideal snack to munch on whilst actually cycling. Whilst they may not offer much in the way of instant carb release (apart from the raisins), they keep the body fuelled with fats and protein from the nuts.
Eat a banana every now and again as well, and it should get you through to lunchtime, when you might like to stop for a bigger meal.
6. Instant Noodles (Ramen)
Ramen noodles are not often thought of as a health food product! Now, that said, a cyclist who is burning calories at a rate of knots, and needs to replace salts as well, will soon fall in love with instant noodles.
They are ridiculously cheap, quick to cook, and make an ideal snack. Throw in a few vegetables as well, and it makes a simple meal. They weigh very little, and many cyclists have an emergency pack or two stuffed into a pannier somewhere.
7. Rice
Rice gets a bad rap from Westerners, who are perhaps more used to potatoes as their main source of carbohydrates. Most of the world seems to get by on rice though, and bicycle travellers are no exception to this!
Cheap and available virtually everywhere, rice is also lightweight. It is possible to carry many meals worth in just 500 grams of the uncooked product, although cyclists in arid regions may need to balance that out with water availability for cooking.
8. Tinned Tuna or other fish
Although I wouldn't consider tinned fish to be particularly environmentally sound, it is a product which is pretty cheap, easy to carry on the bike, and requires no preparation.
Whilst cycling burns through the carbs, you still need a good source of protein to maintain and rebuild stressed muscles. Tinned fish provides this, and when eaten with rice or pasta, makes a quick, simple, cheap and complete meal.
Available almost everywhere around the world, it is certainly one of the best foods for bicycle touring.
9. Bread
There is some form of bread to be found in most parts of the world. It might be a flat bread in the Middle East, Injerra in Ethiopia, or a traditional loaf of bread in Europe.
Cheap, filling, and providing a good mix of carbs and protein, its handy to have for lunches, or when it is not possible to cook at night over a stove.
10. Cheese
Cheese is a good source of fats (which need to be replaced, as the body should have reserves to draw from in emergencies), and protein.
Available in most places, it's only real drawback as a bicycle touring staple, is that it is hard to keep in hot climates. Cheese sandwiches halfway through the day make a good lunch, and its relatively inexpensive.
Vitamin Supplements
Travelling hard and fast means that sometimes, it is quite difficult to keep a balanced diet. Vitamin and mineral supplements can be extremely useful in these situations.
Bikepacking Food Ideas
If you're just going on a bikepacking trip of a few days, then you might want to take along some ready meals.
These are ideal for short trips, but not really economically viable for longer ones.
Typically, freeze dried bike packing food is the lightest and easiest to take. You simply add boiling water and you're done!
Take a look at this freeze dried food selection, and see if any appeal: Bikepacking meals
You might also be interested in reading these other great tips:
FAQ About Bike Touring Food
Readers sometimes as questions like this when researching which foods are the best to eat when bike touring:
What to eat while cycling long distances?
It is important not to simply rely on sugars as an energy source during a long ride. Sugars provide quick bursts of energy but will also leave your blood sugar levels low if they are burned up quickly without being replaced with other nutrients. So you'll need fuel that provides more than just calories! The best foods for cyclists include: complex carbohydrates like pasta, breads, rice and potatoes; healthy fats like nuts and avocado; and fresh vegetables.
What is the best thing to eat before a long bike ride?
It is a common thought that cyclists need to carb-load before a long ride. However, this may not be true for everyone. Studies have shown that eating too much food can actually lead to digestive problems and other health issues during your bike ride. The best thing you could do is experiment with what works best for you by trying different foods before your next cycling adventure! Personally, I like a bowl of oatmeal before a long ride.
How should I pack for a bike tour?
When choosing what to take with you on a bike tour, you'll want to keep one eye on the weight of the gear, and another on how useful the gear is. Some people prefer to cycle as lightweight as possible in order to travel further distances. Others don't mind taking heavier bike touring gear, as they don't care about cycling too far in one day, and prefer the comfort that the gear provides.
What is the best energy food for cycling?
This depends on if you are after quick release or slow release energy food. A bowl of oatmeal and a banana may work fine before the ride, to be topped up with energy gels during the ride.
What food do you take on longer trips? Have you got any fantastic tips on one pot cooking or more food insights for a bike trip?
If you can think of anything else that should be added to this list of the best foods for bicycle touring, then please leave a comment below. I'd also be interested in hearing of any simple recipes for camp cooking on a bicycle tour, as it's always nice to try something new!
Next read: International Travel Packing Checklist