If you're planning on cycling in Peru, this bike touring post might help. Includes travel tips for cycling in Peru, as well as bike touring blog posts.
Cycling in Peru – A Few Travel Tips
Peru is a great destination for bike touring and cycling, with spectacular mountain crossings, wide open spaces, and fun and challenging routes.
Touring Peru by bicycle is an unforgettable experience that takes you off the beaten path and allows you to really explore the country and get to know it better.
I spent nearly two months bike touring in Peru as part of my Alaska to Argentina bicycle tour. I found it to be one of my favourite countries when it comes to bicycle touring, and would love to return one day soon!
I rode through the Peruvian Andes before google maps was really working properly (back in 2010). In fact, paper maps were pretty hard to come by as well!
As it turns out, the route I took when traveling by bike through Peru is still used today by people on their own bike touring adventures. As such, this little guide will give you some valuable insights into cycle touring in Peru.
During my time of biking in Peru, I kept a blog post a day. You can find links to the blog posts at the bottom of this article.
The rough route took me from the border with Ecuador, through the mountainous areas, and on to Bolivia. You can see a map which shows more or less the route I took below.
Tips for planning a bike tour in Peru
After completing my trip, I received a couple of emails from people looking for travel tips on cycling in Peru, I decided to put together the answers here in one place.
These travel tips on cycling in Peru cover most of the commonly asked questions. Links to my bike touring blog posts follow on at the end.
I hope this information proves useful for planning your own bike tour in Peru!
1. Is Peru A Safe Country To Visit? What risk is there from bandits and other criminals?
Everyone has their own experiences, but I felt Peru to be a very safe country. Touring on a bicycle will immediately make you somewhat of a novelty with the locals of course, but there were no particular dangers.
That said, there is one area that most cyclists will avoid, and that is Paijan in the north of Peru. Tales of robbery are not just limited to bicycles – Tourists travelling on bus and car here also get robbed. Best avoided I think!
For general road cycling safety tips, take a look at this article – cycling tips for staying safe on a bike tour.
2. What accommodation do you recommend? Normally we camp but are unsure how safe that will be when cycling in Peru, and how many campsites are there?
Almost every village or town has accommodation of some description, and most of it will cost less than 10 dollars a night. Of course, you shouldn't expect too much for this!
A room with a bed that you would probably prefer to lay your sleeping bag on is the norm out in the sticks, but the tourist centres have better quality accommodation.
Camping (wild camping) is more than possible throughout the country, and I did it on many an occasion. It's very easy up in the mountains, but of course, it will get cold at night! On more than one occasion, the water in my water bottles froze when I left them on the bike – bring them into the tent is my hint here!
Wild Camping in Peru – Sometimes I didn't bother with a tent!
3. How bad are the mosquitoes?
I didn't really notice them that much when cycling in Peru, although they are present in the lower areas. It really is going to depend on which parts of Peru you are going to travel through.
Up in the mountains, you won't find any mossies, but you may encounter biting flies of other types. Overall, not much of a concern. Insect repellent might not be a bad idea, as is covering up at dawn and dusk when they tend to bite the worst.
4. What is the quality of the roads and what are the drivers like?
Road quality can be quite variable. The main roads are normally in pretty good condition, but they are not so much fun to cycle on with the traffic etc. In addition, where a main road is poorly maintained, it is harder to cycle on than if one took a minor dirt road.
The minor roads I will call "dirt roads", but these can very from quite literally dirt, to small gravel type stones. These are far more fun to cycle on, the traffic is less heavy, and there is certainly more of a sense of adventure.
Some of the dirt roads when cycling in Peru were simply stunning!


Admittedly, safety barriers are in short supply on the dirt roads in Peru!
5. What is high altitude cycling like?
There's no avoiding the Andes when riding through Peru (well, actually you probably could, but it would be boring). In time, you'll get acclimatized to long distance cycling at higher elevations. I never had problems cycling at this height, although heights over 4000m meant I had to stop for breath a lot more often than normal!
6. Anything else we need to know?
A few things that I would mention are
Speak some Spanish – You will be lucky to find anyone outside the tourist centres that speaks English… In fact, you will be lucky in some of the more remote villages if the people speak Spanish!
700c wheels are a rarity. If you are cycling in Peru with these, make sure you have all the inner tubes, spokes and spare tyres you think you might need. Take spare brake pads as well – Those long downhill descents will soon wear through them! This is hard-core bicycle touring at its finest!
Guinea Pig – If you are going to try it, do it in a small village and pay a dollar or so as opposed to 15 dollars in a tourist hotspot. You'll probably just have it the once anyway! I've tried it a couple of times, and wasn't particularly impressed.
Cash – Keep enough on you to last between cities. Small towns wont have an ATM machine.
Peru – Is a lot bigger than you might at first think.
Bike Touring in Peru
My bicycle touring blogs through that period are listed below. Start at the first one, and at the bottom of each page, you'll find a navigation taking you on to the next.
If you are interested in general tips about bicycle touring on my travel blog, check out these bicycle touring tips.
Peru and South America Bike Ride FAQ
A few other questions that come up from the biking community keen to explore Peru on two wheels, and cycling off the beaten track places include:
Is cycling popular in Peru?
On a local level, the government encourages cycling. Internationally, Peru is a popular bike touring destination thanks to its stunning scenery, small villages, friendly local people, and challenging but rewarding high passes.
Is Lima bike friendly?
In recent years, Lima has been including dedicated bike lanes into its infrastructure plans, particularly in the more touristy neighborhoods. There are also organized bike tours of the city you can take to see more of the place with a local guide.
Which country is best for cycling?
Peru has got to be up there among the best countries for cycling. With varied terrain, Inca ruins, and stunning vistas, it's a perfect destination for bikepacking adventures.
Can you bike to Machu Picchu?
There are various organized bike and hike tours of the Sacred valley and Machu Picchu you can take.
---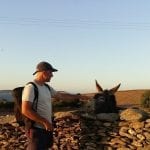 –
Dave Briggs
Dave is a
travel writer
based in Athens, Greece. In addition to writing these tips on bicycle travelling in Peru which are aimed at helping people with their own Peru bike tours, he's created many more cycle touring posts and travel guides here at Dave's Travel Pages. Follow Dave on social media for travel inspiration that will make you want to hit the road on two wheels!: