During the summer, there are regular ferries from Athens to Kythnos leaving from the ports of Lavrio and Piraeus. The Athens to Kythnos ferry takes between 2-3 hours.
Kythnos island in Greece
Located just 3 hours away from Athens, the island of Kythnos is one of the lesser known Cyclades islands in Greece – to overseas visitors at least.
Athenians know it well of course, and it is a popular weekend or short break destination.
There's an interesting mix of culture, nature, and summer vacation vibes that give the island of Kythnos a contemporary edge, whilst still retaining the charm of a Cyclades island.
Whether you're staying for just a couple of days or a week, Kythnos is a charming island that is sure to win you over!
How to get from Athens to Kythnos
The Greek island of Kythnos does not have its own airport, so the only way to reach it is by sea.
Ferries to Kythnos depart from Piraeus Port as well as the Port of Lavrio all through the year.
The best place to book ferry tickets to Kythnos online is: Ferryhopper
Ferry Companies and Ferry Schedules to Kythnos
During the summer, there are daily ferries, but during the winter the ferry schedule is reduced to 2 or 3 times per week.
The average travel time for the ferry to Kythnos is 1 hour and 45 minutes. The cheapest ferry ticket price for foot passengers is around 15.00 Euro.
Four ferry companies sail from Lavrion port to Kythnos. These are Triton Ferries, Blue Star Ferries, Goutos Lines, and Karystia Lines.
Additional ferry routes to Kythnos leaving from Piraeus Port in Athens may be added during the peak summer months. The journey time from Piraeus to Kythnos is a little longer, but some people may find it a more convenient departure port.
Personally, I prefer the smaller Athens ports such as Lavrio and Rafina, as they are a lot less chaotic than Piraeus can be!
The best place to book tickets for the ferry trip to Kythnos or other popular destinations in the Cyclades islands is: Ferryhopper
Kythnos Island Travel Tips
Your Kythnos trip and island hopping plans could be made easier using these travel tips and insights:
Booking has a good selection of hotels in Kythnos to choose from. Better to reserve a few months ahead, especially if traveling in the high season.
---
For schedules on ferry services and to book your ferry tickets for the Kythnos ferries online, use the Ferryhopper website.
---
It's recommended to be at departure ports an hour before the Kythnos ferry leaves.
---
Use Welcome to organize taxis transfers to Lavrio or Piraeus Ports in Athens.
---
There's some nice hiking trails in Kythnos, so take comfortable footwear.
---
What to see in Kythnos Greece
Some of the highlights of Kythnos you'll want to experience include:
Check out the beaches – there are over 70 of them!
Rent a car in Kythnos to better explore the island
Visit the villages Chora Kythnos, Driopida and Loutra Kythnos
Kythnos has a great reputation for hiking, so try out the walking trails!
FAQ About Traveling To Kythnos
People planning to travel between Athens and Kythnos ask similar questions such as:
How do you get to Kythnos from Athens?
The easiest way to get from Athens to Kythnos is by using the daily Lavrio to Kythnos ferry service. During the tourist season, there may also be additional ferries throughout the week leaving for Kythnos from Piraeus Port.
Is there an airport on Kythnos?
Kythnos does not have an airport, and so the only way to reach the island is by sea. The closest airport to Kythnos island is Athens International Airport.
Where does the Kythnos ferry leave from in Athens?
Ferries leave from the Athens port of Lavrio throughout the year. A supplementary service operates in the summer months, connecting the bigger Piraeus Port of Athens with Kythnos island.
How long does the Athens to Kythnos ferry take?
Blue Star Ferries operate the ferry route between Lavrio Port and Kythnos, and the travel time is 2 hours and 35 minutes. In the summer, the ferry journey from Piraeus to Kythnos can take between 3 and 4 hours.
How do I buy ferry tickets for Kythnos?
The most convenient way to purchase tickets for the Kythnos ferry online, is to use a website such as Ferryhopper. Another option is to use a local travel agency when you have arrived in Greece. You may also be able to pick tickets up from the port on the day of departure, but you should be aware that ferries to Kythnos become full during the peak tourist month of August.
---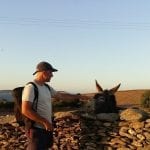 – Dave Briggs
Dave is a travel writer currently based in Greece where he's been living the last five years or so. When he's not writing guides on how to visit Kythnos island, he's planning how to visit all of the inhabited Greek islands – There's over 200 of them!
Follow Dave on social media for travel inspiration from Greece and beyond: