Here's all you need to know about Lavrio Port in Athens. Includes information about which ferries to take to the Greek islands, hotels in Lavrio, and also what there is to do around the area.
Lavrio Port in Athens
Athens has three ferry ports, with Lavrio being the smallest of them all. Unless traveling from Athens to Kea island, it's a port few people consider using, as it is a little further out of the way than the main port of Piraeus or the second biggest port at Rafina.
Ferries depart from Lavrio port to several Cyclades islands, as well as a few places in northern Greece. You should be aware that you may find the port has numerous different spellings – Lavrio, Lavrion, Laurium, Lavrium. It's all the same place!
The purpose of this travel guide is to help you decide if Lavrio port is suitable for you. If you've come here looking for information on where to buy ferry tickets, Ferryhopper is one of the best places to check out ferry schedules and book tickets online.
Where is Lavrio Port in Athens
Lavrio Port is on the south-east coast of the Attica peninsula. Depending on the route you would take, it's about 60-65 km (37-40 miles) from central Athens, and 37 kms (23 miles) from the Athens International airport, Eleftherios Venizelos.
Depending on traffic and time of the day, it would take roughly an hour to an hour and a half to get to Lavrio port from central Athens by private car. The route from the airport would take 30-40 minutes.
In contrast with the massive Piraeus port, Lavrio port is pretty small and easy to get around. There are a few different types of ferries departing from Lavrio. In addition, the port has dedicated areas for cruise ships, sailing boats and yachts. Finally, as you would expect, there are plenty of fishing boats.
All in all, Lavrio port and the marina is quite picturesque, in contrast with Piraeus. It is a much more pleasant place to start or finish your Greek island holiday.
How to get to Lavrio Port from Athens City Center
The easiest way to get to Lavrio Port from central Athens is by taxi. Depending on traffic and route taken, it would take you just over an hour to reach Lavrio port. Welcome Taxis are very reliable, and you can book them in advance. The route from central Athens to Lavrio should cost you around 65 euro.
Alternatively, you can take a KTEL bus from Marvommateon Street, close to Victoria metro station. These buses stop next to Pedion tou Areos Park. As there are several buses departing for many areas in Attica, you will have to ask around for the one going to Lavrio.
Generally speaking, there are several buses a day from Athens to Lavrio, stopping at various places on the way. The bus timetables depend on season and time of day. You can find them on the official website, but unfortunately it isn't always updated so you might want to call the company.
KTEL bus tickets to Lavrio cost 4.90 euro at time of writing (January 2021). Depending on time of day, season and traffic, the bus would take at least an hour and a half to get to Lavrio, and it would drop you right inside the port.
Finally, if you have your own vehicle, there are several routes you can take to get from central Athens to Lavrio. Some of them would involve getting on highways. You can always take the most picturesque coastal road called "the Athens Riviera", just note that there this route would take you longer.
How to get to Lavrio Port from the Athens International airport
If you want to travel from the Athens Eleftherios Venizelos airport to Lavrio Port, the best way is to pre-book a taxi. It should take you under an hour to get to Lavrio port, and it will cost around 50 euro. You can pre-book your taxi here – Welcome Taxis.
At the time of writing, there are no direct buses from the Athens airport to Lavrio port. You could get a bus to Markopoulo and then an onwards bus to Lavrio. Timetables can be found on the official website, though it isn't always up to date.
An alternative option is to rent a car at the airport. If you are planning to take the car to an island, make sure that your car company allows transportation of the vehicle on the ferry.
Ferries from the Port of Lavrion
You can take a ferry trip from Lavrion to some of the Cyclades islands as well as a few ports in the northwest Aegean Sea. Most visitors from overseas will use Lavrion Port to take ferries to Kea and Kythnos.
More here:
What is there to do in Lavrio Ferry port
To be honest, there is not a lot to do in the port itself. There's a small covered waiting area to keep out of the sun, but no real facilities to speak of.
Bring you own snacks and water!
As expected, there's a small ticket office as you enter the port area where you can buy ferry tickets. If I was you, I'd buy tickets in advance using Ferryhopper.
If you do find yourself with time to kill, then you'll probably want to go into Lavrio town. It's about a kilometre awa from the port, so would take 10 or 15 minutes to walk. You'll find a taxi rank for cabs that will take you if you prefer.
What to do in Lavrio Town
Even though Lavrio port town is quite small, it's a charming little place to spend a few hours. In fact, travellers on cruise boats often have some spare time to explore Lavrio and the nearby areas.
There are two small museums in Lavrio that you could consider visiting. They will help you understand the rich history of the wider area, and why Lavrio was so important in ancient times.
The archaeological museum of Lavrio is home to several ancient artefacts. Here, you can read some information about the ancient silver mines in Lavrio. The mines were exploited for thousands of years, from about 3,200 BC, producing silver, lead and copper.
Few people realize that the Lavrio mines were the main reason why ancient Athens was so wealthy. The Golden Age of Pericles and Athenian democracy relied heavily on the silver extracted from the Lavrio mines!
There is also a mineralogical museum, with samples of different minerals from the wider area. It might seem small and unimpressive from the outside, but it's absolutely worth a visit.
Right in the town, there's a fresh fish market, and an array of seafood tavernas where you can have a nice traditional meal. Stroll around the pier and check out the marina and fishing boats.
Ancient Theatre of Thorikos
Finally, a short drive out of Lavrio, you can find the Ancient Thorikos theatre. Considering that it's the oldest theatre discovered in Greece, it's surprising that there is no entrance fee! You should definitely visit and enjoy the impressive views of the Aegean Sea.
Overall, Lavrio is a relaxing little town, and you will enjoy spending a few hours there before or after your island trip.
Cape Sounion – Temple of Poseidon
Lavrio is close to Cape Sounio, also known as Cape Sounion. This coastal area is mainly famous because of the temple of Poseidon, the God of the Sea.
The temple itself was built between 444-440 BC, on top of the ruins of an earlier temple. The material used for its construction was marble that had been collected in Lavrion.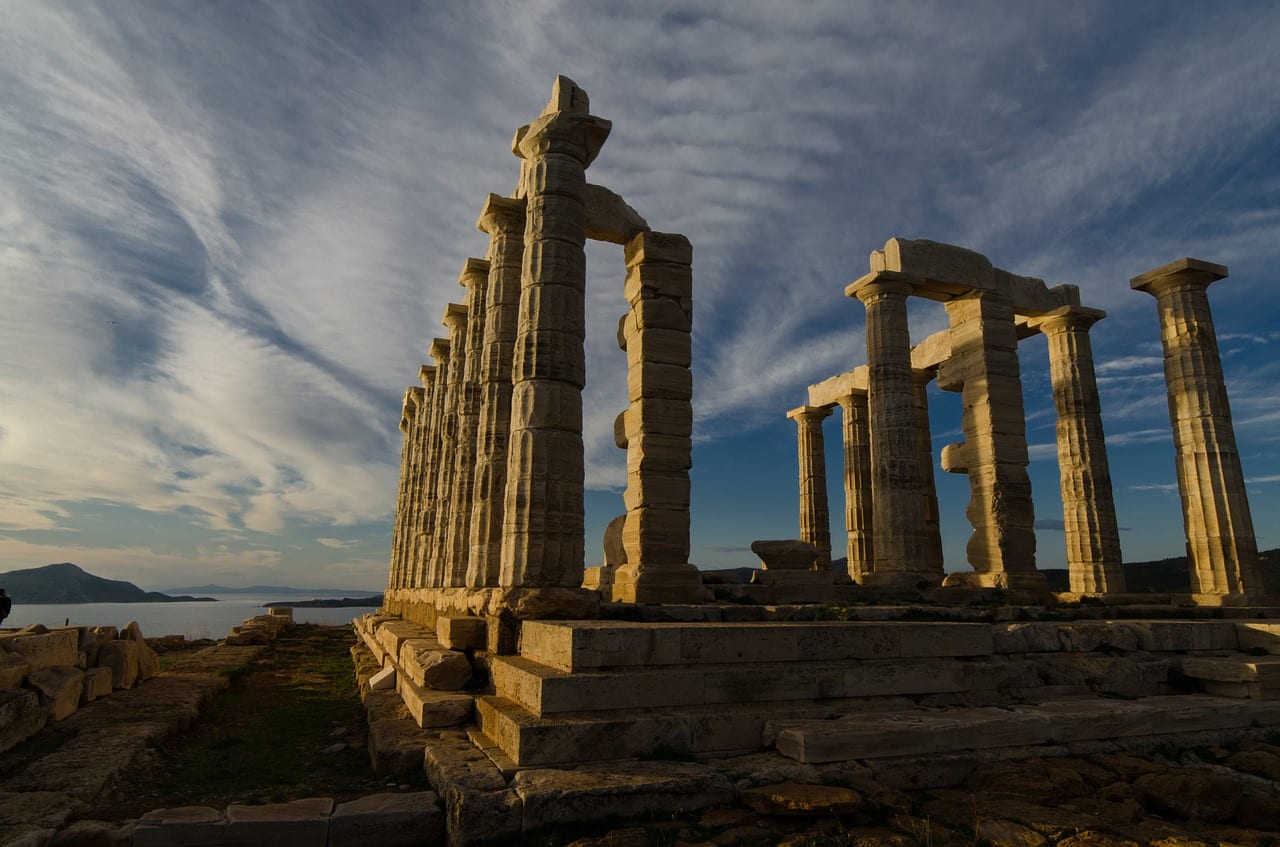 The location of the temple, and the views to the Aegean Sea, are what makes it so special. It is a popular sunset spot but can be visited at any time of day. Take some time to wander around the site, and imagine what it would have been like 2,500 years ago.
If you are taking a ferry from Lavrio port, you should definitely allow for a couple of hours to visit this impressive ancient site.
A visit to the iconic temple is also possible on a popular half-day trip from Athens. Here's some more information: Sounion Day Trip From Athens.
Beaches near Lavrion Greece
As Lavrio is a coastal town, there are several beaches around where you can go for a swim. While it's probably better to save your beach time for one of the islands, you can always go for a quick dip at Punta Zeza, Pasa or Asimaki.
Some of the best beaches in the wider area include the coves at Legrena, and the long sandy Anavissos beach.
Hotels in Lavrio Greece
If you have an early morning ferry, or you just want to spend a little longer in Lavrio area, there is plenty of choice for accommodation. Apart from several apartments to rent, there are a few hotels in both the town itself and the wider area.
I recommend booking.com for all your hotel bookings.
Where do the ferries go from Lavrio?
Ferries from Lavrio port travel to a few Greek islands. The most popular destination from Lavrio is the Cycladic island of Kea (or Tzia). In fact, Lavrio is the only port from where you can get to Kea. Here's some more information on how to get to Kea from Athens.
In addition, Lavrio port is convenient if you are going from Athens to Kythnos. While there are also ferries from Piraeus, the ones from Lavrio take considerably less time.
On some years, there are ferries going from Lavrio to other Cyclades, like Andros, Tinos, Syros, Paros and Naxos. In addition, there may be some routes a week to Milos, Kimolos, Folegandros, Sikinos, Ios and possibly Santorini and Thirasia.
The ferries that run these routes are typically slow, and they can take several hours to reach the islands. However, they are often subsidized by the government. As such, they can be a much cheaper alternative to other ferries departing from Piraeus.
In addition, Lavrio port is connected with Agios Efstratios island, Lemnos island and Kavala port in north Greece. Occasionally, those routes also pass by Chios and Psara islands.
Confused? No worries! The best way to find out up-to-date ferry information and book your ferry tickets in advance is Ferryhopper. There are more websites where you can book your Greek ferry tickets. However, after several years of living in Greece I find this to be the most user-friendly, with great customer service.
Why should I choose Lavrio port over Piraeus?
While at first Lavrio port might sound an inconvenient port to travel to, it definitely deserves a second thought. In fact, compared to Piraeus, Lavrio is great if you have your own vehicle.
If you've driven around Piraeus even once, I am sure you know what I mean. The largest port in Athens is massive and chaotic, and driving around can be a stressful experience for some people. So if you want a more relaxed experience, you should consider Lavrio port.
Also, check out Rafina port, which is great if you are going to certain islands, especially Andros, Tinos and Mykonos.
FAQ About Lavrio Port Athens
Some commonly asked questions about using the Lavrio ferry port in Athens include the following:
How do I get to Lavrio port from Athens?
Unless you have your own vehicle, the easiest way to get from central Athens to the Lavrio port is by pre-booked taxi. It will take you a little over an hour to get to Lavrio. Alternatively, you could take a bus from Pedion tou Areos, but updated bus itineraries aren't always easy to find.
How far is Lavrio port from Athens Center?
In terms of distance, Lavrion port is about 60-65 (37-40 miles) kms from Syntagma Square in central Athens.
How much does it cost to take a taxi from Lavrio to central Athens?
Taxi prices from Lavrio to Athens will vary depending on the taxi company. I have found that Welcome Taxis are very reliable, and you can have an idea of the exact cost when you pre-book them. At time of writing, a taxi to Lavrio port costs 66 euro.
How many ports are in Athens?
There are three ports in Athens. The main one is Piraeus Port, and the two smaller Athens ports are Rafina Port and Lavrion Port.
---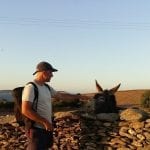 –
Dave Briggs
Dave is a
travel writer
from the UK who's been living in Greece since 2015. As well as writing these travel tips to Lavrion Port, he's also created hundreds more travel blogs and itineraries for destinations all over Greece. Follow Dave on social media for travel inspiration from Greece and beyond: