There are three ferry ports of Athens – Piraeus, Rafina and Lavrio. Here's all the information you need to decide which one works best for your Greek island trip, along with how to get to each.
Ferry ports in Athens
Since moving to Greece in 2015, I've spent quite a bit of time island hopping from my home city of Athens. I've created this guide to the Athens ports as a way of helping other travelers plan their own island-hopping trips in Greece.
Most visitors to Greece have probably heard of the massive Piraeus ferry port. However, there are two more ports close to Athens, from where ferries depart to various Greek islands. The second largest port is Rafina, and the third is Lavrio.
Most ferries from Athens to the Greek islands depart from Piraeus port. However, there are many routes from both Rafina and Lavrio to several islands in the Cyclades and beyond.
Sometimes, it makes more sense to take a boat from one of the two smaller Athens ferry ports, as it's either faster or cheaper – or both.
In addition, there are a few islands that are only accessible through the smaller ports. As an example, there are no ferries from Piraeus to Andros, and the only way to get to Kea is from Lavrio port.
Let's look at each of the three ports where you can take Athens ferries from in detail.
Piraeus port in Athens
Piraeus is the largest Athens ferry port and the busiest one by far. At only 13 kms southwest of central Athens, it's the quickest one to get to. It's also the most easily accessible on public transportation.
Ferries from Piraeus depart for most island groups in Greece, namely the Argosaronic islands, the Cyclades, the Dodecanese, the Islands of Northeastern Aegean and Crete. There is also a route to Kithira, an island south of the Peloponnese.
As Piraeus port is so big, you will often see numerous ferries departing at similar times. To accommodate all these itineraries, Piraeus port has 10 departure gates, that are often quite far from each another. For this reason, there is a free shuttle service within the port, which takes you to all gates.
When you book your tickets for ferries from Athens, there will be an indication of your gate (and port!). I recommend Ferryhopper when you are booking ferry tickets in Greece.
Getting to Piraeus
You can easily get to Piraeus port by metro (green line), suburban railway or a public bus from central Athens. Tickets cost only 1.20 euro and are valid for 90 minutes. The metro station is close to Gates E5, E6, E7 and E8.
Tip – if your departure gate is far from the metro station, you will probably want to catch the shuttle bus, so allow plenty of time. As an example, Gate E1, from where ferries depart to Rhodes, Kos and the rest of the Dodecanese, is over 2 kms from the metro station.
In these cases, you might prefer to pre-book a taxi, which will typically take you straight to your gate. Welcome taxis are professional and reliable.
For more information on Piraeus port, check out these articles
Rafina port in Athens
Rafina is a small port town 30 kms east of central Athens. Ferries from Rafina run year-round to several Cyclades islands, namely Andros, Tinos and Mykonos.
If you haven't heard of Andros or Tinos before, check out our travel guide: Andros and Tinos.
In summer, there are often itineraries to other Cyclades, like Paros, Naxos, Ios and Santorini.
In addition, smaller ferries depart for the largely unknown Evia island. Although Evia is connected with mainland Greece through an impressive bridge, it is easier to take a ferry over.
Ferry itineraries from Rafina vary by season and year. It's best to check the routes and book your tickets on Ferryhopper.
Getting to Rafina Port
The small Rafina port is actually my favourite port in Athens. It's compact, hassle-free and very easy to get to – granted, we normally travel in our own car. Finding your ferry in Rafina is a breeze compared to Piraeus.
Getting to Rafina on public transportation is quite straightforward. There are KTEL buses departing from Pedion tou Areos in central Athens, close to Victoria metro station. The bus fare is 2.40 euro. You can check bus timetables here.
If time is important, pre-booking a taxi is probably the best option. A taxi to Rafina takes about an hour from central Athens, depending on traffic, and would cost around 40 euro.
Here is some more information on Rafina port in Athens.
Lavrio port in Athens
Possibly the most picturesque of the three ports, Lavrio, is also the one furthest from Athens, a 60-65 km ride away. It's a small port, close to a quaint coastal town with a nice fish market and a couple of interesting museums.
Most people would go to Lavrio in order to take a ferry to Kea or Kythnos. However, there are often itineraries to other Cycladic islands. In addition, Lavrio is connected with the lesser known islands of Agios Efstratios and Lemnos, as well as Kavala port in north Greece.
Getting to Lavrio Port
If you want to get to Lavrio on public transportation you will need some patience. The bus from central Athens would typically take over an hour and a half, depending on time of day and traffic conditions. Alternatively, you could use a pre-booked taxi.
Arguably, most people would dismiss Lavrio just because of its distance from Athens. However, you should definitely check if there are connections to your island of choice, especially if you have your own vehicle. Fares from Lavrio are often much cheaper.
Bonus idea – you could always pass by the temple of Poseidon on your way to or from Lavrio. It's a popular half-day trip from Athens, which you could combine with a drive by the so-called Athens Riviera.
For more information about Lavrio port, have a look at this detailed article: Lavrio Port Athens.
How to get from the Athens International airport to the ports in Athens
Many travellers fly into Athens and have an onward ferry to one of the islands. In this case, Piraeus is probably the easiest port to get to. The cheapest option is the airport bus X96. It costs 5.5 euro and will take you to the port in 1-1.5 hours, depending on traffic. You can also take the metro or the suburban railway, which cost 9 euro.
As for Rafina port, there are also a few bus connections per day from the airport. You can hopefully find all the information you need at www.ktelattikis.gr, but note that it isn't always updated. Rafina port is much closer to the airport than Piraeus, and a taxi shouldn't take longer than 30 minutes.
Finally, Lavrio port is not directly connected to the airport. You would need to get a bus to Markopoulo, then take an onwards bus to Lavrio. Otherwise, a taxi should take you there in 30-40 minutes, since there isn't much traffic on this route.
All in all, you will often find that a pre-booked taxi is the best option to avoid the hassle of looking for bus stops and tickets. You can pre-book a taxi here.
Athens Cruise Terminal
Taking a cruise to Athens? You may be wondering where you will disembark if you are on a cruise to Athens.
Remember how Piraeus has 10 gates? Well, there are in fact two more gates, which are reserved for cruise boats coming from abroad. These are Gates E11 and E12, and they are a couple of kilometres from the metro station.
If you are arriving on a cruise boat, you will typically have just a few hours in Athens. In this case, you could consider booking a tour of the main sights in Athens. Another option is to use the hop-on hop-off bus. You won't have time to see everything, but you will get a glimpse of the highlights.
Organizing a visit to central Athens on your own should still be possible. However, you will need to be careful with your transportation and time due back on the cruise boat.
Related post: My suggested one day itinerary for Athens.
Frequently asked questions about Athens ports
Here are some questions that travellers often ask in terms of ferry travel in Greece:
I've never taken a ferry in Greece before, what should I look out for?
There are dozens of ferry companies in Greece, and the ferries vary a lot between them in terms of looks, speed and price. This in-depth article offers all the information you would ever want about every single Greek ferry!
Can I get an e-ticket for my ferry?
Nowadays, most ferry companies offer an e-ticket option right after booking. Ferryhopper will let you know in advance if you can get an e-ticket.
In a few cases, you can pre-book your ticket online, but you will need to collect a paper ticket before your departure. This can be done at dedicated booths at the port.
Boarding a ferry
Generally speaking, boarding or disembarking a Greek ferry can be an overwhelming experience, especially during peak season. There are dozens of people and cars rushing around – you've been warned!
I recommend getting to the port an hour or so before Athens ferries are due to depart, especially if you are leaving from Piraeus. This way you can comfortably get to your ferry and make yourself at home before your trip.
Note that your ticket will be checked upon boarding the ferry. Make sure you have the e-ticket or paper ticket ready to scan.
If you are driving a vehicle onto the ferry, be prepared for frantic gestures and lots of shouting. Depending on the ferry, any passengers may be asked to leave the vehicle before boarding.
Which is the best port in Athens?
Even though my vote goes to the user-friendly Rafina port, ferries only depart to selected islands. Most visitors will have to get to Piraeus, which is a much bigger hub.
That said, if you are island-hopping in Greece and including Mykonos in your itinerary, consider leaving from Rafina port. You will find it much friendlier, and a nicer start to your Greek vacation!
Which ferry port is closest to Athens?
Piraeus Port is the closest to Athens city center. Although the Port of Piraeus is only roughly 13 kms from Athens center, it can take around an hour to get there using public transport.
What ferries leave from Athens?
The main ports of Athens have ferry routes to popular Greek islands in the Cyclades and Saronic islands, as well as other destinations such as Crete.
Where do you catch the ferry in Athens?
Most people staying in Athens city centre will go to Piraeus Port to take a ferry trip. It takes about an hour to get from downtown Athens to the ferry or cruise terminal at Piraeus.
What islands can I get a ferry to from Athens?
Some of the most popular Greek islands to visit from Athens by ferry include Mykonos, Santorini, Milos, Paros, Crete, and Rhodes.
---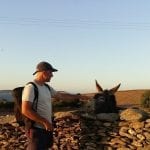 – Dave Briggs
Dave is a travel writer who's been living in Greece since 2015. He's used that time wisely (or so he thinks) by traveling to dozens of Greek islands and sharing his travel tips and experiences of island hopping in blog posts such as this one on the Athens ferry ports.
Follow Dave on social media for travel inspiration from Greece and beyond: