Discover Athens in Greece on the Hop On Hop Off bus – Perfect for Piraeus Port stops and limited time in the city!
Hop On Hop Off Tours Athens
How should you plan your time sightseeing around the Greek capital of Athens?
While the historic center of Athens is relatively easy to get around on foot, there are some cases when taking a city sightseeing hop on hop off bus might make sense.
For example, people arriving on cruise ships at Athens Piraeus port might only have limited shore time to check out the city. Others might want to check out the beach riviera routes at a slow pace on a nice day.
So, before we dive in, I'd say that most people who want to explore Athens historic center and are also staying in or near the center don't really need the hop on hop off tour.
Cruise passengers with short shore time and perhaps people with some mobility issues might find the hop on hop off bus ticket useful though.
** Click here for more info on Athens bus tours hop hop off **
What is the Athens Hop On Hop Off City Sightseeing Tour Bus
Hop-on, hop-off bus tickets allow you to explore all of Athens, the Port of Piraeus, and the Athenian Riviera at your own pace.
Take advantage of easy access to some of Greece's most popular attractions, such as the Panathenaic Stadium and Parthenon on the Acropolis. Travel on four lines for one day, beginning with Athens (Orange Line), Piraeus (Blue Line), Glyfada (Yellow Line), and Vouliagmeni (Green Line).
While on the bus, you can listen in 16 different languages to commentaries, which will provide historical, cultural, and social context for one of the world's oldest cities.
** Click here for more about the Athens hop on hop off bus **
How does it work
You can put together your own sightseeing itinerary based on what you consider to be the most important stops along the available routes. There's normally a fine balance between trying to make the most of the bus ticket price, but also allowing time in some of the major attractions.
Foe example, if you wanted to visit the National Archaeological Museum in Athens, you'd need to allow 3 or 4 hours inside the place. You wouldn't be getting much value out of your ticket most likely.
The Hop On Hop Off Athens Blue Bus operates on four routes and includes one amusing Happy Train, which are described below.
Blue Line – Piraeus
The Blue Line is ideal for first-timers who have just arrived on a cruise or are visiting the Port of Piraeus. It connects the two terminals in the Port of Piraeus, just a stone's throw from your cruise ship.
Check out attractions like the yacht marina at Pasalimani or the ancient harbor of Mikrolimano. Don't miss out on the stunning Acropolis Museum, and of course visit the Acropolis and admire the views from around the Parthenon.
Orange Line – Athens
Heading to the Acropolis and Parthenon, the Orange Line will travel through some of Greece's most attractive sites down into the city center. Explore Athens' Plaka district to find out what makes this city so unique.
While in the center, visit Hadrian's gate, the imposing Temple of Zeus, see the Changing of the Guard in front of the parliament at Syntagma Square.
Stroll through Ermou to see the city's busiest shopping street. Visit the Panathenaic Stadium, where the first modern Olympic Games were held, as well as many other historical sites.
Yellow Line − Glyfada
The bus takes a drive down the Athenian Riviera from the Planetarium stop of the Blue Line. The Yellow Line melds ancient history with contemporary life, from the Niarchos Foundation to Marina Alimou.
Alternatively, head to Marina Flisvou for a beautiful view of the sunset or soak in the sun at Agios Kosmas.
From the Glyfada Terminal, you may explore the city's most cosmopolitan areas and shop in luxury department stores. Relax in a lovely café while watching the sunset on the beach bar, where you can sip a cocktail by the water.
Green Line − Vouliagmeni
Vouliagmeni is linked to its beaches. Enjoy the beautiful beach of Kavouri Oceanis, one of Athens' most popular beaches.
Vouliagmeni Lake is a must-see for Athenians and visitors alike. The thermal baths are another must-see in this area, as well as the stunning environment
The Happy Train of Piraeus
The Piraeus Scenic Train takes you on a journey through the Piraeus's most charming area.
It's a 30-minute drive from the cruise terminals to the port authority building, which is located near the Nautical Museum and the Pasalimani neighborhood. Stroll around Korai Square, which is located near Piraeus' commercial core, just a stone's throw from the Private Yacht Marina.
Benefits of the bus sightseeing tour
No need to organize your own transport and worry about public transportation.
The hop-on and hop-off means you can plan your own sightseeing schedule on any of the four routes and see what takes your interest at a time that suits you.
Enjoy an informative commentary in 16 languages
Relaxing way to sit back and enjoy the sights from a double decker bus.
Who can use this service
This open top double decker Athens tour is perfect for anyone with just a few hours to spend in the city. It's also good for people who want to take photos of Athens from a unique angle, and who may not want to actually go inside every ancient site or museum.
Where to buy tickets for this service
I'd suggest booking your hop on hop off bus tour tickets well in advance with Get Your Guide.
Tickets can be purchased at various locations around Athens such as
– Piraeus (Terminal B and C) and Glyfada.
– Syntagma, Ermou and Monastiraki in the historic center of Athens
Hop Off Bus Tour FAQ
If you're thinking of taking one of the hop off bus tours of Athens, these questions and answers might help you decide which city sightseeing buses are best:
Is the hop on hop off worth it in Athens?
People who travel on cruise ships arriving at Piraeus Port may find they have limited time for city sightseeing Athens. As a result, a double decker bus tour with lots of options to get off at major attractions in the city may be the best way to see the city.
What is the best hop on hop off bus in Athens?
There are several different companies offering a hop on hop off tour that encompasses central Athens and the Athens Piraeus beach riviera. The Blue Bus is a very good choice, especially for people arriving at Piraeus cruise terminal.
Does Athens Greece have a hop on hop off bus?
Yes, there are several companies offering a hop on hop off bus tour of Athens. This is an ideal way to see the city if you only have one day or are arriving at Piraeus port.
What is a hop on hop off bus tour?
A hop on hop off bus tour is a way to see the major sites in a city at your own pace. The double decker buses run all day, with stops at different famous landmarks and sights. You can get off wherever you want, stay as long as you like, then catch the next bus which will take you to the next stop.
Looking for more guides about Athens? This Athens Travel Blog contains everything you need to know about what to see and do in Athens, Greece!
---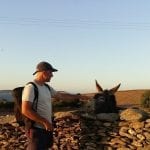 –
Dave Briggs
Dave's
travel writer
from the UK who's been living in Athens since 2015. As well as writing this travel guide on the hop on hop off Athens tour bus, he's also written hundreds of other travel blog posts and itineraries for travel destinations all over Greece. Follow Dave on social media for travel inspiration from Greece and beyond: