Assos is a small, picturesque village in Kefalonia, one of the Greek islands in the Ionian sea. Here is everything you need to know about Assos in Kefalonia, including what to see, what to do and how to get there.
Assos village in Kefalonia island
Kefalonia is the largest of the Ionian islands in Greece. It is famous for Melissani Lake, Drogarati cave and other interesting geological formations, stunning beaches and picturesque villages.
One of the prettiest villages in Kefalonia is Assos, which is home to only about one hundred inhabitants. The small harbour, quaint surroundings and the ruins of a Venetian fortress make Assos a popular attraction for visitors.
Village of Assos
Assos is situated on a small peninsula on the west coast of Kefalonia, and is an hour's drive from Argostoli, the capital.
Visitors often go on a day trip to Assos along with other nearby places of interest, like Myrtos beach and Fiskardo.
Pre-book a taxi in Kefalonia using: Welcome Pickups
Things to do in Assos village
Assos is a small, quiet coastal village, with relaxing atmosphere. Strictly speaking, there aren't as many things to do in Assos as in some other villages in Kefalonia.
In the village, you will find a range of villas and rooms to let, as well as a couple of shops and mini markets.
Close to the main square, called Paris Square, there are a handful of waterfront tavernas, restaurants and cafe-bars, run by friendly locals.
Don't expect fancy cocktail bars or nightclubs in this charming village – Assos is geared towards peace and quiet!
You can take a long walk around the narrow alleys, and enjoy the traditional architecture and peaceful setting.
The number one highlight in Assos is the Venetian castle, built in the 16th century. Its location up on a hill enjoys a panoramic view of Assos, on one side, and the Ionian Sea on the other.
Along with the castle of St George, they are excellent examples of Venetian architecture on the Ionian islands.
The breathtaking views from here really are worth the walk uphill!
Hike to Assos Castle
Hiking to Assos Castle was one of our highlights in Kefalonia. Not only is the setting spectacular, but it's also possible to enjoy incredible sunsets with a wonderful view to the sea.
The trail begins just opposite the parking area. Once you've walked for a couple of minutes, you will get the best views of Assos village and the numerous yachts inside the small bay.
As you walk up the paved path, you will come across a yellow sign, pointing to two directions. You can choose either, and return from the other direction. We took the 800 metre path on the way up, and loved the beautiful views.
Once you get up to the top, you will see a few hillside ruins, not all of which are exactly impressive. What is amazing, however, is the nature and the setting, not to mention the views to the sunset.
Tips for hiking Assos Castle
The trail leading to Assos Castle is not too challenging, and much of it is paved. Still, it's best to avoid the warmest hours of the day, as it can get tiring and you won't always find shade.
It should take you around 30 – 40 minutes to reach the castle from the village. Don't forget to bring some water with you, as there is no cafe / restaurant to buy anything at all once you are up on the castle.
If you don't feel like hiking up the hill, you can also rent a small boat and explore the coast around the castle.
We saw private boats departing from the pier and taking people to a hidden, secluded beach right underneath the castle. The Assos peninsula is full of hidden surprises!
Enjoy the beaches in Assos
If you are staying in Assos for a night or two, you can go for a quick swim at one of the two beaches in the village.
The main Assos beach is just in front of the restaurants. There are umbrellas and loungers, so you won't need to bring anything with you. The other local beach, just below the road leading to the castle, is a little more isolated.
Just like the world-famous Myrtos, both of them are pebbled beaches. It's a good idea to have water shoes, and also a snorkel, as the water is crystal clear.
How to get to Assos Kefalonia
There are four ways to get to Assos in Kefalonia: rental car, organized tour, private taxi and public bus.
If you have your own car, you will need to navigate the steep, winding road, which some visitors might find a little scary. Parking space in the village is generally limited, and you may have to park your vehicle on the road, behind other cars.
If you don't want to rent a car, a popular way to visit Assos village is on a bus tour of Kefalonia. This tour is great value, and will introduce you to all the highlights of the island, including Assos.
Depending on your interests, it might also be possible to customize your tour.
Assos is also accessible by private taxi. However, prices tend to be quite high, depending on where you are departing from.
If you are on a budget, check out the KTEL bus timetables. In summer, there are normally direct services to Assos from Argostoli town. If not, you should be able to get to an inland village called Divarata, and take an onward taxi from there.
More here about using public transport in Greece.
Popular attractions close to Assos Kefalonia
If you are staying somewhere on the south of Kefalonia, you can combine Assos with a few more highlights on the island.
A great place to visit in Kefalonia near Assos is Myrtos beach. The iconic white pebbles and blue sea are truly amazing, and photos don't do the beach any justice. Even though it's a popular spot, you will always have room to put your towel and umbrella, as the beach is really long.
Fiskardo, on the northeast coast of Kefalonia, is another town worth visiting. You can hike to the Venetian lighthouse, and then sit at the small harbour for a coffee, overlooking the quiet bay.
If you have your own car, there are several beaches you can explore close to Fiskardo, like Dafnoudi, Kimilia, Emplisi, Foki, and the quaint Alaties. Google maps works fine in Kefalonia, so you will find them easily.
I've also got a full guide to the best beaches in Kefalonia.
Frequently asked questions about Assos village
Here are some questions often asked by visitors:
Do you need to book in advance to visit Assos?
If you are visiting on your own, you don't need to book in advance to visit Assos. If you are taking a day trip or guided tour of Kefalonia, it's usually best to plan in advance.
What's the best way to see Assos?
Kefalonia is a large island. If you want to be independent, the best way to explore is by rental car. Alternatively, you can take either a tour or public bus from Argostoli.
How do I get to Assos from Argostoli town?
On most summers, there are public buses going to Assos from Argostoli, the capital. If you are happy to drive, you can also rent a car, and be more independent.
Should I stay in Assos Kefalonia?
Assos Kefalonia is a very small village, and some people will find it too isolated. Most visitors prefer to stay in areas like Skala, Argostoli, Lassi, Agia Efimia, Lixouri or Lourdas.
What is the most picturesque village in Kefalonia?
Assos is one of the most picturesque villages in Kefalonia. The entire island is full of pretty towns and villages, like Argostoli, Lixouri, Agia Efimia, Fiskardo and Lourdas.
More guides on Kefalonia and other nearby islands
Here are a few more guides on Kefalonia and other Greek islands:
---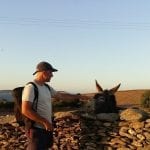 –
Dave Briggs
Dave's
travel writer
from the UK who's been living in Greece since 2015. As well as writing this travel guide to Assos village and Assos castle in Kefalonia, he's also written hundreds of other travel blog posts and itineraries for travel destinations all over Greece. Follow Dave on social media for travel inspiration from Greece and beyond: