Chania and Heraklion are the two largest and most popular towns in Crete island, Greece. This guide will show you how to travel between the two cities by bus, rental car, taxi or private transfer.
Chania and Heraklion in Crete
The coastal cities of Heraklion and Chania are popular destinations in Crete, the largest island in Greece. Every year, thousands of tourists visit Crete from many countries in Europe and the rest of the world.
The pretty towns are known for their long and diverse history, quaint architecture, proximity to gorgeous beaches and fantastic local food.
Both cities are located on Crete's northern coast, and they can easily be visited on the same trip to Crete.
Introduction to Heraklion and Chania
Heraklion is the largest of the two cities, and the capital of Crete. It has a superb archaeological museum and an impressive Venetian castle. The ancient site of Knossos is a short drive or bus ride away.
By comparison, Chania is more picturesque and quaint. You get wander around the charming old town for hours, and stop for a meal or drink by the coast.
Both Heraklion and Chania have an international airport and a ferry port. There are direct flights from several cities in Europe, and frequent ferry and flight connections to Athens.
Most visitors try to include both cities in their Crete itinerary. The distance between them is 142 kms (88 miles), which takes just over two hours by car, or a little longer by bus.
Here are all the transport options from Chania to Heraklion: public bus, car, private transfer and taxi.
Bus from Chania to Heraklion
If you are happy to use public transport, the bus is an easy, inexpensive option to travel from Chania centre to Heraklion. You will also get to meet some other travelers.
The bus from Chania takes around 2 hour 40 minutes to get to Heraklion. It's best to allow for an extra half hour, as your journey might be delayed.
The trip follows the island's north coast, with a stop at Rethymno, which is another pretty town to discover.
The bus service leaves Chania roughly once every hour, and the air conditioning along with some onboard WiFi makes it a comfortable ride to Heraklion.
Chania Bus Station
The Chania – Heraklion bus departs from the main bus station in Chania. The station is located walking distance from the old town, on Kelaidi street. There is ample space for your luggage in a compartment just underneath the bus.
You can check out bus services and buy your tickets at the official KTEL bus website. At the time of writing, a one way ticket from Chania to Heraklion costs 13.80 euro.
Bus to Heraklion central bus station, Heraklion port and Heraklion airport
The Chania to Heraklion bus terminates at the main bus station in Heraklion. Its location is very convenient – it's only a 5-minute walk from Heraklion port and an 8-minute walk from the Archaeological museum.
Visitors whose final destination is Heraklion airport will need to get an onward local bus, or a taxi.
Airport buses alight at a bus stop close to the Shell gas station. There is a bus every 20 minutes or so, and it takes max 15-20 minutes to get to the airport.
Chania to Heraklion by rental car
If you are planning to explore Crete rather than just see the highlights, you will find that public transport is not always the best solution. In this case, your best bet would be to rent a car.
Driving from Chania to Heraklion will take you a little over two hours. As you will be travelling along the north coast, you could also stop at Rethymno town, with the lovely architecture.
You can also check out one or two of the beaches, but keep in mind that the best beaches in Crete are on the south coast.
Renting a car and driving in Greece
You will find plenty of car rental agencies in both Chania town and Chania airport. Rental companies will include some of the big international names, as well as local Cretan car rental firms.
Prices vary widely and depend on the type of car, time of year, and number of days you want it for. If you use Rental Cars you can arrange the price of the hire before you arrive.
If you are coming from outside the EU, you may need to issue an International Drivers Licence in advance of your trip.
The highway connecting Chania and Heraklion is fine for the most part. However it's known as a dangerous road, as locals may drive over the speed limit. It's best to avoid driving late at night, especially if you haven't driven in Greece before.
For more details about driving in Crete, have a look at this article about driving in Greece.
Private transfer from Chania to Heraklion
In some cases, the best way to travel from Chania to Heraklion is by pre-arranged private transfer.
This is an excellent option for people travelling with their family or large group of friends, or people who like to make their travel plans in advance.
If you are arriving in Chania late in the day and need to get to Heraklion on the same night, a private transfer might be the only way, as buses stop running at a certain time.
Similarly, if you need to catch an early flight from Heraklion airport, you might not be able to get there on the bus.
Price for private transfers between Chania and Heraklion
Generally speaking, the price for private transfers depends on the number of passengers. As an example, the cost for a group of 7 people is only 160 euro, which includes a pick-up from your hotel.
There are also day trips from Chania to Heraklion, where you can visit the Palace of Knossos and the museum and return to Chania late in the evening. Take a look at this full day tour.
Taxis from Chania to Heraklion
Another way to reach Heraklion from Chania would be a taxi. Unlike other islands that you may have visited in Greece, e.g. Mykonos or Santorini, taxis in Crete are plentiful.
You will easily spot taxis which can carry up to 4 passengers in both cities. Taxis in Heraklion are gray, while those in Chania are dark blue. Taxi companies also have access to minivans, that can carry a larger group of people.
Price for taxi services
Prices for the Chania – Heraklion journey are more or less set. They will vary according to the time of day, number of passengers and exact pick-up and drop-off points.
As an indication, a 4-seater will cost you about 150-160 euros during daytime. An 8-seater will cost around 200-250 euro.
Warning: Even at this day and age, some taxi drivers may try to scam you. If you pick up a taxi from the street, even for a short distance, make sure they use the meter.
Most hotels will be able to arrange a taxi or transfer for you. Make sure the quote you are given is similar to the prices above.
Related: Where to stay in Heraklion
Pre-book a taxi for a day trip
Another option, is to book a taxi for a day trip from Chania to Heraklion, or anywhere else in Crete for that matter in advance.
While clearly more expensive than the other options, you will have total flexibility for your departure time and itinerary. Include some stops at beautiful villages, and learn more about Crete at the same time!
More information here: Book Your Sightseeing Ride in Crete
Frequently asked questions about the Chania to Heraklion journey
Here are some questions often asked by people who visit Crete island:
Can you fly from Chania to Heraklion?
Flying from Chania to Heraklion is not really practical as there are no direct flights. You would have to take two flights, going through the international airport in Athens. The best way to make this trip is by road.
How much is taxi from Heraklion to Chania?
Price of taxi services will generally depend on the number of passengers and time of the day. An average price for a small group is around 150 euro.
Is Heraklion better than Chania?
The two cities are very different. Heraklion has more of a city feel, whereas Chania is smaller and is considered more picturesque. Both of them are totally worth exploring when you visit Crete.
How far is Heraklion from Chania?
The distance between Chania and Heraklion is 142 kms (88 miles). Depending on how you travel, it will take you between 2 and 3 hours to get to Heraklion.
Where do you stop between Chania and Heraklion?
A popular stop is the quaint town of Rethymno. This highlights are the lovely Fortezza castle, built by the Venetians, and the old port. If you are happy to make a small detour, some other suggestions are the El Greco museum, Melidoni cave or any of the beautiful beaches on the northern coast.
Does Chania to Heraklion bus have air conditioning?
Buses going between Chania and Heraklion in Crete are air conditioned and comfortable, making the journey a pleasant one to take.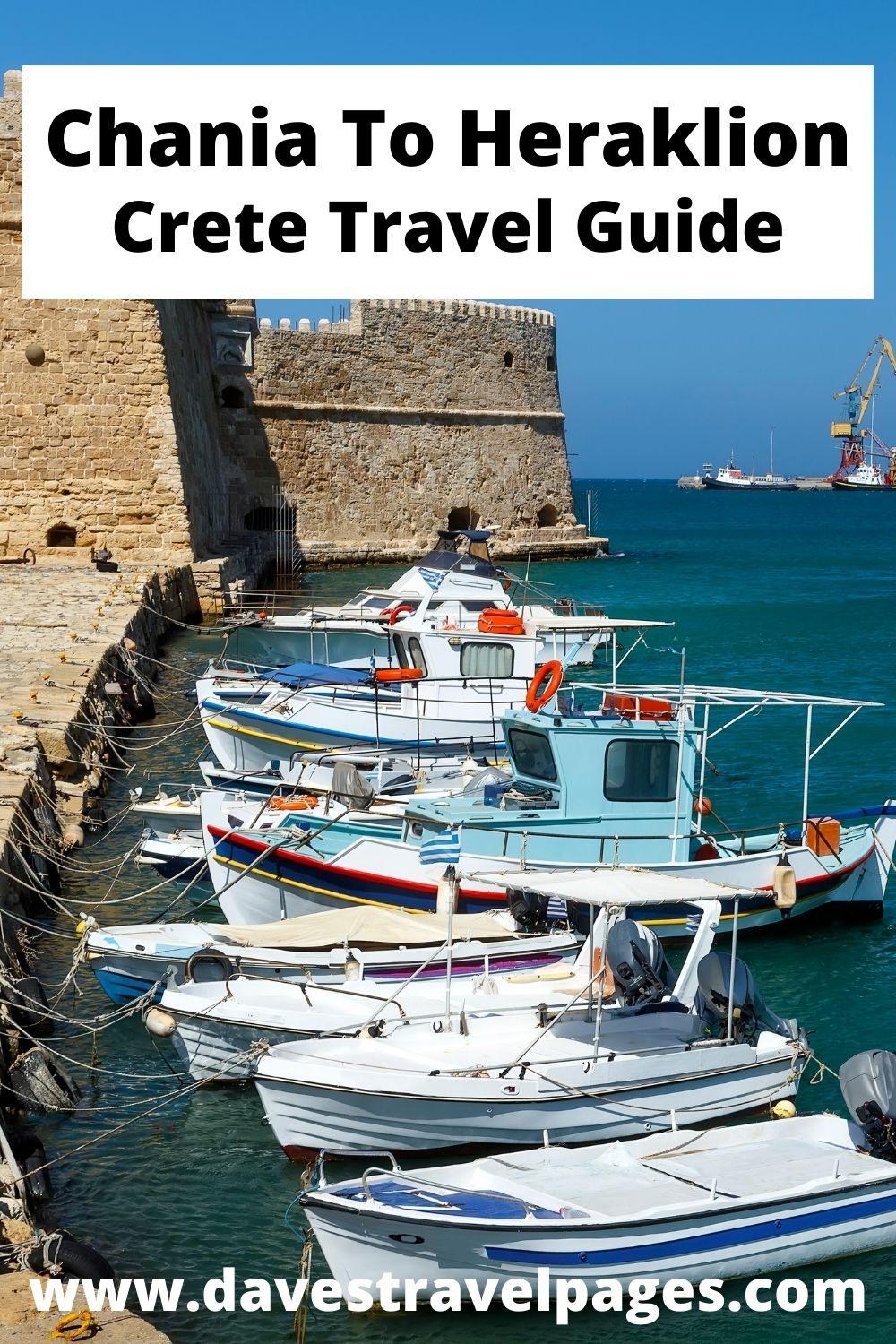 Also read:
---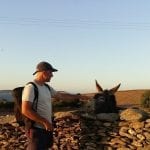 –
Dave Briggs
Dave is a
travel writer
from the UK who's been living in Athens, Greece since 2015. As well as writing this travel guide on how to get from Chania to Heraklion, he's also written hundreds of other travel blog posts and itineraries for travel destinations all over Greece. Follow Dave on social media for travel inspiration from Greece and beyond: