We may never know for sure who built the imposing megalithic temples of Malta, but visiting these prehistoric Maltese temples should definitely be on your itinerary when in Malta.
Malta Megalithic Temples
Over the years, I have combined travel with visiting archaeological sites around the world. Don't worry, I don't have Indiana Jones syndrome! I just have an interest in ancient civilisations, and like to have a wander around places built thousands of years ago.
On my recent visit to Malta, I had the chance to visit some more ancient sites in the form of the pre-historic temples. In fact, it was one of my reasons to visit Malta in the first place.
The Maltese temples are some of the oldest free-standing stone structures in the world, and they are considered to be some of the most important archaeological sites on the islands of Malta and Gozo.
There are several megalithic temples in Malta, including the Ħaġar Qim, Mnajdra, Ġgantija, and Tarxien temples. These temples were built by the prehistoric inhabitants of Malta, who it is thought used them for religious and ceremonial purposes. The temples are known for their impressive construction and intricate carvings, which have survived thousands of years.
When were the Malta stone temples built?
The Megalithic Temples of Malta were constructed sometime between 3600BC and 3000BC. Current dating puts them as older than Stonehenge and the Pyramids, and they are often referred to as the oldest in the world.
(Note – Göbekli Tepe in Turkey may actually be older, but I will leave that for the Maltese to argue about!). There are dozens of megalithic temples on the Maltese Islands, several of which are UNESCO World Heritage Sites.
The UNESCO Megalthic Temples of Malta
Ġgantija
Ta' Ħaġrat
Skorba
Ħaġar Qim
Mnajdra
Tarxien
During my trip to Malta, I visited three of the Malta neolithic temples listed above. Here's my experiences:
Ħaġar Qim and Mnajdra Temples Malta
These two Malta temples are found in close proximity to one another. You might argue that they are part of the same 'temple complex' as they are just a few hundred metres apart.
There are a number of points where some of the stone slabs have circular holes in them. It is thought, that they may have been 'oracle stones'.
The theory goes, that devotees or worshippers would be on one side, and a religious oracle on the other. A prophecy or blessing could then have been given.
There are also some 'doorway' stones.
Of course, there is absolutely NO evidence for the oracle theory! There is only theory.
It could just as easily have been a centre for justice, with an accused on one side, and a judge or jury on the other! This is why I am fascinated by places such as this.
Venus figures of Malta
There were a number of figurines found around the site, now displayed in the Archaeology Museum of Malta in Valletta. The most famous are the 'Venus' type figures.
I have seen these all over the world. In South America they are called PachaMamas.
The history of these 'earth mother' figurines in Europe goes back over 40,000 years. Perhaps this was a religious complex after all, with Priestesses instead of priests?
By Hamelin de Guettelet – Own work, CC BY-SA 3.0, Link
Ġgantija Temples, Malta
The Ggantija temples are found on the island of Gozo. They are the oldest of the megalithic temples in Malta, and the earliest phases of construction are dated to between 3600 and 3000 BC.
Ggantija is much cruder than Hagar Qim and Mnajdra, but at the same time, the rocks involved seem to be much larger and heavier.
There is no denying that they are from the same culture, but I had the impression they were almost a 'first attempt'. This isn't to take anything away from them though. They are magnificent!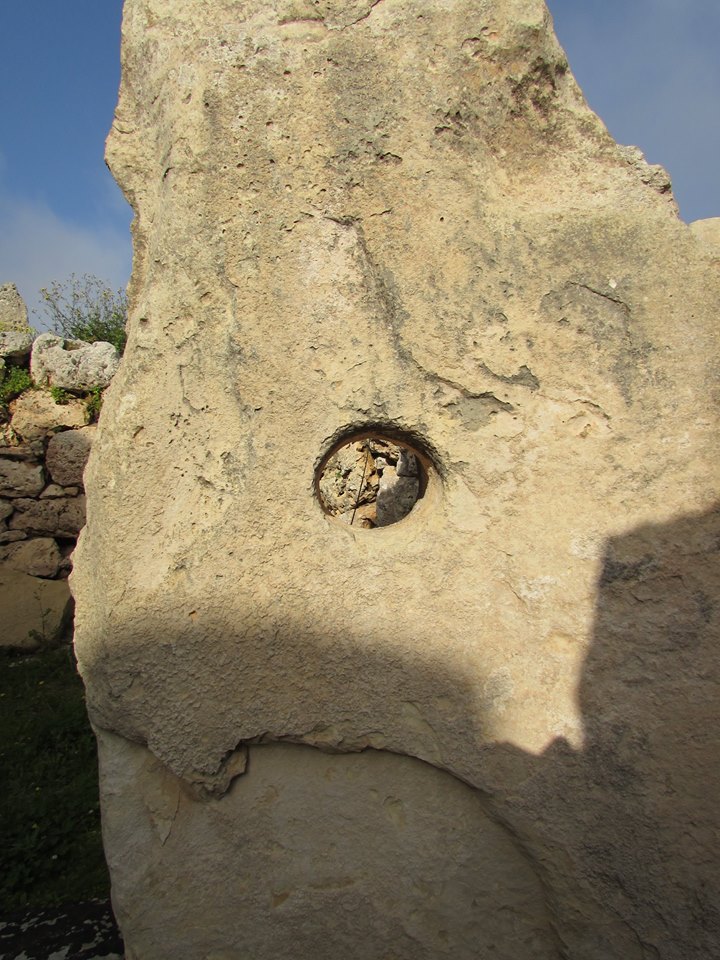 What was Ggantija?
Whilst with the first two temples, I could see how they might be an 'oracle' centre, I didn't really feel that way with Ggantja. Instead, I got the feeling that it was more of a community building!
Maybe this wasn't a temple after all. Perhaps it was a market place? Was it a place where laws were passed? Could it even have been a bake-house where bread was made?
They said these 'fireplaces' were where sacrifices were made, but who really knows?
Tarxien Temple Complex
The Tarxien Temples are a collection of ancient monuments in Malta. They were built between 3150 and 3000 BC. In 1992, the site was added to the World Heritage list along with the other megalithic temples on Malta.
As with the other megalithic temple complexes, no on knows who the temple builders were or their true purpose. One theory, is that they may have been a centre for animal sacrifices due to the reliefs of animals and the presence of animal bones.
Related: Is Malta worth visiting?
Who built the Megalithic Temples of Malta?
As the builders of these temples left no written records, the answer is we will never know. Here's my theory (which is just as valid or invalid as any other!).
I think the society that built the megalithic temples of Malta was more advanced than we give them credit for. They were able to work together to both design and construct the temples over many years.
Being able to transport huge blocks of stone around shows they had a long term vision. It must have been an organised society that pre-dated the temples themselves by hundreds of years.
They must have had the ability to sail between islands. Their use of Venus figures indicates a culture that stretched back for tens of thousands of years.
Visiting the Prehistoric Temples of Malta
You can easily visit the temples of Malta yourself if you are happy taking a bus, or have hired a car to get around Malta.
Alternatively, you might be interested in a relatively inexpensive tour of the megalithic temples of Malta. This provides not only the benefits of transport, but also the services of a knowledgeable guide which is useful when exploring the ruins in Malta.
I've got an article here about day trips in Malta. You can also take a look here for recommended tours of the temples in Malta:
Final thoughts on the temples of Malta
Conclusion: Visiting ancient sites such as the Megalithic Temples of Malta always makes me realise that there is so much about the world we don't know. It is probably one of the main reasons I like to travel and see places such as these.
It's a reminder that we all just play a tiny part in a much bigger play going on all around us.
Interested in visiting Malta? Check out the latest flights to Malta now on Air Malta!
FAQ About the Malta Temples
Some commonly asked questions about the ancient Maltese temples include:
Where are the megalithic temples of Malta?
The most famous Megalithic Maltese temples can be found on the islands of Gozo and Malta. The Ġgantija temple complexes are on Gozo, whilst the others are on the island of Malta.
What is older than pyramids and Stonehenge in Malta?
The Ġgantija temples are currently dated as being older than both the pyramids of Egypt and Stonehenge in the UK. They are thought to date from between 5500 to 2500 BC, and were continuously added and expanded on over the course of hundreds if not thousands of years.
Do you need to book in advance to visit Hal Saflieni Hypogeum?
You have to book to see Hal Saflieni Hypogeum very far in advance. It is recommended at least 3 -5 months, especially if you are visiting during the summer tourist season. The reason, is that the numbers of visitors per day are restricted in order to preserve the site.
What was Hagar Qim used for?
The most likely theory, is that Hagar Qim in Malta was used for fertility rituals, as the discovery of several female figurines lends weight to this idea. As the builders of these temples did not leave any written records, we will never know for sure.
Who built Hagar Qim?
Stone age settlers migrating from Sicily are thought to be the original builders of the Hagar Qim temple complex. Fringe theories about the builders sometimes say that survivors from Atlantis built them, or that they were even built by ancient aliens!
Pin this guide to the Megalithic Temples Malta for later
Other articles that might interest you
Things to do in Malta in October – Visiting Malta in the shoulder season means fewer tourists and lower prices.
My 7 wonders of the world – After visiting hundreds of ancient sites around the world, these are my 7 wonders.
Easter Island – A look at my visit to Easter Island back in 2005, along with an interesting experience catching the plane!
Ancient Athens – A look at the archaeological sites of ancient Athens.
European city breaks and getaway ideas – Start planning your next long weekend here!