Take an unforgettable Santorini boat tour for the perfect vacation in Santorini. This guide to the best Santorini boat tours will help you choose which one is best for you.
Santorini Boat Trips
There are many things to do in Santorini, but one of the best is taking a boat tour from this beautiful Greek island.
Whether you want to watch the sunset over the island of Santorini from the sea, marvel at the caldera, or dive off into the volcano hot springs, a Santorini boat trip is likely to be one of the more memorable experiences from your vacation.
There are many Santorini boat tours on offer, and the choice can be quite overwhelming, especially to a first-time visitor or someone who hasn't got much time for research.
Combining my own experiences of boat trips from Santorini along with reader feedback, I've put together this guide to help you out. I'll start with a quick look at which Santorini boat tours are the most popular, and then expand on this further down the post.
Boat Trips in Santorini
Santorini Volcano Trip: The most popular boat trip in Santorini. Surprisingly cheap as well. Great for seeing the coastline of Santorini, walking on the volcano, and hot springs swimming. Not ideal for anyone with mobility issues. Find out more here: Santorini Volcano + Hote Springs
Santorini Catamaran Tour: The best way to see Santorini's caldera is on this catamaran tour with stops at the famous Red Beach and White Beach. Great lunch, and lots of swimming. Ideal for Instagram moments! Find out more here: Santorini Caldera Catamaran trips
Santorini Sunset Sailing: There's positives all around on this boat ride in Santorini. Enjoy the beauty of the caldera, swim at beaches, and see the sunset while avoiding the crowds at Oia. Well worth the money, and more affordable than you might think. Find out more here: Santorini Sunset Sailing Trip
** Boat Excursions Santorini – Click here **
What to see on a sailing cruise in Santorini
Most boat tours in Santorini include a few popular landmarks. I've listed them below, to make things easier for you.
The famous uninhabited volcanic islands of Nea Kameni. This is the small island where you can walk up to the volcano crater, and experience the otherworldly volcanic landscape. Not all tours include Nea Kameni, so if you want to hike the volcano, make sure you pick the right tour. Note – while the hike to the volcano is really fantastic, some people might prefer to avoid it in high season, as it can get uncomfortably hot.
---
The thermal springs at the uninhabited island of Palea Kameni. On Palea Kameni, you can go for a relaxing swim near the thermal springs. Most tours include this stop. Note – you can even swim in winter, as the water is warm.
---
The inhabited island of Thirassia. This small island was once part of Santorini, but was separated after the volcano exploded. On some of the Santorini boat trips listed below, you will have plenty of time to explore Thirassia, go for a relaxing swim or just enjoy a Greek meal.
---
The Red Beach and White Beach. These picturesque spots are popular for swimming and snorkeling and are included in most boat trips. Most boats will provide snorkeling equipment, and some will even provide towels, but it's best to ask in advance.
---
Caldera / The islet of Aspronissi. Some cruises go all the way to the small island of Aspronissi, inside the Caldera. This is a great option if you are into photography, as you can see Santorini and the volcanic islands from a few different and unique angles.
---
Santorini Boat Tour Guide
Most of the tours listed below provide a full meal on board, while others allow free time for a meal on the island.
There are daytime tours, sunset tours, and full-day sailing cruises. The Santorini boat tours depart from the ports of Athinios, Blychada Marina or Ammoudi, and they include transportation from your accommodation for free or, in a couple of cases, for a small surcharge.
Below, we have selected some of the best boat tours on Santorini. There will definitely be at least one tour that you will fit your preferences!
1. Boat Tour Santorini: Volcano Islands, Thirassia & Oia sunset boat tour
Full day boat tour with sunset (9 hours)
On this full-day boat tour departing from Athinios port, you will discover the volcanic islands of Nea Kameni, Palea Kameni and Thirassia.
There will be stops to swim and have lunch. In the evening, the boat route will take you below Oia village, the most famous sunset spot in Santorini.
** Click here for Santorini Volcano Islands, Thirassia & Oia sunset boat tour **
2. Santorini Volcano and Thirassia sunset boat tour with meal
Sunset tour with meal (6 hours)
In this tour, you will visit the volcanic islands of Nea Kameni and Palea Kameni, where you can hike up to the volcano and swim in the hot springs. This tour includes an on-board meal near Thirassia Island, and sunset views from the boat.
** Click here for Santorini sunset dinner cruise **
3. Red Beach, White Beach and thermal springs cruise, with meal
Daytime or sunset tour (5 hours)
These half-day boat tours focus on swimming, snorkeling and relaxing. They stop at the Red Beach and the White Beach, where you can swim and snorkel.
The last stop is at the hot springs of Palea Kameni, where you can swim and relax in the thermal waters. All the tours below include a freshly prepared meal on board.
** Click here for Semi Private Small Group Catamaran Cruise **
** Click here for Small Group tour on the Lagoon Catamaran **
** Click here for Small Group tour on a private luxury Catamaran **
** Click here for The Santorini Catamaran Red Cruise **
4. Red Beach, White Beach and Caldera tours
Morning or evening tour (5 hours)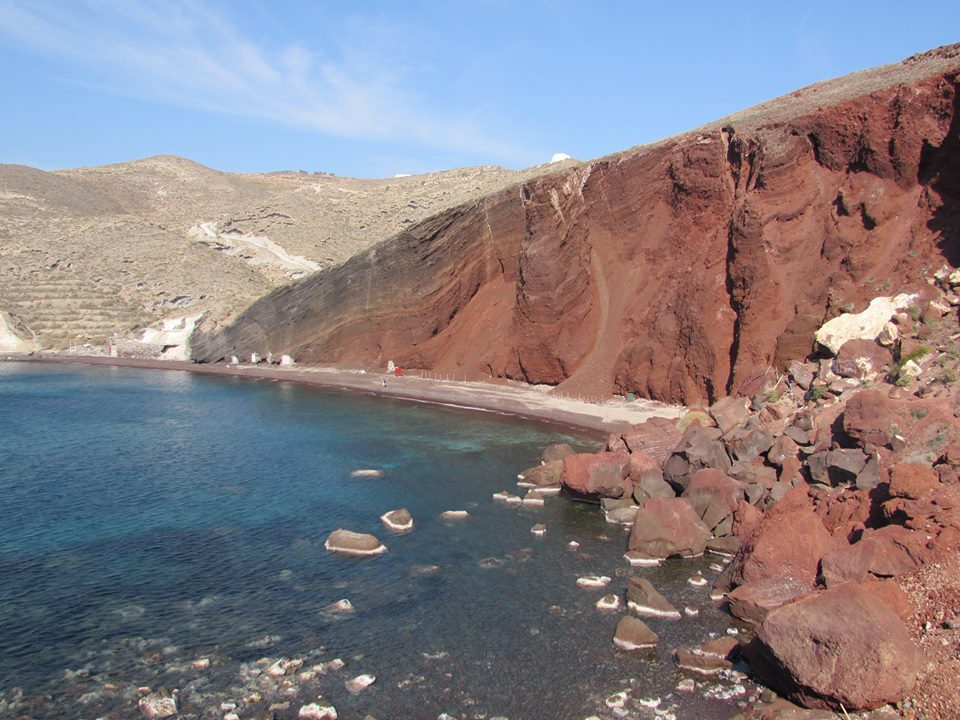 These tours will take you to several places where you can swim, and also cruise within the Santorini Caldera. The itineraries include famous spots close to the Caldera, such as the Venetian Lighthouse.
In each of these tours, the boat will first head to the Red Beach and White Beach, where there will be ample time for swimming and snorkeling in secluded bays, as well as a meal prepared on board.
Later on, the boat will reach Aspronissi island right in the middle of the caldera, as well as the two volcanic islands of Nea and Palea Kameni. You can then enjoy the lovely views of the Aegean.
** Click here for Small Group Morning or Sunset Cruise with Open Bar **
** Click here for Luxurious Small Group Sunset Cruise on the Lagoon Catamaran **
** Click here for Morning caldera boat trip **
** Click here for Sunset caldera tour Santorini **
5. Fishing Boat Trips Santorini
Morning or sunset tour (5 hours)
For something different, you can choose to go on a fishing trip on Santorini, on a traditional wooden fishing boat!
During this trip, you will be taken to the best fishing areas on Santorini, and you will be shown various traditional Greek fishing techniques.
Later, you will enjoy a fresh fish lunch, which you can help prepare if you wish! There will also be opportunities to swim and snorkel.
** Click here for Morning fishing trip in Santorini **
** Click here for Santorni Sunset fishing trip **
6. Santorini private Catamaran tours
If you are celebrating a special occasion, or simply want your own private catamaran cruise, there are a number of companies that offer private boat tours in Santorini.
Those trips all include a meal, and follow the popular Red Beach – White Beach – hot springs itinerary, with several stops on the way.
** Click her for Private Cruise for up to 4 people, including a meal on board **
7. Santorini Luxurious Private Cruise on a Motor Yacht, including meal
Morning or evening tour (5 hours)
If you want to experience something unique, you can choose a private tour on a Motor Yacht. On this cruise, you will be taken to most of the places listed above – the Red Beach, the White Beach, the hot springs, and Thirassia island. A delicious meal with wine, beers, and dessert is served on board.
** Click here for Luxury Private Cruise with meal **
Have you taken a boat tour in Santorini that you really liked and was not mentioned in this article? Let me know and I can add it on to the list!
Boat Tours Santorini – FAQ
Here are some of the most commonly asked questions my readers have when considering which boat trip they should take in Santorini.
How much is it to rent a boat in Santorini?
Hiring a private boat in Santorini can be quite an expensive business, especially during the peak tourist season. Instead, it is better to go on a small group boat trip, where price start from around 80 Euro per person.
How do I get to Santorini volcano?
The only way to visit the volcano (which is actually on a small neighboring island) is by boat. The Volcano trip by boat from Santorini is one of the most popular day trips you can make.
Where are the hot springs in Santorini?
Santorini's hot springs are on the small, uninhabited islet of Palea Kameni and have a temperature range from 86°F to 95°F. You can get there on a volcano tour by boat from Santorini.
Where is the famous Santorini view?
Oia Castle is the most popular spot for a sunset in Santorini and, justifiably so, its sunsets are among the best ever seen.
More Santorini Guides
If you enjoyed this guide to Santorini boat excursions, you might also be interested in these other travel guides to Santorini:
Free Travel Guides to Greece
Are you planning a vacation in Santorini and Greece? Sign up for my free travel guides, and I'll send you out all my best guides to help you plan a trip to Greece!
Please pin these Sunset Cruise and Private Boat Tour ideas in Santorini for later
Add this Santorini cruise tour image to your Pinterest board so you can plan your Santorini day tours later.
---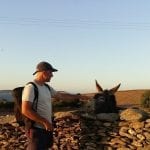 –
Dave Briggs
Dave is a
travel writer
from the UK who's been living in and writing about Greece since 2015. As well as creating this guide to choosing a catamaran cruise or private boat tour in Santorini, he's written many more articles about destinations in Greece. Follow Dave on social media for travel inspiration from Greece and beyond: