Malta in October offers pleasant weather, fewer crowds, and reduced prices, making it an ideal time for enjoyable sightseeing, outdoor activities, and cultural exploration.
Malta in October
People often ask if Europe in October is a good destination. Whereas some of the Northern European countries can get quite cold in October, the south is generally very pleasant.
In fact October can be an ideal month to visit countries like Greece (home!) and Malta. The weather makes sightseeing easier, and flights to Malta are cheaper at this time of year.
Weather in Malta in October
The weather in Malta in October is generally quite pleasant, as it falls within the autumn season. Here are some typical weather conditions you can expect in Malta during October:
Temperature: The average daytime temperature in Malta during October ranges from 20°C to 28°C (68°F to 82°F). It can still feel warm during the day, especially in the earlier part of the month, but the evenings and nights can be cooler.
Sunshine: Malta typically enjoys plenty of sunshine in October, with an average of 7 to 8 hours of sunshine per day.
Rainfall: October is considered one of the wetter months in Malta, but it's still relatively dry compared to many other destinations. You might experience occasional brief showers or thunderstorms, so it's a good idea to have an umbrella or raincoat handy.
Sea Temperature: The sea is still warm in Malta in October, with temperatures around 24°C to 26°C (75°F to 79°F), making it suitable for swimming and water activities.
Humidity: Malta's humidity levels are moderate in October, making it a comfortable time to explore the outdoors.
A tiny island country to the south of Italy, Malta is pretty much an all-year-round destination.
Although winter months can be quite damp, autumn is very mild and the sea is still warm after a few months of hot Mediterranean summer.
Short history of Malta
To appreciate what this tiny country has to offer, it's a good idea to know a little about Malta's super long and rich history.
Malta has been continuously inhabited since prehistoric times, and due to its unique geographical location between Europe and Africa it has always been a strategic point on the map.
Several conquerors have passed by Malta, including the Phoenicians and Carthage (8th – 4th century BC), the Romans (3rd century BC – 6th century AD), the Byzantines (6th – 9th century), the Arabs (9th – 11th century), the Normans (11th – 16th century), the Order of St John / Hospitaller (1530 – 1798), the French (1798–1800) and the British (1800–1964).
Malta regained its independence in 1964, and has been a member of the European Union since 2004.
With such a rich succession of rulers, you can imagine that the architecture on the island will be quite varied.
Megalithic temples, baroque buildings, colonial architecture and modernist constructions are all abundant in Malta, and they all add to the charm of this small country.
It's worth noting that the official languages in Malta are Maltese and English, while Italian is also very popular, as it used to be the country's official language until 1934.
Additionally, it's very easy to find information on Malta online, which makes Malta an ideal destination even if you haven't traveled extensively.
Related: Is Malta worth visiting?
What to do in Malta in October
Malta actually comprises of three islands: the main island, called Malta, a smaller one called Gozo, and tiny Comino, with a population of under 10 people.
With the peak tourist season ending in September, October in Malta can be a great experience if you are looking for fewer tourist crowds and lower accommodation prices.
Places of interest, museums and most businesses are open as usual, and you may even have some of the ancient sites to yourself. Sightseeing in Malta in the shoulder season is definitely a more personal experience.
There are several sites and history museums to visit showcasing Malta's long history, but you can always take a break to admire the architecture, enjoy the local cuisine and stop for a coffee. Here are some of the things that you can easily do in Malta in October.
Visit the Megalithic Temples in Malta
Malta has some of the oldest religious monuments in the world, second only to Göbekli Tepe in Turkey. The Ggantija temple on Gozo Island, along with the massive Hagar Qim and the nearby Mnajdr on Malta were awarded the UNESCO World Heritage Site status in 1992.
Allow enough time to wander around the fascinating ancient stones, and feel free to make comparisons with other ancient sites you may have visited, such as the Mycenae, Machu Picchu or the Pyramids. We definitely found similarities!
Read a full blog post here: The Megalithic Temples of Malta.
Stroll around the capital, Valletta
Valletta is a charming city, built in the 16th century by the Order of St John. Like the Megalithic Temples, it has been a UNESCO Heritage Site since 1980. Today, about 400,000 people live in the metropolitan area, making Valletta one of Europe's smallest capital cities.
Stroll around the centre of Valletta, and you will instantly discover its Baroque character, combined with later architectural trends such as Modernism.
The old buildings and amazing architecture make Valletta really unique. Explore the old bastions and fortifications, and you might feel that the Knights never left!
Do not miss a walk around the Grand Harbour in Valletta, an impressive port where thousands of yachts dock on an annual basis. Even though parts of the city were destroyed during World War II, the harbour has kept its character.
Visit St John's Co-Cathedral in Valletta
This large Roman Catholic cathedral was built in the 16th century. While its exterior is very simple, the interior was redecorated according to the Baroque style in the 17th century, in an effort to surpass some of the churches in Rome.
The result is truly impressive, even if you don't particularly like the Baroque style. Carved stone walls, large statues, fascinating frescoes and ornate, golden panels are all combined together to create one of the most awesome temples created in the last few centuries.
Do not miss the Caravaggio paintings, and the tombs and large crypt underneath the marble floor. Find out more here: St. John's Co-Cathedral Facebook Page.
Visit the National Museum of Archaeology in Valletta
This interesting museum will help you find out more about Malta's long history. Housed in a Baroque building, it is home to a large collection of artefacts from 5000 BC to about 400 BC.
You can see prehistoric tools and statues, as well as human figurines, similar to those found elsewhere in the world. In the future, there will be more rooms showcasing Malta's history during the Roman and Byzantine periods.
Visit the National War Museum in Fort St Elmo
The National War Museum is a great place for people interested in Malta's recent history. It explains life in Malta under the British Rule, and gives a lot of gruesome information on the two World Wars.
Items on display in the National War Museum in Malta include Royal Navy uniforms and equipment, engines, guns, boats, other vehicles and even remains of various aircrafts.
Photographs from WW II are also on display, showing the damage that the country went through. Medals, awards and other decorations are also displayed, including the original George Cross Medal, a symbol of bravery, which can now be found on the Maltese flag.
Explore Birgu on a local boat
A short boat ride from Valletta, Birgu is a smaller but equally charming neighbourhood, with an important history of maritime and military activities.
It used to be the capital of Malta during the rule of the Hospitaller. Take a local water taxi from Valletta and you'll be in Birgu in 5-10 minutes.
Stroll around the cobbled streets, walk around the waterfront, and don't miss Fort St. Angelo and the spectacular views of Valletta.
Visit the Parish Church, the Inquisitor's Palace, the fascinating Malta Maritime Museum and the Malta at War Museum.
Visit the Malta at War Museum in Birgu
This outstanding museum focuses solely on Malta's history during World War II. It is housed in an army barracks, which functioned as a police station and underground air-raid shelter, where people used to hide during bombings.
Inside the museum, there are numerous items on display, such as memorabilia, uniforms and weapons, but also documentaries, sounds and audio-guides explaining more about life during the war.
For us, the highlight was visiting the underground air-raid shelters that have been kept pretty much intact. We would definitely recommend this museum to anyone visiting Malta. More info here: Malta at War Museum.
Visit the Malta Maritime Museum in Birgu
Malta's largest museum is located inside the Old Naval bakery. Its purpose is to explain Malta's super long maritime history during the millennia.
The museum is home to more than twenty thousand artefacts. Many of these have been donated by individuals, companies, foreign museums and several other sources. The artefacts cover Malta's naval culture, from prehistoric ages to modern day.
A visit to the Malta Maritime Museum is totally worth it, and will give you a good overview on sea culture in the Mediterranean.
Visit a traditional fishing village
There are many traditional fishing villages in Malta, but we chose to visit Marsaxlokk in the south-east.
Used as a port by several conquerors, such as the Phoenicians and the Carthage, the village is known today for its large fish market on Sundays and the smaller tourist market.
Stroll around and have a look at the picturesque building and colourful fishing boats, Malta's biggest fishing fleet.
Visit Mdina and the Dingli Cliffs
When you visit Malta you should definitely take a day trip to Mdina, a fortified city up on a hill. Mdina used to be Malta's capital for several centuries and until 1530, when the Order of St. John moved the capital to Birgu.
Take your time to walk around the ancient walls, which have been extensively restored, and the little streets, which are fully pedestrianized.
You can combine your day in Mdina with a visit to a popular viewing spot, Dingli cliffs, just a few kilometres away from the walled city. Both places can easily be visited on a day trip around Malta.
Walk around Victoria and Citadel in Gozo
Another walled town, the old Citadel in Gozo is also worth visiting, and not only for the amazing views. It is estimated that the Citadel has been an active settlement since Neolithic times.
The first fortifications were laid around 1500 BC and were reinforced by the Phoenicians and, later, the Romans. At that time, Gozo and Malta were independent.
The Citadel was reconstructed during the Hospitaller rule, but was later besieged by the Ottoman in what has to be one of the most tragic pages in Malta's history.
Today, several events are organized within the grounds of the Citadel, and thousands of visitors join on an annual basis. Some of the cultural highlights held in October are the operas, performed in the Aurora and Astra opera theatres.
In fact, Gozo seemed to be quieter than the main island. If you want to take some time off and relax, it could be your perfect destination in Malta.
Go to the beach in Malta in October
October in Malta brings good weather and fewer crowds, making it the perfect time to relax on the sandy beaches. With comfortable average temperatures and plenty of hours of sunshine, you can unwind and soak up the Mediterranean vibes at your leisure.
Because of the possibility of rain, going to the beach in Malta can be a little bit hit and miss in late October. That said, the average sea temperature is around 24 degrees, so most people will enjoy the beach on a sunny day, especially if visiting earlier in the month.
Try the Maltese Cuisine
No visit to Malta will be complete without a taste of the Maltese cuisine. It's a unique fusion of Mediterranean, Sicilian, British, and French, with Middle Eastern and Arab influences also thrown in.
Some of the traditional dishes you will find in Malta include rabbit and horse. There is also plenty of fish and pork. Garlic, tomatoes and herbs, olive oil and olives are widely used. Even though Malta is so small, there are a few regional dish variations, especially in Gozo.
If you have a sweet tooth, look out for seasonal sweets, including November marzipans and Christmas honey rings. These have become so popular that they are made all year round!
Note – if you take a day trip around Malta, by all means visit Diar il-Bniet restaurant in Dingi area. It's got amazing food and an atmosphere to match! Also, when in Gozo, you can't go wrong with Ta' Rikardu.
Experience the Thrill of the Rolex Middle Sea Race:
For sailing enthusiasts visiting Malta in October, the Rolex Middle Sea Race is an event you shouldn't miss. This prestigious race attracts top sailors from around the world, making it a highlight of the Maltese maritime calendar. Whether you're a seasoned sailor or just looking to witness the excitement, the Rolex Middle Sea Race promises a memorable experience.
Malta Tours and Day Trips
Enhance Your October Trip with a Boat Tour: To make the most of your October trip to Malta, consider booking a boat tour. These tours offer a unique perspective of the Maltese Islands, allowing you to explore hidden coves, picturesque coastlines, and crystal-clear waters.
Whether you're interested in historical harbor tours or adventurous excursions to the Blue Lagoon, there's a boat tour to suit every traveler's preference.
Here's some guided tours in Malta that may be of interest. You can find a full list of Malta day tours and excursions here.
Malta in October – Conclusions
The above is just a short selection of things to do in Malta in October. This country may be tiny, but it's got loads to offer. Book your flight, and go to find out for yourself.
What is Malta like in October FAQ
Here are some reader's commonly asked questions about traveling to Malta in October:
Is October a good time to visit Malta?
October is a good month to visit Malta for anyone that still wants warm weather, but prefers to avoid the crowds of high season. Accommodation prices are also lower in October when compared to summer months such as August.
Is Malta hot in October?
With average high temperatures of 25ºC during October, Malta is one of the warmest countries in Europe at that time of year. It's still hot enough to enjoy days lazing at the beach in Malta in October, and in the evening just a light top needs to be worn with temperatures cooling to 20ºC at night.
Can you sunbathe in Malta in October?
Although there may be an occasional rainy day, most of the days in October in Malta are warm and pleasant enough for sunbathing. Average high temperatures of 25ºC mean you'll still need to wear sunblock!
Can you swim in Malta in October?
During the first two weeks of October, the sea temperatures in Malta are warm enough for most people to enjoy swimming in the sea at all times of the day. As October draws to an end, sea swimming is still possible, but perhaps not for extended periods of time.
Average temperature Malta in October
Malta in October can be a little cloudy with some rain, but also has many bright, warm and sunny days. The average temperature in October in Malta is 22°C, with highs of 25°C and lows of 21°C. Malta is a good destination for an autumn break in Europe.
More Great Destinations in Europe in October
Also read: Warm European places in December
---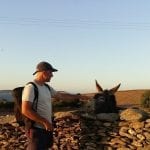 –
Dave Briggs
Dave's
travel writer
from the UK who's been travel blogging at Dave's Travel Pages since 2005. As well as writing this Malta October travel guide, he's written hundreds of other travel tips and itineraries for travel destinations all over the world. Follow Dave on social media for travel inspiration from Greece and beyond: