Survive and thrive during your next long flight with these must-have items and long haul flight essentials!
Long Haul Flights
Flying more than a few hours at a time can be a test of your endurance and patience. Especially so during transatlantic or transpacific flights, where you are stuck in the same seat for hours at a time with no break.
Most airlines do their best to make international flights a pleasant experience, but even so, being stuck in a metal tube for such long durations can be uncomfortable and mentally draining.
The most recent long distance flight I have taken, was flying from Athens to Singapore non-stop on a budget airline – A journey which took 11.5 hours!
This article lists some of the tips and tricks I used on that and other long flights to make life a bit more tolerable.
Long Haul Flight Essential Items
Having the right items on hand to make your flight more comfortable is key if you want to arrive at your destination feeling refreshed and ready to explore. Maybe you've already thought of what you want with you when you fly, but take a look anyway – there could be something here that you've never considered.
Here are some must-have long haul flight essentials that will make your flight much more bearable:
1. Good Carry On Luggage
In my opinion, it all starts with finding the right carry on luggage. You need something that is lightweight and easy to move around but also has enough space for all of your flight essentials.
If you're flying long distance with a budget airline, it will need to meet their cabin bag size policy, and it's always wise to check with your airline before you choose a bag.
It's also a good idea for your hand luggage / carry-on bag to have a few separate compartments. You might want to keep the items you'll use during the flight separate from the items you'll need when you land.
Oh, and I always suggest to have at least one day of clothes with you in your carry on luggage – just in case your checked luggage doesn't arrive at the same airport as you do!
Related: How to find cheap flights
2. Comfortable Clothes
Next on your list should be comfortable clothing to wear on the plane. You don't want to wear anything too restrictive or uncomfortable, so stick with loose-fitting clothes that won't get in the way of your movements.
As a guy, I feel comfortable in lightweight hiking trousers paired with merino t-shirt, socks, and boxers. I prefer to wear sneakers that slip off easily so I can let my feet breathe during the flight. Don't worry, the merino socks mean there's no odors!
When it comes to travel gear, merino really is the way to go. Merino wool is antimicrobial, so it won't get smelly even when you wear it for days!
Related: How do layovers work?
3. Phone, Powerbank, and USB Cables
Chances are, your airline tickets are on your phone so you'll want to keep this with you in flight. Like any of us are parted with our phones for more than 5 seconds anyway!
What you should also bring though, is a powerbank and a USB cable. You might find that your seat has USB ports, but if it doesn't, the powerbank will come in handy to keep your phone topped up with power.
Related: Can I take a powerbank on a plane?
4. Face Mask
If this article was written pre-2020, who would have thought that this would be a long haul essential, right?!
5. Small Hand Sanitizer and Wet Wipes
When flying long haul, you'll want to keep your hands clean and hygienic. Therefore, it's a good idea to bring along some hand sanitizer and wet wipes that you can use during the flight.
You might also want to wipe down the armrests and tray table before or after eating. If you are going to be in the same little space for a few little hours, you might as well make sure it's clean before you get settled in!
6. Noise-Canceling Headphones
If there's only one screaming baby on a plane, what are the chances you will be sitting on the row in front? My unofficial survey says 100%!
Even if you've managed to dodge the bullet this time, noise cancelling headphones are a must if you want to have any chance at getting some rest during the flight.
7. A Neck Pillow & A Blanket
Long flights can be tiring, so it's important to bring something that will help you catch some much-needed shuteye. A travel pillow is one of those things that you never knew you needed until you used one once. After that, it's a must-have!
Also, don't underestimate the importance of bringing along an extra blanket. The air conditioning can get pretty cold in the cabin and having your own blanket gives you that added bit of comfort.
8. Earplugs/Eye Mask
If you don't want to pay out for noise canceling headphones, at least bring along a pair of ear plugs. They're small and lightweight, but will make a huge difference for your sleep during the flight.
The eye mask will help block out the light and make it easier to drift off into dreamland.
9. Snacks & Water Bottle
Most long haul flights provide food in one form or another, but you might want to supplement this with some snacks and a reusable water bottle that you fill up once through security.
I don't mind plane food at all, but I still bring along a few extra nibbles to snack on while I'm watching a film or reading a book. If you are taking a water bottle, why not bring one that doubles as a water filter as well? This way, you don't rely on having to buy bottled water at your destination, and you use less plastic as you travel.
Related: Best snacks to bring on a plane
Which brings us on to…
10. Entertainment
While most airlines have some inflight entertainment, budget airlines do not. And even if the airline does show some films, who's to say that you'll like them?
So it's a good idea to bring along some form of entertainment for your next trip. I usually bring along a Kindle, tablet, or laptop (depending on the size of my hand luggage). That way I can read articles, watch films, play games, and listen to podcasts during long flights. I can even do some work – if I really have too.
11. Lip Balm
The air inside the cabin can get pretty dry, so it's a good idea to bring along some lip balm. This will come in handy for keeping your lips hydrated and preventing them from getting chapped during the flight.
12. Toiletry Bag
A toothbrush and toothpaste are definitely long haul flight essentials! You might also want to bring some other items to freshen up in the airplane bathroom so you feel a little more human when you step off the plane.
Other Useful Travel Tips For Long Flights
Here's some more tips that will help you make the most of your long haul flight:
– Get some lounge access: Some credit cards give you lounge access, which can be really helpful for relaxing before your flight leaves or during a long layover.
---
– Fly Business Class: Got bags of cash? Why not upgrade yourself to give yourself the best luxury possible. You get better airplane food, and can fall asleep a lot easier in business class than in economy.
---
– Book a window seat: these are great for leaning against the wall and getting some shut eye or taking pictures of the clouds (no matter how old you are!).
Related: Sky Captions For Instagram
---
– Check in early: Try to arrive at least two hours in advance of your scheduled departure time. This will give you more time so you are not rushing around stressing yourself out.
---
– Stay hydrated: Drink plenty of water during the flight. It may help you combat jet lag.
---
– Move around every hour: Moving your body will help stop stiffness and muscle pain and improve circulation.
---
– Utilize pre-flight relaxation techniques: Meditation and breathing exercises can help keep stress levels low while flying.
---
– Check out this: International Travel Checklist
---
Long Flight Essentials FAQ
Readers who are looking for ways to survive long haul flights often ask questions such as:
What should you take on a long-haul flight?
People who travel frequently often mention that travel pillows are their number one item for surviving long flights. A good pair of noise-cancelling headphones and an eye mask can also make a big difference in your comfort level during the flight.
What should I wear on a long-haul flight economy?
Wear clothes that are loose fitting and comfortable. Use a layered system, so you can take off or put clothes on depending on the temperature. Comfortable socks are a must!
How do I prepare for a long-haul flight?
Get plenty of sleep the night before and also make sure you are well hydrated as this will help minimize jet lag. Bring a book, headphones and some snacks with you to keep yourself entertained during the flight.
How can I survive a 21 hour flight?
You'll want to put aside at least 8 hours for sleeping during a flight this long. For the times when you are awake, try to get up and move every hour or two to stretch your legs out and get your circulation moving. Drink plenty of water to stay hydrated!
Do you have any more ideas for long haul travel essentials that should be taken on a flight? Share them in the comments section below!
Related: Pros and Cons of plane travel
---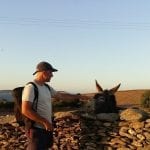 –
Dave Briggs
Dave is a
travel writer
from the UK who's been living in Athens Greece since 2015. While he prefers to
travel the world by bicycle
, he does get on a plane from time to time, and so wrote this guide on what to take on a long haul flight to make other traveler's lives easier. Follow Dave on social media for travel inspiration from Greece and beyond: