These simple tricks and travel hacks will help you find cheap flights no matter where in the world you want to fly! 20 tips for finding cheaper flights the next time you want to fly.
Finding cheap flights – Why pay more if you don't have to?
There's nothing more annoying than sitting next to someone on a plane, starting a conversation, and finding out that their ticket cost a lot less than yours did!
Why is it that basically the same airfare can be sold at two different prices? You thought you knew all about how to get travel deals, but still paid more than you could have.
Is there a secret to finding low cost flights? You used search engines, tried to get the cheaper flight to your destination, but you must have been missing out on something. What?
How to book cheap flights
In this ultimate guide on finding cheaper flights, I'm going to go over all of the different resources available when it comes to searching for low cost airfares.
The tricks are simple and easy to execute, but like most things in life, you may have to try several times before you find success.
Whether you already have a destination in mind, or are looking for a way to discover a low cost travel destination with a budget-friendly flight, my guide should help.
At the end of the list of travel tips for cheaper flights, I have included a section where I take you through the steps I myself make when booking a journey by plane.
If you're planning the trip of a lifetime, here's how to not pay over the odds.
Tip 1: Try booking group tickets individually
One travel hack for reducing the price of air tickets, is to try comparing what happens if you try to book your group tickets in one go as opposed to individually.
For example, a family of four might find it cheaper to book tickets two at a time. As a result, they perhaps won't be sitting as a family of four on the plane, but they may end up paying less to fly.
Try this for your next trip and compare the prices of sitting in twos with sitting all together. You might be pleasantly surprised with some cheap flight tickets!
Tip 2: Be Flexible with Travel Dates and Flight Times
When you have a specific schedule and must be somewhere at a certain time, sometimes it doesn't matter how much you try to find alternatives, you just won't be able to get there for an affordable price.
One of the easiest ways to save money on flights is by being flexible with your travel dates. Even just leaving a day before or after can show up different prices for the same route. Depending on where you are travelling to there can be different cheaper days of the week or times of year that will work better for you financially..
This theory also applies to flight times. If you want to save a little money on your plane tickets, consider early morning or late night flights which may be cheaper than more conveniently scheduled flight times.
Bottom line: If you're flexible with your preferred travel dates, you might find that airline prices for the same round trip are different on different days!
Tip 3: Consider Secondary Airports
Flight prices can vary greatly depending on which airport route the airline chooses. If flying out of regional hubs is more convenient for you , it may be worth your while to look at secondary airports.
One classic example of this, is to fly out of London Stanstead as opposed to Heathrow or Gatwick. Budget airlines fly out of secondary airports in this manner, and while they might not yet make transatlantic flights, you can fly cheaply from the UK to other airports in Europe.
Note that if you do this, you should also factor in any additional travel costs for getting to the secondary airport.
Tip4: Search For Flights in Incognito Mode
Don't just Google flights in your normal browser view! Travel sites have a way of tracking you through their cookies, and some people believe they might manipulate the price of international flights this way.
Some travelers say they get cheap tickets simply by searching in incognito mode in their browsers. If you're curious you have nothing to lose (other than time), give it a try – if you find amazing deals this way, let us know in the comments below!
Tip 5: Read the Fine Print of Airfare Deals
A lot of times the fares advertised online are for non-refundable tickets purchased on certain days with restrictions on changes and more.
If you find a flight deal that looks something too good to be true, read the fine print before booking the cheapest flights. You may be able to save yourself unnecessary fees or delays by doing so.
Tip 6: Join a cheap flights Facebook group
Facebook groups have their uses, and you'll find communities online who share all the latest deals, or who spot price errors on schedules.
Join a couple of different groups and watch to see what comes up in regards to mistake fares and cheap airline tickets people might have discovered. It's a useful way of finding cheap flights and perhaps also discovering trips to destinations you might not otherwise have thought of.
Tip 7: Grab Flight Error Fares Fast
Everyone makes mistakes, and airlines are no exception! Sometimes they miss-price flights, or enter incorrect destinations – and if you're fast enough to spot the error, you can get yourself a super cheap flight.
Related: Why do flights get cancelled
Tip 8: Search for Ticket Prices in Other Currencies
Nowadays, it's not unusual for people to have accounts with different currencies in, especially if you have a Wise card or a Revolut card. This gives you some flexibility when it comes to searching the best price for flights online.
Try swapping the default currency, and see if a flight works out cheaper that way. You might be pleasantly surprised!
If you find travel deals this way, try to factor in any foreign transaction fees that might be applied either by the airline or by your bank.
Tip 9: Use a site like Skyscanner
There are a few flight comparison sites online such as Skyscanner that let you compare flights in your preferred currency on different routes, as well as stay updated with the latest deals and price drops.
I generally find a flight search engine to be useful in establishing a baseline for plane ticket prices, but tend to find I get better deals with airlines directly once I know exactly what I am looking for.
It always pays to compare cheap flights with multiple sources, and to be aware of any hidden extras the flight deal websites may have.
Tip 10: Buy Flights with Miles and Points
If you collect frequent flyer miles or points from a credit card, try to use them to pay for any airfare you have coming up. You might be able to save a couple of hundred dollars compared to paying cash if it's something you normally would've done anyway!
Some people have got a full international flight this way. Imagine being able to travel around the world for almost free!!
Tip 11: Use budget airlines
The clues is in the name really! Budget airlines tend to have cheaper flights on the same routes than flagship airlines.
For example, when I flew from Athens to Singapore with Scoot it was considerably cheaper than flying with national airlines.
The downside to these cheap fares, is that there can sometimes be hidden extras in the form of luggage charges, or the cost of food and drinks onboard.
European airline Ryanair is notorious for both cheaper tickets but also plenty of hidden extras that catch unaware travelers by surprise!
Also read: Advantages and Disadvantages of Traveling by Plane
Tip 12: Mix and Match Airlines
If your destination involves swapping flights, you don't have to stick with the same airline for the entire trip. You can do a quick search for the cheapest flights on different legs of the itinerary and see which option works out best for you. Perhaps combining a budget flight on one section of the journey, and then flying with a national carrier produces the best price overall for international travel.
You may be surprised by how low the price goes when you add in different airlines into your itinerary.
Tip 13: Take advantage of concession prices
Discounted prices for students, children and seniors are not always as visible as they should be on airline websites. If you fit into any of these categories, dig deeper and see if there are any lower prices or discounts available to you to make the airfares cheaper.
Tip 14: Leave it until the last minute
If you like a bit of randomness and risk, you could always leave booking your flight until the day before. You may find that there are some last minute price drops as the airlines will want to fill up the passenger seats on the flight in order to make it pay for itself.
This means you have to be flexible of course, but if you're the sort of person that just wants a cheap plane ticket to anywhere for a short city break, go for it!
Tip 15: Book the flight early
A completely opposite piece of advice, is to book your flight early, especially on popular flight routes that may sell out. As the number of available tickets is reduced, airlines may start to increase the price of the last remaining tickets, meaning you will pay more if you leave booking the flight until too late.
Tip 16: Subscribe to airlines newsletters
Every now and again, airlines run promotions and flight deals. You can be among the first to know about them by signing up for their newsletters. They will send you updates and you'll quickly find out if there's a cheap flight to your chosen city.
The same thing applies to signing up for flight search engines newsletters and even online travel agencies.
Tip 17: Look out for flight bundle deals
Bundle flights together with your accommodation to make it cheaper (and sometimes easier) to arrange everything in one go. You could end up saving a lot of money compared to if you booked each element separately, so try comparing apples to apples before making a decision.
Occasionally, airline alliances might offer a free hotel for a night or two.
Tip 18: Don't forget your travel agent
Many of us have become so used to booking travel online ourselves, that we completely ignore the fact that travel agencies sometimes offer great deals. Either give your local travel agency a call or pop around and see what they can offer.
They probably can't get you keener prices with a budget airline, but they might be able to find the best flight deal on a long haul flight because of their experience and contacts.
Related: Long Haul Flight Essentials
Tip 19: Buying on cashback credit cards
If you have a credit card or other bank card that offers cashback on purchases, buying your airline tickets can make sense. Of course it goes without saying that if you use your credit card, you should pay the bill in full before any interest is added to your account, otherwise you won't be getting any money back at all!
Tip 20: Are there any travel rewards?
If you fly with airlines that have travel rewards or airmiles, then on occasion, it can make sense to use them even if they are more expensive. As you can cash in those points for airmiles or vouchers, it may be worth using them to fill up your balance and then when the rewards are high enough, you can book cheaper flights with them instead.
How I go about finding a cheap flight
I use a combination of the above mentioned travel tips when looking for the cheapest flight to my destination. Although I should caveat this and say that typically, I look for the best overall value as opposed to the most absolute rock bottom price.
Here's my step by step process on how to find a cheap flight:
Know where I am traveling to
Have some rough dates in mind, with flexibility for a two week window on each side
Open up an incognito window, and start looking for flights on known budget airlines to get a base figure for what a cheap airfare should be
Look in Skyscanner to see if there's other options I'm not aware of
See if any days or times are cheaper than others, and if I am happy with them
Google to see if there are any promotions or discount codes for airlines floating around the interwebs
See if there are any flight + accommodation packages that look good
Check if an airline offers reduced car hire or other offers
Make sure I am aware of hidden extras such as hold luggage charges on budget airfare tickets. The cheap flight might actually cost me more if carrying a lot of luggage!
See if the cost of flights are more beneficial to me in a different currency
Double check everything again
Book the most suitable flight using a cash back card
Related: Can you take a powerbank on a plane?
FAQ About finding a cheaper flight
These are some of the questions that my readers ask when looking at how to find the cheapest flights:
How to get cheap last minute flights?
For truly last minute flights, open an incognito browser, check Skyscanner and then each individual airlines website for the flights you are interested in. Go with whichever is the cheapest.
How to get cheap business class tickets?
One of the best ways to get cheap business class tickets is to cheekily ask for a free upgrade as you check in for your flight. It never hurts to ask, right?!
Is it cheaper to buy a plane ticket at the last minute?
In general, flights are cheaper last minute if there are still a large number of seats available. If there are only one or two seats available though, you may find the opposite is true, and actually the ticket price is more expensive.
How can I get cheaper airline tickets?
The more time you put into checking out airline websites and airline ticket comparison sites, the higher your chances of getting a cheaper flight. It will cost you extra time however.
Can using a VPN get you cheaper flights?
With a VPN, you can easily compare rates from around the world depending on where your virtual location is. This may fool the airline algorithm which may offer higher prices for people in New York for example as compared to people in San Francisco.
You might also want to read these latest travel tips:
Know of a great search engine for booking flights, or have any tips on how to get the best flight deals? Leave a comment below and share it with other readers of Dave's Travel Pages!
---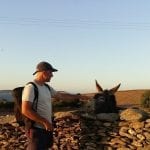 –
Dave Briggs
Dave is a
travel writer
based in Athens, Greece. In addition to writing these tips on how to find cheap flights, he's created many more blog posts and travel guides here at Dave's Travel Pages. Follow Dave on social media for travel inspiration from Greece and beyond: