I often get asked why I love to travel the world by bicycle. My general answer is that it is rewarding, but how do I explain to people exactly why that is, especially when there can be some pretty tough days bicycle touring!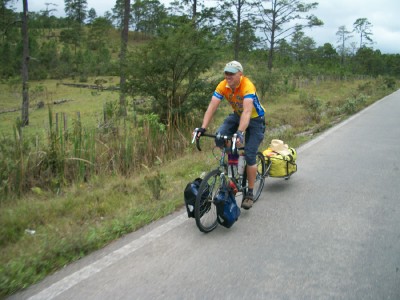 When planning a bike tour in 2016 which involved riding from Greece to England, it got me thinking about why I like doing these cycling trips.
By this point, I'd already been cycle touring from England to Cape Town, had ridden from Alaska to Argentina, and had taken numerous other 'smaller' cycling trips. Clearly, the novelty of a cycle tour hadn't worn off for me during all this time!
I enjoy it – I really do, but it's not all tailwinds and downhill riding though when bikepacking – although I guess that goes without saying!
If you're wondering whether being a bicycle traveler is for you, these are the pros and cons to take into account when planning to travel the world by bicycle.
Why Travel the World by Bicycle?
Why on earth would you travel the world by bicycle? It's hard work, right? Well, there is no denying that it is, but bicycle touring is also an incredibly rewarding experience on a number of levels both physically, mentally, and spiritually.
For every uphill ride, there is a wonderful downhill glide, for every headwind there is a tailwind, and you don't need to be superman to do it.
There are people of all shapes, sizes, abilities, and ages bicycle touring around the world as you read this. They are all having a unique travel adventure, pushing their own limits, finding out more about themselves, and exploring this wonderful world of ours in a way which has a low impact on the environment, and brings them closer to local communities.
But isn't it expensive to travel the world by bicycle?
Absolutely not! When looking at cheap ways to travel the world, very few can compare to cycling. The combination of having no transport costs, along with plenty of opportunities to wild camp, means that overheads are minimal for the bicyclist.
With some bicycle nomads spending less than $5000 a year, it is little wonder then that using a bike to travel the world is gaining in popularity.
Can anyone travel the world by bicycle?
Yes they can, and I really mean that. I have met a blind man cycling the world on a tandem (Yes, his sighted partner was at the front before you ask!).
I cycled briefly with a couple in their late 70's in New Zealand (although in my opinion they were wimping out by staying in B and B accommodation rather than camping!).
And I met plenty of people who cycled with family pets such as cats and dogs on a bicycle tour in the USA. In short, where there is a will, there is a way. So, if the desire is there, anyone can travel the world by bicycle.
However, I am not going to bullshit you, and say that every day is an easy one, and you will be happy 100% of the time. There is always a downside to everything! Here are some of the pros and cons of using a bicycle to travel the world
Travel the World by Bicycle – Pros
Its very economical – The biggest initial cost of bicycle touring, is the bike itself along with associated gear such as panniers, tent and sleeping bag.
Generally speaking, the more expensive a bike is, the more reliable it will be, although there are people happily cycling around the world on bicycles worth less than $100. (And expensive doesn't mean the best if the bike is unsuitable for the job!).
Most bicycle nomads will choose to wild camp, meaning that accommodation costs are minimal. This, along with using couchsurfing, warmshowers and camping on official campsites, works out to be far better value than staying in backpackers hostels.
As most cyclists cook their own meals, their weekly spend on food is also a lot lower than eating in cafes or restaurants all the time. This all helps to make cycling one of the cheapest ways to travel the world. Read a full article here on How to cut costs on a bicycle tour.
Fantastic Experiences when bike touring
Bike travel around the world offers far greater opportunities to see and do things that are not possible if overlanding on a bus or train.
An example of this, is that a cyclist will stop in a small village in the countryside to take a break, and be invited to somebodies house, or a small crowd of people will gather to ask questions.
This does not happen to backpackers who are packed on their bus and drive through the same village at 60 kilometres an hour leaving a cloud of dust in their wake.
Cycling around the world is a great way to get to know the people of a country a lot better, especially away from the traditional tourist centres.
Discover Yourself when bicycle touring
For me, one of the greatest things to discover when bicycle touring, is myself. After a dew days cycling, you start to learn a lot about yourself, and just what you are capable of.
You learn to cope and react to situations with more patience and forethought. You develop a sense of Stoicism, a strength of character, and a sense of self reliance. When the tour is over, these are all great assets to have in 'the real word'!
Travel the World by Bicycle – Cons
There are tough days
Any bicycle tourist who does not say that there are tough days, is quite frankly lying! There will be days when it seems that hours have been spent cycling into a headwind, or the rain just keeps lashing down.
There will be times when it seems that there is one puncture and flat tire after another. Bad water might lead to frequent toilet stops in the wild. Lets not even mention dealing with aggressive dogs.
Its times like these that test the strength of a persons character, their resilience and their determination to continue.
Dangerous traffic when cycling around the world
Traffic is an issue for any cyclist, be they on a multi-month bike touring trip or even just commuting to work and back in their home towns.
Keeping aware at all times is the best defence a cyclist has on a bike ride, and some even go to the lengths of having handlebar mirrors so that they can see the traffic behind them.
There are a couple of other points I could add to both pros and cons, such as time spent away from family and friends, learning about other cultures, and much much more.
In my opinion though, these are the real basics behind travelling the world by bicycle. However, I always love reading your opinions.
If you have anything to add, or would like some general advice about bicycle touring, please leave a comment below.
Travel Around The World By Bike FAQ
Here are some commonly asked questions about riding a bike around the world.
How Much Does it Cost to Cycle Around the World?
If you plan to wild camp and cook for yourself, you can realistically cycle around the world for just $10 per day or less. Keep in mind that unexpected costs such as bike repairs, visas and gear replacements do occur on trips that last a few years.
How long does it take to bike around the world?
How long have you got? Endurance athlete Mark Beaumont cycled around the world in 79 days. Legendary tourer Heinz Stücke has been cycling around the world for over 50 years!
What are the best bicycle touring destinations in the world?
Everyone will have their own favourite countries for cycle touring. Personally I love riding in Peru, Bolivia, Sudan, Malawi and of course Greece!
Bicycle Travel Blogs
Interested in reading about other people's experiences of bike travel? Take a look at these interviews I've had with others who have travelled around the world on a bicycle.
For a little fun inspiration: The 50 Best Bike Quotes