Taking a taxi from Kos Airport to Kefalos is the quickest and easiest way to travel. The summer bus is cheaper, but infrequent.
Ways To Travel Between Kos Airport And Kefalos
There are 4 ways ways to travel from Kos Airport (KGS) to Kefalos – Take a taxi or a bus, rent a car, or arrange a transfer with your hotel.
The distance from the arrivals area of Kos Airport to the centre of Kefalos Town is about 17 kms. If you are staying at one of the hotels near Kefalos beach such as Afentouli Studios (where I have previously stayed), the distance is a bit shorter.
When deciding if the bus is the best way for you to get from Kos airport to you destination in Kefalos, keep in mind that the bus may not be able to drop you near your hotel as they drive to a set route.
Related: Where is Kos
Kos Airport to Kefalos by Taxi
Most people will find that from all the transport options, taking a taxi from Kos Airport into Kefalos is the most convenient choice. The journey takes around 20 minutes depending on traffic.
It will be more expensive of course – about 25 – 35 Euro if you take it from the queue outside the arrivals area, and around 42 Euro if you pre-book it.
If you are traveling in the off-season, you can take a taxi from the queue. I would suggest setting a price with the driver before you leave so you have some indication of what the price may be.
In the summer, I'd say that pre-booking a taxi from Kos airport to your hotel in Kefalos is a better choice. While private transfers are more expensive, the price will be set when you book it, so there's no need to haggle for a price in the beating sun. In addition, your driver will be waiting for you when your flight lands, so you can get straight in the car with no waiting around, leaving you more beach time!
Check prices and re-book your taxi trip from Kos Airport here: Welcome Taxis
Bus from Kos Airport to Kefalos
At 2.50 Euro for a ticket, the bus is the cheapest way to travel between Kos Airport and Kefalos. The bus ride takes about 35 minutes.
The drawback, is that the buses are infrequent, and the schedules really only kick in for the peak summer months. Remember, the bus driver has to stick to a set route and schedule so they can't detour to the front door of your hotel the way a taxi can!
When I visited Kos in June, Vanessa had to fly back to Athens for a few days while we were staying in Kefalos. There were no suitable bus connections either to or from Kos Airport form Kefalos she could have taken so we ended up driving.
If you are lucky, you can get straight on a bus which will take you to Kefalos Town. If the Greek Gods aren't smiling that day, you may need to wait around at the airport.
You can check Kos Airport Keflos bus timetables here: KTEL Kos
Car Rental And Driving From Kos Airport
Kos is a reasonably big island, and if you want to explore it, you might want to hire a car at some point.
If that is the case, you could pick up a car rental at Kos Airport, and then drive yourself to your accommodation in Kefalos. Google maps works just fine, and the road is an easy one to follow.
You can check out this site for vehicles: Rental Cars
Hotel Transfers
If you haven't booked a place to stay in Kefalos yet, you could always choose somewhere that will arrange to pick you up from the airport.
A few bigger hotels might offer shuttle services, and sometimes smaller apartment owners may be willing to collect you from the airport.
I recommend Booking as a place to select and reserve your hotels: Booking
Related: Dodecanese Islands in Greece
Kos Airport Kefalos Town FAQ
Some of the most commonly asked questions readers have about getting from Kos airport to the Kefalos resort area include:
How far is Kefalos from airport?
The road distance to Kefalos town is just over 17kms from Kos Airport. Travel times for taxi and car trips are around 20 minutes.
Are there taxis at Kos airport?
There is a taxi queue outside of Kos airport located in front of the arrivals area.
What is the fastest way from Kos Airport to Kefalos
The quickest way to travel from Kos Airport is to pre-book a taxi so that it is waiting for you when you arrive by plane. Pre-booked drivers will direct you straight to their vehicle, avoiding all these queues that other passengers will have to wait in outside the airport.
Where is Kos in Greece?
Kos is a small Greek island located in the southeastern Aegean Sea. It lies between the Greek islands of Kalymnos and Nisyros, and just off the coast of Turkey.
Also read:
---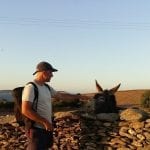 –
Dave Briggs
Dave is a
travel writer
originally from the UK who now lives in Greece. As well as creating on the best way to get from Kos Airport to Kefalos, he's written hundreds of other travel guides about cool destinations in Greece. Follow Dave on social media for travel inspiration from Greece and beyond: