There are up to 16 ferries a week sailing from Kos to Patmos during the summer season, and at least one ferry per day all the year around.
Kos Patmos Ferry Route
As Patmos does not have its own airport, some visitors from the UK and the rest of Europe like to fly into Kos airport, and then get a ferry from Kos to Patmos.
Both Patmos and Kos are popular destinations located in the Dodecanese island group in Greece, and travel between them is made easy thanks to the Greek ferry network.
Two ferry companies operate the Kos Patmos route – Blue Star Ferries and Dodekanisos Seaways.
While they may stop at other islands along the way, you don't have to change boats, making it a direct ferry connection. Just make sure you get off at the right island! (Don't worry, they announce which island you are arriving at in both Greek and English).
Travel times between Kos and Patmos by ferry vary depending on the ferry company and the type of vessel sailing that day. You can expect the ferry trip from Kos island to Patmos to anything between 2 hours and 15 minutes to 3 hours and 45 minutes.
You can check the latest timetables and prices for passengers at: Ferryscanner
Kos – Patmos Ferry Tickets
As these direct ferries are run by two different ferry operators, you would expect fares to be similar, but in fact Blue Star Ferries seem to offer the best price.
The cost of a ferry ticket for the crossing between Kos and Patmos in the Dodecanese group of islands starts at 20.00 Euro for a foot passenger. with Blue Star Ferries. Dodekanisos Seaways ticket prices are more expensive starting from 39. Euros.
Ferry tickets for both ferry companies who sail Kos to Patmos ferries can be bought online at: Ferryscanner
Kos Departure
The main ferry port of Kos is located on the waterfront of Kos Town. As this is the main town on the island, you might want to give yourself plenty of time to get through traffic to reach it.
Passengers are advised to be at the island's port at least a half an hour before departure if they already have tickets.
The distance from Kos to Patmos is 128 kilometres, and will take at least 2 hours and 15 minutes. While both conventional ferries and faster ferries offer at least snacks and beverages onboard, you may wish to take your own.
Related: Where is Kos?
Arriving in Patmos
The Port of Patmos is located in Skala, on the east side and more or less in the middle of the island. This is also where all ferries arrive and depart from. You can take a taxi to reach your final destination in Patmos, or take public transport such as buses that run regularly across the island.
If you are staying in the Chora of Patmos, you might be tempted to walk as it looks close on the map. Let me warn you that it is all uphill and not as close or as easy as it looks! If your hotel offers to pick you up, jump at the chance!
I recommend Booking for searching for and booking hotels in Patmos.
Visit Patmos Travel Tips
Patmos is a Greek island I've been fortunate to be able to have spent time on twice. While it is famous for the Cave of the Apocalypse (where St. John is said to have written the book of Revelation) and its other religious ties, it's a beautiful place for anyone looking for a quiet vacation spot with lots of outdoor activities.
Personally, I found the landscape and the beaches to be very evocative and beautiful. As a destination, Patmos probably undersells itself on just how good those beaches are!
While some people only spend a day on the island as part of a cruise stop, when island hopping in Greece, you have more freedom with your time. I would suggest that 2 or 3 days is about the right amount of time to spend in Patmos. Some of the highlights you can include on a sightseeing itinerary include:
Visiting the Monastery of Saint John the Theologian
Go to the Cave of the Apocalypse
Spend time wandering around the beautiful Chora
Photos by the windmills – but don't get blown over on a windy day!
Relax on the beaches – Particularly Psili Ammos!
Use the local hiking trails
Consider renting a car to get around Patmos – you'll see more and have more freedom than relying on the bus services.
Related: Where to eat in Patmos
Other Useful Greek Travel Posts
Kos Patmos Route FAQ
Readers who want to travel between the Dodecanese islands of Kos and Patmos often ask questions similar to:
How long is the ferry from Kos to Patmos?
The travel time for the Kos to Patmos crossing varies from 2 hours and 15 minutes all the way through to 3 hours and 45 minutes, depending on the type of vessel and time of year you sail.
How do you get to Patmos Island?
As Patmos does not have an airport, the only way to reach this Greek island is to take a ferry or by cruise ship. There are regular ferry connections from other Greek islands as well as Piraeus Port of Athens.
Is there a Kos to Patmos ferry in winter?
Ferry services between Kos and the island of Patmos sail all through the year, and there is at least one ferry a day making the journey through the winter months.
Where do ferries from Kos to Patmos leave from?
All the ferries departing Kos and heading to Patmos leave from the main port of Kos in Kos Town.
Which ferry companies sail between Kos and Patmos?
Ferries on the Kos Patmos routes are operated by Blue Star Ferries and Dodekanisos Seaways.
---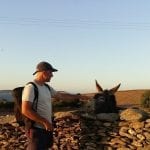 –
Dave Briggs
Dave is a
travel writer
from the UK who's been living in Athens Greece since 2015. As well as creating on how to travel between Kos and Patmos in Greece by ferry, he's created hundreds more guides about cool destinations in Greece. Follow Dave on social media for travel inspiration from Greece and beyond: