If you're planning an international trip, this ultimate packing checklist along with packing tips is essential reading!
Ultimate Packing List To Travel Abroad
When it comes to traveling internationally, we all do things slightly differently.
There are those who like to pack light, while others prefer to bring everything but the kitchen sink.
Some travelers are packing geniuses, while others… not so much.
But whether you're a seasoned world traveler or just getting ready for your first big trip abroad, there's one thing we can all agree on: packing is never fun. Well, I've never found it to be anyway!
To help make the packing process a little bit easier, we've put together this comprehensive international travel packing checklist.
This list includes everything you need to pack for an international trip, from the essentials like a passport and travel insurance, to the less obvious items like an adapter and a first-aid kit.
Related: How to plan a travel budget
Legal and Travel Documents
The first step to planning a stress free travel experience is to get paperwork in order. Let's take a look at some of the obvious and perhaps not so obvious travel documents you'll need to include on your overseas travel checklist for your trip:
Passport/visa(s)
Boarding pass/travel itinerary
Travel insurance policy and card
Driver's license (if you're planning on renting a car)
Credit cards and cash
Local currency
Birth certificate (for children under 18 in some cases)
Personal ID/Student ID
Hotel reservations
Other reservations and itineraries
Transportation tickets
Emergency contacts and important addresses
Copies of all these things in case you lose your wallet
There's also a few things to think about when it comes to your passport and visa:
Do you need to renew your passport?

Is it up-to-date and in good condition?

Do you need a visa for the country/countries you're visiting?

If so, have you applied for one and do you have all the required documents?
Make sure to check the expiration date on your passport and visa well in advance of your trip, as they can take some time to renew or process. You might find some additional tips here: How to plan the trip of a lifetime
Next, let's move on to what you need to pack in your carry-on bag and checked luggage…
Carry-On Bag Essentials
Whether you're flying long-haul or short-haul, there are certain things you should always pack in your carry-on bag.
These items include:
Change of clothes (I've had my checked baggage going missing for a few days before!)
Toiletries and medication (pack liquids in travel size containers)
Your passport and other travel documents
A sweater (in case the plane is cold)
A pen (for filling out customs forms)
Airplane Snacks like nuts or even sandwiches
Cell phone and charger + powerbank
Laptop
International power adapter/converter
Headphones
Travel pillow, eye mask and ear plugs
Travel Blanket
Pen (for filling out customs forms)
Books and magazines or kindle
Hand sanitizer and antibacterial wipes. Facemask
Empty water bottle (fill it up after going through security)
Your carry on bag should also be easily accessible so you can grab anything you need during the flight.
Related: Can you take a powerbank on a plane?
A backpack or shoulder bag is usually the best option as it leaves your hands free. Just make sure it's not too big or bulky as you'll need to be able to lift it into the overhead compartment.
Check your airline requirements as sometimes the size of a bag they will allow varies.
Related: Men's carry on packing list for Europe
Airplane Outfit
What you wear on the plane might differ. You'll need some things for long flights you might not necessarily need for shorter flights.
On long haul flights, people often like to wear comfortable clothing that they can easily sleep in.
This might be leggings and a sweatshirt or yoga pants and a t-shirt. If the air-con on flights or international bus rides affects you then it might be worth bringing a travel blanket to keep you warm.
On shorter flights, people tend to dress more for comfort than anything else as they're not usually trying to sleep.
This might be jeans and a t-shirt or shorts and a tank top. Here's some ideas of what to wear on your next trip in a plane:
T-shirt or tank top
Hiking trousers (love the extra pockets!)
Pants that stretch
Fleece or Sweater
Socks / compressions socks
Easy to remove shoes
Alternatively you heaviest shoes to reduce luggage weight
Security belt bag or crossbody belt
Glasses
Money belt (I recommend the ones that look like a regular belt with a zip on the inside so as to carry emergency cash. It's the perfect way to hide money when traveling.)
Related: Advantages and Disadvantages of Traveling by Plane
Toiletries
You might find it convenient to pack some of your toiletry items in your carry on luggage. For longer trips traveling abroad though, you'll probably want to pack it in your checked bag.
Personal hygiene items and other things to consider packing in your toiletry bag include:
Sunblock
Toothbrush, toothpaste, dental car items
Shower gel, shampoo, conditioner
Immodium, Nurofen, Dramamine
Small first aid kit
Tampons, pads
Razor
Hairbrush, hair ties
Makeup (keep it to a minimum!)
Deodorant
Mini perfume or cologne bottle
Lotion
Nail clippers, file, tweezers, nail polish remover
Face wash
Cotton balls, swabs
Hand sanitizer
Lip Balm
Tissues
Toilet paper
Checked Luggage
When it comes to what to pack in your checked luggage, you'll want to make sure you're not over packing and that everything is secure.
It's a good idea to use packing cubes to keep your clothes organized and compact. They also help to prevent wrinkles.
Related: Are packing cubes worth it?
You should also consider using a TSA-approved lock on your luggage as it will deter thieves and give you some peace of mind.
Whether or not you want a duffel bag, rolling suitcase or backpack will depend on your travel style.
Here's a list of things to pack in your checked travel bag:
T-Shirts, shirts, blouses
Fleece, sweaters
Activity pants
Shorts
Swimming clothes
Socks and underwear
Dress shoes
Hiking boots
Flip flops or sandals
Toiletries bag
Sunglasses
Hat or visor
Binoculars (if you're going on a safari or bird watching trip)
Small bag to put dirty clothes in
Makeup
If you wear makeup, then you'll need to consider what you'll need to keep your face looking fresh during your trip. The type of makeup you bring will depend on the climate and activities you have planned.
For example, if you're going to be spending time in the sun, you'll need to pack products that have SPF.
Here are some ideas of what to put in your makeup bag:
Foundation
Concealer
Powder
Bronzer
Blush
Eyeshadow
Eyeliner
Mascara
Lipstick or lip gloss
Makeup brushes
Baby Travel Packing List
Traveling with a baby can be a daunting task, but it doesn't have to be.
If you're organized and prepared, you can make it a smooth and enjoyable experience for everyone involved.
Here's a list of things you'll need to pack for your baby:
Diapers
Wipes
Diaper rash cream
Changing pad
Bibs
Burp cloths
Bottles or sippy cups
Formula or breast milk
Food and snacks
Baby food
Spoons and bowls
Toys and books
Clothes (onesies, shirts, pants, socks)
Stroller
Baby blankets
Favored toys, such as a stuffed animal
Thermometer and other health needs
International Travel Checklist
In addition to these items I recommend packing, you might also want to draw up a list of things to do in advance of your vacation.
This checklist will help make sure you don't forget anything important when you travel internationally.
– Get your passport and visa well in advance of your trip (at least 3 months)
– Make copies of all important documents including your passport, driver's license, etc.
– Notify credit card companies you are travelling abroad
– Research the best way to avoid or lower foreign transaction fees
– Purchase travel insurance
– Check the CDC website for health and safety recommendations for your destination
– Familiarize yourself with local customs and etiquette
– Learn some key phrases in the local language of you destination country
– See if it's better to activate roaming on your cell phone or buy a local sim card
Travel Hacks and Tips
I've spent 30 years traveling all over the world, and over that time have developed a few travel hacks that help me either save money or make life easier on the road.
Here are some of my favorites:
-Invest in a good quality carry-on bag: This will save you money in the long run as you won't have to pay to check a bag. Take a look at choosing the best digital nomad backpack
-Pack light: Not only will this make travel easier, but it will also save you money on baggage fees.
-Roll your clothes: This is a great way to save space in your suitcase.
-Wear your heaviest shoes: This will save you space and keep your clothes from getting wrinkled.
-Use a luggage tracker so you always know where your bags are.
-Pack an extra empty bag: This can be used to pack dirty clothes or souvenirs on the way home.
-Travel with a friend: This can save you money on accommodation as you can split the cost of a hotel room or Airbnb.
-Get travel insurance: This is one of the most important things you can do to protect yourself when traveling.
-Make use of loyalty programs: If you often travel for work, make sure to sign up for loyalty programs with airlines and hotels
-Take a look at Wise and Revolut to see if they are of any use to you
-Check out my other blog post on travel hacks for more tips!
Packing Travel Essentials
This is just a start, but hopefully it gives you an idea of what to put on your international travel packing checklist.
Of course, the items you'll need will vary depending on where you're going and what you'll be doing, but this should give you a good starting point.
Happy travels!
What travel essentials do you pack when planning a trip to exotic destinations? Let us know in the comments below!
Also read:
---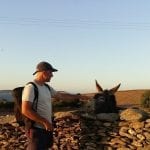 – Dave Briggs
Dave is a travel writer who's been blogging at Dave's Travel Pages since 2005. He's spent over 30 years traveling around the world, and created this international packing list guide to help other travelers. His goal is to visit every inhabited Greek island over the next few years!
Follow Dave on social media for travel inspiration from Greece and around the world: