The Naxos to Sifnos ferry takes just one hour and 35 minutes to make its journey, and during the summer, there is one late afternoon ferry per day. This guide has all the information you need to travel from Naxos to Sifnos island in Greece by ferry.
Sifnos island in Greece
Sifnos is a beautiful island that has sandy beaches and breathtaking views, and is the perfect destination for a relaxing vacation. This island has beautiful beaches, low-key nightlife, white Cycladic villages and amazing food!
The best thing about Sifnos island is its a great place to relax. It's not as touristic as many Greek islands (although it's a popular island with Greeks), but there's still enough local companies offering excursions and countless opportunities to fill your day with self-made itineraries if you get bored simply chilling on the beach!
How to get from Naxos to Sifnos
If you are planning to visit Sifnos island in Greece straight after Naxos and want the most convenient way to get there, you should know that there is a ferry Naxos to Sifnos every day.
During the the months of July, August, and September, you can expect up to 1 ferry per day in the afternoon from Naxos to Sifnos.
These ferries to Sifnos from Naxos are operated by the ferry company Seajets.
Find the Naxos Sifnos ferry time and best prices at Ferryscanner
Naxos Sifnos Ferry Route
The journey time by ferry from Naxos going to Sifnos takes around 1 hour and 35 minutes, and the ferry normally departs Naxos late in the afternoon sometime after 17.00.
You should be aware that the SeaJets ferry from Naxos to Sifnos isn't exactly a cheap one though.
You can expect to pay around 99 Euros passenger tickets on this direct route in 2022. That's up considerably from the 62.00 Euro as a foot passenger paid in 2021!
The easiest way to book ferry tickets online and to check timetables is by using Ferryscanner.
Sifnos Island Travel Tips
A few travel tips for visiting Sifnos island:
Ferry services depart from the port in Naxos Town (Chora) in Naxos. Aim to be at the ferry port at least a half hour before departure if you already have an e ticket. If you are buying a ticket for the Naxos to Sifnos route at the port, get there an hour before the crossing leaves.
---
Arriving ferries dock at Kamari port in Sifnos.
---
For hotels in Sifnos, I suggest looking at Booking. They have a great range of apartments in Sifnos and areas to consider staying include Platis Gialos, Apollonia, and Kamares. If you are traveling to Sifnos in the height of summer, I advise reserving accommodation in Sifnos a month or so in advance.
---
Beach lovers recommend these beaches in Sifnos: Vathy, Herronisos, Platis Gialos, Seralia, Apokofto, Gialos, and Kamares.
---
Ferryscanner is perhaps the easiest site to use when it comes to booking Ferry tickets online. Although I recommend you book your Naxos to Sifnos ferry tickets in advance, especially during the busy summer months.
---
---
---
How to make the trip from Naxos to Sifnos FAQ
Questions that people ask about planning trips and traveling to Sifnos from Naxos include:
How can I get to Sifnos from Naxos?
If you want to get from Naxos to Sifnos the best way is to take a ferry. There is at least 1 ferry per day in the afternoon sailing to the Cyclades island of Sifnos from Naxos.
Is there an airport on Sifnos?
The island of Sifnos does not have an airport. The closest island to Sifnos with an airport is either Milos or Paros.
How long is the ferry ride from Naxos to Sifnos?
The ferries to the Greek island of Sifnos from Naxos take around 1 hour and 35 minutes. Ferry operators on the Naxos Sifnos route may include Seajets.
Where can I buy tickets for the ferry to Sifnos?
One of the best places to look at ferry schedules and to book tickets online is at Ferryhopper. Although I recommend you book your Naxos to Sifnos ferry tickets in advance, you might also go to a travel agency in Greece after you arrive.
Ferry Naxos Sifnos final thoughts
If you're looking for how to travel between the Cycladic islands of Naxos and Sifnos, the ferry is the only way to go. With departures every day of the week, journey times are short making it a good next destination when Greek island hopping in the Cyclades islands. Keep in mind though that tickets can be on the pricier side, so it's best to book early! For more information about traveling between these two Greek islands, check out our other blog posts or subscribe to our newsletter.
---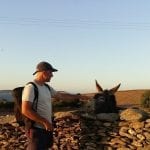 –
Dave Briggs
Dave is a
travel writer
based in Greece As well as writing this travel guide about ferries from Naxos to Sifnos, he's also written many more travel blogs about popular destinations in Greece. Follow Dave on social media for travel inspiration from Greece and beyond: