Do you want to go Greek island hopping from Naxos island? This guide to ferries from Naxos to other islands in the Cyclades in Greece shows you how.
Island-hopping from Naxos, Greece
Naxos is one of the best islands in the Cyclades to either begin or continue a Greek island hopping adventure. With excellent connections to most of the other islands in the Cyclades chain, you can pretty much get anywhere within a few hours by ferry.
Whether you want to use Naxos as a gateway into the Lesser Cyclades (Schinoussa, Iraklia, Donoussa and Koufonisia), or to continue on to a more well known island such as Paros, Ios or Mykonos, Naxos has ferry connections day and night.
Exploring the Lesser Cyclades from Naxos
If you're looking for off the beaten path travels in Greece, the Lesser or Small Cyclades group are a good choice. As the name suggests, these are the small islands close by to Naxos which are Schinoussa, Iraklia, Donoussa and Koufonisia.
The Lesser Cyclades are perfect for anyone looking to get away from mass tourism and the noisy party scene. Each of these islands has a population of less than 200 people, and life is laid back and quiet.
In fact, I loved Schinoussa and Iraklia so much I helped co-write a book about them! You can find it on Amazon here: Schinoussa and Iraklia in Greece: Greek Islands Travel Guide.
The Lesser Cyclades islands are connected to Naxos by ferry from the 'big boys' such as SeaJets, but it's the legendary 'Express Skopelitis' ferry you should experience at least once. They also connect Naxos with Amorgos.
Popular islands to visit after Naxos
If the Lesser Cyclades islands don't appeal, then there are other bigger name destinations you can easily reach after Naxos island. Paros is the obvious choice, along with Ios, Folegandros, Amorgos and Mykonos.
I've got some related travel guides here to these destinations you might like to check out:
Ferries from Naxos Island
When it comes to booking Greek ferry tickets, there are two choices. The first, is to book ferries online at a site such as Ferryhopper. This is the site I use myself when I book ferry tickets to the Greek islands, and it's a super-simple site to navigate and put together trips on.
The second option, is to wait until you are in Greece, and use a local travel or ticket agency. This might appeal if you prefer the flexibility of making your mind up which island to visit next just a day or two in advance.
Keep in mind that tickets on popular routes can sell out in the peak travel month of August. Don't leave getting hold of your tickets until the last minute!
How to get from Naxos to other Greek islands
Here's my dedicated travel guides on getting from Naxos to other destinations in the Cyclades:
How to get from Naxos to Thirasia
Note: As might perhaps be expected, the faster ferry crossings are also normally more expensive. The easiest way to book ferry tickets online is by using Ferryhopper.
Naxos Island Hopping Tips
A few travel tips when taking ferries from Naxos:
---
---
---
---
---
Island Hopping From Naxos FAQ
A few common question about traveling to other Greek islands in the Cyclades from Naxos include:
How can we get to other Greek islands in the Cyclades from Naxos?
The only way to travel to other islands from Naxos in Greece is by ferry. There are dozens of Greek ferry companies, but the most commonly used ones from Naxos are Express Skopelitis, Blue Star Ferries, SeaJets, and Zante Ferries.
Can I fly from Naxos to other Greek islands in the Cyclades?
Although Naxos has an airport, it is not possible to fly to other Greek islands. Currently, the airport in Naxos only connects with the main airport in Athens.
How can I buy tickets for the ferry to other Greek islands in the Cyclades?
Ferryhopper is perhaps the easiest site to use when it comes to booking Ferry tickets online. Although I think it's better to book your Naxos to other Greek islands in the Cyclades ferry tickets in advance, you could also use a local travel agency in Greece.
---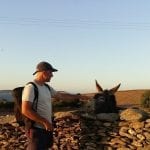 –
Dave Briggs
Dave is a
travel writer
from the UK but living in Greece since 2015. As well as creating this guide to ferries from Naxos to other Greek islands in the Cyclades, he's created many other Greek island travel guides. Follow Dave on social media for travel inspiration from Greece and beyond: