Escape the bars and clubs on a half-day authentic tour of Mykonos island in Greece. See a more real side to cosmopolitan Mykonos in the company of an expert guide.
Mykonos is a beautiful place to visit. It's got wonderful beaches, stunning views, great shops and restaurants. But if you want an authentic experience away from the tourist crowds then you need a local guide showing you the way!
Uncover the REAL Mykonos hidden treasures!
Discover the authentic side of Mykonos
Visit remote villages and hidden harbors
Explore secret beaches in a half-day tour
See more of Mykonos than most tourists do
Click here now to book this Authentic Mykonos Tour with Get Your Guide
Mykonos Authentic Experience
Discover the authentic side of Mykonos on a unique half-day island tour. You'll first head to the port to see where St Ioannis lived and what he did before the drive up to the lovely village of Ano Mera, passing local farms along the way.
You'll take a stop at the Mykonian Spiti Farm to learn a little more about some of the local traditions on the island and of Greece, as well as seeing some of the animals on the farm. This makes it a great tour if you have kids!
After the farm stop, it's on to the famous Panagia Tourliani monastery which dominates the village square. There's also an open air market just opposite where farmers sell the fresh fruits and vegetables as well as other local produce.
Feeling energised after a light lunch, the tour of Mykonos continues on to some of the lesser known beaches in Mykonos such as Kalafati, Kalo Livadi, and Agia Anna.
Finally, after seeing some abandoned mines and reaching a view point, you'll get the opportunity to take the perfect photo of Mykonos Town before the tour finishes.
Click here now to book this Authentic Mykonos Tour with Get Your Guide
Why book this tour in Mykonos
This is a wonderful opportunity for anyone who wants to get off the beaten path and explore some beautiful scenery without having to worry about getting lost or not understanding what's going on. Local guides are knowledgeable, friendly, and always willing to answer questions!
Perfect tour of Mykonos for anyone with limited time on the island, for example if you are on a cruise stop in Mykonos, have just a few days, or want to see parts of the island you can't reach without a car.
Tour includes – Pick-up and drop off (hotel, cruise ship terminal etc.), Transportation, Guide
Click here now to book this Authentic Mykonos Tour with Get Your Guide
More Things To Do In Mykonos
Looking for more ways to spend your time in Mykonos and get the maximum experience during your stay? These travel guides and itineraries on what to do in Mykonos are an essential read:
Related: Authentic Travel Experiences vs Modern Convenience
---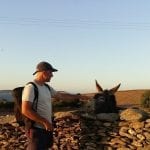 –
Dave Briggs
Dave is a
travel writer
originally from the UK, and now living in Greece. As well as writing this post about a great way to see an authentic side to the Greek island of Mykonos, he's written many more travel blog posts about destinations in Greece. Follow Dave on social media for travel inspiration from Greece and beyond: