There are currently no direct ferry connections between the islands of Naxos and Serifos. In order to travel between the two, you would need to first get a ferry to Sifnos. This guide explains how in easy to follow detail.
How to get from Naxos to Serifos
Considering that the Greek islands of Naxos and Serifos are relatively close together in the Cyclades, it may come as a surprise that there are no direct ferries from Naxos to Serifos.
This means that if you need to go to Serifos directly after Naxos, you'll have to travel to another island, swap ferries, and continue on to Serifos.
The best islands to do this via are Paros, Syros, and Sifnos, but even then it is not possible to make this connection every day of the week.
An extreme option, would be to take a ferry all the way back to Piraeus Port in Athens, swap boats, and sail from Athens to Serifos. Of course, this takes much longer – perhaps 12 hours or more!
Unfortunately, these are your only real options if you absolutely have to get to Serifos after Naxos. It's just one of those things, I'm afraid. Welcome to Greece!
If I had to make this journey, I would prefer to take a ferry from Naxos to Sifnos, and then Sifnos to Serifos. This option is only available a few times a week, but it's quick at just under 4 hours.
I recommend Ferryhopper as a place to look at available schedules and to book tickets online.
Serifos Island Travel Tips
A few travel tips for visiting the island of Serifos:
---
---
---
---
How to travel from Naxos to Serifos FAQ
A few of the questions readers ask about traveling to Serifos from Naxos include:
How do you get to Serifos from Naxos?
The only way to make the trip from Naxos to Serifos is to go via another island first such as Sifnos or Paros. There are no direct ferries sailing to Serifos from Naxos.
Is there an airport on Serifos?
The Cyclades island of Serifos does not have its own airport. The closest island with an airport to Serifos is Paros or Syros.
How long is the ferry ride from Naxos to Serifos?
With no direct ferries going to the Greek island of Serifos from Naxos, it is hard to calculate the exact travel time. If connections line up perfectly, it could be 6 hours or less. In the worst case, you may need to stay over night on Sifnos or Paros.
Where can I buy tickets for the ferry to Serifos?
One of the best places to look at ferry schedules and to book tickets online is at Ferryhopper. Although I suggest you book your Naxos to Serifos ferry tickets in advance, you might also go to a travel agency in Greece after you arrive.
---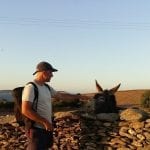 –
Dave Briggs
Dave is a
travel writer
originally from the UK, and now living in Greece. In addition to creating this travel guide to ferries from Naxos to Serifos, he's created many other Greek island travel guides. Follow Dave on social media for travel inspiration from Greece and beyond: