The ferry crossing from Rhodes to Kastellorizo takes around 5 hours depending on the ferry type, and there are year around sailings.
Rhodes Kastellorizo Ferry Route
The island of Kastellorizo (sometimes spelt with one 'l' Kastelorizo), is a true hidden gem in Greece. Tucked away just off the coast of Turkey, this tiny Greek island is one of the Dodecanese islands and feel like perhaps the remotest part of Greece.
With its pastel-colored houses and crystal-clear waters, it is extremely photogenic, and an interesting destination to add to a Greek island hopping itinerary.
The easiest way to reach Kastellorizo is to take a ferry from Rhodes. Even during the winter there are regular ferry connections, and during the busy summer tourist season, there are 8 or more ferry crossings on the Rhodes Kastellorizo route every week.
You can see up to date latest ferry schedules for the Rhodes – Kastellorizo ferry trip at: Ferryscanner
Ferries from Rhodes to Kastellorizo
There are three ferry companies that operate the route from Rhodes to Kastelorizo – Blue Star Ferries, Saos Anes, and Dodekanisos Seaways.
During the high season (June-September), there are over 8 scheduled crossings per week. Ferries sail everyday apart from Saturdays.
During the low season (October-May), there are six crossings per week. Ferries sail from Rhodes to Kastellorizo every day apart from Thursday and Saturday during this time.
It is important to note that depending on the ferry company and type of vessel, the journey duration can range from 4.5 hours to 5 hours.
In terms of the cost of ferry tickets from Rhodes to Kastelorizo, they range up to €39.00. Ticket prices can vary depending on the time of the year and which ferry operator you choose.
Check out the latest ferry timetables and schedules at: Ferryscanner
Kastellorizo Island Travel Tips
A few travel tips for visiting the island of Kastellorizo by ferry:
Ferries depart from the main port of Rhodes, at Rhodes Town. Try to be at the port at least a half an hour before the ferry is due to sail to Kastellorizo. Summer traffic in Rhodes can be quite busy in the summer, so factor in time for delays.
---
Using Welcome you can pre-book taxis to collect you form your Rhodes hotel and drop take you to the port.
---
Booking is a great website to start looking for hotels in Kastellorizo.
---
Ferryscanner is a one-stop shop for looking at ferry routes and buying tickets for the Rhodes to Kastellorizo ferry crossing.
---
---
Traveling from Rhodes to Kastelorizo by ferry is an excellent way to experience the beauty of the Aegean Sea while exploring one of Greece's hidden gems. With multiple ferry companies operating the route, there are plenty of options to choose from when it comes to journey duration, fares, and types of vessels.
I highly recommend booking your tickets in advance and keeping an eye on the weather conditions to ensure a smooth and enjoyable journey to Kastelorizo.
Rhodes to Kastelorizo Ferry FAQ
Some of the most commonly asked questions and answers that might help you plan a ferry ride include:
How long does the ferry ride from Rhodes to Kastellorizo take?
The ferry crossing takes around 4.5 to 5 hours, depending on the type of vessel and ferry company.
What are the departure times for ferries between Rhodes and Kastelleorizo?
During summer season (June-September) there are over 8 scheduled crossings per week, departing every day except Saturdays.
Are advance tickets necessary for the Rhodes – Kastelorizo route?
It is recommended that you book your tickets in advance as seat availability may be limited depending on the time of year or peak holiday periods. You can book tickets online through Ferryscanner.
Are there any other tips for traveling to Kastelleorizo by ferry?
Yes, a few travel tips include: being at the port in Rhodes at least half an hour before departure; pre-booking taxis to collect you from your hotel; and booking hotels in advance.
---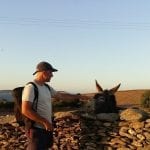 – Dave Briggs
Dave is a travel writer who's been living in Greece since 2015. He's spent many months island hopping in Greece researching blog posts such as this one on how to travel from Rhodes to Kastelorizo. His goal is to visit every inhabited Greek island – there's over 220 of them so it's an ongoing project!
Follow Dave on social media for travel inspiration and Greece island hopping tips: