The most popular islands near Rhodes you can take a ferry to include Symi, Halki, Tilos, Karpathos, Kastelorizo, and Kos.
Want to put together your own Greek Odyssey by traveling to more islands after spending time in Rhodes? This guide will show you which islands close to Rhodes you can reach by ferry. Includes a few insights from my own experiences Greek island hopping in the Dodecanese you might find useful.
Ferry Connections from Rhodes to other Greek Islands
The Greek island of Rhodes is a popular destination for summer holidays. As one of the largest islands in Greece, it has plenty of activities, historic sites and beautiful beaches.
Rhodes also makes a good start or end point for a Greek island hopping adventure. It has many ferry connections to other islands in the Dodecanese chain, and is also connected by ferry to Crete, and some Cyclades islands.
Typically, travelers will tend to travel by ferry from Rhodes in Greece to islands close by. Symi is a popular island to take a ferry to from Rhodes for example, along with other nearby islands like Halki and Tilos.
Closer islands to Rhodes tend to have more ferry connections, but you can also reach further away Greek islands such as Kos, Karpathos and Kastelorizo.
Check ferry timetables and ticket prices at: Ferryscanner
List of Islands To Visit From Rhodes By Ferry
Most ferries leaving from Rhodes island in Greece depart from the main ferry port in Rhodes. You can reach the following islands from Rhodes by taking a ferry:
Amorgos (Katapola Port)
Arkyi (Also spelt Arki, Arkioi, Arkoi, and Arki!)
Chalki (Also spelt Halki. Departs sometimes from Rhodes main port and also Skala Kameiros)
Crete (Heraklion and Sitia ports)
Ikaria (Ag.Kirikos and Fourni ports)
Kasos
Leros
Lipsi
Samos (Pythagorio and Vathi ports)
Tilos
Check ferry schedules and book ferry tickets online at: Ferryscanner
Note, at one time direct ferries from Rhodes to Milos may have been running. At least for 2023, that is no longer the case. Rhodes also has ferries to and from Piraeus Port of Athens and Bodrum and Marmaris in Turkey.
Choosing which islands to visit after Rhodes by ferry
This depends very much on what type of Greek vacation you are after. Some people have very specific places in mind that they want to visit, and so for example will want to go to Patmos or Santorini after Rhodes regardless.
Others who want to put a Greek island hopping trip together would be better looking at ferry routes to other nearby Dodecanese islands. Here's a look at some of the islands I think are ideal to visit next after Rhodes:
Symi
Symi is a charming island located near Rhodes, easily accessible by ferry. The island boasts gorgeous architecture, stunning beaches, and hiking trails where visitors can explore the natural beauty of the Aegean Sea.
At the harbor, you can find traditional boats and restaurants serving fresh seafood and local wine. This peaceful and picturesque island is perfect for those looking to escape crowded tourist hubs.
Note that you can also visit Symi as a day trip from Rhodes.
Halki
Halki is a secluded island located close to Rhodes and best reached by local ferry from Kamiros Skala port. The island is known for its breathtaking beaches, crystal clear waters, and traditional architecture
Visitors can explore the charming fishing boats, taste local delicacies, and take in the authentic Greek vibe. Halki's tranquility and beauty make it an ideal destination for those eager to unwind and relax.
This is another island that can just about be visited as a day trip from Rhodes, but it's best to spend a night or two.
Tilos
Located in the Dodecanese island group, Tilos is an off-the-beaten-path island that takes around 3.5 hours on average to reach by ferry from Rhodes. The island is known for its unspoiled and pristine nature, where visitors can revel in the stunning beaches, clear waters, and traditional villages.
Tilos is a haven for hikers who can explore its rugged terrain and hidden gems, such as ancient ruins and abandoned castles. It's an ideal island for nature and ancient history enthusiasts who want to avoid the crowds.
Karpathos
Karpathos is the second-largest island in the Dodecanese and there are regular ferries from Rhodes. The island is famous for its breathtaking scenery, hidden beaches, and traditional villages. Its impressive landscape, that includes mountain ranges and valleys, attracts hikers and nature lovers from various corners of the world.
Karpathos is also home to unique cultural traditions, with a great variety in local cuisine. It's a big island, so you might want to rent a car to get around to see more – oh, and spend a few days there, preferably a week!
Related: What you need to know about renting a car in Greece
Kasos
Kasos, located south of Rhodes, is a secluded island accessible by ferry. The island is known for its picturesque beaches, charming villages and traditional way of life.
Visitors can explore the island's natural beauty, including its traditional architecture and fresh sea-food. Kasos is perfect for those looking to delve deeper into local Greek culture in a genuine, off-the-beaten-path destination.
Kastelorizo
Kastelorizo, also known as Megisti, is a small island situated in the Aegean Sea and is accessible by ferry. The island is famous for its stunning coastline, colorful architecture, and traditional fishing village charm.
Visitors can explore ancient ruins, hidden beaches and enjoy authentic Greek cuisine. Kastelorizo is a perfect spot for a relaxing and peaceful holiday, with day trips available to the nearby Blue Cave and Turkish coast.
Kos
Kos is a vibrant and popular island located in the Dodecanese. There are regular ferry trips from Rhodes.
Kos is an ideal destination for those eager to enjoy stunning beaches, ancient ruins, and lively nightlife. Visitors can lounge on the island's beaches, explore ancient ruins, and revel in the island's vibrant towns and villages.
Kos is an ideal island for those who want a bit of both relaxation and entertainment on their holiday.
Nisyros
Nisyros is another off-the-beaten-path island located southwest of Kos and is accessible by ferry. Known for its impressive volcanic landscape, a trip to the volcano itself is one that you will remember for many years to come.
I found it to be a real highlight of island hopping in the Dodecanese!
Kalymnos
The island is known for its strong cultural heritage, as well as outdoor activities such as rock climbing, hiking and diving.
Traditional climbing was born on the island and modern versions of the century-old tradition can be found here. The island's beautiful coastline offers perfect conditions for water sports such as windsurfing, kayaking and paddleboarding.
FAQ About Ferry Trips From Rhodes
Some of the most commonly asked questions people have when planning to travel from Rhodes to another island nearby include:
Is there a ferry from Rhodes to Mykonos?
There is no direct ferry service from Rhodes to Mykonos. However, you can take a ferry from Rhodes to the port of Piraeus and then take another ferry from Piraeus to Mykonos.
Where is the ferry port in Rhodes?
The main ferry port in Rhodes is located on the northern part of the island in Rhodes Town. It is easily accessible and provides regular ferry services to various destinations in Greece as well as Turkey.
Which islands are closest to Rhodes?
The closest islands to Rhodes are those of the Dodecanese such as Halki, Tilos, Symi, and Karpathos. These islands all have ferry connections with Rhodes.
What islands can you get to by ferry from Rhodes?
You can take ferries from Rhodes to many of the Greek islands, such as Karpathos, Kasos, Kastelorizo, Kos, Nisyros and Kalymnos.
---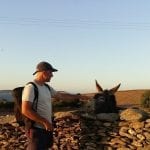 –
Dave Briggs
Dave is a
travel writer
originally from the UK, and now lives in Athens Greece. As well as creating this guide to islands near Rhodes you can get to by ferry, he's written many more blog posts about hundreds more destinations in Greece. Follow Dave on social media for more Greece travel insights: