Rhodes is one of the most popular holiday destinations in Greece and has so much to offer in terms of beauty and history. If you're planning a holiday to the island of Rhodes, this travel guide should help you.
Holiday in Rhodes
Rhodes is a popular tourist destination, thanks to its stunning beaches, fascinating architecture and delicious food. It's part of the Dodecanese, one of the southern most island groups in Greece. You can expect lots of warm weather as a result!
Related: Best time to visit Rhodes
If you are planning a trip or holiday to this beautiful place, here are some brief ideas of some of the highlights of Rhodes.
Where to stay in Rhodes
There are 43 towns and villages on Rhodes, and the capital city has a population of over 50,000 people. Rhodes has some of the best hotels in Greece, but there's tens of thousands of hotels in Rhodes to choose from. So your first step is to work out what area to stay in.
Rhodes main Town is a good choice for first time visitors to the island. From here, it's easy to explore the highlights of Old Town Rhodes and appreciate its fascinating history. You're also near all public transport options to get you to other places around the island.
Related: How to get from Rhodes Airport to Rhodes Town
Other areas to consider: Lindos is the second most popular destination on the island after Rhodes Town. Kallithea Beach and Faliraki are great for nightlife, while Kolymbia, Stegna, Haraki and Kalathos are perfect for couples and families.
Pefkos is a good choice for families, while Lardos is perfect for those looking for a pretty village close to the beach. Ixia/Ialyssos offers some of the best beaches on Rhodes.
Also read:
Hotels In Rhodes Map
Use the interactive map below to zoom in and out to discover accommodation on the Greek island of Rhodes along with prices.
Day Trips in Rhodes
Taking an organized tour can be a good way of solving your transport problems and getting you to places of interest with a knowledgeable local guide. Very useful for going to archaeological sites in Rhodes and off the beaten path beaches!
Some of the best day trips in Rhodes include:
Rhodes Town
The capital of the island, Rhodes town is a popular tourists destination thanks to its ancient and interesting architecture. The central Medieval Rhodes town has been designated as a UNESCO World Heritage Site – one of 18 in Greece.
Keep an eye out for the Arionos Square Turkish bath. The hammam-spa at Arionos Square provided massages as well as head-to-toe cleansings. The inside of the building is off limits to the public, but you may still look around the outside.
There are also many shops, restaurants and cafes in the area, providing you with some nice sightseeing opportunities. Rhodes Old Town and medieval castle is definitely one of best places to visit on holiday in Rhodes.
Palace of the Grand Master
The Grand Master's Palace of the Knights of St. John is located at the end of the Street of the Knights, a scenic Medieval street in the world.
The Palace was built during the 14th century under rule of Grand Master H. de Villeneuve and served as a residence for him and as an administrative seat for the Order.
After being occupied by Ottomans in 1522, it lost its importance and was mainly used as a prison until 1865 when it exploded due to an arsenal nearby.
The most important halls were located on the first floor, like the Great Council Chamber and Margaritae (private quarters of the Grand Master).
Controversial restoration works were carried out during Italian occupation in 1937.
Also read: What is Rhodes known for
The Lindos Acropolis
The archaeological site of the Lindos Acropolis is located on the island of Rhodes and contains ruins from various time periods.
The most important monuments are found at the Acropolis, but there are also interesting ruins scattered at various points within the town and just outside it.
A cobbled road leads up to the Acropolis, where visitors can find a small number of towers, an ancient triimolia carved in rock, and two Crusader buildings (the Governors Palace and church of Agios loannis).
There are also vaulted constructions supporting a man-made terrace (the "andiro") in front of the Hellenistic stoa. This stoa was built in the shape of Greek letter fl with protruding wings each with a frontage of four columns. It was 88 m long, 9 m wide, and had 42 columns.
The terrace was later laid out and two underground cisterns were constructed to collect rainwater from the roof of the stoa and from steps leading up to Propylaea – another stoa structure in same shape as Lindia Athena Temple which still has its votive altar inside.
Kallithea Springs
Kalithea is a popular tourist destination located on the north-eastern coast of Rhodos island.
The area is known for its thermal springs and beautiful white buildings, including the Thermal Baths.
Kalithea is accessible by public transportation and features numerous coves and bays.
The main building of the Thermal Baths is now used as a venue for weddings and other events.
Filerimos Monastery
Filerimos Monastery is an important archeological site; here once stood the Acropolis of the ancient town of Ialyssos with an important temple dedicated to Athena Polias.
The monastery was destroyed by the Turks and rebuilt in the '20s by Italians.
Today, it remains almost unchanged with a long stair in the entrance leading up to cypresses and bougainvillea.
The Early Christian basilica and small subterranean Byzantine church are open to visitors.
The Filerimos Monastery is a well-known Christian site that was originally dedicated to Vergin Mary.
The icon of the Virgin of Filerimos was brought to Rhodes in the 13th century and has been housed in various locations since then.
Beaches in Rhodes
Kalathos beach is a long and extensive beach located on the south-eastern coast of the island, just under 50 km from the town center and less than 5 km from Lindos.
Fourni Beach Rhodos is a quiet, isolated, sand and pebbles beach with fine white sand located at about 78 km from the town of Rhodes on the south-western part of the island.
Ammoudes (Faliraki) is located at the northern part of Faliraki bay near some of Rhodos' biggest hotels. The beach is well organized with watersports and plenty of sun loungers.
Tsambika Beach is an 800 meters long Blue Flag awarded beach situated on southern end if Pefkos bay at about 26 km from Rhodes town center. It has fine pure gold sand gently shelving into crystal clear water..
Lardos Main Beach lies in front if Lardis village 3km to th south if Linds on an area o pure lava sand .It has all necessary facilities for tourists .The Anthony Quinn Bay offers outstanding natural surroundings where used as main scenery for Hollywood epic The Guns Of Navarone
Onward Travel From Rhodes
You can travel to most of the Dodecanese islands from Rhodes by ferry. You can check ferry schedules and timetables at: Ferryscanner
Some popular ferry routes from Rhodes are:
Rhodes Island Greece FAQ
Some of the most commonly asked questions people have when researching holidays in Rhodes include:
Is Rhodes a nice Greek island?
Rhodes is one of the best Greek islands for cultural sightseeing, beaches and nightlife. The Old Town of Rhodes is an amazing place to explore and the medieval architecture is surreal.
What is Rhodes Greece known for?
In antiquity, Rhodes was known for the Colossus bronze statue, which was one of the seven wonders of the world. Rhodes today is known as one of Greece's beautiful islands with fantastic beaches, and a incredible medieval city.
Is Rhodes a pretty island?
Rhodes is one of Greece's most beautiful islands, notably known for its ancient ruins and beautiful beaches. It is the largest of the Dodecanese Islands, and it is particularly famous as once being the home of the Colossus of Rhodes.
How do you get to Rhodes island from Greece?
There is an international airport on Rhodes which also has domestic flight connections with other cities in Greece. In addition, you can get to Rhodes from other islands and from Athens by ferry.
---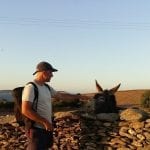 –
Dave Briggs
Dave is a
travel writer
based in Athens, Greece. In addition to writing this blog about Rhodes island in Greece, he's written many more travel blog posts about destinations in Greece. Follow Dave on social media for travel inspiration from Greece and beyond: