A collection of cycling quotes for inspiration and reflection. Cycling is often thought of as a metaphor for life, and these quotes prove just that.
Bicycle Quotes
The aim of putting together these cycling quotes is twofold. Firstly, I hope that they will inspire people to cycle more. Secondly, that they might perhaps start some reflections on life in general.
Indeed the act of cycling has often been thought of as a metaphor for life. To me, it's more than that though, especially when it comes to bicycle touring.
There is an almost Zen-like quality to bicycle touring, where the journey by bike is just as important, if not more so, than the destination.
There is space to clear your head. Time enough to get back that healthy balance of mind and body the modern age seems determined to upset. A feeling of satisfaction and accomplishment.
These cycling quotes come from household names, philosophers, thinkers and adventurers. I hope you find them as inspiring as I do.
And remember, in the words of John F. Kennedy – "Nothing compares to the simple pleasure of riding a bike."
Inspiring Cycling Quotes
"Life is like a ten speed bicycle. Most of us have gears we never use." ~ Charles M. Schulz
---
"Ride as much or as little, or as long or as short as you feel. But ride." ~ Eddy Merckx
---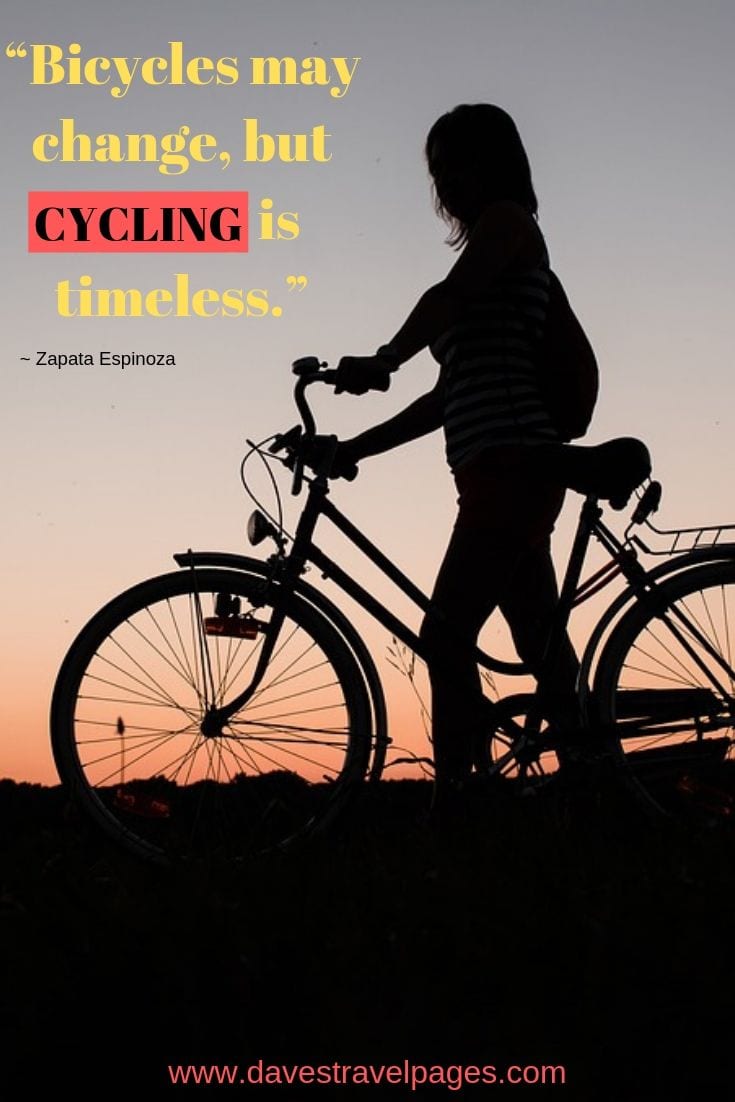 "Bicycles may change, but cycling is timeless." ~ Zapata Espinoza
---
"The bicycle is the noblest invention of mankind." ~ William Saroyan Nobel prize winner
---
You never have the wind with you — either it is against you or you're having a good day. ~ Daniel Behrman The man who loved bicycles; the memoirs of an autophobe
---
On my tenth birthday a bicycle and an atlas coincided as presents and a few days later I decided to cycle to India. ~ Dervla Murphy Full Tilt: Ireland to India with a Bicycle
---
"Every time I see an adult on a bicycle I no longer despair for the future of the human race." ~ H.G. Wells
---
"There is nothing, absolutely nothing, quite so worthwhile as simply messing about on bicycles." ~ Tom Kunich
---
"Life may not be about your bike, but it sure can help you get through it." ~ Hallman
---
Quotes about Cycling
"Think of bicycles as rideable art that can just about save the world." ~ Grant Petersen
---
"It never gets easier, you just go faster." ~ Greg LeMond
---
"It's the first machine we master as children and the one we abandon when the seductions of the automobile take over." ~Colman Mc Cartly
---
"Get a bicycle. You will certainly not regret it, if you live." ~ Mark Twain
---
"Like dogs, bicycles are social catalysts that attract a superior category of people." ~ Chip Brown
---
"Cyclers see considerable more of this beautiful world than any other class of citizens. A good bicycle, well applied, will cure most ills this flesh is heir to." ~ Dr. K. K. Doty
---
"If constellations had been named in the 20th century, I suppose we would see bicycles." ~ Carl Sagan
---
"A bicycle ride around the world begins with a single pedal stroke." ~ Scott Stoll
---
"A bicycle ride is a flight from sadness." ~ James E. Starrs
---
"The advantages? Exercise, no parking problems, gas prices, it's fun. An automobile is expensive. You have to find a place to park and it's not fun. So why not ride a bicycle? I recommend it." ~ Stephen G. Breyer
---
"Cycle tracks will abound in Utopia." ~ H.G. Wells
---
Best bicycle quotes
"The bicycle is just as good company as most husbands and, when it gets old and shabby, a woman can dispose of it and get a new one without shocking the entire community." ~ Ann Strong
---
"The bicycle is a curious vehicle. Its passenger is its engine." ~ John Howard
---
"Bicycles have no walls." ~ Paul Cornish
---
"When the spirits are low, when the day appears dark, when work becomes monotonous, when hope hardly seems worth having, just mount a bicycle and go out for a spin down the road, without thought on anything but the ride you are taking." – Sir Arthur Conan Doyle
---
I hope you enjoyed these cycling quotes, and if you have come across any yourself that you think may make a good addition, then just leave it in the comment box below.
More Travel Quotes