There are 15 main Dodecanese islands in Greece, with the most popular islands being Rhodes, Kos, and Patmos.
Dodecanese Island Hopping Itinerary
The Dodecanese island chain in Greece is one of the best areas of Greece to go on an island hopping adventure.
With 15 main islands to choose from, (yes, I know the name would indicate 12 – more on this later), you can put together an island hopping itinerary for a week, a month, or longer.
I've visited this part of Greece many times, with my most recent Greek island hopping trip in the Dodecanese being in 2022 with Vanessa. (Additional, we went to Kasos and Karpathos in 2023 as well!).
Looks like you caught us on a color-coordinated T-Shirt day! Anyway…
Over 3 months, we visited the islands of Rhodes, Symi, Kastellorizo, Tilos, Nisyros, Kos, Kalymnos, Telendos, Leros, Lipsi, and Patmos.
(One of the reasons I write this travel blog is so I can remember where I've been – no way I'll remember that list of islands in a few years time!).
This Dodecanese guide is aimed at giving you an insight into what each island is like, as well as a few practical tips you might find useful. Which reminds me…
How you plan your Dodecanese island hopping route will probably come down to ferry connections. I recommend Ferryscanner as a site to look at ferry timetables and schedules, as well as to book tickets online.
First though, let's take a look at just how many islands there are in the Dodecanese!
Dodecanese Group Of Greek Islands
Greece can be a confusing country. Take the Dodecanese for example. The name would indicate there are 12 islands, but in fact there are over 150!
To confuse matters further, 26 of these islands are inhabited (some by just 2 people!). You're probably starting to see the phrase it's all Greek to me can easily be applied.
All this aside though, The Dodecanese is the perfect holiday destination for Greek island hopping. There's plenty of varied islands to choose from, both large and small, and regular ferries.
The generally accepted view is that there are 15 main Dodecanese islands, as these are the islands with an actual ferry port. The other inhabited islands of the Dodecanese can also be reached by boat, but there's no ferry port as such.
How to get to the Dodecanese island chain?
In order to begin your island hopping journey, you'll need to get to one of the Dodecanese islands first.
You can fly to eight of the Dodecanese islands as they have airports: Rhodes, Kos, Leros, Kalymnos, Karpathos, Kassos, Kastellorizo and Astypalea.
Of these, Rhodes and Kos island have international airports, with direct flights to European cities. As a result, some international visitors (especially from the UK), might want to fly into say Rhodes to begin their trip, and fly out of Kos to return back home again.
All these airports have connections with Athens (apart from Kastellorizo), and some may also connect with Thessaloniki. This means there's more options for international travelers to get home again, or extend their time in Greece to a different area.
The other way to reach the islands in the Dodecanese island group is by ferry. The large islands may have connections with Athens Piraeus Port, while some of the smaller islands may only connect with one another.
Be aware that the journey by ferry from Athens to Rhodes is a long one. We had to take the ferry as we were traveling with our car, but the ferry ride was over 15 hours! Thankfully we took a cabin so could relax and sleep on the journey.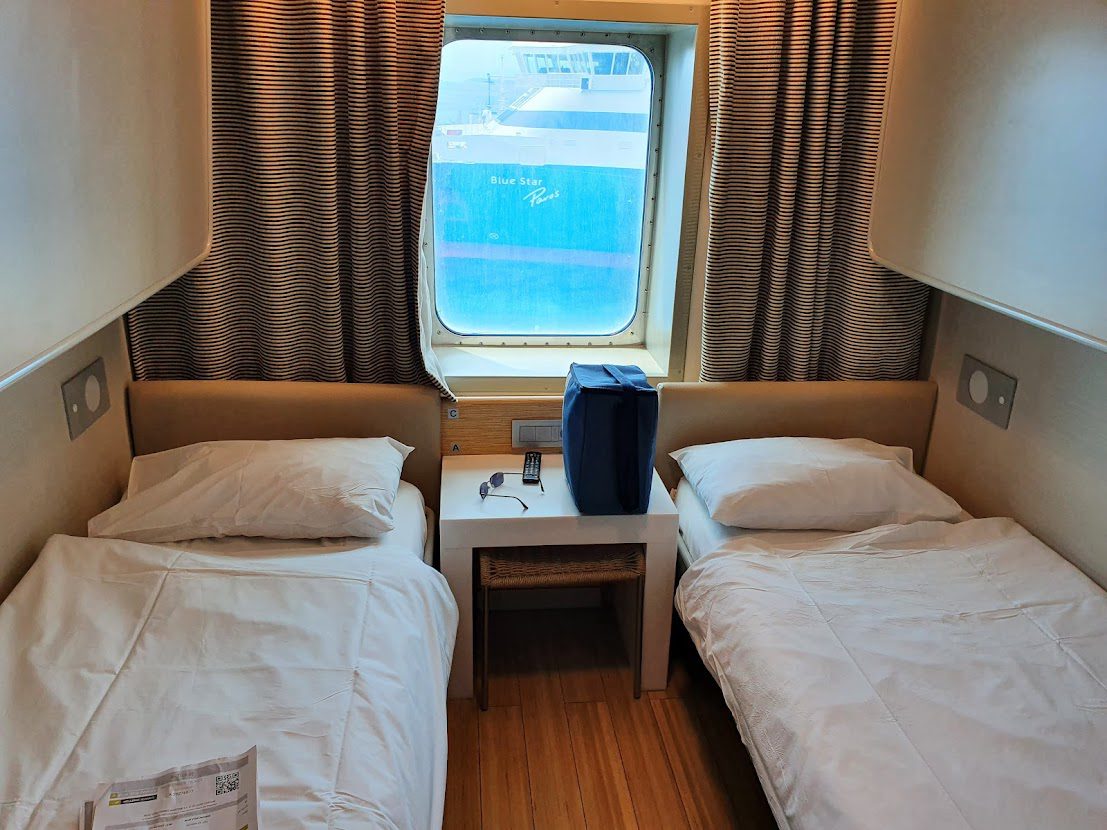 I recommend to fly if you want to save time.
The Dodecanese islands closest to Turkey may also have occasional ferry services or day trips to Turkish coastal port towns!
Dodecanese Island Ferry Ports
The Dodecanese islands with ferry ports are: Rhodes, Kos, Karpathos, Kalymnos, Astypalea, Kasos, Tilos, Symi, Leros, Nissyros, Patmos, Chalki, Lipsi, Agathonissi, Kastellorizo.
Look for Greek ferries sailing between the islands at: Ferryscanner
Dodecanese islands with smaller populations don't necessarily have regular ferry connections. Instead, you may be able to travel on boat day trips from nearby islands, or there might be infrequent ferries that only the locals know about!
For example, when we were in Kalymnos, we took a day trip over to Telendos on a local boat. There's no booking in advance for this – you turn up at the small port in Myrties village and pay your money on the boat. The fee in 2022 was just 3 Euros for a return ticket.
If you're feeling adventurous, you'd need to do further research to reach the tinier places. These islands are: Saria, Pserimos, Levitha, Syrna, Alimia, Arki, Nimos, Telendos, Kinaros, Gyali, and Farmakonissi.
Or just work it out when you are on a bigger island nearby. Relax, you're on holiday!
Ferries Between The Dodecanese Islands
For the most part, ferry tickets can now be booked online using places like Ferryscanner. With an e-ticket, you just show your phone with the QR code to be scanned when boarding the ferry.
I personally like having the e-tickets a week or two in advance, because then I can look for accommodation at a good price.
Some ferry companies such as Saos Ferries can't be booked online though. You can only book these at a travel agency on the islands, or at the port. Others like Anek Kalymnos can be reserved online, but you need to collect a physical ticket from the port.
Over the next few years, I expect it to go all online and e-tickets, but siga siga as we say here in Greece!
My observation, is that even in July there was never any danger of a ferry selling out. I expect this to be the case in August as well. You could probably pick up ferry tickets the day before you want to travel if you wanted.
Accommodation Options Dodecanese Islands Hopping
Unfortunately, the days of arriving at a Greek ferry port to be greeted by a yia-yia enticing you to stay at their rooms are long behind us now. I almost can't remember the last time I saw this!
The best place to book rooms online for the Dodecanese is at Booking (far more selection than Airbnb).
Google maps can also be your friend – you'll find many places showing on Google maps you won't find on Booking. You'll need to call them up to ask for a price. Don't be surprised if they ask for a bank transfer for a deposit – it's a standard thing here in Greece.
Joining some island specific Facebook groups is also a good way to find places to stay in the Dodecanese. Negotiating directly with an owner might get you better prices.
One interesting thing I noticed when traveling through the Dodecanese, is that many of the studios we stayed at had washing machines. As always seems to be the case, the more budget, simple studios have more practical value than fancier hotels!
In any case, if you accommodation doesn't have a washing machine, don't be afraid to ask to do laundry. You'll rarely get turned down.
Best Dodecanese Islands For Island Hopping
With those practical Dodecanese travel tips out of the way, which islands should you visit?
As mentioned, there are 15 larger islands that you can travel between easily by ferry. These islands are large enough to have a ferry port, and have tourist infrastructure such as places to stay.
So, for the purposes of this article, these 15 islands in the Dodecanese is what we will stick with!
Below is a list of the major islands in the Dodecanese complex, with a brief description of each one and what to expect when you visit. My personal favourites were Nisyros and Symi.
Note – The islands aren't listed in any particular order!
Rhodes
Rhodes is the largest and most popular island in the Dodecanese, with a population of over 110,000 people. The island is well known for its stunning beaches, nightlife, and historical landmarks such as the Palace of the Grand Master.
The island's capital Rhodes Town is perfect for those that want to explore the history and culture of Rhodes. In fact, Rhodes Old Town is a UNESCO World Heritage Site – one of 18 in Greece!
Lindos Acropolis is another important place to visit, with Lindos town and the Acropolis itself a good place to spend the day.
The best beaches can be found on the east side of the island, with Afandou, Tsambika Bay, Anthony Quinn Bay, and Lindos Beach all being popular.
Personally, I felt the Pefki (sometimes written as Pefkos) is the best area to stay on the island if you are interested in beaches and a wilder landscape.
In terms of Greek island hopping in the Dodecanese, Rhodes makes a good starting or exit point. If you've never visited before, spend time in Rhode Old Town, see the Lindos Acropolis, and perhaps have just one or two beach days. The move on to the smaller Dodecanese islands – that's when the fun begins!
More here:
Kos
Kos is the second largest island in the Dodecanese, and has a population of over 30,000 people. With its international airport, Kos is another good island to either begin or end a Dodecanese island hopping holiday.
Kos island is well known for its beaches, nightlife, and historical landmarks such as the Asklepion.
The island's capital Kos Town is perfect for those that want to explore the history and culture of Kos. In fact, this is the birthplace of Hippocrates – one of the founders of modern medicine!
When spending time in Kos, try to allow time to see Pyli Castle, the Roman Odeon, Archaeological Museum of Kos, wander around Kos town, and of course the beaches in Kos!
The best beaches are scattered around the coastline, with Kardamena on the south coast and Tingaki on the north coast being particularly popular.
Related: Where is Kos?
Patmos
Patmos is a small, quiet island in the Dodecanese that is perfect for those that want to get away from it all.
The island has a population of just over 2,000 people, and is well known for its religious history. Cruise ships drop by here, as this is where St John wrote the Book of Revelation.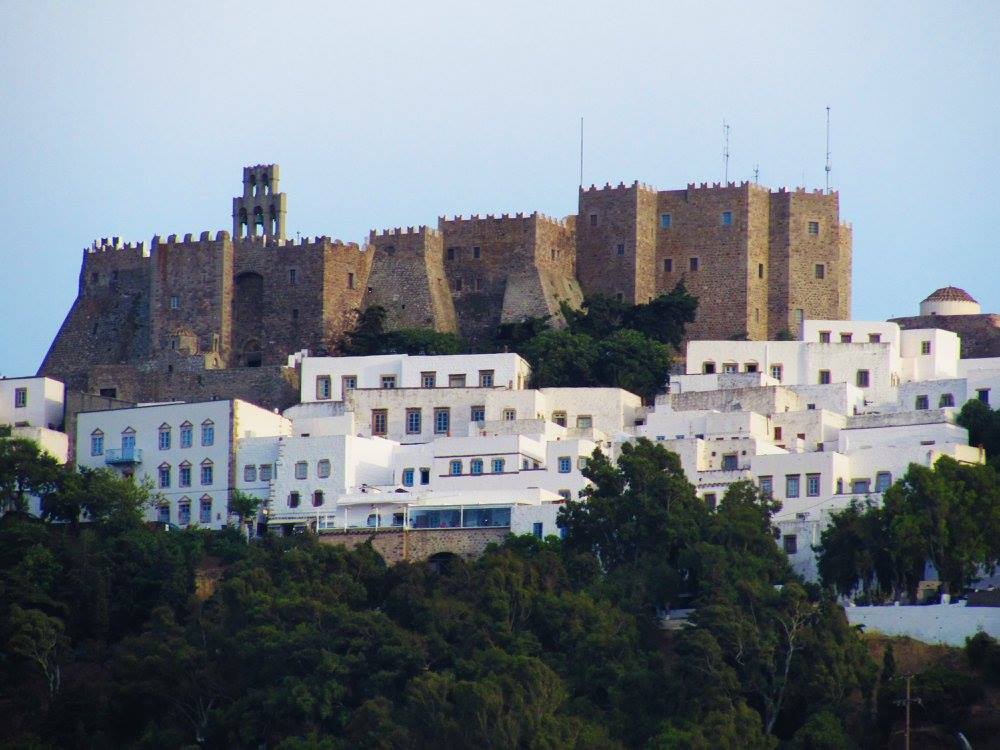 Patmos is home to the Monastery of Saint John the Theologian, which is a UNESCO World Heritage Site. You can also visit the Cave of the Apocalypse, and the whole of Patmos Town (Chora) is a delight to explore.
While Patmos is associated with religious tourism in most people's minds, it has something of a hidden secret – the landscapes and beaches in Patmos are fantastic! No visit to Patmos is complete without spending at least one day on Psili Ammos beach.
It might be a 20 minute hike to get to Psili Ammos beach, but it's more than worth the effort – and there's a lovely taverna / cantina where you can get simple, tasty meals to keep you going through the day.
More here: Patmos Travel Blog
Kalymnos
Kalymnos is a small, rugged island in the Dodecanese that is well known for its sea sponges. The island has a population of just over 13,000 people, and yet you never really hear it talked about.
Unless you are a rock climber. Kalymnos is a bit of a Mecca for rock climbers who can combine a Greek holiday with their favourite activity. There's even an International Climbing Festival every October.
We stayed in Kalymnos for a week, but wish it had been longer. The landscape is very unique, and we found a lovely beach or two to chillax away the day.
Another great thing about Kalymnos, is that Telendos island is right next door! This means you can go over on day trips to enjoy the peace and quiet on this traffic free island.
Or you can stay a couple of nights there. Rooms are available if you ask the taverna owners. Apparently, one guy goes back every year to spend a month on the island. I can see why!
More here: Kalymnos Travel Guide
Nisyros
The Greek island of Nisyros is most commonly visited as a day trip from Kos. Those people that do spend more time in Nisyros though will discover there are hidden layers to the island the longer they stay!
Of course, Nisyros is most well known for its volcano. This volcano is considered dormant, but when visiting, you'll feel the heat and see steam rising through the vents. Take a look at this video of Nisyros volcano.
If you are staying on Nisyros, time your volcano visit to avoid the day trippers from Kos – You'll have a much better experience!
Another highlight of Nisyros is the captivating town of Mandraki, which has some of the best alleyways and side streets you'll find anywhere in the Dodecanese. Every exploration reveals new streets you haven't seen before.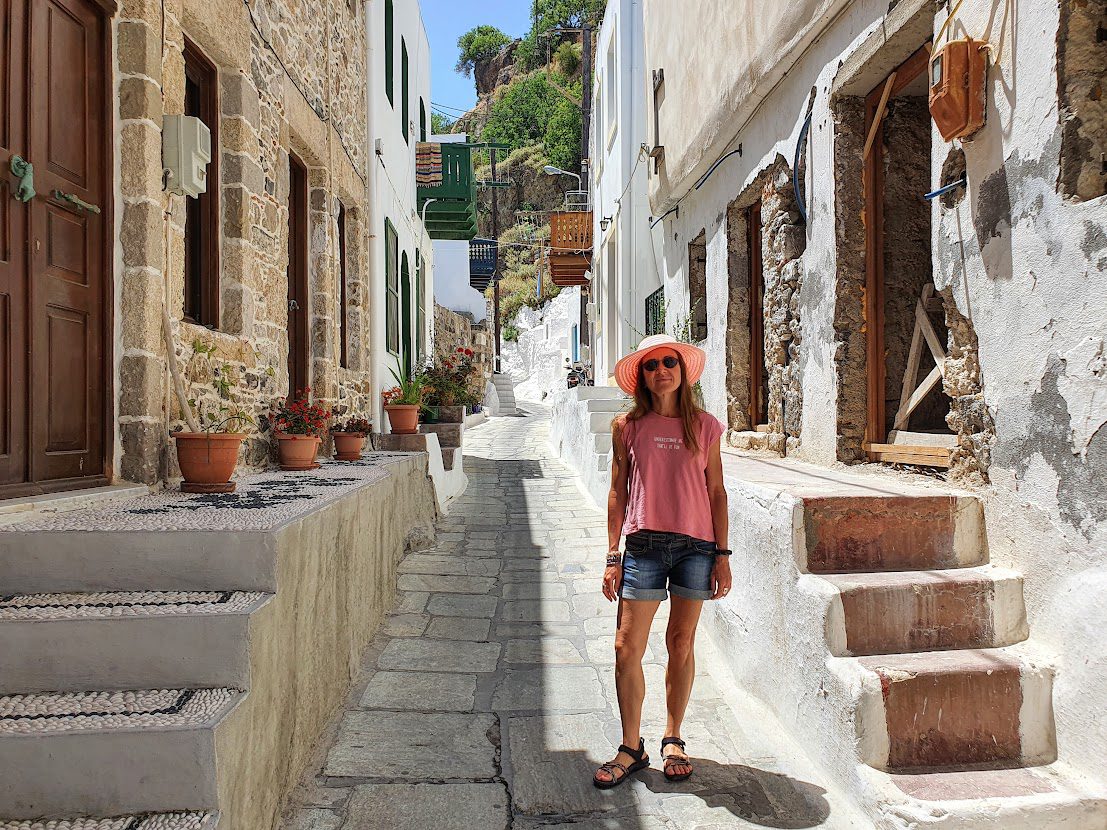 Above the town is the little visited Paleokastro of Nisyros – certainly worth the hike up there for views and to explore the ancient ruins!
You'll also find plenty of monasteries and the quaint settlements of Emporios and Nikia. While people don't necessarily visit Nisyros for the beaches, I actually very much enjoyed Lies beach which was easily accessible and has great snorkeling!
Symi
Most commonly visited on a day trip from Rhodes, it's worth spending a few days on Symi, especially if you want to get away from the crowds!
With a population of just over 2,000 people, Symi is also known for its beautiful scenery, architecture, and relaxed atmosphere.
We spent a week in Symi, and instantly fell in love with the island. The colorful houses and port setting are amazing, but it was really the people who made our trip so special.
Highlights of our stay on Symi were walking around the town and up and over the hills for various viewpoints of the port town. We also visited the Monastery of the Archangel Michael Panormitis, but if truth be told, we were not all that impressed. It is, however, one of the very few monasteries we've seen at sea level and not on top of a mountain!
There's three standout beaches in Symi. The first, is St Nicholas Beach which is a short but pleasant hike from the village of Pedi. The other two beaches are Agios Georgios Dysalonas and Nanou. These can only be reached on a boat trip.
We did it slightly differently, and managed to take a kayak trip with Trekking Hellas Rhodes. I highly recommend this, so get in touch with them to see if you can do the same! Here's a guide on the best things to do in Symi.
Read: How to get from Rhodes to Symi
Tilos
The tiny island of Tilos is a peaceful little corner of the Dodecanese. As the first energy self-sufficient island in Greece, it has hopefully started a trend that other islands will follow!
When compared with colourful Symi and Kastellorizo, Tilos seems much more subdued. This isn't an island you visit to see attractions, more of a destination to completely relax and take it easy.
The main highlight of Tilos (at least in my opinion) was the abandoned village known as Mikro Chorio. It was a really amazing place to walk around!
For beaches, there is a mix of pebble and sand. The best beach in Tilos is Eristos, which is a popular place to go for freecampers looking to spend the summer in the Dodecanese.
If I'm to be honest, I found Tilos to be my least favourite island on our trip through the Dodecanese – but if asked why I couldn't quite say.
Kastellorizo
Kastellorizo is a tiny island located in the southeastern Aegean Sea, and is often considered to be the most eastern island in Greece. If you look on the map, you'll see it is positioned right next to Turkey.
It is one of the most remote Greek islands you can travel to, and unique due to its geography and place in history. A couple of days is all that is really needed to see the main town and other highlights.
During our stay at Kastellorizo, we spent time walking around the town, went to the top of the castle, visited Paleokastro, and of course took the amazing boat tour to the Blue Cave!
Perhaps the most rewarding though, was walking the 400 steps up from the town to a glorious sunset spot. That said, Vanessa doesn't look particularly rewarded in that photo hehe.
Read: How to get from Symi to Kastellorizo
Leros
With a wild landscape, Leros is located between Patmos and Kalymnos. It feels like tourism never really took off here, which makes it an island that travelers after a more genuine experience of Greece might like to consider visiting.
The history of the last 100 years or so in Leros is quite fascinating. You can find out more by visiting the tunnels and war museum, as well as the Bellini Tower.
Talking with the locals is a good way to find out more about local culture and lifestyle, so strike up conversations whenever you can!
Lipsi / Leipsoi
Like many other islands, you might find more than one spelling as you do your Greek island research online! Lipsi is a small island in the Dodecanese that is known for its crystal clear waters, as well as its relaxing atmosphere.
The island has a population of just over 700 people, and yet still retains much of its traditional charm.
We visited Lipsi on a day trip from Leros, and found that we could get to most of the places of interest very easily by either walking or taking fixed rate taxi rides.
I can easily see why people might spend longer in Lipsi though – it has a laid back feel perfect for getting away from it all!
And now here's the islands in the Dodecanese I haven't visited yet. There's a basic description of each one, and I'll update when I travel to these islands in the future!
Agathonisi
Agathonisi is a small, quiet island in the Dodecanese that is perfect for those that want to get away from it all. The island has a population of just over 200 people, and is well known for its unspoiled beaches and crystal clear waters.
Life is pretty simple here – there are three tavernas and three bars. You can walk most places, but you might also want to arrange a local to take you by boat to a hidden beach for a day!
We didn't make it to Agathonisi on our 2022 trip around the Dodecanese, but it's there for next time!
Related: How to get from Rhodes to Agathonisi
Astypalaia
Astypalaia is one of the Dodecanese islands that is starting to feature on more people's radars. With a population of just over 1,300 people, the island is well known for its beaches, crystal clear waters, and Venetian architecture.
Astypalaia is a great place to relax and take in the natural beauty of the Dodecanese islands. The beaches here are some of the most beautiful in the area, and the crystal clear waters make for perfect swimming and snorkeling.
Chalki
Some people choose to visit Chalki in a day trip from Rhodes, but it is definitely worth spending a few days here. With a population of just over 200 people, the island is well known for its beaches, crystal clear waters, and traditional Greek architecture.
Chalki is a great place to relax and take in the natural beauty of the surroundings.
Karpathos
Karpathos is a large, mountainous island in the Dodecanese that is well known for its hiking trails. The island has a population of just over 8,000 people, and is perfect for those that love the outdoors.
The island's capital Pigadia is a great place to start your exploration of Karpathos.
Kasos
Kasos is located between Karpathos and Crete. I last visited here in September 2023, and have to say it turned out to be one of my favourite Greek islands I've ever been to!
Kasos doesn't really have must-dos… it more has things to eventually get around doing. There's a handful of beaches, great food, a laid back vibe, and the sounds of silence everywhere,.
One word sums up Kasos, and it is tranquil. If you like quiet, authentic Greek islands, and a taste of what Greece was like perhaps 40 years ago, why not give it a try?
Dodecanese Greek Islands FAQ
Readers who want to find out more about the Dodecanese islands so they can plan an island hopping trip often ask questions similar to:
Which are the Dodecanese islands?
The Dodecanese islands are a complex of Greek islands located in the southeastern Aegean Sea. The most popular islands are Rhodes, Kos, and Patmos.
Where are the Dodecanese islands located?
The Dodecanese islands are located in the southeastern Aegean Sea, near the Turkish coast.
What is the largest Greek Dodecanese islands?
The largest of the Greek Dodecanese islands is Rhodes.
Is Crete in the Dodecanese?
No, Crete is not in the Dodecanese.
---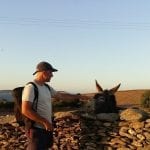 –
Dave Briggs
Dave is a
travel writer
from the UK but living in Athens Greece since 2015. As well as creating the Greek islands in the Dodecanese, he's created hundreds more guides about amazing destinations in Greece. Follow Dave on social media for travel inspiration from Greece and beyond: