After 3 weeks off in San Cristobal de las Casas, it was finally time to get back to cycling again! Here, I cycle from San Cristobal to Ocosingo.
Cycling in San Cristobal de las Casas
It felt so good to get back on the bike again after such an extended break. It was like starting out again on a completely new trip, especially as the bike had been refitted.
That said, it was still a reasonably tough days cycling, especially after two weeks of virtual inactivity !
Along the way, I met Oliver, a German cyclist going the same way.
His route had taken him from Mexico City and through into Chiapas, and will later take him up into the Yukatan and back to Mexico City.
It made a real change to cycle with someone else and have a chat on the road. We called it a day in the town of Ocosingo, where at Hospedeje Esmeralda we got a good deal on a large room we could wheel the bikes into.
Pizza for dinner, and a couple of beers at night where we swapped stories, and planned the next day ahead.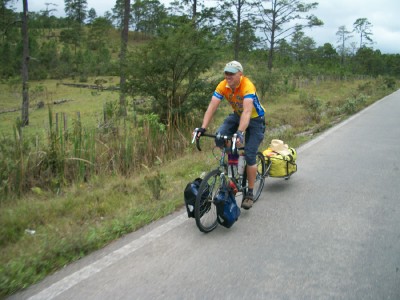 Read more about cycling from Alaska to Argentina
Use the links below
[mailmunch-form id="728831″]