After 3 weeks off in San Cristobal de las Casas, it was finally time to get back to cycling again! Here, I cycle from San Cristobal to Ocosingo.
Leaving San Cristóbal de las Casas by bicycle
Blog post written Feb 24, 2010
It felt so good to get back on the bike again after such an extended break in San Cristobal de las Casas.
It was like starting out again on a completely new bikepacking trip, especially as the bike had been refitted and felt a joy to ride
That said, it was still a reasonably tough days cycling on the Ocosingo route, especially after two weeks of virtual inactivity !
Along the way, I met Oliver, a German cyclist going the same way.
His route had taken him from Mexico City and through into Chiapas, and will later take him up into the Yukatan and back to Mexico City.
It made a real change to cycle with someone else and have a chat on the road, talking about this journey as well as other bicycle trips.
We called it a day in the town of Ocosingo, where at Hospedeje Esmeralda we got a good deal on a large room we could wheel the bikes into.
Pizza for dinner, and a couple of beers at night where we swapped stories, and planned the next day ahead.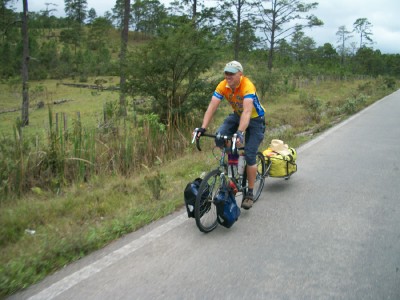 Read more about cycling from Alaska to Argentina
Use the links below
Ocosingo Popular Routes FAQ
Some questions travellers have when they want to explore this part of Mexico include:
Is it safe to travel from San Cristobal to Palenque?
Yes, it is safe to travel from San Cristobal to Palenque. There are no dangerous areas along the way, and as long as you take the usual precautions when travelling, you should have no problems.
Is San Cristóbal de las Casas worth visiting?
There is no doubt that San Cristobal de las Casas is a beautiful and interesting town to visit. The architecture, the markets, the people and the scenery all make it a place well worth stopping at for a while. Whether it is worth spending weeks there as I did is more debatable (unless you are waiting for packages or working), but certainly a few days exploring the town and its surroundings is time well spent.
Is there public transport from San Cristobal to Ocosingo?
Yes, there is a bus that leaves from San Cristobal de las Casas and arrives in Ocosingo. Services depart once daily and run every day. The trip lasts around 2 hours 30 minutes.
How do I get from San Cristobel to Palenque?
I cycled this route over a few days. If you are not traveling through Mexico by bicycle, you can cover the 220km (136 miles) from San Cristobal de las Casas to Palenque by an 8-hour-45-minute bus ride or take a 6-hour taxi. A bus ticket is pretty cheap at 418 MXN ($20). The taxi ride is super expensive and costs around 3,400 MXN ($160).