The cheapest way to travel from Santorini airport to Fira is by public bus, while the fastest way is by pre-booked taxi. Here's a guide to all the Santorini airport transportation options.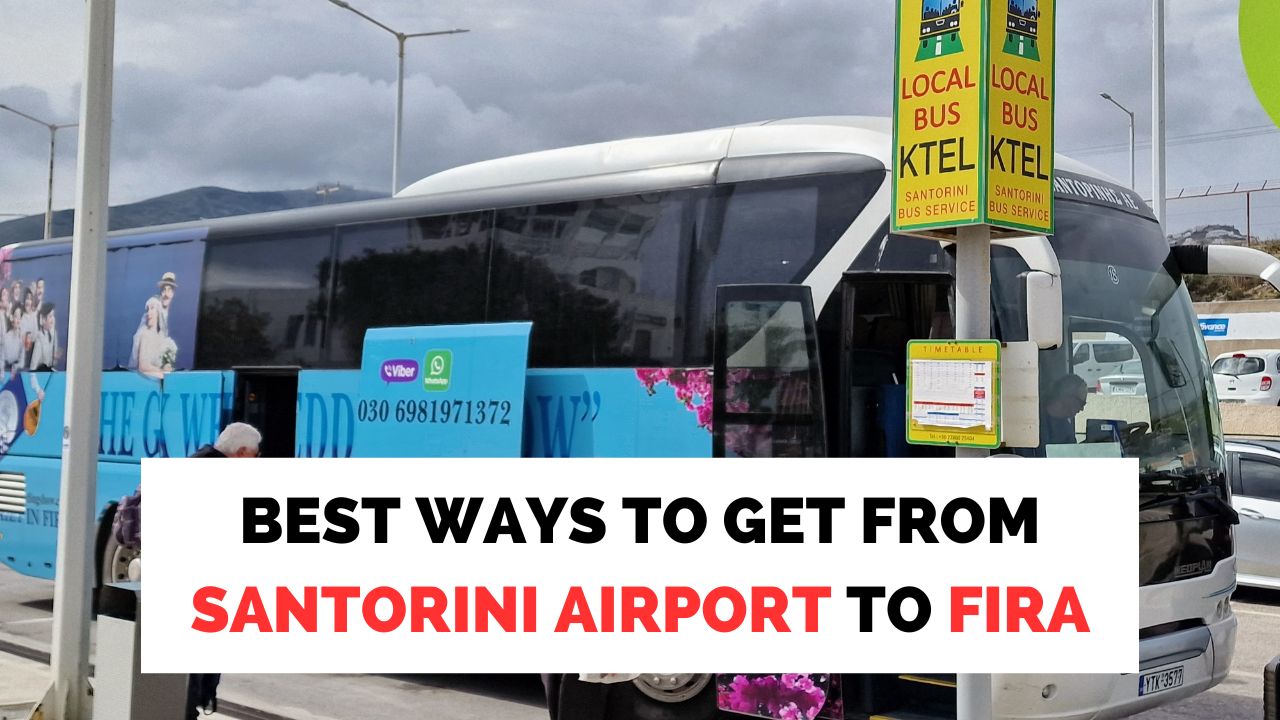 Santorini Airport – Fira Transport Guide
When arriving at Santorini airport, you have several ways of getting to Fira, the capital of Santorini. Which option is best for you may depend on the time of year you are visiting, and how you balance convenience and cost.
This guide on traveling the 5.5 km distance between Santorini airport and Fira gives you all the details you need to know. First though, here's a quick look at the main transport options along with their pros and cons.
Bus from Santorini Airport – This is the cheapest option to get to Fira town with tickets costing 1.60 Euro. The downside is that in the summer, the buses are slow, and packed with other passengers. You might not get on the first one and be left waiting.
Pre-booked taxi – This is overall probably the best way to get from Santorini Airport into Fira. The driver meets and greats you, and then drives you as close as possible to your hotel in Fira. It's probably the most expensive option, but the quickest.
Regular Taxi from Santorini Airport – You won't know until you arrive how long you have to wait in the taxi queue, but it's normally much quicker than waiting for a bus. Prices anywhere from 15 – 35 Euro to reach Fira depending on the season.
Car rental – If you plan to rent a car anyway in Santorini, collecting it from the airport makes sense. Just keep in mind that many hotels don't have parking, and in the summer months, finding where to park can be a pain.
Santorini Airport Shuttle Bus – In addition to the regular buses, there are also shuttle buses which you can buy tickets for. It's a good compromise in speed and price, but perhaps best suited to solo travelers in Santorini.
Related: How to get from Athens to Santorini
Santorini Airport Bus To Fira
Many visitors to Santorini who are staying in Fira will find that the direct bus from Santorini airport to Fira bus station is a convenient option. A one way ticket costs just 1.60 Euros, and the ride from the airport to the main bus station in Fira has a travel time of between 10 and 25 minutes depending on traffic. There's plenty of space under the buses for luggage.
The bus stop is just outside the Santorini airport terminal, and tickets are bought on board either when seated (a ticket seller will walk down the aisle), or sometimes from the drivers. Take some cash as despite the laws saying they should have card machines, they never seem to be working!
You should be aware that in the summer months there may be big queues for the airport buses to Fira. Also, as there are only a limited number of public buses on the island, the waits in between buses might be quite long.
This means that while the overall journey time from Santorini airport to Fira by bus might be 10 to 25 minutes, when you include waiting time for buses to arrive, you could be sacrificing an hour or two.
My advice, is that in the off-season the bus is the best choice of travel from Santorini's airport to Fira. In the peak season though, public transport is not a great option unless you are on a strict budget or have plenty of time.
You can find the latest timetables and ticket prices here: Ktel Santorini
Santorini Airport Taxi To Fira
There is a taxi queue just outside of the arrivals area of Santorini airport. A taxi ride from Santorini Airport to Fira takes anywhere between 10 and 25 minutes depending on the traffic.
Unlike some Greek islands, there are no set prices for taxi rides in Santorini. Prices for taxis in Santorini are very based on availability and demand.
Allegedly, a meter is also involved, but you should ask for an estimate price before getting in the taxi to avoid any unpleasant surprises!
When I last visited Santorini in March of 2023, I was quoted 15 Euros for the taxi ride from Santorini airport to Fira. March is very much the off-season, and there were lots of taxi and not many customers – this was a very cheap price!
In August, the situation is reversed. There's not many taxis around, and many potential customers. You should expect a taxi fare for the ride from Santorini Airport to Fira to cost around 35 Euros.
It's important to keep in mind that there's a limited number of taxis on the island, and in peak season there can be big queues waiting for a taxi outside Santorini airport.
Additionally, you may be asked to share the ride with some other passengers if you are all going to Fira. You share the ride, so share the price – which can be an advantage.
Related: Santorini 2 Day Itinerary
Pre-Booked Taxi From Santorini Airport To Fira
If you are traveling to Santorini island in the high season months of July and August, or have limited time on the island, I strongly suggest pre-booking a taxi.
While this option is likely more expensive, there are several advantages. One advantage to pre-booking a private transfer is that you know the price and have paid for it in advance.
Perhaps the main advantage though, is that the driver will be waiting for you just outside the arrivals hall with your name on a board. You can then get straight to the car, and be on your way from Santorini airport to Fira within minutes.
This is far quicker than waiting for a bus or queuing for a regular taxi from the taxi rank. You'll also not need to share the ride with anyone else.
To pre-book a taxi from Santorini Airport to Fira, I recommend: Welcome Pickups
Car rental at Santorini Airport
Having your own vehicle give you a lot of flexibility when it comes to exploring more and getting around Santorini. Therefore, collecting you rental car at Santorini airport can make a lot of sense. If you arrive early on the island, you can even squeeze in a day's sightseeing before checking in at your hotel!
Driving directly from Santorini airport to Fira is very easy – Google maps is your friend! There's also plenty of road signs.
The only issue is that when you reach Fira, you'll need to find somewhere to park. This will be next to impossible if you are staying in a caldera view hotel in Fira, but if you are staying at a place just outside the town, you may be lucky to find they have some parking.
Overall, parking in Fira and Oia is a problem, particularly in July and August. Something to consider.
Check out car rental prices in Santorini: Discover Cars
Santorini Airport Shuttle Bus
Just as you exit Santoorini airport, you'll see a small office which sells shuttle bus tickets to different parts of the island, Fira included.
This could be a good compromise for solo travelers in particular. You wouldn't need to wait for the buses, but it's not as expensive as a taxi for one person.
It could be worth checking on arrival to see how quickly the shuttle bus could get you to Fira from Santorini airport.
Related:
Santorini Airport Transfers To Fira FAQ
Readers planning to stay in Fira in Santorini and who need to travel from the airport often ask question such as:
How do I get from Santorini airport to Fira?
There are several ways to get from Santorini Airport to Fira. The most convenient option is by pre-booked taxi, and the cheapest is to take a bus.
Is there a shuttle from airport to Fira?
In addition to the public bus service that operates a route between Santorini airport and Fira, there is also a shuttle bus option. There is an office just outside the airport where you can book tickets.
How much is a taxi from Fira to the airport?
The cost of a taxi between Fira and Santorini airport depends on the time of year. In the off season you might get one for 15 euros, but in the high season prices of up to 35 Euros could be expected.
How long does it take from Fira to Santorini airport?
With no traffic on the road, the journey by car or bus takes 10 minutes. In July and August, when traffic is much heavier, the same trip could take half an hour.
Where is the main bus station in Fira?
Fira main station is located on Mitropoleos Street, very close to the Museum of Prehistoric Thera. You can easily find it on Google maps.
---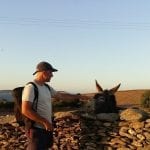 –
Dave Briggs
Dave is a
Greek travel blogger and writer
originally from the UK, and now living in Athens Greece. In addition to writing this guide on the best ways to get from Santorini airport to Fira, he's created hundreds of other insightful travel guides to destinations all over Greece. Follow Dave on social media for more Santorini travel secrets: