First time visitors looking for the best places to stay in Santorini should consider Fira, Oia, Imerovigli, Perissa, and Kamari. This guide on where you can stay in Santorini will help you choose the best area.
Santorini, the most famous of the Greek islands, is known for the unforgettable sunsets and amazing caldera views. Choose a luxury hotel with a private plunge pool and incredible panoramic views of the caldera for the ultimate once in a lifetime experience!
Santorini hotels and places to stay
For most people, the phrase "the Greek islands" is synonymous with Santorini. The volcanic island offers a combination of breathtaking views, unusual landscapes, plenty of activities and the famous Santorini sunset.
Santorini is a popular destination, especially in peak season, but thankfully there is plenty of accommodation to choose from.
You will find luxury hotels with infinity pools and hot tubs right on the caldera cliff of Santorini, but you will also find cheap hotels and rooms to let by the seaside villages.
There's Santorini accommodation to suit all travel styles and budgets. So, whether you are YOLO-ing on your holiday in Greece, or dropping by Santorini as part of a lower-key island hopping trip, you'll find what you need.
This guide will show you which areas of Santorini are the best to stay in.
Spectacular views and volcano landscapes
When looking for the best place to stay in Santorini, you need to know a little bit about the geography of the island. Looking at a map, you'll notice that Santorini looks a bit like a croissant.
The west coast of Santorini faces the famous caldera, and the small volcanic islands. There are essentially no beaches, only cliffs. This is the side of Santorini where you can see the sunset from.
Along Santorini's west coast, you will find the caldera towns all of which have accommodation options.
The biggest settlements along Santorini's caldera are:
Fira, the island's capital
Oia, the famous sunset spot
Imerovigli, a quiet, romantic resort town
Firostefani, walking distance from Fira.
These towns and areas are where you will find some of the most luxurious hotels in Santorini, many with beautiful sunset views. As a rule, you will need to walk through narrow alleyways, which often have many steps, to reach these properties. It might be important to remember this if you have mobility issues.
As there are no nearby beaches, many of these hotels along the caldera in Santorini have swimming pools. The rooms and suites often have a plunge pool, private pool and private terrace.
Beach life in Santorini
On the east coast of Santorini, you will find a few beach towns. These of course all have plenty of places to stay, and you're likely to find cheaper accommodation on the east coast of Santorini.
If proximity to Santorini's beaches is important, staying here is also the best option. Similarly, if steps are a no-no, or if you are travelling with children, the beach resorts will be ideal for you.
The best coastal towns to stay in Santorini, all of which have plenty of hotel rooms, are
Perissa / Perivolos, the famous black beach along the southeast coast
Kamari, a resort to the north of Perissa beach.
These coastal towns in the east of Santorini island are famous for the iconic beaches with the black pebbles.
The way Santorini beaches go, these are some of the nicest ones. You have to keep in mind though that there are far better beaches on most other Greek islands, like Naxos, Ios or Paros.
These seaside towns are where you can find the best cheap hotels in Santorini. There are also plenty of beach bars, cafes, tavernas, and all other tourist facilities.
Where is the best place to stay in Santorini?
Deciding where to stay in Santorini is a personal choice, which might also come down to your budget and the way you'll move around. What part of Santorini to stay in might also depend on how log you want to stay on the island, and overall availability. Most people tend to find Oia and Fira to be the most convenient places to stay on Santorini.
What is certain is that you will find hundreds of hotels, located everywhere on the island. You will find that accommodation prices vary widely, and depend on location, facilities, view and several other factors.
Best areas to stay in Santorini
Where to stay in Santorini for sunset views: Oia, Firostefani, Imerovigli, Fira
Best place in Santorini for nightlife: Fira
Where to stay for honeymoon / romantic holidays: Imerovigli
Best area in Santorini for solo travellers: Fira, Perissa
Where to stay in Santorini for families: Kamari, Perissa
Best area for luxury hotels: Oia, Imerovigli, Firostefani
Best cheap hotels in Santorini: Kamari, Perissa
Where to stay in Santorini during the off-season: Fira
Getting around Santorini
Before you decide where to stay, here's some info about how to get around Santorini.
There are essentially three ways to go around Santorini: by public bus, rental vehicle, or taxi.
All public buses in Santorini depart from Fira. This means that there are no direct routes connecting some of the other towns.
As an example, if you are staying in Oia and want to get to Perissa, you will need to take one bus from Oia to Fira, then swap to another bus from Fira to Perissa.
Similarly, if you are staying in Kamari and want to get to Red Beach or Ancient Akrotiri, you will have to go through Fira first.
If you are not planning to rent a car or use taxis, you might prefer to stay in Fira, where public transportation is more frequent.
And now, here are some suggestions on where to stay when you visit Santorini.
Where To Stay In Fira – The capital of Santorini
Fira, the capital of Santorini, is one of the most popular places to stay on the island. Visitors enjoy the spectacular sunset views, relaxed nightlife, historical museums, art galleries and buzzing atmosphere.
The capital town is one of the best areas to stay in Santorini if you are interested in nightlife, and if beaches aren't a priority. This would also be the best area in Santorini if you are visiting in the off-season.
In terms of budget, boutique hotels which offer private terraces and sunset views over the caldera cliffs will typically cost several hundred euro per night.
However, not all hotels in Fira are expensive. If you aren't interested in a hot tub or private sun terrace and you book well in advance, you can find rooms for 50-60 euro a night, even in peak season.
Best hotels in Fira Santorini
Here are a few top-rated hotels in Fira, ranging from budget to luxury:
Anemomilos Suites – A budget, family-run hotel at the outskirts of Fira, with friendly owners and an outdoor pool.
Corrado Caldera Apartments – Affordable accommodation with lovely sea views, close to the Museum of Prehistoric Thera
Kastro suites – A gorgeous property close to the Archaeological Museum, a stone's throw from several upscale restaurants
Aliter suites – Spacious, private suites at a lovely property with an infinity pool
Cosmopolitan Suites – An exceptional property right in the heart of Fira. The suites and luxurious villa have access to an infinity pool and pool bar.
Mythical Blue suites – Each of these suites comes with a private hot tub, and guests can enjoy fantastic sea views from the pool bar.
Aria suites and villas – A boutique hotel, combining central location with amazing views in a secluded environment
Where To Stay In Oia Santorini
Another popular area to stay in Santorini is Oia. The famous town, which is located on the north west coast of the island, is known for its blue domed churches and the best sunset views in Santorini.
If you decide to stay in Oia in summer, you should be prepared for the thousands of tourists who visit the picture-perfect town everyday. Visitors who are not keen on crowds might prefer to stay in one of the other towns.
If you are planning to rent a car in Santorini, ask your hotel if they have private parking, as parking in Oia is notoriously difficult.
Related: How to get from Santorini airport to Oia
Best hotels to stay in Oia Santorini
Santorini best place to stay for one night – Oia
Given its reputation, it's no surprise that the small town has enough accommodation for thousands of visitors. Budget hotels are rather scarce though in Oia, and the emphasis is on private villas, boutique hotels and luxurious settings.
Mare Nostrum Santo – Budget travellers who want to stay near Oia should check out this friendly hotel with self-catering apartments and villas. You will find them at a lovely, quiet location, a half-hour walk from Oia.
Unique Galini Oia – This cozy, adults-only hotel is right at the outskirts of Oia. It is a great option for people who want to be close to the centre, but also be able to relax by the quiet swimming pool.
Christos Apartments Oia – Self-catering studios, suites and villas with terraces right in the heart of Oia.
St John Villas – Two brand new, highly-rated villas at the westernmost side of Oia, enjoying fantastic sunset views from the private pool.
Andora Villas – A large, private villa overlooking the Aegean Sea, which can accommodate several people.
Alisaris Cave Suites – This top-rated hotel in Oia boasts spacious, comfortable suites with caldera views. If you don't mind the steps, you can walk all the way down (and up) to the caldera beach, Armeni.
Katikies Santorini – A selection of fantastic rooms and suites with different types of facilities, including a honeymoon suite. The private location enjoys unbelievable views to the caldera.
Echoes Luxury Suites – A wonderful hotel with outstanding service. Each suite offers a private outdoor heated plunge pool and caldera view.
Related: How to get from Santorini ferry port to Oia
Where To Stay In Imerovigli Santorini
If you want to enjoy the lovely sunset views from your own private terrace without the hustle and bustle of Fira and Oia, the best area to stay in Santorini is probably Imerovigli.
Located only a couple of kilometres out of Fira town, Imerovigli is a quiet holiday resort, overlooking the famous caldera. You will find plenty of luxury hotels with infinity pools, a few nice restaurants, and an overall relaxing atmosphere.
In terms of sightseeing in Imerovigli, Skaros rock is walking distance from the settlement. It's one of the best natural spots on the island for fantastic, uninterrupted views of the Aegean Sea.
Hotels in Imerovigli Santorini
Most hotels in Imerovigli are tailored for customers looking for a relaxing, unforgettable Santorini experience. Here are a few of the best luxury hotels in Imerovigli Santorini:
Aqua Luxury Suites – Elegant suites with a variety of rooms and suites, some of which have a private outdoor hot tub or heated plunge pool.
Iconic Santorini – Inspired by Santorini's traditional rooms in the shape of a cave, this boutique hotel boasts an infinity pool with fantastic views. The property features a spa and wellness center, a fitness center and an on-site restaurant.
Grace Astra Suites – Perfect for a special occasion, this luxury hotel offers a variety of rooms and villas, each with its own private pool.
White Pearl Cavalieri – Featuring spacious rooms and suites named after Santorini's most popular wine varieties, in a secluded, quiet spot.
Where To Stay In Firostefani Santorini
Another quiet town with amazing caldera views, Firostefani is located between Fira and Imerovigli.
It's a great choice if you want a combination of relaxed sunset views and quiet surroundings, while being walking distance – or a short taxi ride – from the capital.
The best hotels in Firostefani
Firostefani offers a good mix of hotels for all tastes and budgets. Here are some of the best hotels in Firostefani:
Reverie Santorini Hotel – Affordable, stylish self-catering studios and friendly owners make this one of the best affordable options in Firostefani.
Aerino Villa – An exceptional mid-range property, featuring lovely caldera views and a shared hot tub.
The Tsitouras Collection – A unique stay in Santorini, the Tsitouras Collection is a restored 18th century mansion. The outdoor pool opens to a wonderful view of the volcano.
Finally, if you are looking for the best luxury accommodation in Firostefani, you can stay in a private villa, such as Ananda Infinity or Villa Etheras. These are among the best villas in Santorini, with a view and ambiance to match.
Where To Stay In Perissa / Perivolos / Kamari
Budget travelers should consider this area when looking where to stay at Santorini
As mentioned earlier, the largest seaside towns are Perissa, Perivolos and Kamari.
Perissa and Perivolos beaches are next to each other, whereas Kamari is further north. The two areas are separated by Mesa Vouno mountain.
Here, you won't find as many luxurious options or the majestic caldera views. However, you will enjoy a more down-to-earth ambiance, along with dozens of laid-back beach bars from where you can see the sunrise.
Overall, these areas are family-friendly. Kamari has coarse sand with small pebbles, while Perissa and Perivolos have slightly finer sand. None of these beaches, however, have the soft, fine sand you may have seen on other Greek islands.
If you decide to stay at one of the beach resorts, I suggest renting a vehicle or quad, and exploring Santorini with your own wheels. However, note that there may be traffic restrictions inside the towns after a certain time.
Best hotels in Perissa / Perivolos
Perissa beach and its extension to the south, Perivolos, offer a wide choice of accommodation, from cheap hotels to a few expensive resorts.
The two areas are not clearly defined. You can easily walk along the beach from Perissa to Perivolos and vice versa. Perivolos and Agios Georgios, further south, are probably a little quieter than Perissa.
Here are some of the best hotels in Perissa / Perivolos:
Santa Barbara – Basic, cozy accommodation in a central location in Perissa. Ideal for budget travelers – ask whether they can provide a free shuttle from Santorini airport.
Stelios Place – A family-run hotel with clean, sunny rooms and an outdoor pool.
Adelphi apartments – A selection of spacious, self-catering apartments, some of which can accommodate families.
Kouros Village Hotel – This adults-only hotel just a short walk from Perissa beach offers different types of rooms and suites.
Kasteli Luxury Rooms – Stylish, minimally decorated rooms and suites, and exceptional service.
Antoperla Luxury Hotel & Spa – A 5-star hotel with a spa & wellness center. Some rooms have a private jetted tub / pool. Family rooms available.
White and Blue – A property in Perivolos offering large, luxurious apartments with different types of private pools.
Terra Nera Suites – The ultimate luxury suites in Perivolos, with a large pool and on-site restaurant.
Best hotels in Kamari
Many people visiting Santorini prefer to stay in Kamari. The seaside village has a range of accommodation. There are many hotels ideal for solo travelers or groups of friends, and also family hotels.
Sunray Lodgings – Fully furnished studios and apartments, with a swimming pool.
Aegean Gem – A lovely, stylish property in a quiet location in Kamari. It features a large pool, jacuzzi and pool bar.
Santellini Hotel – An exceptional mid-range property, offering a range of rooms and suites with a pool, right next to Kamari beach.
La belle vie – Spacious holiday apartments with a swimming pool in a quiet location, a short walk from Kamari beach.
Studios Marios – Large, self-catering rooms in a family-run hotel with a small outdoor pool.
Santorini Crystal Blue Boutique Hotel – A luxury option just on Kamari beach. Some rooms feature a hot tub, and the hotel offers spa / massage services.
Secret Earth Santorini – A selection of elegant villas, some of which can accommodate up to 10 people. Ideal for larger families or groups of friends travelling together.
Other towns to stay in Santorini
There are many other towns and villages to stay in Santorini, like Pyrgos, Megalochori, Messaria, Emporeio and Akrotiri. These areas are a little more remote, but you can consider them if you are planning to rent your own wheels.
Related: How to book a Santorini hotel with breaking the bank
Frequently asked questions about where to stay on Santorini:
Santorini is a beautiful island that captivates visitors with its natural beauty. Choosing a hotel that best enhances the experience will really add an extra dimension to your time on the islands. Wondering where to stay in Santorini? Here are some more insights:
Where should I stay in Santorini for the first time?
Some of the best areas to stay in Santorini for the first time include Fira town, Oia and Imerovigli. All three offer a unique experience and combine their traditional character with modern tourist amenities.
Is it better to stay in Fira or Oia in Santorini?
It depends on what you want. Both towns are on the west coast of Santorini, and you will enjoy amazing views of the caldera and the sunset. Fira is more central, and is a better option if you want to explore Santorini. Oia is a little more remote, but has the most iconic Santorini view.
Is Fira cheaper than Oia?
Generally speaking, Oia is geared towards luxury accommodation. If you book in advance, or visit Santorini outside the peak season, you can find affordable accommodation in both towns.
Is it better to stay in Oia or Imerovigli?
Both areas offer sunset views, as well as plenty of accommodation. Oia tends to get busier with tourists, and there are several cafes, restaurants and shops. Imerovigli is a quiet town, with just a few hotels and restaurants and a relaxed vibe.
How many days in Santorini is enough?
Four days / three nights in Santorini is enough to get a decent idea of the island. If you are particularly interested in beaches, you can combine Santorini with a nearby island, like Naxos or Ios, that have much better beaches.
Which is the best area to stay in Santorini?
If you are only staying in Santorini for one or two nights, Oia, Fira or Imerovigli are the best areas to stay. If you are staying longer, and are considering renting a car, Kamari might be one of the better places to stay in Santorini.
More Santorini Blog Posts
Santorini is an ideal destination for a romantic getaway or once in a lifetime experience. Once you've chosen the best place to stay Santorini, you'll want some more insights and travel tips for your trip to Santorini. Here's a few guides which you might want to read:
---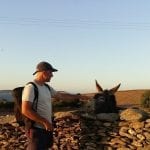 –
Dave Briggs
Dave's
travel writer
from the UK who's been living in Athens since 2015. As well as writing this guide on places to stay in Santorini, he's also created hundreds of other travel blog posts and itineraries Greek islands and other destinations all over Greece. Follow Dave on social media for travel inspiration from Greece and beyond: