The easiest way to travel from Santorini Airport to Oia is by taxi, because using public transport involves a change of bus in Oia.
Ways To Travel From Santorini International Airport To Oia
Oia is the picturesque village located in the north of Santorini island, famous for its iconic white-washed buildings, blue-domed churches and beautiful sunsets.
Many people choose to stay in Oia when visiting Santorini, and the distance from Santorini airport to Oia is just under 17kms
There are a few ways of getting to Oia from Santorini Airport. Here's a quick look at the pros and cons of each method of transportation, and I'll go into more details about each travel option later on.
Santorini Airport – Oia Transportation Options
Taxi: This is the easiest and most convenient option for travelling from the airport to Oia. Taxis can be found outside of the arrivals terminal or pre-booked. While they are the most expensive way to travel from Santorini Airport to Oia, they are also the quickest way.
Public Bus: This is the most affordable option of getting from Santorini Airport to Oia, but you do have to change buses in Fira along the way. There might be a lot of waiting time involved, particularly during the busy high season.
Shuttle Bus: A great solution for solo travelers as it's cheaper than taking a Santorini airport taxi, plus more convenient than the airport bus.
Hotel Transfers: Many hotels in Oia (well, the high end ones in any case!) offer free or paid-for transfer options from Santorini JTR Airport. Overall, you end up paying one way or another whether an extra fee or a more expensive hotel room.
Car rental: This is a great option for those who plan on travelling around Santorini independently during their time on the island. Be advised, parking in Oia can be problematic especially in the summer months.
Santorini Airport Taxis (Regular and Pre-booked)
My advice if traveling to Santorini in June, July, August, and September is to pre-book a taxi from Santorini Airport to Oia. Yes, it is more expensive, but the hassle and time it will save you will have you thanking me later.
The cost for taking a pre-booked taxi transfer from Santorini to Oia is going to be around the 60 Euro mark. The advantage is that the driver waits for you just outside the arrivals hall with your name on a board, takes you straight to the car, and then drives you directly to your hotel in Oia.
There's no waiting around, no haggling about a price, and you can get on with your vacation. Check the prices for pre-booked Santorini airport transfers here: Welcome Pickups
If you don't want to pre-book, there's also a taxi rank just outside the airport. As Santorini is only a small island, there are a limited number of taxis, so you may need to wait in the queue for a while until a ride becomes available.
You can expect to pay around 40 Euros or more for a taxi from the queue – but you'll need to check the price with the driver as it will depend on time of year, and traffic. Travel times to reach Oia takes 20 – 40 minutes depending on traffic.
If traveling in the off-season, taking a taxi from the taxi rank makes a lot of sense as there are always plenty there waiting – at least there were in March when I last visited! In July and August, the story will be very different.
Related: Best time to visit Santorini
Santorini Airport Bus
There is no direct bus that runs from Santorini Airport to Oia. Instead, you first have to get a bus from Santorini airport to Fira, and then another bus from Fira to Oia.
The bus stop is just outside the arrivals area of Santorini airport and near where the taxis wait.
In 2023, the bus fare from the airport to Fira is 1.60 Euro, with travel times of between 10 and 20 minutes. The fare for the trip from Fira to Oia is 1.60 Euros, with travel times between 20 and 30 minutes.
While the Ktel bus is the cheapest way to travel from Santorini Airport to Oia, it is going to be the slowest. You may need to wait for a bus at Santorini airport, and then also wait for your connecting bus at Fira bus station for your onward journey to Oia. The total journey time, including waiting around, could be a couple of hours.
During the quieter months of April, May, October and November, the buses can be a cost efficient way to getting from Santorini airport to Oia. During the peak season, it can be hot, crowded, and stressful!
Check the bus timetables and prices here: Ktel Santorini
Santorini Airport Shuttle Bus
As you exit the arrivals part of Santorini airport, you will notice an office which sells tickets for a shuttle service to different parts of the island. At the time of writing, a ticket to Oia was 15 Euros.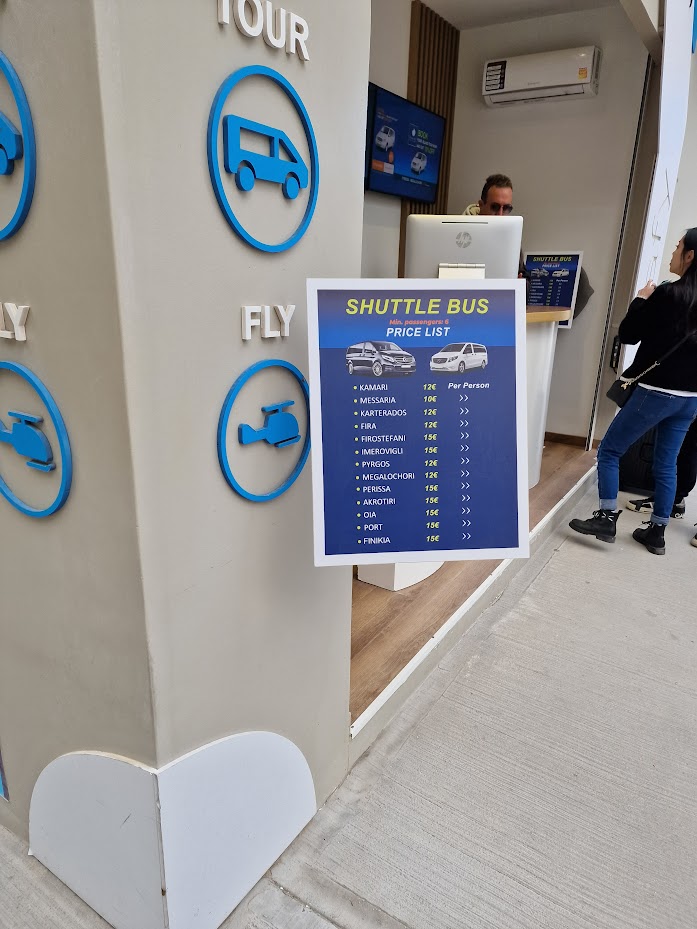 For anyone traveling solo, this shuttle airport transfer service is worth considering, assuming it would leave from Santorini airport to Oia relatively quickly.
It would save you the time of waiting for the public buses, and whilst not the cheapest option, is more cost friendly than a regular taxi fare.
Related: How to get around Santorini
Renting A Car At Santorini Airport
There are car rental collection points at Santorini airport, as well as various car rental desks inside the arrivals terminal.
I must warn you that parking can be a bit of a problem in Oia, but a rental car is a great way of getting around Santorini to see parts many other tourists can never reach. You might also want to read my guide about renting a car in Greece.
You can look for prices of car rentals in Santorini at: Discover Cars
Hotel Pickup
Many hotels in Oia offer a pickup service from the airport. This is a convenient option, especially if you're not familiar with the island and don't want to worry about finding your way to the hotel.
The hotel pickup service is usually included in the room rate or available for an additional fee. To arrange a pickup, you will need to contact your hotel in advance and provide them with your flight details.
Related: Where to stay in Santorini
Other Insights
While Santorini is a relatively small island, it can get busy during peak season, so it's always best to plan ahead and book your transportation in advance, especially if you're arriving at the airport late at night.
If you have only a couple of days in Santorini, it's a good idea to work out the best balance between the cost of transportation services from Santorini airport and the amount of time each one might take.
FAQ About Santorin Airport – Oia Travel
Readers who want to travel from Santorini's airport to Oia often ask questions similar to:
How much is a taxi from Santorini airport to Oia?
A taxi from Santorini Airport to Oia can cost between 30 and 60 Euros, depending on the time of day, traffic conditions, and if it is pre-booked.
How do I get from Oia Santorini to the airport?
Getting from Oia Santorini to the airport is relatively easy and there are a few options available including pre-booking a private transfer, taking a regular taxi, using a shuttle bus, and taking the regular bus service via Fira.
How far is airport from Oia on Santorini?
The distance from Santorini's airport to Oia is approximately 17 kilometers.
Is it worth going to Oia in Santorini?
Oia in Santorini is an incredibly popular destination with its stunning views, white-washed buildings and blue-domed churches. Oia is a popular place to be at sunset, with magnificent views over the caldera of Santorini, Greece.
Is there a bus from Oia to Santorini airport?
There is no direct bus service that runs from Oia to Santorini Airport, but you can get a bus from Oia to Fira and then swap buses at Fira bus station for one going to Santorini airport.
---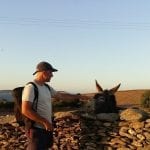 –
Dave Briggs
Dave is a
Greek travel blogger and writer
originally from the UK, and now living in Athens, Greece. As well as writing this guide on the best ways to travel from Santorini airport to Oia, he's created hundreds of other travel guides to destinations all over Greece. Follow Dave on social media for more Santorini travel ideas: