There are regular flights and ferries from Athens to Santorini every day of the week. In this guide, I'll share everything you need to know about how to get from Athens to Santorini.
Wondering How To Get To Santorini From Athens?
The choice of how to get from Athens to Santorini is simple. You can take a ferry or a plane.
But how do you decide between the two?
If you want to maximize the use of your time on vacation, you should definitely fly from Athens to Santorini instead of taking a ferry.
If you want the experience of sailing on a Greek ferry, or want to save a little money, taking a ferry to Santorini from Athens might be better.
You can find Athens – Santorini ferry timetables and schedules here: Ferryscanner
When it comes to the best way to travel from Athens to Santorini, a lot depends on what time of year and day you want to travel, and what sort of traveler you are.
For example, I've found that many international readers are planning to visit Santorini, Mykonos, and Athens on a 7 day trip to Greece.
Generally speaking, I recommend that these readers should try to get a flight straight out from Athens International Airport to Santorini if there is one when they first arrive in Greece. Doing it this way saves time, and you can leave Athens until the end of the trip.
That's me by the way, getting ready to take the slow ferry from Athens to Santorini. As I live in Greece, I don't mind spending an extra few hours on the boat. I get to write Greece travel guides like this one during the ferry trip to help other people like you!
---
Have questions about traveling from Athens to Santorini?
Before we dive too far in, here's some of the most commonly asked questions about travel between Athens and Santorini:
How far is Athens from Santorini?
The distance from Athens to Santorini when flying is about 218 km, and flights can take about 45 minutes. Ferries must travel approximately 300kms from Piraeus Port Athens to Santorini, and the quickest ferry takes around 5 hours.
What is the best way to travel from Athens to Santorini?
Flying from Athens to Santorini is the quickest way to travel, taking just 45 minutes. Taking a ferry from Athens to Santorini is the cheapest way to travel, with ferry tickets starting from around 33 Euros.
How long is the ferry ride from Athens to Santorini?
The quickest high speed ferry from Athens takes 4 hours and 45 minutes to get to Santorini. The slow ferry (typically overnight) can take up to 12 hours and 45 minutes!
Is it better to fly or ferry to Santorini?
Flying to Santorini from Athens is best if you want to make the best use of your vacation time.
How many days do you need in Santorini?
I recommend 3 to 4 days in Santorini in order to see as many sites as possible. Visiting Santorini is a great experience, with notable sights such as the volcano and its amazing views, Oia, and Fira. Make sure to watch the fantastic sunset in Santorini each evening you are there!
Where can I book ferry tickets?
You can check ferry routes, and book ferry tickets online at Ferryhopper. This is the site I use for all my island hopping trips in Greece.
Where can I find cheap flights to Santorini from Athens?
You can use Skyscanner to start looking for cheap flights Athens to Santorini. Also remember to check out the airlines dedicated websites for deals.
You might like to read: How to find cheap flights
---
Still with me?
Let's take a look at things in more detail.
As there are a few different companies flying between Athens and Santorini, and a few different ferry companies, I've compiled the information in one place to make a comprehensive guide.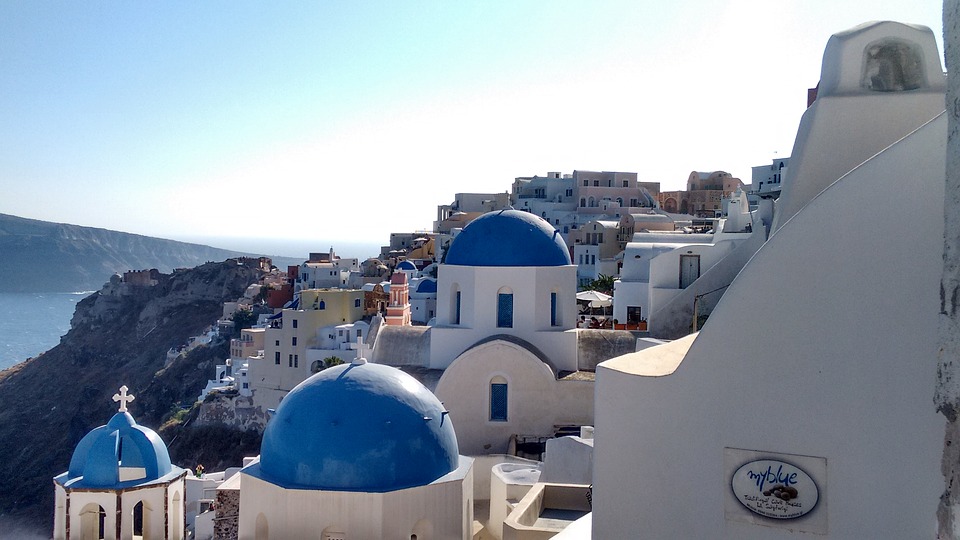 Underneath, you can see an index to this blog post, with links that will take you through to the appropriate section.
---
Flying from Athens to Santorini with Olympic Air / Aegean Airlines
People who have been travelling to Greece for years, might remember that Olympic Air was merged with Aegean Airlines in 2013. Flights from Athens to Santorini can be taken on both Aegean Airlines (I flew with them in 2023) and Olympic Airlines.
According to TripAdvisor's Travelers' Choice Awards, Aegean Airlines was voted the best regional airline in Europe and Greece for 2019, not for the first time.
It also ranked first in the category of Best Business Class in Europe. Overall, the planes are great, and the crew is very nice and helpful. There are two types of planes operating this route, one of them being a small propeller plane.
Aegean Airlines and Olympic Air have different types of fares. The basic fare includes a standard piece of hand luggage of up to 8 kg as well as one personal item. If you need to bring checked luggage, you will have to pay extra.
Prices of one-way flights from Athens to Santorini start from about 45 euro if you book in advance. If you want to get a last-minute ticket during peak season, prices can go well over 200 euro.
You can book your ticket here https://en.aegeanair.com/ and here https://www.olympicair.com/en
---
Flying from Athens to Santorini with Ryanair
Ryanair is a low-cost airline based in Ireland, and it definitely is a controversial company.
While it has a really high punctuality record, with reportedly 86% of the flights arriving no later than 15 minutes after scheduled time, it is also known for leaving people stranded in European airports, making people pay for anything extra, and poor customer service overall.
I've been trying to get money back from a cancelled flight for over a year now, and while I was a strong advocate for them before, no longer recommend using Ryanair.
There's no denying that they offer the cheapest flight though. Ryanair's prices can be really low – if you book in advance, you can find flights from Athens to Santorini for under 45 euro return, or less if they are running a promotion.
Ryanair's prices can be really low – if you book in advance, you can find flights from Athens to Santorini for under 45 euro return, or less if they are running a promotion.
The catch here is that you will need to pay extra for any piece of luggage, whether it is hand luggage or a bigger sized luggage.
Add-ons start from about 15 euro at the time of writing, but Ryanair's policies change all the time, so you will need to do your own research at the time of booking your tickets.
While on board, you can purchase food or drinks, but my advice is to buy some water from the airport instead, as Ryanair's prices are quite steep.
Their website is here where you can find flights from Athens to Santorini: www.ryanair.com
---
Flying from Athens to Santorini with Volotea
The Spanish company called Volotea flies from Athens to Santorini in summer only. Its prices are not much lower than those of other companies, while the range of add-on options it offers is rather confusing and it might take a while to get your head around it.
If you are a frequent flier within Europe, you can consider their MegaVolotea membership, where you pay a one-off fee to have discounts on flights and add-ons.
Their website is here: www.volotea.com
---
Flying from Athens to Santorini with SkyExpress
SkyExpress is another Greek company that flies within Greece. Like Olympic Air, they offer two pieces of hand luggage for free.
Depending on your fare category, the weight of the biggest piece of hand luggage may be as low as 6 kilos. You are also entitled to check another piece of luggage – the weight varies from 8 to to 23 kg, depending on your airfare.
Prices for a return ticket with SkyExpress start at around 85 euro.
Their website is here: www.skyexpress.gr
---
Which airline is the best?
While I haven't flown with all four companies myself, I prefer Aegean Airlines.
All in all, if budget is an issue, just go with the lowest fee, which is not always Ryanair.
If you don't want to fly with a low-cost company, my suggestion is to fly with Olympic Air, or SkyExpress if you have checked luggage. Remember that neither Ryanair nor Volotea fly in winter.
If you are planning to take a flight from Athens to Santorini straight after your international flight to Athens airport, make sure that you allow plenty of time for immigration as well as walking to your gate.
Keep in mind that not all gates at Athens airport are at the same place. As an example, Ryanair's gates are about a 15 minute walk from the airport's main building, while Olympic Air flies from the main terminal.
I recommend at least 2 hours or more between flights – there is plenty to do at Athens international airport, so you won't be bored.
One more suggestion – if you are flying back from Santorini to Athens, allow at least 2 hours at the Santorini International Airport.
As it's really small, chances are there will be long queues, so make sure you are there in good time for your flight. The Santorini Airport is only a 10 minute drive from Fira and a little futher to Oia.
You can pre-book a taxi here – Santorini Airports Transfers.
Also read:
---
Tips for buying flight tickets from Athens to Santorini
Like for most flights, you can use popular search engines such as www.skyscanner.com or www.kayak.com to compare prices.
However, note that the price you see will typically include no luggage or hand luggage, so you will need to add that on to the base price.
If you are planning a trip to Greece and are thinking of flying from Athens to Santorini, subscribe to the air companies' newsletters, as they often announce promotions months in advance.
In general, the earlier you buy your ticket, the less expensive it will be. If you try to book a last minute ticket in peak season, you may get prices as high as 300-400 euro, or even no availability.
Flights to Santorini departs Athens International Airport. Flights arrive at Santorini International Airport. I suggest booking your Santorini airport transfer in advance.
---
Summer and Winter Ferries to Santorini
Depending on the season, the number of Athens to Santorini ferry crossings differs a lot.
In winter there are just one or two ferries per day sailing the Santorini route departing from Piraeus, the main port of Athens. They take anywhere between 7 and 9 hours to reach Santorini!
In summer, there are plenty of ferries of different types, travelling from both Piraeus and Rafina. The fastest one takes about four and a half hours to reach Santorini island.
All these boats will first stop on other islands, such as Milos, Paros, Naxos, Mykonos and Ios. It's a great way to catch a glimpse of the ports and start planning your next holiday in Greece.
he massive Piraeus ferry port is a half hour away from Athens city center and over an hour from the airport by taxi. Piraeus port is quite chaotic, so you will need to allow plenty of time to find the gate where you are departing from.
Just to give you an idea of the size, you should know that there is a dedicated free bus running inside the port area, transporting passengers leaving from faraway gates.
Boats to Santorini from Athens depart from between gates E6 and E7, which is walking distance from Piraeus metro and suburban railway station.
This is a map of Piraeus port – time for you to learn some Greek! – Travel Viva
---
Getting to Piraeus Port from the Athens airport and central Athens
You can get to Piraeus ferry port from the airport by Athens metro, suburban railway or the express bus X96.
The bus leaves from just outside the airport terminal. Bus tickets cost 6 euro and need to be purchased outside the bus and validated when you board the bus.
To get to the metro or the suburban railway you need to walk a little further. Tickets cost 10 euro. You can also take a taxi.
Depending on mode of transportation and traffic / time of the day, you will generally need at least an hour to get from the airport to Piraeus Athens ferry port
If you are in central Athens, you can either get the green metro line, or a taxi. A single metro ticket costs 1.40, while the taxi will be metered.
Allow plenty of time in Piraeus before your boat departs – I suggest getting there an hour before your trip in order to find your gate.
Read my full article: How to get from Piraeus to Athens Airport and city centre
---
Getting to Rafina Port from the Athens airport and central Athens
Rafina is a much smaller (and less busy) port, located around an hour away from central Athens and a half hour from the airport.
There are direct buses to Rafina from Pedion tou Areos, close to Victoria metro station in central Athens, and from the airport, across the street from the Sofitel Hotel.
This bus is run by a different company from the X96 bus, and you will need to get the ticket on board for 3 euro.
You can also get a taxi from either the airport or the centre.
---
Athens to Santorini Ferry Types
The types of ferries from Athens to Santorini differ quite a lot. There are large, conventional ferries that are the best budget option, but take several hours longer to reach Santorini.
There are also large, high-speed catamarans that are reasonably comfortable to travel on, but are quite expensive.
Finally, there are a few smaller, faster vessels without vehicle capacity. While these can be an option for some people, they would be affected by the strong meltemi summer winds. It's best to give those a miss if you get sea sick easily.
Ferry ticket prices range from about 35 to well over 100 euro, depending on what type of seat you get and on whether you want a cabin or not. You can also find special discounted tickets for the slower ferries, costing only 20 euro.
Ferries arrive at Athinios ferry port, Santorini's main port. From there, it will be an unforgettable bus or taxi ride up to the town of Fira, or wherever your accommodation is on Santorini.
As many people are met by a taxi arranged by their accommodation, the port might be quite chaotic, so pay extra attention to your valuables.
A cruise ship may also pull into Santorini port just to add to the confusion!
---
Getting from Athens to Santorini on the slow ferries – Blue Star Ferries
Some of the ferries that run from Athens to Santorini all year round, are operated by a ferry company called Blue Star Ferries. This company operates conventional as well as high-speed ferries.
There are several conventional Blue star ferry boats on the Athens-Santorini itinerary. They leave Piraeus at 7.25 am every day throughout the year, and also in the evening on some summer days.
These ferries take 7-9 hours to get to Santorini, though in practice they can be delayed. There is also a direct service, Blue Star 1, which only takes five and a half hours, but arrives at Santorini at 3 am.
These Blue Star ferries are massive passenger ferries that also carry vehicles. They have several decks, lounges, restaurants, cafes, toilets, small shops selling books and clothes, and other amenities to keep you occupied during your trip.
For an up to date ferry schedule, you can check the company's website www.bluestarferries.com.
---
Ferry Seating Arrangements
There are many seat options on the conventional ferry operated by Blue Star ferries, ranging from a deck seat / economy to a single cabin. A deck seat costs 43.5 euro, while there are often promotional prices at 35 or even 20 euro.
With this option, you will get no guaranteed seat. This can be a pain, especially at busy times of the year. You may want to book a reserved "airplane" seat instead, inside the ferry, for 49 euro.
It is definitely worth it, as you will have your own designated seat, while you will also be able to wander around the boat and sit on the deck if you want. Make sure you bring a jacket, as the air-con can get quite chilly.
Seats in business class are 58 euro. They offer a quieter environment, and there is also waiter service. While the seats in business class look more comfortable, I am not sure they are worth the extra cost.
Finally, there are cabin options varying in price, with the most expensive cabin option from Athens to Santorini costing around 120 euro. Cabins can be sold out weeks in advance, so plan ahead if you want one.
There are cabins for 1, 2 or 4 people, and they can either be "inside" cabins (with no window view) or "outside" cabins (you can see the Aegean sea from the window).
The slow Ferries are the best option if you get seasick easily, if you want to sit on the deck, if you are not in a hurry, and if you like boats in general. They are also your best budget option if you only book a few days in advance.
---
Getting from Athens to Santorini on the Hellenic SeaJet ferries
There are a number of high-speed ferries run by a company called Hellenic SeaJet. In general, the word "Jet" is included the name of the ferry – Tera Jet, World Champion Jet, Sifnos Jet, SeaJet 2, Super Jet.
These ferries run in spring, summer and autumn, and will take you from Rafina or Piraeus to Santorini in 4.5 – 5.5 hours. They all stop on several islands along the way.
The Sea Jets differ between them in terms of inside space and overall size of boat. The smaller SeaJet ferries don't carry vehicles.
All of them offer two or three types of indoor seats, standard, business and VIP. There is no cabin or deck option – in fact, there is not much of a deck, so you can't really wander around the boat.
The standard fare costs between 65 and 80 euro, and business / VIP class is an extra 10-30 euro. If you decide to take a SeaJet in peak months, you might prefer to book business class, or you could end up being too crammed. They can get sold out days or weeks in advance, so it's best to book early, especially for trips during high season.
I am repeating myself, but I feel quite strongly about it. The smaller SeaJet ferries are not a great choice if you are prone to sea sickness.
The winds in Greece are often strong, and your trip will be unpleasant, in the best case, or even cancelled, in the worst case. In general, the SeaJets might be best for shorter trips, e.g. between islands.
For information on the fleet, take a look here www.seajets.gr
---
Getting from Athens to Santorini on the Golden Star ferries
The Golden Star ferries are another company, operating a couple of faster ferries from both Piraeus and Rafina port. They are called Superspeed and Superexpress, respectively.
The two ferries are quite different to each other, as Superspeed is small and has no vehicle capacity, while Superexpress is about 90 metres long.
Standard seats on these boats cost 60 euro, and there is a surcharge for business or VIP seats. Again, there is no deck option. E-tickets are available for these ferries, so you won't need to pick them up from the port.
Here is some more information about this company https://goldenstarferries.gr/en/
---
Blue Star Ferries
In addition to the above ferries, Blue Star Ferries also operate two faster vessels, Hellenic Highspeed and Flying Cat 3. Both of these ferries have no deck, and you will be inside the whole time.
While Hellenic Highspeed has vehicle capacity, Flying Cat 3 is a much smaller ferry that only takes passengers.
I would personally avoid it for a trip from Athens to Santorini, as it isn't pleasant to travel on, especially if it's windy. Hellenic Highspeed on the other hand is a good choice if you want to get to Santorini in under 5 hours.
As of March 2020, Blue Star Ferries don't offer an e-ticket option. You can reserve the tickets and pick them up from the port before you travel. Make sure you are there early, as other people will be queuing as well.
---
Buying boat tickets from Athens to Santorini
There are several providers selling tickets online, and https://www.ferryhopper.com/en/ is one of the best. It will bring up all ferry options on a specific day, and you can choose the one you want.
While you can't print your own ticket after you buy it online, Ferryhopper gives you the option to collect it from your hotel in the Athens or Pireaus area, for a 10 euro fee. Alternatively, you can pick it up from the port at any time before your departure.
You can also buy your tickets directly from the companies' websites, where you can also find information about the ferry you are interested in. In case there is no e-ticket option, all companies have kiosks inside the port. Allow plenty of time to pick up your tickets as there may be long queues.
If you have plenty of time in Athens before leaving for Santorini, or if you are travelling off-season, or if you have no set plan while travelling in Greece, you can buy your ticket in person, from any travel agent in central Athens or elsewhere.
There is also a travel agent at airport, called Aktina Travel Group. Note, however, that some ferries, especially the SeaJets, might be fully booked.
In all cases, check if you qualify for a discount – ISIC holders qualify for a 50% off on some boats, while there are free or reduced-priced tickets for children on all boats.
---
Luggage on Greek ferries
Once you board the boat, there are designated areas where you will be asked to place your luggage. If you have hand luggage, it's best to bring it with you upstairs, even if just to avoid the chaos of finding it upon your arrival to Santorini.
There will generally be plenty of space to store it close to your seat. While most ferries have escalators, bear in mind that they don't always function, so if you want to bring your luggage with you, make sure you can carry it.
---
The best way to travel from Athens to Santorini
All in all, the best way of getting from Athens to Santorini depends on your preferences.
Flying only takes 45-40 minutes, and if you only have hand luggage it's a breeze.
A ferry journey takes anything from around 4.5 to 8-9 hours, but it is a cool experience, especially if you haven't been on a Greek ferry before. On the plus side, you will get to see the amazing caldera views upon your arrival to Santorini!
I would personally choose to fly from Athens to Santorini and look for low-priced direct flights well in advance. The Mrs, however, loves the slow boats, as apparently it helps getting mentally prepared for a beach holiday. Go figure!
At the same time, if we were travelling from Athens to Santorini in the shoulder season, we both agree that a flight would be better. Most of the Santorini ferries for spring 2020 are slow ferries, that take about 9 hours to get to the island.
While this would make sense as part of an island-hopping trip, a flight would be better if we were going to Santorini for a quick island break.
You might also look at this guide on how to get to Santorini to see if you can travel there directly from your own country.
Sign up below for more travel tips for traveling in Greece!
More Greece Travel Guides
Traveling around Greece this year? You might like to check out these other travel guides.