Spend the perfect 2 days in Athens using this ideal travel itinerary for first time visitors. A genuine and realistic guide by a local on what to do in Athens in 2 days.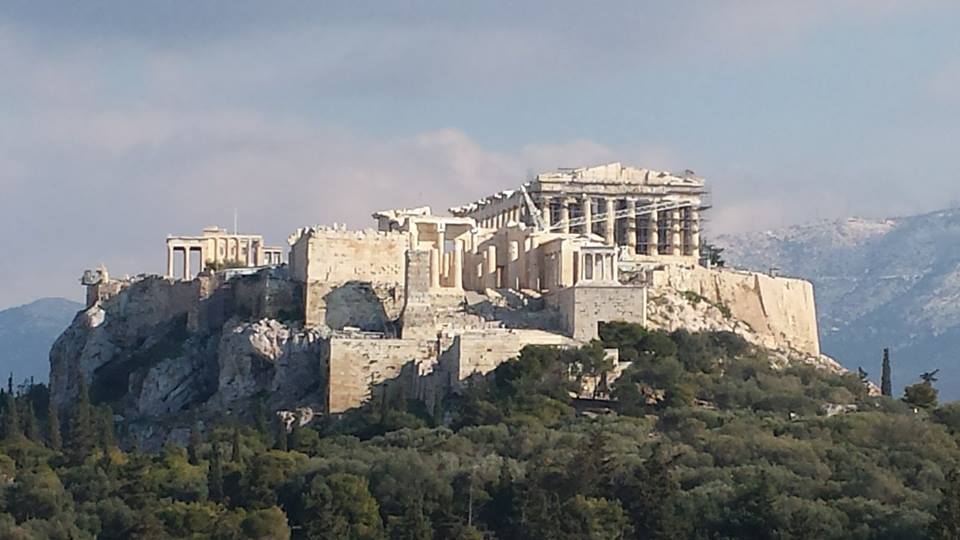 Athens – The birthplace of democracy, and cradle of Western civilization. I also call it home.
I've been living here in Athens for just over five years now, and have enjoyed discovering its landmarks and monuments, its creativity and energy.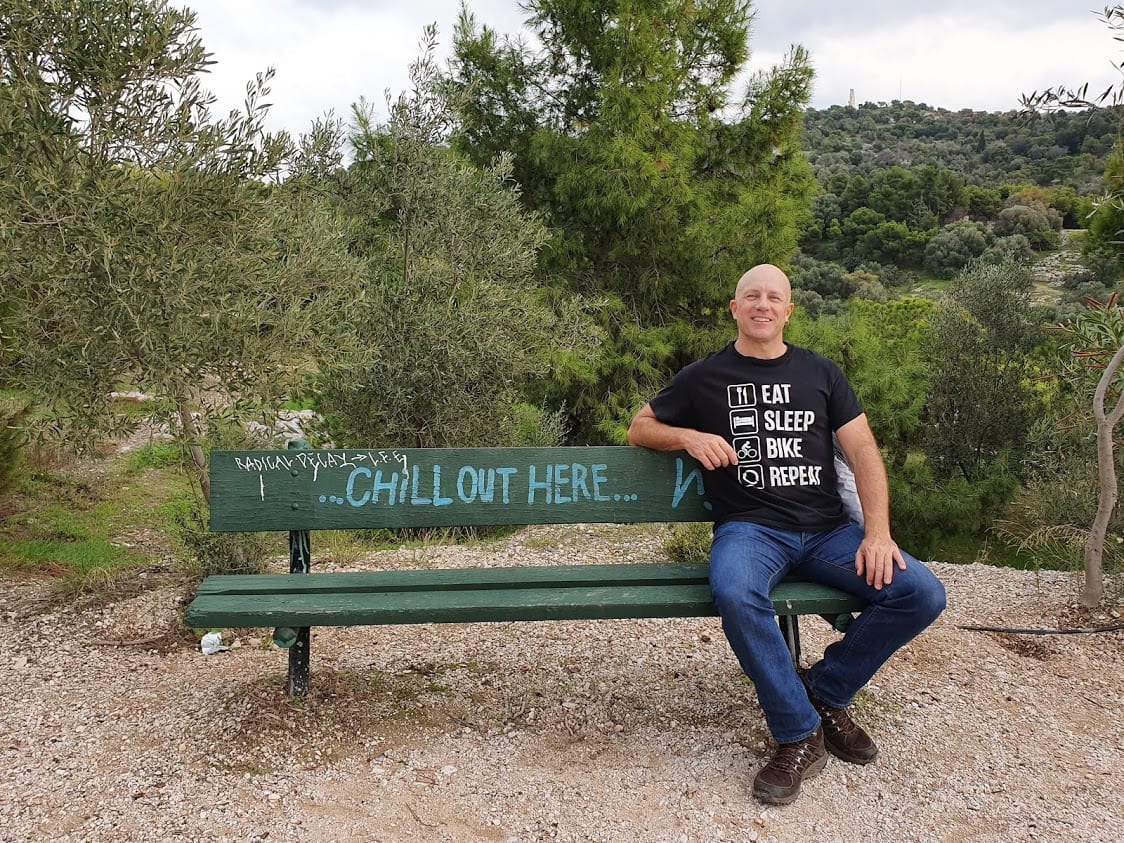 During this time, I've personally visited all the major historic sites in Athens, nearly 80 museums, dozens of art galleries, and discovered cool areas with street art.
When family and friends come over, I of course offer to show them all the best places to visit in Athens. As a result, I've created this sightseeing itinerary for Athens based on the same one I used when my brother, nephew, and niece visited a couple of years ago.
It's a first-time visitors guide designed to show the highlights of the historic center of Athens at a nice easy pace. It also suggests some key museums to see, where to sample the best Greek cuisine, and reveals some of the creative underbelly of contemporary Athens.
If you are researching what to see and do in 48 hours in Athens, hopefully you'll find it useful too!
Two Days in Athens is enough… just
Many people traveling to Greece tend to stay in Athens for just a couple of days before moving on to visit the Greek islands. In fact, I noticed that the Athens- Santorini – Mykonos itinerary over 7 days is a popular one for first time visitors.
It made sense then to create an Athens city break itinerary for 2 days. Of course, if you can stay longer in Athens it would be great as you'd experience a lot more.
2 days in Athens is enough time though to see all the essential highlights, landmarks and attractions.
Things to do in Athens
What is there to see in Athens then? Well, the ancient ruins and monuments are top of most people's list when visiting for 2 days in Athens. These include:
The Acropolis and Parthenon – UNESCO World Heritage Site and city icon.
The Ancient Agora – The ancient market center of Athens with rebuilt Stoa.
Monastiraki Square – A hub of activity, and where to buy souvenirs in Athens.
The Temple of Zeus – Monumental stone columns with Acropolis view.
Panathenaic Stadium – Reconstructed sporting stadium and birthplace of modern Olympic Games.
The Acropolis Museum – One of the best museums in Greece.
There are also off the beaten path areas in modern Athens where you can get a feel for it's artistic, and sometimes edgy contemporary side. Then there's the street art, coffee culture, museums, and food scene to consider.
Feeling overwhelmed? Don't be! This Athens itinerary gives you a taste of it all. You can either follow it step by step, or pick out the parts you find most interesting to create your own schedule.
At the end of this Athens guide, I'll also give you some other travel blog posts to check out that will help you plan your trip .
Athens 2 Day Itinerary
An easy to follow itinerary for sightseeing in Athens. You can use the links below to jump to specific sections that interest you the most, or read through from top to bottom.
Day 1 in Athens
A few notes before we leap into the first day in Athens:
An early start is recommended both in summer (so you can have a nice long lunch in the heat of the day) and in winter (as site opening hours are shorter).
You should also keep in mind that daylight can end at 20.30 during the summer in Athens, but hours earlier in winter.
Additionally, the best way to see Athens is on foot, so a bit of walking is required. Wear comfortable shoes, a hat for the sun, and have a bottle of water to hand. Ok, let's begin!

Syntagma Square and Changing of the Guards
Most people spending 48 hours in Athens choose to stay in the historic center. You can either walk or take a metro to the starting point at Syntagma Square in central Athens.
Buy a koulouri or two from the seller opposite the metro entrance, and take a look at the square. This is where the majority of the political protests and demonstrations take place, but on most days it's just a normal central square!
Take an obligatory photo by the fountain, and then walk up the stairs for photos of the Parliament Building. Cross the road, and find a good position to see the changing of the guards in front of the Tomb of the Unknown soldier.
The Tomb of the Unknown Solider is positioned just in front of the Athens Parliament Building. This is guarded day and night, by two Evzone guards. On the hour, every hour, the guards change and is a one-of-a-kind spectacle not to be missed!
We were there at 11.00 on a Wednesday. On Sundays at the same time, the ceremony is a hugely elaborate affair. If you have 2 days in Athens, and one day is a Sunday, be sure to plan your day around this!

Botanical Gardens and Zappion
When the Evzone guard changing ceremony has finished, head up to the National Garden. A rare area of greenery in the city center, it was originally known as the Royal Gardens, and is home to over 500 species of trees and bushes.
You'll also pass a building known as the Zappion on the way through to the Panathenaic. The Zappion is a grand looking neo-classical building that today holds some events and exhibitions.

Panathenaic Stadium in Athens
The walk from the Tomb of the Unknown Soldier takes five or ten minutes depending how long you spend in the Gardens and Zappeion. You'll cross a busy road, and then see the stadium.
If you are into sports like my family are, you'll want to go inside the Panathenaic Stadium, which hosted the first modern Olympic Games in 1896. There's a small museum with memorabilia, and you can also walk out on the track
You can get decent enough photos from the outside without paying to go in. Note, if you do go inside the stadium, you should allow to add on about a half hour to your itinerary.

Temple of Olympian Zeus
Some people decide not to include the Temple of Zeus on their 2 days in Athens things to see list, but I think that's a mistake.
To me, it is one of the more impressive temples in Athens. It may not be complete, some of the repair work may be questionable, but the sheer size of the columns is amazing.
Additionally, you get a good view of both the temple and the Acropolis in the background if you choose your angle wisely!
By visiting here first, you get the opportunity to buy the combined ticket for archaeological spaces in Athens with very minimal queues. It's far better to do this than join a massive line for tickets at the Acropolis!

Hadrian's Arch
This is located just outside of the Temple of Zeus, and is on the walking route to the Acropolis. The Arch was commissioned by the Roman Emperor Hadrian, and remarkably it has survived through to this day.
This Athens attraction is really just a quick pit-stop here before crossing the road. If you get the camera angle right, you can see the Acropolis on the hill behind it.

Acropolis and Acropolis Museum
Although you would reach the Acropolis Museum before the Acropolis, you might prefer to visit the Acropolis first. It really depends on the time of day and crowds. Whatever you do, you want to avoid being on top of the Acropolis in the midday heat – even in spring and autumn – as it's just too hot.
The Acropolis
The highlight of many people's city break in Athens, and for good reason. Its imposing form still dominates the central city, and it was the real heart of Ancient Athens. Today, it is a UNESCO World Heritage site and a must-see in Athens.
Depending on the time of year, there may be two entrances operating to the Acropolis complex. If open, it's better to take the lower entrance, which gives access to the lower slopes, and includes the Theatre of Dionysus, and the Odeion of Herodes Attikus. If you already have your combined ticket, you'll get in much quicker.
The Odeion of Herodes Atticus is actually my favourite part of the Acropolis complex in Athens.
Once at the top of the Acropolis, you'll then see the significant buildings such as the Parthenon, Erecthion, Temple of Athena Nike, and Propylaia. Note that the Caryatids you see here are replicas, with the real ones on display in the Acropolis Museum.
Personal notes from the Acropolis:
It goes without saying, that you have to include visiting the Acropolis and Parthenon on a 2 days in Athens tour itinerary! In a way, I always find it more impressive looking up at the Acropolis and Parthenon than being on the top of it.
It seems each time I visit, there are more cranes and scaffolding. Of course, there are parts of it which are amazing such as the Erechtheion. The views out over Athens are also amazing.
If you are interested in having a guided tour of the Acropolis, you can find out more here – ** Acropolis Guided Tours **
Acropolis Museum
This museum gives a good overview of how the Parthenon and other parts of the Acropolis may have looked thousands of years ago.
Many people claim this to be one of the best museums in Athens. I have a slightly different, more controversial opinion about it here – Acropolis Museum in Athens.
This is a museum where it would really be a good idea to have a tour, or use an audio guide. The museum has a cafe with a great view of the Acropolis. If you are flagging, it's a good place to stop for a coffee or even a meal.

Related Post: Athens Museum List
Lunch in Plaka
You're bound to be hungry by now, so if you've not eaten at the museum, take a walk over to Plaka and find a place to eat. Now, I'll be honest and say this is a very touristy area, but the food is nice even if it can be busy at times.
One place I recommend is Scholarhio, and if it's too busy to get a table, try nearby To Kafeneio.

Walk around Anafiotika and Plaka
After you've taken a long lunch, and you're refuelled and ready to go, it's time to explore the Plaka area. There's no real science to this – just wander around the alleyways and streets that look the most interesting.
One area to make your way towards (ask at either restaurant if you're not sure where), is Anafiotika. This is an intriguing little settlement at the base of the Acropolis, who's white-washed walls make you feel like you are on a Greek Cycladic island!
In fact, there may be some truth to this. Urban legend has it that settles from the island of Anafi built this small village.

Monastiraki
Monastiraki Square and metro station is another central point in Athens, and one you'll return to on day 2 in Athens. In this area, you can spend time wandering the side streets and looking in the shops. This might be a good time to buy souvenirs and postcards if you are into that sort of thing.
On Sundays, the bric-a-brac stores are supplemented by even more people selling old goods, antiques and curiosities. This is the Monastiraki Flea Market, and a cool place to explore if you have time.

360 Bar for drinks and view of the Acropolis
Opposite Monastiraki Metro Station is perhaps the most famous roof-top bar with a view of the Acropolis in Athens. It's very popular though, so you may even need to reserve a table to be guaranteed a seat, especially for sunset.

Evening meal and drinks
You'll find good food everywhere in Athens, but some places really stand out. One place I might suggest for a treat is the Mani Mani restaurant, which I enjoyed eating at.
It gets consistently good ratings, but you will most likely need to reserve a table, especially in the summer. You can find Mani Mani restaurant at: Falirou 10, Athina 117 42 which is about a 3 min walk from the Acropolis Museum.

Day 2 in Athens
I hope you got a good nights sleep, as there's still plenty of things to see in Athens on day two! Today's schedule has two options for the late afternoon.
One, is to visit the National Archaeological Museum and see the sunset at Lycabettus Hill. The other, is to take a half-day trip to Cape Sounion to see the sunset at the Temple of Poseidon (recommended).

Monastiraki Square – Hadrian's Library
Today's starting point is Monastiraki Square, which you can either reach by foot or by metro. Opposite the metro station is the sit of Hadrian's Library. I hope you kept your combined ticket from yesterday, as you can also use it here!
The Library of Hadrian is an interesting place to walk around, but it shouldn't take too long. There's a couple of potentially good angles to get the Acropolis in the background.

Roman Agora
The Roman Agora is a small site that doesn't take long to look around. One point of interest is the Temple of the Winds which has recently been refurbished.
Ancient Agora
Although it has a far lower profile than the Acropolis that towers over it, the Agora of Athens is just as important in terms of its significance. It was a central point in the lives of ancient Athenians, and a place where they would trade, make deals, and talk politics.
I have visited the Ancient Agora a number of times, and have a more in-depth article about it here >> Ancient Agora Sightseeing Guide.
Start off in the Museum of the Ancient Agora first (in the reconstructed Stoa of Attalos), and then wander through the archaeological site until you reach the Temple of Hephaistos.
This is by far the best preserved temple in Greece. The Ancient Agora is one of my favourite places to visit in Athens. You'll need to allow around a hour and a half for both museum and archaeological space.

Kerameikos
This is the ancient cemetery of Athens, and some circular tombs date back to the bronze age. It's one of the least visited sites, and I'd suggest only visiting it if you have the combined ticket anyway.
I found after visiting a couple of times that it gave me a greater insight into the layout of the city of Ancient Athens, as well as added to my knowledge of the culture. For most people visiting for just a couple of days in Athens, it might not be the best use of your time.
Allow a half hour to wander around the site and see the small museum.

Technopolis
In a change from the 'ancient stuff' of Athens, the industrial museum of Technopolis might be of interest. Once the site of a gasworks, it is now a museum and also hosts events, festivals, and exhibitions.
It's worth taking a walk there to see if there's any event happening, and also walking around the museum. The surrounding area of Gazi is a good place to go out at night for a drink, and there are also a couple of live music venues in the area.

Lunch at Gazi or Psirri
If you're feeling immediately hungry, head to one of the cafes and tavernas around Technopolis in Gazi for a meal. If you can last a half hour longer though, walk through to the Psirri neighbourhood.
In Psiri, there is a nice square with a number of tavernas and restaurants. There's also a place called Nancy's Sweet Home who specialise in desserts – it would be criminal not to try a big slice of cake from here!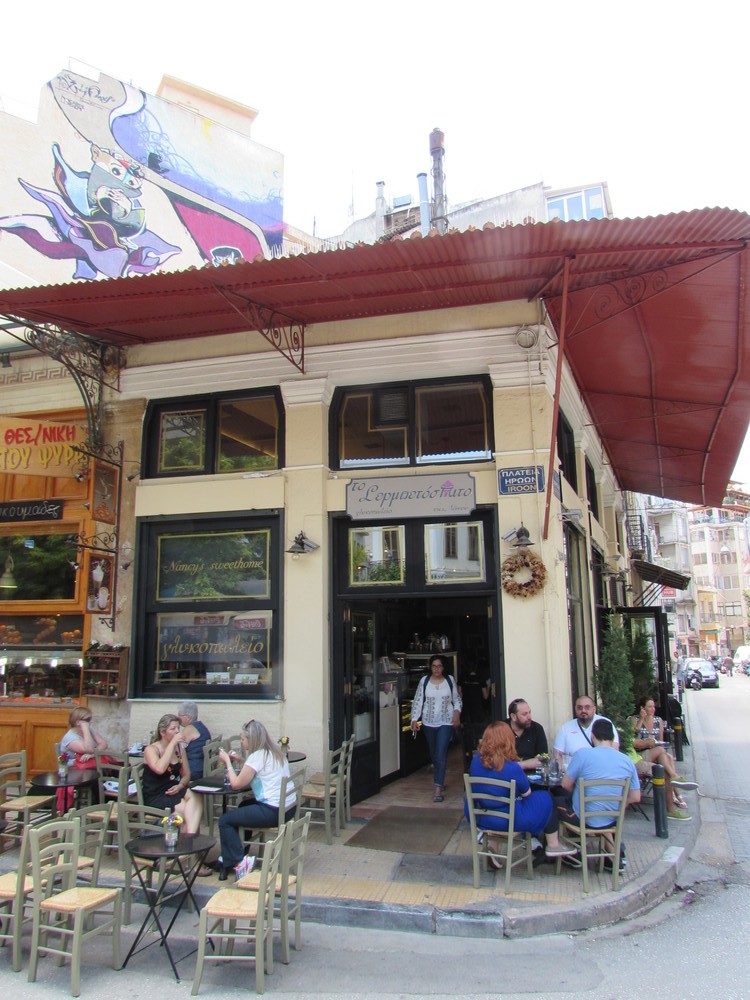 Central Market Athens and Street Art
This indoor market is normally an eye opener with people who have only ever shopped at a supermarket! You'll get to see the fish and meat on display, complete with entrails, eyeballs, and pigs heads!
Opposite the indoor market, is the fruit and veg market, where you'll find some of the tastiest produce in Europe.
You'll often find visits to both these places included on an Athens food tour. Make sure to include a visit to the central markets on your own things to do in Athens itinerary!
Once you've finished in there, it's time to check out some street art by going graffiti hunting next to the Psiri area. Basically head down any side street and alley, and hope you discover something interesting!
Afternoon Option 1 – National Archaeological Museum and sunset on Mount Lycabettus
This is the first of two options for the afternoon of your last full day in Athens. A 5-10 minute walk away from Psirri, is the National Archaeological Museum of Athens. Contained inside is the country's finest collection of exhibits and artifacts from all periods of Greek history.
It's a big place, and you should allow at least 3 hours to do it some justice. It might not be for everyone, but this is my favourite museum in all of Greece, and one of my choices for best museums in the world.
After finishing here, take the walk up Lycabettus Hill for outstanding views, and watch the sunset!

Afternoon Option 2 – Temple of Poseidon at Sounio and sunset
Spending the late afternoon and sunset out at the Temple of Poseidon at Sounion is perhaps the most popular half-day trip from Athens. The drive out takes you along the Athenian Riviera, and on arrival, you see the remains of a Temple dedicated to Poseidon in a stunning setting.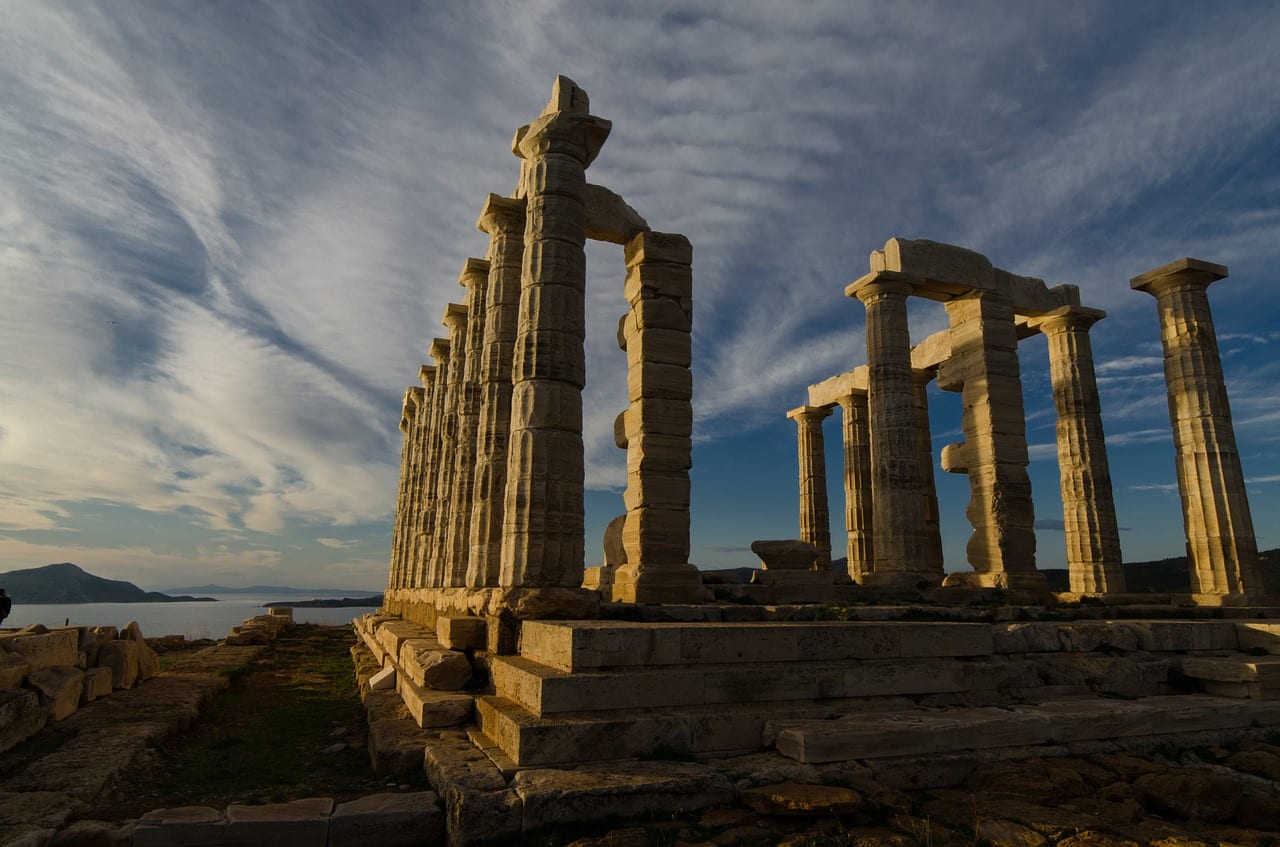 This temple is said to be one third of a sacred triangle. The other two points are made up by the Parthenon and the temple on Aegina. Check it out on a map, and see what you think. Coincidence or deliberate planning?
It's also perfectly aligned for a magnificent sunset – possibly one of the most memorable in Greece. Find out more here about a tour to Cape Sounio.
Hard Rock Cafe in Athens
There's plenty of choice for your evening meal and drinks. One that sometimes gets overlooked (because it's not exactly very Greek!) is the Hard Rock Cafe near Monastiraki Station. They do a range of food and beer, and it's a nice little venue.
What on earth a bass guitar from Wham was doing in there though, I have no idea! Note – Many people would choose to visit one of the rooftop bars in Athens instead. I'll write an Athens guide about rooftop bars at some point in the future!
What to do in Athens 2023 update
As mentioned in this guide to 48 hours in Athens, the itinerary is one that I actually used for visiting family. Of course, there is plenty more to see in the city!
As I sometimes get asked questions in the comments below (and feel free to leave a comment!), I've included a few answers to commonly asked questions about visiting Athens here.
Can you see Athens in 2 days?
2 days in Athens is enough time to see the main highlights and attractions of Athens. With this Athens itinerary for two days you can visit Ancient Greek ruins like the Acropolis, world class museums, dine at local tavernas, enjoy the views from rooftop cafes, and still have time left over to take a half-day tour to the Temple of Poseidon at Sounion.
Is Athens safe to visit?
Athens is a safe capital city when compared to other capitals around the world. There are few major crimes affecting tourists, although petty crime can occur. There are a couple of neighborhoods that less confident people might wish to avoid walking in at night which include Omonia, Exarchia, and Metaxourgeio but they are not necessarily dangerous, just less salubrious than others.
Can you visit the Acropolis without a guide?
The Acropolis is the most famous archaeological site in Athens, with the Parthenon and other notable buildings contributing to its status as a UNESCO World Heritage site. While you can visit the Acropolis yourself, a guided tour is the best way to appreciate it more fully.
How do I get from Athens airport to city center?
To get to Athens city center from the airport, you can choose between taxi, bus, and metro services. Taxis are generally quicker but more expensive, the X95 bus is the cheapest but slowest, and the Athens airport metro is the happy medium in between.
What is the best location to stay in Athens for 2 nights?
The best places to stay in Athens for two nights are near the historic center. Syntagma Square, Plaka, Monastiraki, and Kolonaki are all good neighborhoods to stay in Athens within walking distance of the important historical sites such as the Acropolis.
How many days in Athens?
As with any major city, the more time you give it, the more you will appreciate it! Certainly, if you are into museums, Athens has plenty of them!
I've been running a personal project to visit all the museums in Athens, and have so far reached 50 out of more than 80 museums I know about. If you were to visit even 4 a day, that would be 20 days in Athens!
Seriously though, if you are a regular visitor who is spending time in Athens before moving on to other parts of Greece, then 2 or even 3 days is fine. I think 5 would be ideal, but only if you are a long-term traveller where time isn't an issue.
3 Days in Athens
My Athens itinerary is pretty easy to expand upon for people who want to spend longer in the city.
For anyone considering spending 3 days in Athens, I would suggest including the Benaki and Cycladic art museums. There's also the choice of taking one of many day trips from Athens , including the popular day trip to Delphi.
One Day in Athens
I realise that there are also occasions where people only have one day in Athens. Normally, this is because of a cruise ship just allowing the one day in the city, or perhaps you just have day in Athens before catching a flight or ferry to one of the islands.
If this is the case with you, I believe you could still see the highlights of Athens in a day, but it would be a bit of a rush. My suggested one day Athens sightseeing itinerary for that would be:
Changing of the Guards
Temple of Zeus
Acropolis
Acropolis museum
Ancient Agora
Psiri neighbourhood
Rooftop bar for evening meal and drinks
I've got a full itinerary here: How to spend one day in Athens.
Where to stay in Athens
Of all the different areas to choose from, I would say the best place to stay in Athens is near the Acropolis. This way, you are within the historic centre itself, and just a short walk away from all the attractions.
Other nice areas to stay in Athens include Plaka, Monastiraki and Syntagma Square. If you are planning a trip to Athens, and are looking for where to stay, this blog post will be of great help. – Hotels Near the Acropolis in Athens.
Pin this 2 Days in Athens guide for later
If you have any questions about things to see in Athens or would like help planning an Athens Greece itinerary, check out the comments below.
Don't see your question answered there? Leave a comment and I'll get back to you!
For more guides and travel tips for planning a city break in Athens, sign up for my free Athens guides here – ** Free guides to Athens and Greece **
---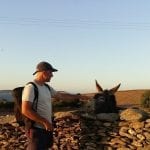 –
Dave Briggs
Dave is a
Greek travel blogger and writer
originally from the UK, and now living in Athens. In addition to writing this guide on how to create a perfect Athens itinerary for a 2 day visit, he's created hundreds of other insightful travel guides to destinations all over Greece. Follow Dave on social media for travel tips from Greece and beyond: